Abstract
Pomalidomide dexamethasone is a standard of care for relapsed multiple myeloma (MM) patients who received at least two prior lines of therapy, including both lenalidomide and proteasome inhibitors (PI). We report here a real-life single-center series of 49 consecutive patients with relapsed and refractory MM treated with the triplet pomalidomide cyclophosphamide dexamethasone (PCD) combination. The median of prior lines of therapy was 3 and all patients were previously exposed to proteasome inhibitors and lenalidomide. The overall response rate was 76%, including 27% very good partial response or better. With a median follow-up of 16 months, the median progression-free survival (PFS) was 7.3 months and the median overall survival was not reached. Regarding safety, most frequent toxicity was hematologic, including 37% grade 3–4 cytopenias. Nine patients (18%) discontinued therapy due to adverse event. Our study confirms that PCD combination is feasible and results in favorable response rate and PFS in comparison with pomalidomide dexamethasone alone.
Access options
Buy single article
Instant access to the full article PDF.
USD 39.95
Price excludes VAT (USA)
Tax calculation will be finalised during checkout.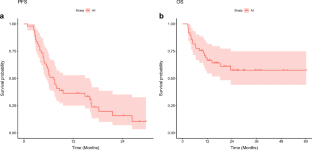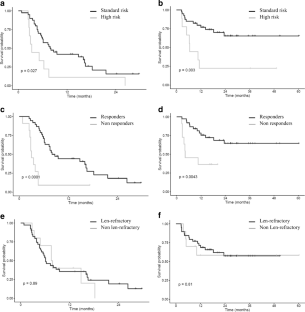 References
Kumar SK, Rajkumar SV, Dispenzieri A, Lacy MQ, Hayman SR, Buadi FK, Zeldenrust SR, Dingli D, Russell SJ, Lust JA, Greipp PR, Kyle RA, Gertz MA (2008) Improved survival in multiple myeloma and the impact of novel therapies. Blood 111:2516–2520. https://doi.org/10.1182/blood-2007-10-116129

Kumar SK, Dimopoulos MA, Kastritis E, Terpos E, Nahi H, Goldschmidt H, Hillengass J, Leleu X, Beksac M, Alsina M, Oriol A, Cavo M, Ocio EM, Mateos MV, O'Donnell EK, Vij R, Lokhorst HM, van de Donk NWCJ, Min C, Mark T, Turesson I, Hansson M, Ludwig H, Jagannath S, Delforge M, Kyriakou C, Hari P, Mellqvist U, Usmani SZ, Dytfeld D, Badros AZ, Moreau P, Kim K, Otero PR, Lee JH, Shustik C, Waller D, Chng WJ, Ozaki S, Lee JJ, de la Rubia J, Eom HS, Rosinol L, Lahuerta JJ, Sureda A, Kim JS, Durie BGM (2017) Natural history of relapsed myeloma, refractory to immunomodulatory drugs and proteasome inhibitors: a multicenter IMWG study. Leukemia 31:2443–2448. https://doi.org/10.1038/leu.2017.138

San Miguel J, Weisel K, Moreau P et al (2013) Pomalidomide plus low-dose dexamethasone versus high-dose dexamethasone alone for patients with relapsed and refractory multiple myeloma (MM-003): a randomised, open-label, phase 3 trial. Lancet Oncol 14:1055–1066. https://doi.org/10.1016/S1470-2045(13)70380-2

Dimopoulos MA, Palumbo A, Corradini P, Cavo M, Delforge M, di Raimondo F, Weisel KC, Oriol A, Hansson M, Vacca A, Blanchard MJ, Goldschmidt H, Doyen C, Kaiser M, Petrini M, Anttila P, Cafro AM, Raymakers R, San-Miguel J, de Arriba F, Knop S, Rollig C, Ocio EM, Morgan G, Miller N, Simcock M, Peluso T, Herring J, Sternas L, Zaki MH, Moreau P (2016) Safety and efficacy of pomalidomide plus low-dose dexamethasone in STRATUSTM (MM-010): a phase 3b study in refractory multiple myeloma. Blood. 128:497–503. https://doi.org/10.1182/blood-2016-02-700872

Baz RC, Martin TG, Lin H-Y et al (2016) Randomized multicenter phase II study of pomalidomide, cyclophosphamide, and dexamethasone in relapsed refractory myeloma. Blood. 127:2561–2568. https://doi.org/10.1182/blood-2015-11-682518

Garderet L, Kuhnowski F, Berge B, Roussel M, Escoffre-Barbe M, Lafon I, Facon T, Leleu X, Karlin L, Perrot A, Moreau P, Marit G, Stoppa AM, Royer B, Chaleteix C, Tiab M, Araujo C, Lenain P, Macro M, Voog E, Benboubker L, Allangba O, Jourdan E, Orsini-Piocelle F, Brechignac S, Eveillard JR, Belhadj K, Wetterwald M, Pegourie B, Jaccard A, Eisenmann JC, Glaisner S, Mohty M, Hulin C, Loiseau HA, Mathiot C, Attal M (2018) Pomalidomide, cyclophosphamide, and dexamethasone for relapsed multiple myeloma. Blood. 132:2555–2563. https://doi.org/10.1182/blood-2018-07-863829

Larocca A, Montefusco V, Bringhen S, Rossi D, Crippa C, Mina R, Galli M, Marcatti M, la Verde G, Giuliani N, Magarotto V, Guglielmelli T, Rota-Scalabrini D, Omede P, Santagostino A, Baldi I, Carella AM, Boccadoro M, Corradini P, Palumbo A (2013) Pomalidomide, cyclophosphamide, and prednisone for relapsed/refractory multiple myeloma: a multicenter phase 1/2 open-label study. Blood 122:2799–2806. https://doi.org/10.1182/blood-2013-03-488676

Rajkumar SV, Dimopoulos MA, Palumbo A, Blade J, Merlini G, Mateos MV, Kumar S, Hillengass J, Kastritis E, Richardson P, Landgren O, Paiva B, Dispenzieri A, Weiss B, LeLeu X, Zweegman S, Lonial S, Rosinol L, Zamagni E, Jagannath S, Sezer O, Kristinsson SY, Caers J, Usmani SZ, Lahuerta JJ, Johnsen HE, Beksac M, Cavo M, Goldschmidt H, Terpos E, Kyle RA, Anderson KC, Durie BGM, Miguel JFS (2014) International Myeloma Working Group updated criteria for the diagnosis of multiple myeloma. Lancet Oncol 15:e538–e548. https://doi.org/10.1016/S1470-2045(14)70442-5

Kumar S, Paiva B, Anderson KC, Durie B, Landgren O, Moreau P, Munshi N, Lonial S, Bladé J, Mateos MV, Dimopoulos M, Kastritis E, Boccadoro M, Orlowski R, Goldschmidt H, Spencer A, Hou J, Chng WJ, Usmani SZ, Zamagni E, Shimizu K, Jagannath S, Johnsen HE, Terpos E, Reiman A, Kyle RA, Sonneveld P, Richardson PG, McCarthy P, Ludwig H, Chen W, Cavo M, Harousseau JL, Lentzsch S, Hillengass J, Palumbo A, Orfao A, Rajkumar SV, Miguel JS, Avet-Loiseau H (2016) International Myeloma Working Group consensus criteria for response and minimal residual disease assessment in multiple myeloma. Lancet Oncol 17:e328–e346. https://doi.org/10.1016/S1470-2045(16)30206-6

Shah JJ, Stadtmauer EA, Abonour R, Cohen AD, Bensinger WI, Gasparetto C, Kaufman JL, Lentzsch S, Vogl DT, Gomes CL, Pascucci N, Smith DD, Orlowski RZ, Durie BGM (2015) Carfilzomib, pomalidomide, and dexamethasone for relapsed or refractory myeloma. Blood 126:2284–2290. https://doi.org/10.1182/blood-2015-05-643320

Bringhen S, Mina R, Cafro AM, Liberati AM, Spada S, Belotti A, Gaidano G, Patriarca F, Troia R, Fanin R, de Paoli L, Rossi G, Lombardo A, Bertazzoni P, Palumbo A, Sonneveld P, Boccadoro M (2018) Once-weekly carfilzomib, pomalidomide, and low-dose dexamethasone for relapsed/refractory myeloma: a phase I/II study. Leukemia 32:1803–1807. https://doi.org/10.1038/s41375-018-0024-1

Chari A, Lonial S, Suvannasankha A et al (2015) Open-label, multicenter, phase 1b study of Daratumumab in combination with Pomalidomide and dexamethasone in patients with at least 2 lines of prior therapy and relapsed or relapsed and refractory multiple myeloma. Blood 126:508–508

Dimopoulos MA, Dytfeld D, Grosicki S, Moreau P, Takezako N, Hori M, Leleu X, LeBlanc R, Suzuki K, Raab MS, Richardson PG, Popa McKiver M, Jou YM, Shelat SG, Robbins M, Rafferty B, San-Miguel J (2018) Elotuzumab plus pomalidomide and dexamethasone for multiple myeloma. N Engl J Med 379:1811–1822. https://doi.org/10.1056/NEJMoa1805762
Acknowledgements
CT, PM, and SLG are members of Site de Recherche Intégrée sur le Cancer (SIRIC) « ILIAD » (INCA-DGOS-Inserm_12558).
Ethics declarations
Conflict of interest
CT and PM are advisory board member and received honoraria from Celgene.
Ethical approval
All procedures performed in studies involving human participants were in accordance with the ethical standards of the institutional and/or national research committee and with the 1964 Helsinki declaration and its later amendments or comparable ethical standards.
Informed consent
Informed consent was obtained from all individual participants included in the study.
Additional information
Publisher's note
Springer Nature remains neutral with regard to jurisdictional claims in published maps and institutional affiliations.
About this article
Cite this article
Trudel, S., Tessoulin, B., Jullien, M. et al. Pomalidomide, cyclophosphamide, and dexamethasone for relapsed/refractory multiple myeloma patients in a real-life setting: a single-center retrospective study. Ann Hematol 98, 1441–1447 (2019). https://doi.org/10.1007/s00277-019-03649-3
Received:

Accepted:

Published:

Issue Date:

DOI: https://doi.org/10.1007/s00277-019-03649-3
Keywords
Multiple myelomas

Pomalidomide

Cyclophosphamide

Dexamethasone

Relapse

PCD