Abstract
Delivering of > 80% planned relative dose intensity (RDI) of fludarabine-cyclophosphamide-rituximab (FCR) is key to benefit from longer progression free survival (PFS) and survivals in CLL. In this randomized trial, we sought to investigate whether a telephone intervention strategy (called AMA) delivered by an oncology nurse could reduce the risk of RDI < 80% by alleviating adverse events and supporting patients' adherence. Sixty FCR patients were randomized 1:1 for AMA (stratified on Binet stage C). As per guidelines, patients received pegfilgrastim as primary prophylaxis of febrile neutropenia. At the end of therapy, RDI < 80% was reported in 31% of patients, shortening PFS (median 26 months versus not reached, P = 0.021) and OS at 3 years (100 vs 70%, P = 0.0089). Oncology nurse interventions tended to significantly reduce this event (RDI < 80%: 41.4% in non-AMA versus 20.7% in AMA patients (p = 0.09)). By adjusting our logistic regression model on published parameters exposing to RDI < 80%, we found that AMA protected significantly against the risk of reduced RDI (OR = 0.22, IC95% 0.05–0.84, p = 0.04), independently of grade 3/4 neutropenia (< 15% per cycle) and febrile neutropenia (< 5% per cycle) events. As a conclusion, we confirmed that > 20% reduction of FCR dose-intensity was detrimental for PFS/OS, but that oncology nurse interventions reduced the risk of dose concessions.
Access options
Buy single article
Instant access to the full article PDF.
USD 39.95
Price excludes VAT (USA)
Tax calculation will be finalised during checkout.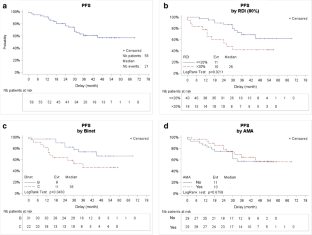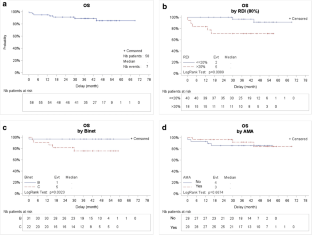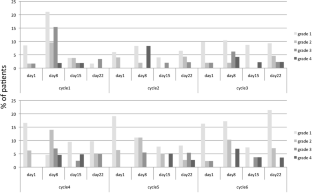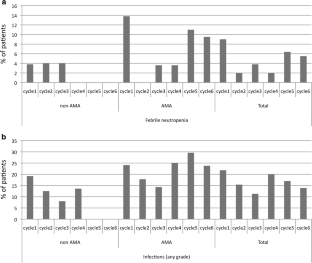 References
Hallek M, Fischer K, Fingerle-Rowson G, Fink AM, Busch R, Mayer J, Hensel M, Hopfinger G, Hess G, von Grünhagen U, Bergmann M, Catalano J, Zinzani PL, Caligaris-Cappio F, Seymour JF, Berrebi A, Jäger U, Cazin B, Trneny M, Westermann A, Wendtner CM, Eichhorst BF, Staib P, Bühler A, Winkler D, Zenz T, Böttcher S, Ritgen M, Mendila M, Kneba M, Döhner H, Stilgenbauer S (2010) Addition of rituximab to fludarabine and cyclophosphamide in patients with chronic lymphocytic leukaemia: a randomised, open-label, phase 3 trial. Lancet 376:1164–1174

Eichhorst B, Fink AM, Bahlo J, Busch R, Kovacs G, Maurer C, Lange E, Köppler H, Kiehl M, Sökler M, Schlag R, Vehling-Kaiser U, Köchling G, Plöger C, Gregor M, Plesner T, Trneny M, Fischer K, Döhner H, Kneba M, Wendtner CM, Klapper W, Kreuzer KA, Stilgenbauer S, Böttcher S, Hallek M (2016) First-line chemoimmunotherapy with bendamustine and rituximab versus fludarabine, cyclophosphamide, and rituximab in patients with advanced chronic lymphocytic leukaemia (CLL10): an international, open-label, randomised, phase 3, non-inferiority trial. Lancet Oncol 17:928–942

Fischer K, Bahlo J, Fink AM, Goede V, Herling CD, Cramer P, Langerbeins P, von Tresckow J, Engelke A, Maurer C, Kovacs G, Herling M, Tausch E, Kreuzer KA, Eichhorst B, Bottcher S, Seymour JF, Ghia P, Marlton P, Kneba M, Wendtner CM, Dohner H, Stilgenbauer S, Hallek M (2016) Long-term remissions after FCR chemoimmunotherapy in previously untreated patients with CLL: updated results of the CLL8 trial. Blood 127:208–215

Strati P, Wierda W, Burger J, Ferrajoli A, Tam C, Lerner S, Keating MJ, O'Brien S (2013) Myelosuppression after frontline fludarabine, cyclophosphamide, and rituximab in patients with chronic lymphocytic leukemia: analysis of persistent and new-onset cytopenia. Cancer 119:3805–3811

Cramer P, Langerbeins P, Fischer K, Eichhorst B, Hallek M, Goede V (2016) Dose-reduced fludarabine, cyclophosphamide and rituximab (FCR) in older patients with chronic lymphocytic leukemia: does one size fit all? Leuk Lymphoma 57:987–990

Dartigeas C, Van Den Neste E, Berthou C et al (2016) Evaluating abbreviated induction with fludarabine, cyclophosphamide, and dose-dense rituximab in elderly patients with chronic lymphocytic leukemia. Leuk Lymphoma 57:328–334

Kovacs G, Bahlo J, Kluth S, et al. (2015) Prognostic impact and risk factors of reducing prescribed doses of fludarabine, cyclophosphamide and rituximab (FCR) during frontline treatment of chronic lymphocytic leukemia (CLL). Blood (Suppl) 126:Abstract 4156

Bouvet E, Borel C, Obéric L et al (2013) Impact of dose intensity on outcome of fludarabine, cyclophosphamide,and rituximab regimen given in the first-line therapy for chronic lymphocytic leukemia. Haematologica 98:65–70

Compaci G, Ysebaert L, Obéric L, Derumeaux H, Laurent G (2011) Effectiveness of telephone support during chemotherapy in patients with diffuse large B cell lymphoma: the ambulatory medical assistance (AMA) experience. Int J Nurs Stud 48:926–932

Compaci G, Rueter M, Lamy S, Oberic L, Recher C, Lapeyre-Mestre M, Laurent G, Despas F (2015) Ambulatory medical assistance--after Cancer (AMA-AC): a model for an early trajectory survivorship survey of lymphoma patients treated with anthracycline-based chemotherapy. BMC Cancer 15:781

Borel C, Lamy S, Compaci G, Récher C, Jeanneau P, Nogaro JC, Bauvin E, Despas F, Delpierre C, Laurent G (2015) A longitudinal study of non-medical determinants of adherence to R-CHOP therapy for diffuse large B-cell lymphoma: implication for survival. BMC Cancer 15:288

Lamy S, Bettiol C, Grosclaude P, Compaci G, Albertus G, Récher C, Nogaro JC, Despas F, Laurent G, Delpierre C (2016) The care center influences the management of lymphoma patients in a universal health care system: an observational cohort study. BMC Health Serv Res 16:336

Le Guyader-Peyrou S, Orazio S, Dejardin O, Maynadié M, Troussard X, Monnereau A (2017) Factors related to the relative survival of patients with diffuse large B-cell lymphoma in a population-based study in France: does socio-economic status have a role? Haematologica 102:584–592

Phillips AA, Smith DA (2017) Health disparities and the global landscape of lymphoma care today. Am Soc Clin Oncol Educ Book 37:526–534

Smith TJ, Bohlke K, Lyman GH, Carson KR, Crawford J, Cross SJ, Goldberg JM, Khatcheressian JL, Leighl NB, Perkins CL, Somlo G, Wade JL, Wozniak AJ, Armitage JO (2015) Recommendations for the use of WBC growth factors: American Society of Clinical Oncology clinical practice guideline update. J Clin Oncol 33:3199–3212

Aapro MS, Bohlius J, Cameron DA, Lago LD, Donnelly JP, Kearney N, Lyman GH, Pettengell R, Tjan-Heijnen VC, Walewski J, Weber DC, Zielinski C (2011) 2010 update of EORTC guidelines for the use of granulocyte-colony stimulating factor to reduce the incidence of chemotherapy-induced febrile neutropenia in adult patients with lymphoproliferative disorders and solid tumours. Eur J Cancer 47:8–32

Lyman GH, Allcott K, Garcia J, Stryker S, Li Y, Reiner MT, Weycker D (2017) The effectiveness and safety of same-day versus next-day administration of long-acting granulocyte colony-stimulating factors for the prophylaxis of chemotherapy-induced neutropenia: a systematic review. Support Care Cancer 25:2619–2629
Funding
This work was funded by Amgen and the University Hospitals of Toulouse (sponsor of the study) provided the remaining funds allocated to the study. This work was also partly supported by the Agence Nationale de la Recherche through the project CAPTOR "Investissement d'avenir" (ANR-11-PHUC 001).
Ethics declarations
Conflict of interest
LY has received research grants from Janssen and Roche, and speaker honoraria from Janssen, Roche, Gilead, Abbvie. All the other authors declare not to have received any financial support for this study.
Ethical approval
All procedures performed in studies involving human participants were in accordance with the ethical standards of the institutional and/or national research committee and with the 1964 Helsinki declaration and its later amendments or comparable ethical standards. Informed consent was obtained from all individual patients included in the study.
Additional information
Publisher's note
Springer Nature remains neutral with regard to jurisdictional claims in published maps and institutional affiliations.
About this article
Cite this article
Ysebaert, L., Larcher, M., Compaci, G. et al. Oncology nurse phone calls halve the risk of reduced dose intensity of immunochemotherapy: results of the randomized FORTIS study in chronic lymphocytic leukemia.. Ann Hematol 98, 931–939 (2019). https://doi.org/10.1007/s00277-019-03631-z
Received:

Accepted:

Published:

Issue Date:

DOI: https://doi.org/10.1007/s00277-019-03631-z
Keywords