Abstract
Infections represent a major cause of morbidity and mortality in multiple myeloma and are linked to both therapy- and disease-related factors. Although it has been suggested that the rate of infections increased since the introduction of novel agents, controversies still exist. To better assess the risk factors associated with infections in the era of novel agents, we conducted a large retrospective analysis of 479 myeloma patients treated at Jena University Hospital over a period of 12 years. During their disease history, 65% of patients developed at least one infection, and 37% of therapies were associated with at least one infectious episode. The rate of infections was constant over the years, with no increase in infectious complications after the routine implementation of novel agents. Infections were mainly bacterial and strongly associated with high disease burden, relapsed disease, and treatment with high-dose chemotherapy. Varicella zoster virus (VZV) reactivations occurred late during treatment (median time between high-dose chemotherapy and VZV reactivation 6 months, range 0–44 months), and fewer patients developed a VZV reactivation after 2009 (p = 0.001). Infections are still one of the major causes of morbidity in myeloma patients, and prophylactic measures are urgently needed to reduce this potentially lethal complication.
Access options
Buy single article
Instant access to the full article PDF.
USD 39.95
Price excludes VAT (USA)
Tax calculation will be finalised during checkout.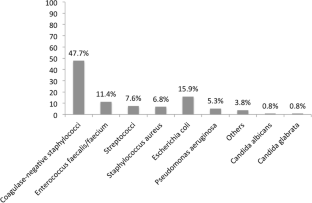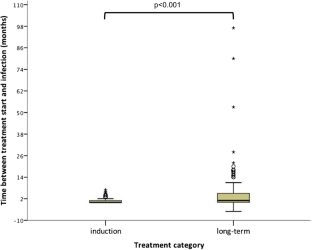 Funding
AB is a fellow of the Else-Kröner Forschungskolleg Antiage Jena, supported by funding from the Foundation "Else Kröner-Fresenius-Stiftung"; MvLT is supported by the German Federal Ministry of Education and Health (BMBF) Germany (InfectoGnostic Research Campus, (13GW0096D)); AS is supported by the Integrated Research and Treatment Center, Center for Sepsis Control and Care (CSCC), at the Jena University Hospital funded by the BMBF (01EO1502). AS also received funding by BMBF grant 01ZZ1803C.
Ethics declarations
Ethical approval and informed consent
The present study was conducted after approval by the institutional review board at Jena University Hospital in Germany. All procedures performed in studies involving human participants were in accordance with the ethical standards of the institutional and/or national research committee and with the 1975 Helsinki declaration and its later amendments or comparable ethical standards. As data analyzed were pseudonimized data normally collected during clinical practice, the responsible ethic committee was of the opinion that no extra informed consent was needed for the present research.
Conflict of interest
AB: Honoraria: Celgene, Takeda, Travel support: Janssen, Celgene, Takeda, Research support: Celgene; IH: Research support: Medac, Novartis, Travel support: Medac, Novartis, Gilead; LOM: Research support: Celgene, Honoraria: Celgene, Janssen, Novartis, Amgen, Bristol Myers Squibb; MvLT: Honoraria: Janssen, Celgene, Novartis, Takeda, Travel support: Janssen, Celgene, Novartis, Takeda, Research support: Janssen, Celgene, Novartis, Takeda; the other authors have no relevant conflict of interest to disclose.
Additional information
Publisher's Note
Springer Nature remains neutral with regard to jurisdictional claims in published maps and institutional affiliations.
Electronic supplementary material
About this article
Cite this article
Brioli, A., Klaus, M., Sayer, H. et al. The risk of infections in multiple myeloma before and after the advent of novel agents: a 12-year survey. Ann Hematol 98, 713–722 (2019). https://doi.org/10.1007/s00277-019-03621-1
Received:

Accepted:

Published:

Issue Date:

DOI: https://doi.org/10.1007/s00277-019-03621-1
Keywords
Multiple myeloma

Infections

Immunomodulatory drugs

Proteasome inhibitors

Varicella zoster virus

High-dose chemotherapy