Abstract
Umbilical cord blood (UCB) transplantation is a promising option for hematopoietic stem cell transplantation in patients with hematologic malignancies who lack an HLA-matched sibling or well-matched unrelated donor; however, it has a higher incidence of delayed or failed engraftment because cell doses are low and bone marrow homing is inefficient. We have demonstrated that pre-treating irradiated immune-deficient mice with hyperbaric oxygen (HBO) prior to UCB CD34+ cell transplantation lowered host systemic erythropoietin (EPO) and improved UCB CD34+ cell homing and engraftment. These findings suggested that EPO-EPO-R signaling plays a role in UCB CD34+ homing and engraftment. In a pilot clinical trial, we showed that recipients of HBO therapy prior to UCB cell infusion had reduced systemic EPO, which was associated with improved kinetics of blood count recovery. Although early clinical outcomes at day 100 were encouraging, with improved overall survival, the long-term effects of HBO therapy on UCB-transplanted patients were not evaluated. In this study, we examined the long-term outcome of patients in our pilot study, compared with a historic control group, and correlated their clinical outcomes to serum EPO response to HBO. While 50% of HBO-treated patients received single UCB units, ~ 90% of the control patients received double UCB units. Although HBO patients had much better rates of survival at 6 months, their 1-year survival did not significantly differ from the control group. HBO-treated patients had on average lower relapse and non-relapse mortality rates, and less chronic graft versus host disease (GVHD), but had increased acute GVHD. However, these differences were not statistically significant, probably because of the small sample size. In the HBO-treated cohort, immune reconstitution analysis showed significant improvement in early B cell recovery, with a trend toward improvement in early NK cell recovery. When we evaluated the ratio of 8 h to baseline EPO levels, we found a non-significant trend toward lower EPO values in those who neither relapsed nor died by 1 year, compared to those who died or relapsed. This result suggests that EPO response to HBO may be associated with better outcomes. Disease progression-free survival was also improved in those who had more than 80% reduction in EPO levels in response to HBO. Our study highlights the long-term safety of HBO therapy when used prior to UCB transplantation. Future UCB transplant patients who receive HBO should have their serum EPO response measured, as it may be a marker of relapse/mortality.
This is a preview of subscription content, log in to check access.
Access options
Buy single article
Instant access to the full article PDF.
US$ 39.95
Price includes VAT for USA
Subscribe to journal
Immediate online access to all issues from 2019. Subscription will auto renew annually.
US$ 199
This is the net price. Taxes to be calculated in checkout.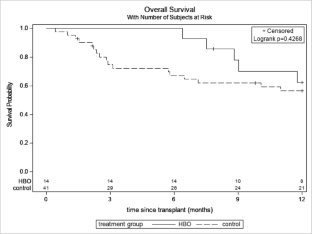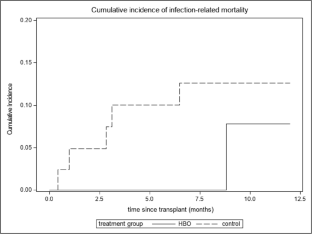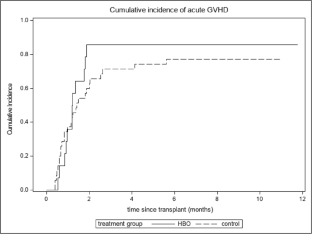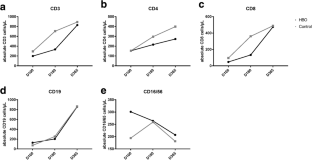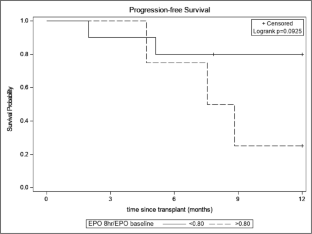 References
1.

Copelan EA (2006) Hematopoietic stem-cell transplantation. N Engl J Med 354(17):1813–1826. https://doi.org/10.1056/NEJMra052638

2.

Barker JN, Wagner JE (2003) Umbilical-cord blood transplantation for the treatment of cancer. Nat Rev Cancer 3(7):526–532. https://doi.org/10.1038/nrc1125

3.

Barker JN, Byam CE, Kernan NA, Lee SS, Hawke RM, Doshi KA et al (2010) Availability of cord blood extends allogeneic hematopoietic stem cell transplant access to racial and ethnic minorities. Biol Blood Marrow Transplant 16(11):1541–1548. https://doi.org/10.1016/j.bbmt.2010.08.011

4.

Ruggeri A, Ciceri F, Gluckman E, Labopin M, Rocha V, Eurocord et al (2010) Alternative donors hematopoietic stem cells transplantation for adults with acute myeloid leukemia: umbilical cord blood or haploidentical donors? Best Pract Res Clin Haematol 23(2):207–216. https://doi.org/10.1016/j.beha.2010.06.002

5.

Laughlin MJ (2001) Umbilical cord blood for allogeneic transplantation in children and adults. Bone Marrow Transplant 27(1):1–6. https://doi.org/10.1038/sj.bmt.1702740

6.

Gluckman E (2009) History of cord blood transplantation. Bone Marrow Transplant 44(10):621–626. https://doi.org/10.1038/bmt.2009.280

7.

Migliaccio AR, Adamson JW, Stevens CE, Dobrila NL, Carrier CM, Rubinstein P (2000) Cell dose and speed of engraftment in placental/umbilical cord blood transplantation: graft progenitor cell content is a better predictor than nucleated cell quantity. Blood 96(8):2717–2722

8.

Nilsson SK, Simmons PJ (2004) Transplantable stem cells: home to specific niches. Curr Opin Hematol 11(2):102–106

9.

Yahata T, Ando K, Sato T, Miyatake H, Nakamura Y, Muguruma Y et al (2003) A highly sensitive strategy for SCID-repopulating cell assay by direct injection of primitive human hematopoietic cells into NOD/SCID mice bone marrow. Blood 101(8):2905–2913. https://doi.org/10.1182/blood-2002-07-1995

10.

Frassoni F, Gualandi F, Podesta M, Raiola AM, Ibatici A, Piaggio G et al (2008) Direct intrabone transplant of unrelated cord-blood cells in acute leukaemia: a phase I/II study. Lancet Oncol 9(9):831–839. https://doi.org/10.1016/S1470-2045(08)70180-3

11.

Campbell TB, Hangoc G, Liu Y, Pollok K, Broxmeyer HE (2007) Inhibition of CD26 in human cord blood CD34+ cells enhances their engraftment of nonobese diabetic/severe combined immunodeficiency mice. Stem Cells Dev 16(3):347–354. https://doi.org/10.1089/scd.2007.9995

12.

Popat U, Mehta RS, Rezvani K, Fox P, Kondo K, Marin D, McNiece I, Oran B, Hosing C, Olson A, Parmar S, Shah N, Andreeff M, Kebriaei P, Kaur I, Yvon E, de Lima M, Cooper LJN, Tewari P, Champlin RE, Nieto Y, Andersson BS, Alousi A, Jones RB, Qazilbash MH, Bashir Q, Ciurea S, Ahmed S, Anderlini P, Bosque D, Bollard C, Molldrem JJ, Chen J, Rondon G, Thomas M, Miller L, Wolpe S, Simmons P, Robinson S, Zweidler-McKay PA, Shpall EJ (2015) Enforced fucosylation of cord blood hematopoietic cells accelerates neutrophil and platelet engraftment after transplantation. Blood 125(19):2885–2892. https://doi.org/10.1182/blood-2015-01-607366

13.

Brunstein CG, Barker JN, Weisdorf DJ, DeFor TE, Miller JS, Blazar BR et al (2007) Umbilical cord blood transplantation after nonmyeloablative conditioning: impact on transplantation outcomes in 110 adults with hematologic disease. Blood 110(8):3064–3070. https://doi.org/10.1182/blood-2007-04-067215

14.

Barker JN, Weisdorf DJ, DeFor TE, Blazar BR, McGlave PB, Miller JS et al (2005) Transplantation of 2 partially HLA-matched umbilical cord blood units to enhance engraftment in adults with hematologic malignancy. Blood 105(3):1343–1347. https://doi.org/10.1182/blood-2004-07-2717

15.

Bautista G, Cabrera JR, Regidor C, Fores R, Garcia-Marco JA, Ojeda E et al (2009) Cord blood transplants supported by co-infusion of mobilized hematopoietic stem cells from a third-party donor. Bone Marrow Transplant 43(5):365–373. https://doi.org/10.1038/bmt.2008.329

16.

Ball LM, Bernardo ME, Roelofs H, Lankester A, Cometa A, Egeler RM, Locatelli F, Fibbe WE (2007) Cotransplantation of ex vivo expanded mesenchymal stem cells accelerates lymphocyte recovery and may reduce the risk of graft failure in haploidentical hematopoietic stem-cell transplantation. Blood 110(7):2764–2767. https://doi.org/10.1182/blood-2007-04-087056

17.

Shpall EJ, Quinones R, Giller R, Zeng C, Baron AE, Jones RB, Bearman SI, Nieto Y, Freed B, Madinger N, Hogan CJ, Slat-Vasquez V, Russell P, Blunk B, Schissel D, Hild E, Malcolm J, Ward W, McNiece IK (2002) Transplantation of ex vivo expanded cord blood. Biol Blood Marrow Transplant 8(7):368–376

18.

Aljitawi OS, Xiao Y, Eskew JD, Parelkar NK, Swink M, Radel J, Lin TL, Kimler BF, Mahnken JD, McGuirk JP, Broxmeyer HE, Vielhauer G (2014) Hyperbaric oxygen improves engraftment of ex-vivo expanded and gene transduced human CD34(+) cells in a murine model of umbilical cord blood transplantation. Blood Cells Mol Dis 52(1):59–67. https://doi.org/10.1016/j.bcmd.2013.07.013

19.

Aljitawi OS, Paul S, Ganguly A, Lin TL, Ganguly S, Vielhauer G, Capitano ML, Cantilena A, Lipe B, Mahnken JD, Wise A, Berry A, Singh AK, Shune L, Lominska C, Abhyankar S, Allin D, Laughlin M, McGuirk JP, Broxmeyer HE (2016) Erythropoietin modulation is associated with improved homing and engraftment after umbilical cord blood transplantation. Blood 128(25):3000–3010. https://doi.org/10.1182/blood-2016-05-715292

20.

Barker JN, Byam C, Scaradavou A (2011) How I treat: the selection and acquisition of unrelated cord blood grafts. Blood 117(8):2332–2339. https://doi.org/10.1182/blood-2010-04-280966

21.

Sanz J, Cano I, Gonzalez-Barbera EM, Arango M, Reyes J, Montesinos P et al (2015) Bloodstream infections in adult patients undergoing cord blood transplantation from unrelated donors after myeloablative conditioning regimen. Biol Blood Marrow Transplant 21(4):755–760. https://doi.org/10.1016/j.bbmt.2014.12.038

22.

Huttunen P, Taskinen M, Siitonen S, Saarinen-Pihkala UM (2015) Impact of very early CD4(+) /CD8(+) T cell counts on the occurrence of acute graft-versus-host disease and NK cell counts on outcome after pediatric allogeneic hematopoietic stem cell transplantation. Pediatr Blood Cancer 62(3):522–528

23.

Lamers CHJ, Wijers R, van Bergen CAM, Somers JAE, Braakman E, Gratama JW, Debets R, Falkenburg JHF, Cornelissen JJ (2016) CD4+ T-cell alloreactivity toward mismatched HLA class II alleles early after double umbilical cord blood transplantation. Blood 128(17):2165–2174

24.

de Lima M, McNiece I, Robinson SN, Munsell M, Eapen M, Horowitz M et al (2012) Cord-blood engraftment with ex vivo mesenchymal-cell coculture. N Engl J Med 367(24):2305–2315. https://doi.org/10.1056/NEJMoa1207285

25.

Takeshita A, Shinjo K, Higuchi M, Miyawaki S, Takemoto Y, Kishimoto Y, Saito K, Takuchi H, Kuriyama K, Kimura Y, Asou N, Takahashi M, Hotta T, Kanamaru A, Ueda R, Ohno R (2000) Quantitative expression of erythropoietin receptor (EPO-R) on acute leukaemia cells: relationships between the amount of EPO-R and CD phenotypes, in vitro proliferative response, the amount of other cytokine receptors and clinical prognosis. Japan Adult Leukaemia Study Group. Br J Haematol 108(1):55–63

26.

Ballen KK (2015) Is there a best graft source of transplantation in acute myeloid leukemia? Best Pract Res Clin Haematol 28(2–3):147–154
Ethics declarations
Conflict of interest
The authors declare that they have no conflict of interest.
Ethical approval
All procedures performed in studies involving human participants were in accordance with the ethical standards of the institutional and/or national research committees and with the 1964 Helsinki declaration and its later amendments, or comparable ethical standards.
About this article
Cite this article
Mina, A., Shune, L., Abdelhakim, H. et al. Long-term results of a pilot study evaluating hyperbaric oxygen therapy to improve umbilical cord blood engraftment. Ann Hematol 98, 481–489 (2019). https://doi.org/10.1007/s00277-018-3532-1
Received:

Accepted:

Published:

Issue Date:
Keywords
Hyperbaric oxygen

Umbilical cord blood transplantation

Pilot study

Long-term results