Abstract
Recently, resveratrol showed induction of γ-globin mRNA synthesis in human erythroid precursors and reducing oxidative stress in red cells of thalassemia patients in many in vitro studies. We aimed to investigate the efficacy and safety of resveratrol, for the first time, in non-transfusion-dependent beta-thalassemia intermedia (B-TI) in Southern Iran. In this double-blind randomized clinical trial, 54 patients with B-TI were investigated during 6 months between October 2016 and March 2017. Patients were randomly allocated into three groups by simple randomization method. Group 1 (hydroxyurea (HU) and placebo, 18 patients), group 2 (resveratrol/piperine and placebo, 16 patients), and group 3(HU and resveratrol/piperine, 20 patients). Primary end point was considered as change in hemoglobin (Hb) levels and need for blood transfusion. Drug safety was considered as a secondary end point. Mean age of the patients was 28.2 ± 5.6 (18–42) years. Response rate was not significantly different among the three groups (P > 0.05). Higher percentages of adverse events were detected in groups 2 (31.3%) and 3 (25%) compared to group 1 (5.6%). However, the difference was not statistically significant (P > 0.05). All reported adverse events were gastrointestinal symptoms. Resveratrol showed a similar efficacy with HU in the small population of non-transfusion B-TI patients during a 6-month follow-up. Complications, mostly gastrointestinal, were observed more frequently in resveratrol groups compared to the HU group. Although it was not statistically significant, more attention should be given to safety and efficacy of resveratrol as an oral HbF-augmenting agent.
This is a preview of subscription content, log in to check access.
Access options
Buy single article
Instant access to the full article PDF.
US$ 39.95
Tax calculation will be finalised during checkout.
Subscribe to journal
Immediate online access to all issues from 2019. Subscription will auto renew annually.
US$ 199
Tax calculation will be finalised during checkout.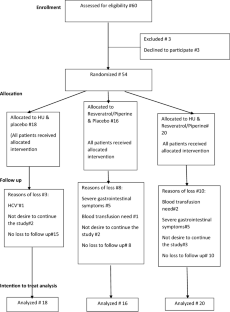 References
1.

Rund D, Rachmilewitz E (2005) β-Thalassemia. New Engl J Med 353(11):1135–1146

2.

Franco SS, De Falco L, Ghaffari S, Brugnara C, Sinclair DA, Mattè A, Iolascon A, Mohandas N, Bertoldi M, An X (2013) Resveratrol accelerates erythroid maturation by activation of FoxO3 and ameliorates anemia in beta-thalassemic mice. Haematologica:Haematol 2013:090076

3.

Giardine B, Borg J, Viennas E, Pavlidis C, Moradkhani K, Joly P, Bartsakoulia M, Riemer C, Miller W, Tzimas G (2014) Updates of the HbVar database of human hemoglobin variants and thalassemia mutations. Nucleic Acids Res 42(D1):D1063–D1069

4.

Galanello R, Origa R (2010) Beta-thalassemia. Orphanet J Rare Dis 5(1):11

5.

Cao A, Galanello R (2010) Beta-thalassemia. Genet Med 12(2):61–76

6.

Musallam KM, Taher AT, Cappellini MD, Sankaran VG (2013) Clinical experience with fetal hemoglobin induction therapy in patients with β-thalassemia. Blood 121(12):2199–2212

7.

Karimi M, Cohan N (2013) Induction of HBF. Thalassemia Reports 3(1s):39

8.

Taher AT, Musallam KM, Cappellini MD, Weatherall DJ (2011) Optimal management of β thalassaemia intermedia. Br J Haematol 152(5):512–523

9.

Perrine SP, Castaneda SA, Chui DH, Faller DV, Berenson RJ, Siritanaratku N, Fucharoen S (2010) Fetal globin gene inducers: novel agents and new potential. Ann N Y Acad Sci 1202(1):158–164

10.

Karimi M, Darzi H, Yavarian M (2005) Hematologic and clinical responses of thalassemia intermedia patients to hydroxyurea during 6 years of therapy in Iran. J Pediatr Hematol Oncol 27(7):380–385

11.

Fard AD, Hosseini SA, Shahjahani M, Salari F, Jaseb K (2013) Evaluation of novel fetal hemoglobin inducer drugs in treatment of β-hemoglobinopathy disorders. Int J Hematol Oncol Stem Cell Res 7(3):47–54

12.

Pangeni R, Sahni JK, Ali J, Sharma S, Baboota S (2014) Resveratrol: review on therapeutic potential and recent advances in drug delivery. Expert Opin Drug Deliv 11(8):1285–1298

13.

Rauf A, Imran M, Suleria HAR, Ahmad B, Peters DG, Mubarak MS (2017) A comprehensive review of the health perspectives of resveratrol. Food Funct 8(12):4284–4305

14.

Rodrigue CM, Arous N, Bachir D, Smith-Ravin J, Romeo PH, Galacteros F, Garel MC (2001) Resveratrol, a natural dietary phytoalexin, possesses similar properties to hydroxyurea towards erythroid differentiation. Br J Haematol 113(2):500–507

15.

Fibach E, Prus E, Bianchi N, Zuccato C, Breveglieri G, Salvatori F, Finotti A, Lipucci M, Paola D, Brognara E (2012) Resveratrol: antioxidant activity and induction of fetal hemoglobin in erythroid cells from normal donors and β-thalassemia patients. Int J Mol Med 29(6):974–982

16.

Gambari R, Fibach E (2007) Medicinal chemistry of fetal hemoglobin inducers for treatment of β-thalassemia. Curr Med Chem 14(2):199–212

17.

Testa U (2009) Fetal hemoglobin chemical inducers for treatment of hemoglobinopathies. Ann Hematol 88(6):505–528

18.

Walle T (2011) Bioavailability of resveratrol. Ann N Y Acad Sci 1215(1):9–15

19.

Kesarwani K, Gupta R (2013) Bioavailability enhancers of herbal origin: an overview. Asian Pac J Trop Biomed 3(4):253–266

20.

Dudhatra GB, Mody SK, Awale MM, Patel HB, Modi CM, Kumar A, Kamani DR, Chauhan BN (2012) A comprehensive review on pharmacotherapeutics of herbal bioenhancers. Sci World J 2012:1–33

21.

Johnson JJ, Nihal M, Siddiqui IA, Scarlett CO, Bailey HH, Mukhtar H, Ahmad N (2011) Enhancing the bioavailability of resveratrol by combining it with piperine. Mol Nutr Food Res 55(8):1169–1176

22.

Del Re A, Maisel NC, Blodgett JC, Finney JW (2013) Intention-to-treat analyses and missing data approaches in pharmacotherapy trials for alcohol use disorders. BMJ Open 3(11):e003464

23.

Platt OS (2008) Hydroxyurea for the treatment of sickle cell anemia. New Engl J Med 358(13):1362–1369

24.

Karimi M, Borzouee M, Mehrabani A, Cohan N (2009) Echocardiographic finding in beta-thalassemia intermedia and major: absence of pulmonary hypertension following hydroxyurea treatment in beta-thalassemia intermedia. Eur J Haematol 82(3):213–218

25.

Zeng YT, Huang SZ, Ren ZR, zh L, Zeng FY, Schechter AN, Rodgers GP (1995) Hydroxyurea therapy in β-thalassaemia intermedia: improvement in haematological parameters due to enhanced β-globin synthesis. Br J Haematol 90(3):557–563

26.

Loukopoulos D, Voskaridou E, Stamoulakatou A, Papassotiriou Y, Kalotychou V, Loutradi A, Cozma G, Tsiarta H, Pavlides N (1998) Hydroxyurea therapy in thalassemia. Ann N Y Acad Sci 850(1):120–128

27.

Hajjar FM, Pearson HA (1994) Pharmacologic treatment of thalassemia intermedia with hydroxyurea. J Pediatr 125(3):490–492

28.

Bordbar MR, Silavizadeh S, Haghpanah S, Kamfiroozi R, Bardestani M, Karimi M (2014) Hydroxyurea treatment in transfusion-dependent β-thalassemia patients. Iran Red Crescent Med J 16(6):e18028

29.

Patel KR, Scott E, Brown VA, Gescher AJ, Steward WP, Brown K (2011) Clinical trials of resveratrol. Ann N Y Acad Sci 1215(1):161–169

30.

Gescher A, Steward WP, Brown K (2013) Resveratrol in the management of human cancer: how strong is the clinical evidence? Ann N Y Acad Sci 1290(1):12–20

31.

Ibrahim YH, Yee D (2004) Insulin-like growth factor-I and cancer risk. Growth Hormon IGF Res 14(4):261–269

32.

Butt AJ, Firth SM, Baxter RC (1999) The IGF axis and programmed cell death. Immunol Cell Biol 77(3):256–262

33.

Chow HS, Garland LL, Hsu C-H, Vining DR, Chew WM, Miller JA, Perloff M, Crowell JA, Alberts DS (2010) Resveratrol modulates drug-and carcinogen-metabolizing enzymes in a healthy volunteer study. Cancer Prev Res 3(9):1168–1175

34.

la Porte C, Voduc N, Zhang G, Seguin I, Tardiff D, Singhal N, Cameron DW (2010) Steady-state pharmacokinetics and tolerability of trans-resveratrol 2000mg twice daily with food, quercetin and alcohol (ethanol) in healthy human subjects. Clin Pharmacokinet 49(7):449–454

35.

Boocock DJ, Faust GE, Patel KR, Schinas AM, Brown VA, Ducharme MP, Booth TD, Crowell JA, Perloff M, Gescher AJ (2007) Phase I dose escalation pharmacokinetic study in healthy volunteers of resveratrol, a potential cancer chemopreventive agent. Cancer Epidemiol Prev Biomarkers 16(6):1246–1252

36.

Brown VA, Patel KR, Viskaduraki M, Crowell JA, Perloff M, Booth TD, Vasilinin G, Sen A, Schinas AM, Piccirilli G (2010) Repeat dose study of the cancer chemopreventive agent resveratrol in healthy volunteers: safety, pharmacokinetics, and effect on the insulin-like growth factor axis. Cancer Res 70(22):9003–9011

37.

Gardner Z, McGuffin M (2013) American Herbal Products Association's botanical safety handbook, second edn. CRC press, Boca Raton

38.

Vang O, Ahmad N, Baile CA, Baur JA, Brown K, Csiszar A, Das DK, Delmas D, Gottfried C, Lin H-Y (2011) What is new for an old molecule? Systematic review and recommendations on the use of resveratrol. PLoS One 6(6):e19881
Acknowledgments
The authors would like to thank Shiraz University of Medical Sciences for financial and approval (approval code 7691, and ethics committee code IR.sums.REC.1394.16), and patients who participated in the study. The author wish to thank Mr. H. Argasi at the Research Consultation Center (RCC) at Shiraz University of Medical Sciences for his invaluable assistance in editing this manuscript.
Ethics declarations
The study protocol was approved by the local Ethics Committee of Shiraz University of Medical Sciences (approval code 7691, and Ethics Committee code IR.sums.REC.1394.16). Prior to start of the study, details were explained to each patient, and a written informed consent was obtained from all patients.
Conflict of interest
The authors declare that they have no conflict of interest.
About this article
Cite this article
Haghpanah, S., Zarei, T., Eshghi, P. et al. Efficacy and safety of resveratrol, an oral hemoglobin F-augmenting agent, in patients with beta-thalassemia intermedia. Ann Hematol 97, 1919–1924 (2018). https://doi.org/10.1007/s00277-018-3392-8
Received:

Accepted:

Published:

Issue Date:
Keywords
Augmenting

Beta thalassemia

Hemoglobin F

Resveratrol