Abstract
The thalassemias are the most common single gene disorder in the world. Nowadays, the average life expectancy of patients in developed countries has increased significantly, while, there was an increase of complications. We aimed to investigate peripheral neuropathy and myopathy in this patient group using a neurophysiological study. We performed nerve conduction studies and electromyography of upper and lower extremities on 36 beta-thalassemia major (β-thal) patients. The electrophysiological findings were correlated with demographic data and laboratory parameters of the disease. Patients with β-thal present polyneuropathy or myopathy at (50%). Polyneuropathy was detected in (38.9%) and myopathy in (27.8%), while polyneuropathy and myopathy were present at (16.7%) with an overlap of the diseases in 1/3 of the patients. There was not a statistically significant correlation of polyneuropathy and myopathy with age, sex, splenectomy, nor with respect to laboratory parameters, hemoglobin, and ferritin. However, there was a statistically significant correlation of polyneuropathy and myopathy with iron overload, as recorded by the magnetic resonance imaging (MRI) of the heart and the liver. Our findings suggest that iron overload plays a key role in the pathogenesis of polyneuropathy and myopathy in β-thal patients, and performing heart and liver MRI for the prediction of such lesions in an annual basis is warranted.
Access options
Buy single article
Instant access to the full article PDF.
USD 39.95
Price excludes VAT (USA)
Tax calculation will be finalised during checkout.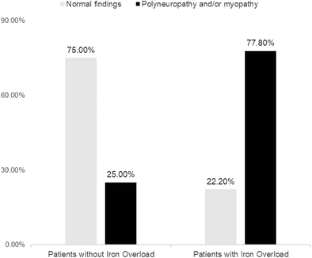 References
Rund D, Rachmilewitz E (2005) Beta-thalassemia. N Engl J Med 353(11):1135–1146. https://doi.org/10.1056/NEJMra050436

Cao A, Galanello R (2010) Beta-thalassemia. Genet Med 12(2):61–76. https://doi.org/10.1097/GIM.0b013e3181cd68ed

Cappellini MD, Cohen A, Eleftheriou A et al. In Guidelines for the clinical management of thalassaemia, 2nd Revised Edition. Nicosia (CY): 2008

Nemtsas P, Arnaoutoglou M, Perifanis V et al (2015) Neurological complications of beta-thalassemia. Ann Hematol 94:1261–1265

Musallam KM, Taher AT, Karimi M, Rachmilewitz EA (2012) Cerebral infarction in beta-thalassemia intermedia: breaking the silence. Thromb Res 130(5):695–702. https://doi.org/10.1016/j.thromres.2012.07.013

Karimi M, Haghpanah S, Pishdad P, Rachmilewitz EA (2016) Frequency of silent cerebral ischemia in patients with transfusion-dependent beta-thalassemia major compared to healthy individuals. Ann Hematol 95(8):1387. https://doi.org/10.1007/s00277-016-2713-z

Zafeiriou DI, Kousi AA, Tsantali CT et al (1998) Neurophysiologic evaluation of long-term desferrioxamine therapy in beta-thalassemia patients. Pediatr Neurol 18(5):420–424. https://doi.org/10.1016/S0887-8994(98)00004-6

Stamboulis E, Vlachou N, Drossou-Servou M et al (2004) Axonal sensorimotor neuropathy in patients with beta-thalassaemia. J Neurol Neurosurg Psychiatry 75:1483–1486

Sawaya RA, Zahed L, Taher A (2006) Peripheral neuropathy in thalassaemia. Ann Saudi Med 26(5):358–363. https://doi.org/10.5144/0256-4947.2006.358

Nemtsas PPV, Koutsouraki E, Orologas A, Arnaoutoglou M (2014) Is precautionary neurophysiological monitoring useful for beta-thalassemia patients? Clin Neurophysiol 125:S219. https://doi.org/10.1016/S1388-2457(14)50720-1

Barbara E. Shapiro DCP (2005) Electromyography and neuromuscular disorders. Elsevier

J. K (2013) Electrodiagnosis in diseases of nerve and muscle principles and practice. Oxford University Press

England JD, Gronseth GS, Franklin G, Miller RG, Asbury AK, Carter GT, Cohen JA, Fisher MA, Howard JF, Kinsella LJ, Latov N, Lewis RA, Low PA, Sumner AJ, American Academy of Neurology, American Association of Electrodiagnostic Medicine, American Academy of Physical Medicine and Rehabilitation (2005) Distal symmetric polyneuropathy: a definition for clinical research: report of the American Academy of Neurology, the American Association of Electrodiagnostic Medicine, and the American Academy of Physical Medicine and Rehabilitation. Neurology 64(2):199–207. https://doi.org/10.1212/01.WNL.0000149522.32823.EA

Anderson LJ, Holden S, Davis B et al (2001) Cardiovascular T2-star (T2*) magnetic resonance for the early diagnosis of myocardial iron overload. Eur Heart J 22:2171–2179

Gandon Y, Olivie D, Guyader D et al (2004) Non-invasive assessment of hepatic iron stores by MRI. Lancet 363:357–362

Christoforidis A, Perifanis V, Spanos G et al (2009) MRI assessment of liver iron content in thalassamic patients with three different protocols: comparisons and correlations. Eur J Haematol 82:388–392

Vlachaki E, Agapidou A, Spanos G et al (2015) Five years of deferasirox therapy for cardiac iron in beta-thalassemia major. Hemoglobin 39:299–304

Economou M, Zafeiriou DI, Kontopoulos E, Gompakis N, Koussi A, Perifanis V, Athanassiou-Metaxa M (2006) Neurophysiologic and intellectual evaluation of beta-thalassemia patients. Brain and Development 28(1):14–18. https://doi.org/10.1016/j.braindev.2005.03.006

Ouederni M, Ben Khaled M, Mellouli F et al (2017) Myocardial and liver iron overload, assessed using T2* magnetic resonance imaging with an excel spreadsheet for post processing in Tunisian thalassemia major patients. Ann Hematol 96:133–139

Rachmilewitz EA, Weizer-Stern O, Adamsky K et al (2005) Role of iron in inducing oxidative stress in thalassemia: can it be prevented by inhibition of absorption and by antioxidants? Ann N Y Acad Sci 1054:118–123

Yarjanli Z, Ghaedi K, Esmaeili A et al (2017) Iron oxide nanoparticles may damage to the neural tissue through iron accumulation, oxidative stress, and protein aggregation. BMC Neurosci 18:51

Levi S, Taveggia C (2014) Iron homeostasis in peripheral nervous system, still a black box? Antioxid Redox Signal 21(4):634–648. https://doi.org/10.1089/ars.2013.5813

Johnstone D, Milward EA (2010) Genome-wide microarray analysis of brain gene expression in mice on a short-term high iron diet. Neurochem Int 56(6-7):856–863. https://doi.org/10.1016/j.neuint.2010.03.015

Street VA, Bennett CL, Goldy JD, Shirk AJ, Kleopa KA, Tempel BL, Lipe HP, Scherer SS, Bird TD, Chance PF (2003) Mutation of a putative protein degradation gene LITAF/SIMPLE in Charcot-Marie-Tooth disease 1C. Neurology 60(1):22–26. https://doi.org/10.1212/WNL.60.1.22

Cuesta A, Pedrola L, Sevilla T, García-Planells J, Chumillas MJ, Mayordomo F, LeGuern E, Marín I, Vílchez JJ, Palau F (2002) The gene encoding ganglioside-induced differentiation-associated protein 1 is mutated in axonal Charcot-Marie-Tooth type 4A disease. Nat Genet 30(1):22–25. https://doi.org/10.1038/ng798

Munoz J, Ferrari N, Kuriakose P (2011) Iron-overload myopathy. Int J Hematol 94(6):503–504. https://doi.org/10.1007/s12185-011-0961-1

Rivella S, Rachmilewitz E (2009) Future alternative therapies for beta-thalassemia. Expert Rev Hematol 2(6):685–697. https://doi.org/10.1586/ehm.09.56

Makis A, Hatzimichael E, Papassotiriou I, Voskaridou E (2016) 2017 clinical trials update in new treatments of beta-thalassemia. Am J Hematol 91(11):1135–1145. https://doi.org/10.1002/ajh.24530
Ethics declarations
Ethical approval
All procedures performed in studies involving human participants were in accordance with the ethical standards of the institutional and/or national research committee and with the 1964 Helsinki Declaration and its later amendments or comparable ethical standards. Informed consent was obtained from all individual participants included in the study.
Conflict of interest
The authors declare that they have no conflict of interest.
Electronic supplementary material
About this article
Cite this article
Nemtsas, P., Arnaoutoglou, M., Perifanis, V. et al. Polyneuropathy and myopathy in beta-thalassemia major patients. Ann Hematol 97, 899–904 (2018). https://doi.org/10.1007/s00277-018-3251-7
Received:

Accepted:

Published:

Issue Date:

DOI: https://doi.org/10.1007/s00277-018-3251-7
Keywords
Peripheral neuropathy

Electromyography

Thalassemia complications

Nerve conduction study

Neurological complications

T2* MRI heart

T2* MRI liver