Abstract
The combination of pomalidomide and low-dose dexamethasone (Pom-Dex) has proved effective and safe in patients with end-stage relapsed/refractory multiple myeloma (RRMM), otherwise characterized by a very poor outcome. MM remains an incurable disease with unavoidable relapses, and the outcome after pomalidomide is still dismal. However, some patients demonstrate prolonged survival even beyond pomalidomide therapy.
We sought to analyze the treatment of RRMM patients following Pom-Dex therapy and the response and survival after this next treatment line.
We studied 134 patients treated with Pom-Dex until progression across two IFM studies. Seventy percent of these patients received further therapy after Pom-Dex. Among the treated patients, one third responded and one third maintained stable disease. The median OS for treated patients was 12 months (6.5;17), with 22 and 12.5% of patients surviving beyond 2 and 3 years, respectively. The factors associated with a better outcome were exposure to a triplet-based regimen containing a novel agent, response to therapy, absence of adverse cytogenetic, and a longer time from diagnosis to post pomalidomide therapy.
This study suggests that patients relapsing after Pom-Dex therapy can still benefit from a further line of treatment. A subset of these treated patients even displayed a prolonged OS, while the prognosis remained very poor without treatment. An active approach could therefore be recommended even in this adverse situation, however guided by the patients' prognosis factors.
Access options
Buy single article
Instant access to the full article PDF.
USD 39.95
Price includes VAT (USA)
Tax calculation will be finalised during checkout.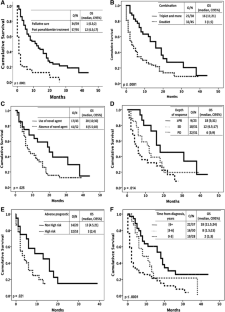 Acknowledgements
The authors wish to thank the patients and their family. The authors thank Celgene for providing investigational products. They thank Dr. Bernadette Hennache, Dr. Suzanna Schraen, Mr. Jean Luc Faucompret, and Mr. Jaime Gutierrez for the central laboratory analysis in CHRU of Lille, France; Christine Cotton and Florence Carrère from Statitec (Toulouse, France) for data management and statistical analysis; and Bella Ohyba, Chanaz Louni, Mehdi Hamza, and Malek Dib, for the Direction de la Recherche Clinique of CHRU of Lille, France.
The patients, their family, the Department of Hematology of Poitiers, CHU, France, and her colleagues wish to thank Dr. Laurence Lacotte-Thierry, a wife and beloved mother of three, hematologist, and myeloma physician, that died on 2016, from a long unended fight against cancer.
Funding
The authors thank Celgene for financial support for IFM 2009-02 and IFM 2010-02
Ethics declarations
The study was approved by the CHRU of Lille review board, and it was conducted according to the Declaration of Helsinki.
Conflict of interest
The authors declare that they have no conflict of interest.
Additional information
GF, LK, MM, and DC are the co-first authors
About this article
Cite this article
Fouquet, G., Karlin, L., Macro, M. et al. Salvage therapy post pomalidomide-based regimen in relapsed/refractory myeloma. Ann Hematol 97, 831–837 (2018). https://doi.org/10.1007/s00277-018-3236-6
Received:

Accepted:

Published:

Issue Date:
Keywords
Multiple myeloma

Pomalidomide

Survival