Abstract
Clinical outcomes of patients with acute myeloid leukemia (AML) showing the first primary refractory or early-relapsed disease remain very poor. The Programa Español de Tratamientos en Hematología (PETHEMA) group designed a phase I–II trial using FLAG-Ida (fludarabine, idarubicin, cytarabine, and G-CSF) plus high-dose intravenous plerixafor, a molecule inducing mobilization of blasts through the SDF-1α-CXCR4 axis blockade and potentially leading to chemosensitization of the leukemic cells. We aimed to establish a recommended phase 2 dose (RP2D) of plerixafor plus FLAG-Ida, as well as the efficacy and safety of this combination for early-relapsed (first complete remission (CR/CRi) < 12 months) or primary refractory AML. Between 2012 and 2015, 57 patients were enrolled, and 41 received the RP2D (median age 52 years [range, 18–64]). Among these patients, 20 (49%) achieved CR/CRi, and 3 (7%) died during induction. CR/CRi rate was 50% (13/26) among primary refractory and 47% (7/15) among early relapse. Overall, 25 patients (61%) were allografted. Median overall and disease-free survivals were 9.9 and 13 months, respectively. In summary, the combination of plerixafor plus FLAG-Ida resulted in a relatively high CR/CRi rate in adult patients with primary refractory or early relapsed AML, with an acceptable toxicity profile and induction mortality rate, bridging the majority of patients to allogeneic stem cell transplantation. ClinicalTrials.gov Identifier: NCT01435343
Access options
Buy single article
Instant access to the full article PDF.
US$ 39.95
Tax calculation will be finalised during checkout.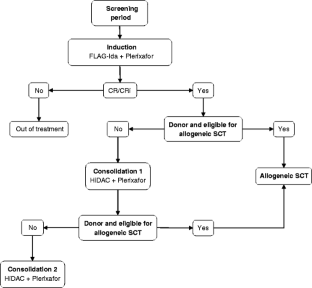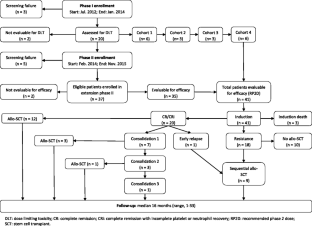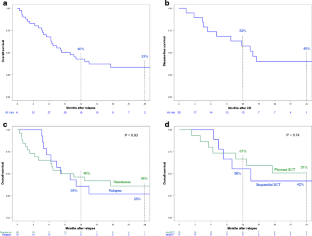 References
1.

Bergua JM, Montesinos P, Martinez-Cuadrón D, Fernández-Abellán P, Serrano J, Sayas MJ et al (2016) A prognostic model for survival after salvage treatment with FLAG-Ida +/− gemtuzumab-ozogamicine in adult patients with refractory/relapsed acute myeloid leukaemia. Br J Haematol 174:700–710

2.

Chevallier P, Labopin M, Turlure P, Prebet T, Pigneux A, Hunault M et al (2011) A new leukemia prognostic scoring system for refractory/relapsed adult acute myelogeneous leukaemia patients: a GOELAMS study. Leukemia 25:939–944

3.

Breems DA, Van Putten WL, Huijgens PC, Ossenkoppele GJ, Verhoef GE, Verdonck LF et al (2005) Prognostic index for adult patients with acute myeloid leukemia in first relapse. J Clin Oncol 23:1969–1978

4.

Döhner H, Estey E, Grimwade D, Amadori S, Appelbaum FR, Büchner T et al (2017) Diagnosis and management of AML in adults: 2017 ELN recommendations from an international expert panel. Blood 129:424–447

5.

Broxmeyer HE, Orschell CM, Clapp DW, Hangoc G, Cooper S, Plett PA et al (2005) Rapid mobilization of murine and human hematopoietic stem and progenitor cells with AMD3100, a CXCR4 antagonist. J Exp Med 201:1307–1318

6.

Uy GL, Rettig MP, Motabi IH, McFarland K, Trinkaus KM, Hladnik LM et al (2012) A phase 1/2 study of chemosensitization with the CXCR4 antagonist plerixafor in relapsed or refractory acute myeloid leukemia. Blood 119:3917–3924

7.

Nervi B, Ramirez P, Rettig MP, Uy GL, Holt MS, Ritchey JK et al (2009) Chemosensitization of acute myeloid leukemia (AML) following mobilization by the CXCR4 antagonist AMD3100. Blood 113:6206–6214

8.

Grimwade D, Hills RK, Moorman AV, Walker H, Chatters S, Goldstone AH et al (2010) Refinement of cytogenetic classification in acute myeloid leukaemia: determination of prognostic significance of rarer recurring chromosomal abnormalities amongst 5,876 younger adult patients treated in the UK Medical Research Council trials. Blood 116:354–365

9.

Cheson BD, Bennett JM, Kopecky KJ, Büchner T, Willman CL, Estey EH et al (2003) Revised recommendations of the International Working Group for diagnosis, standardization of response criteria, treatment outcomes and reporting standards for therapeutic trials in acute myeloid leukemia. J Clin Oncol 21:4642–4649

10.

Lemery SJ, Hsieh MM, Smith A, Rao S, Khuu HM, Theresa D et al (2011) A pilot study evaluating the safety and CD34+ cell mobilizing activity of escalating doses of plerixafor in healthy volunteers. Br J Haematol 153:66–75

11.

Hendrix CW, Flexner C, MacFarland RT, Giandomenico C, Fuchs EJ, Redpath E et al (2000) Pharmacokinetics and safety of AMD-3100, a novel antagonist of the CXCR-4 chemokine receptor, in human volunteers. Antimicrob Agents Chemother 44:1667–1673

12.

Karanes C, Kopecky KJ, Head DR, Grever MR, Hynes HE, Kraut EH et al (2009) A phase III comparison of high dose ARA-C (HIDAC) versus HIDAC plus mitoxantrone in the treatment of first relapsed or refractory acute myeloid leukemia Southwest Oncology Group Study. Leuk Res 23:787–794

13.

Ho AD, Lipp T, Ehninger G, Illiger HJ, Meyer P, Freund M et al (1988) Combination of mitoxantrone and etoposide in refractory acute myelogenous leukemia—an active and well-tolerated regimen. J Clin Oncol 6:213–217

14.

Daenen S, Löwenberg B, Sonneveld P, Van Putten WL, Verhoef G, Verdonck LF et al (1994) Efficacy of etoposide and mitoxantrone in patients with acute myelogenous leukemia refractory to standard induction therapy and intermediate-dose cytarabine with amsidine. Leukemia 8:6–10

15.

Martin MG, Welch JS, Augustin K, Hladnik L, DiPersio JF, Abboud CN (2009) Cladribine in the treatment of acute myeloid leukemia: a single-institution experience. Clin Lymphoma Myeloma 9:298–301

16.

Lee SR, Yang DH, Ahn JS, Kim YK, Lee JJ, Choi YJ et al (2009) The clinical outcome of FLAG chemotherapy without idarubicin in patients with relapsed or refractory acute myeloid leukemia. J Korean Med Sci 24:498–503

17.

Montillo M, Mirto S, Petti MC, Latagliata R, Magrin S, Pinto A et al (1998) Fludarabine, cytarabine, and G-CSF (FLAG) for the treatment of poor risk acute myeloid leukemia. Am J Hematol 58:105–109

18.

Jackson G, Taylor P, Smith GM, Marcus R, Smith A, Chu P et al (2001) A multicentre, open, non-comparative phase II study of a combination of fludarabine phosphate, cytarabine and granulocyte colony-stimulating factor in relapsed and refractory acute myeloid leukaemia and de novo refractory anaemia with excess of blasts. Br J Haematol 112:127–137

19.

Ravandi F, Ritchie EK, Sayar H, Lancet JE, Craig MD, Vey N et al (2015) Vosaroxin plus cytarabine versus placebo plus cytarabine in patients with first relapsed or refractory acute myeloid leukaemia (VALOR): a randomised, controlled, double-blind, multinational, phase 3 study. Lancet Oncol 16:1025–1036

20.

Heil G, Hoelzer D, Sanz MA, Lechner K, Liu Yin JA, Papa G et al (1997) A randomized, double-blind, placebo-controlled, phase III study of filgrastim in remission induction and consolidation therapy for adults with de novo acute myeloid leukemia. The International Acute Myeloid Leukemia Study Group. Blood 90:4710–4718

21.

Lyman GH, Kuderer NM, Djulbegovic B (2002) Prophylactic granulocyte colony-stimulating factor in patients receiving dose-intensive cancer chemotherapy: a meta-analysis. Am J Med 112:406–411

22.

Peled A, Tavor S (2013) Role of CXCR4 in the pathogenesis of acute myeloid leukemia. Theranostics 3:34–39

23.

Rombouts EJ, Pavic B, Löwenberg B, Ploemacher RE (2004) Relation between CXCR-4 expression, Flt3 mutations, and unfavorable prognosis of adult acute myeloid leukemia. Blood 104:550–557
Acknowledgements
The authors thank Shirley Weiss, David Pellicer, María D. García, and Mar Benlloch for data collection and management and Rafael Andreu for helping in the interpretation of the inmunophenotype analyses.
Funding
This work was partially financed with FEDER funds (CIBERONC (CB16/12/00284)). This work was supported by research funding from Sanofi-Genzyme.
Ethics declarations
Informed consent was obtained from all patients. According to the Declaration of Helsinki, the trial was approved by the Research Ethics Board of each participating hospital.
Conflicts of interest
The authors declare that they have no conflict of interest.
Additional information
The original version of this article was revised: The name of Pau Montesinos was inadvertently presented as Pau Montesinos Fernández.
About this article
Cite this article
Martínez-Cuadrón, D., Boluda, B., Martínez, P. et al. A phase I–II study of plerixafor in combination with fludarabine, idarubicin, cytarabine, and G-CSF (PLERIFLAG regimen) for the treatment of patients with the first early-relapsed or refractory acute myeloid leukemia. Ann Hematol 97, 763–772 (2018). https://doi.org/10.1007/s00277-018-3229-5
Received:

Accepted:

Published:

Issue Date:
Keywords
Acute myeloid leukemia

Plerixafor

FLAG-Ida

Resistance

Relapse