Abstract
Although serum beta-2 microglobulin (B2M) has been suggested as an independent prognostic factor for several lymphoproliferative diseases, it has rarely been investigated in extranodal natural killer/T cell lymphoma (ENKTL). From a prospectively collected database, 145 patients with ENKTL were identified. Among them, a total of 101 patients were included in the analysis, with exclusion of patients without baseline serum B2M level and those did not receive anticancer therapy. Serum B2M (<3.0 vs. ≥3.0 mg/L) was analyzed for association with overall survival (OS). Seventy-nine (78 %) patients had nasal ENKTL, and 22 (22 %) had extranasal ENKTL. In overall patients, median OS was 26.7 months (95 % confidence interval (CI), not assessable), with a median follow-up of 32.4 months (range, 0.9–155.2 months). While median OS was not reached in patients with nasal ENKTL, extranasal ENKTL group had median OS of 5.1 months (95 % CI, 1.2–8.9 months; p < 0.001). Baseline serum B2M was significantly associated with OS in patients with nasal ENKTL (p < 0.001). This was consistent in limited (stages I and II) nasal ENKTL (p = 0.002) and disseminated (stages III and IV) nasal ENKTL (p = 0.02). However, there was no difference of OS in extranasal ENKTL patients (p = 0.69). In multivariate analysis including other prognostic factors, elevated serum B2M was significantly associated with poor OS (hazard ratio (HR) = 3.8, 95 % CI 1.7–8.2, p = 0.001, in a model including Korean Prognostic Index, and HR = 3.6, 95 % CI 1.6–8.2, p = 0.002, in a model including International Prognostic Index). In patients with nasal ENKTL, baseline serum B2M is a powerful prognostic factor. The prognostic value of B2M was independent of previously established prognostic models. Further investigations are necessary to validate the role of B2M in ENKTL.
Access options
Buy single article
Instant access to the full article PDF.
USD 39.95
Price excludes VAT (USA)
Tax calculation will be finalised during checkout.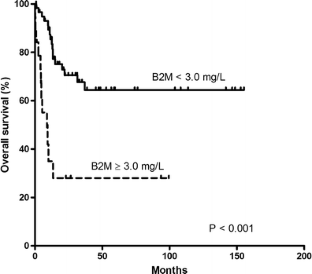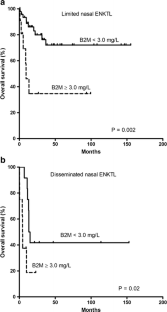 References
Chan JKC, Jaffe ES ER (2001) Extranodal NK/T-cell lymphoma, nasal type. In: Jaffe ES, Harris NL, Stein H, Vardiman JW (eds) World Health Organization classification of tumors. Pathology and genetics of tumours of haematopoietic and lymphoid tissues. IARC, Lyon, pp 204–207

Vose J, Armitage J, Weisenburger D (2008) International peripheral T-cell and natural killer/T-cell lymphoma study: pathology findings and clinical outcomes. J Clin Oncol 26(25):4124–4130

Kwong YL (2005) Natural killer-cell malignancies: diagnosis and treatment. Leukemia 19(12):2186–2194

(1993) A predictive model for aggressive non-Hodgkin's lymphoma. N Engl J Med 329(14):987–994

Chim CS, Ma SY, Au WY, Choy C, Lie AK, Liang R, Yau CC, Kwong YL (2004) Primary nasal natural killer cell lymphoma: long-term treatment outcome and relationship with the International Prognostic Index. Blood 103(1):216–221

Lee J, Kim WS, Park YH, Park SH, Park KW, Kang JH, Lee SS, Lee SI, Lee SH, Kim K, Jung CW, Ahn YC, Ko YH, Park K (2005) Nasal-type NK/T cell lymphoma: clinical features and treatment outcome. Br J Cancer 92(7):1226–1230

Kim TM, Park YH, Lee SY, Kim JH, Kim DW, Im SA, Kim TY, Kim CW, Heo DS, Bang YJ, Chang KH, Kim NK (2005) Local tumor invasiveness is more predictive of survival than International Prognostic Index in stage I(E)/II(E) extranodal NK/T-cell lymphoma, nasal type. Blood 106(12):3785–3790

Lee J, Park YH, Kim WS, Lee SS, Ryoo BY, Yang SH, Park KW, Kang JH, Park JO, Lee SH, Kim K, Jung CW, Park YS, Im YH, Kang WK, Lee MH, Ko YH, Ahn YC, Park K (2005) Extranodal nasal type NK/T-cell lymphoma: elucidating clinical prognostic factors for risk-based stratification of therapy. Eur J Cancer 41(10):1402–1408

Lee J, Suh C, Park YH, Ko YH, Bang SM, Lee JH, Lee DH, Huh J, Oh SY, Kwon HC, Kim HJ, Lee SI, Kim JH, Park J, Oh SJ, Kim K, Jung C, Park K, Kim WS (2006) Extranodal natural killer T-cell lymphoma, nasal-type: a prognostic model from a retrospective multicenter study. J Clin Oncol 24(4):612–618

Jo JC, Yoon DH, Kim S, Lee BJ, Jang YJ, Park CS, Huh J, Lee SW, Ryu JS, Suh C (2012) Clinical features and prognostic model for extranasal NK/T-cell lymphoma. Eur J Haematol 89(2):103–110. doi:10.1111/j.1600-0609.2012.01796.x

Suzuki R (2010) Treatment of advanced extranodal NK/T cell lymphoma, nasal-type and aggressive NK-cell leukemia. Int J Hematol 92(5):697–701. doi:10.1007/s12185-010-0726-2

Peterson PA, Cunningham BA, Berggard I, Edelman GM (1972) 2-Microglobulin—a free immunoglobulin domain. Proc Natl Acad Sci U S A 69(7):1697–1701

Grey HM, Kubo RT, Colon SM, Poulik MD, Cresswell P, Springer T, Turner M, Strominger JL (1973) The small subunit of HL-A antigens is beta 2-microglobulin. J Exp Med 138(6):1608–1612

Bataille R, Durie BG, Grenier J (1983) Serum beta2 microglobulin and survival duration in multiple myeloma: a simple reliable marker for staging. Br J Haematol 55(3):439–447

Constantinides IP, Pathouli C, Karvountzis G, Papadopoulos P, Varvoutsi-Constantinides M, Eliakis P, Hadziyannis S, Komninos Z (1985) Serum beta 2 microglobulin in malignant lymphoproliferative disorders. Cancer 55(10):2384–2389

Chronowski GM, Wilder RB, Tucker SL, Ha CS, Sarris AH, Hagemeister FB, Barista I, Hess MA, Cabanillas F, Cox JD (2002) An elevated serum beta-2-microglobulin level is an adverse prognostic factor for overall survival in patients with early-stage Hodgkin disease. Cancer 95(12):2534–2538

Federico M, Bellei M, Marcheselli L, Luminari S, Lopez-Guillermo A, Vitolo U, Pro B, Pileri S, Pulsoni A, Soubeyran P, Cortelazzo S, Martinelli G, Martelli M, Rigacci L, Arcaini L, Di Raimondo F, Merli F, Sabattini E, McLaughlin P, Solal-Celigny P (2009) Follicular lymphoma international prognostic index 2: a new prognostic index for follicular lymphoma developed by the international follicular lymphoma prognostic factor project. J Clin Oncol 27(27):4555–4562

Cheson BD, Pfistner B, Juweid ME, Gascoyne RD, Specht L, Horning SJ, Coiffier B, Fisher RI, Hagenbeek A, Zucca E, Rosen ST, Stroobants S, Lister TA, Hoppe RT, Dreyling M, Tobinai K, Vose JM, Connors JM, Federico M, Diehl V (2007) Revised response criteria for malignant lymphoma. J Clin Oncol 25(5):579–586

Au WY, Weisenburger DD, Intragumtornchai T, Nakamura S, Kim WS, Sng I, Vose J, Armitage JO, Liang R (2009) Clinical differences between nasal and extranasal natural killer/T-cell lymphoma: a study of 136 cases from the International Peripheral T-Cell Lymphoma Project. Blood 113(17):3931–3937

Au WY, Pang A, Choy C, Chim CS, Kwong YL (2004) Quantification of circulating Epstein-Barr virus (EBV) DNA in the diagnosis and monitoring of natural killer cell and EBV-positive lymphomas in immunocompetent patients. Blood 104(1):243–249

Blanche P, Dartigues JF, Jacqmin-Gadda H (2013) Estimating and comparing time-dependent areas under receiver operating characteristic curves for censored event times with competing risks. Stat Med. doi:10.1002/sim.5958

Li ZM, Zhu YJ, Sun J, Xia Y, Huang JJ, Zou BY, Lin TY, Huang HQ, Jiang WQ (2012) Serum beta2-microglobin is a predictor of prognosis in patients with upper aerodigestive tract NK/T-cell lymphoma. Ann Hematol 91(8):1265–1270. doi:10.1007/s00277-012-1434-1

Shen L, Chiang AK, Liu WP, Li GD, Liang RH, Srivastava G (2001) Expression of HLA class I, beta(2)-microglobulin, TAP1 and IL-10 in Epstein-Barr virus-associated nasal NK/T-cell lymphoma: implications for tumor immune escape mechanism. Int J Cancer 92(5):692–696
Conflict of interest
The authors have no conflict of interest.
About this article
Cite this article
Yoo, C., Yoon, D.H., Jo, JC. et al. Prognostic impact of beta-2 microglobulin in patients with extranodal natural killer/T cell lymphoma. Ann Hematol 93, 995–1000 (2014). https://doi.org/10.1007/s00277-014-2015-2
Received:

Accepted:

Published:

Issue Date:

DOI: https://doi.org/10.1007/s00277-014-2015-2
Keywords