Abstract
Hereditary spherocytosis (HS) is characterised by weakened vertical linkages between the membrane skeleton and the red blood cell's lipid bilayer, leading to the release of microparticles. All the reference tests suffer from specific limitations. The aim of this study was to develop easy to use diagnostic tool for screening of hereditary spherocytosis based on routinely acquired haematological parameters like percentage of microcytes, percentage of hypochromic cells, reticulocyte counts, and percentage of immature reticulocytes. The levels of haemoglobin, mean cell volume, mean corpuscular haemoglobin concentration, reticulocytes (Ret), immature reticulocytes fraction (IRF), hypochromic erythrocytes (Hypo-He) and microcytic erythrocytes (MicroR) were determined on EDTA samples on Sysmex instruments from a cohort of 45 confirmed SH. The HS group was then compared with haemolytical disorders, microcytic anaemia, healthy individuals and routine samples (n = 1,488). HS is characterised by a high Ret count without an equally elevated IRF. All 45 HS have Ret >80,000/μl and Ret(109/L)/IRF (%) greater than 7.7 (rule 1). Trait and mild HS had a Ret/IRF ratio greater than 19. Moderate and severe HS had increased MicroR and MicroR/Hypo-He (rule 2). Combination of both rules gave predictive positive value and negative predictive value of respectively 75% and 100% (n = 1,488), which is much greater than single parameters or existing rules. This simple and fast diagnostic method could be used as an excellent screening tool for HS. It is also valid for mild HS, neonates and ABO incompatibilities and overcomes the lack of sensitivity of electrophoresis in ankyrin deficiencies.
Access options
Buy single article
Instant access to the full article PDF.
USD 39.95
Price excludes VAT (USA)
Tax calculation will be finalised during checkout.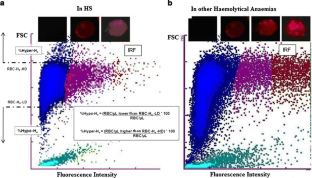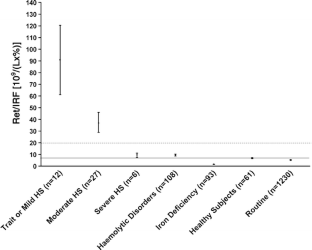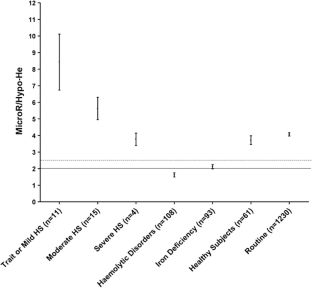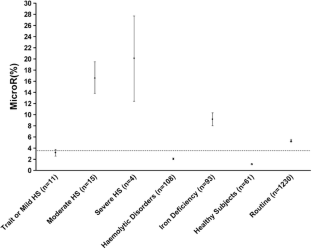 References
King MJ, Behrens J, Rogers C, Flynn C, Greenwood D, Chambers K (2000) Rapid flow cytometric test for the diagnosis of membrane cytoskeleton-associated haemolytic anaemia. Br J Haematol 111(3):924–933

Bolton-Maggs PH, Stevens RF, Dodd NJ, Lamont G, Tittensor P, King MJ (2004) Guidelines for the diagnosis and management of hereditary spherocytosis. Br J Haematol 126(4):455–474

Perrotta S, Gallagher PG, Mohandas N (2008) Hereditary spherocytosis. Lancet 372(9647):1411–1426

Miraglia del Giudice E, Francese M, Polito R, Nobili B, Iolascon A, Perrotta S (1997) Apparently normal ankyrin content in unsplenectomized hereditary spherocytosis patients with the inactivation of one ankyrin (ank1) allele. Haematologica 82(3):332–333

An X, Mohandas N (2008) Disorders of red cell membrane. Br J Haematol 141(3):367–375

Cynober T, Mohandas N, Tchernia G (1996) Red cell abnormalities in hereditary spherocytosis: relevance to diagnosis and understanding of the variable expression of clinical severity. J Lab Clin Med 128(3):259–269

Michaels LA, Cohen AR, Zhao H, Raphael RI, Manno CS (1997) Screening for hereditary spherocytosis by use of automated erythrocyte indexes. J Pediatr 130(6):957–960

Kutter D, Coulon N, Stirn F, Thoma M, Janecki J (2002) Demonstration and quantification of "hyperchromic" erythrocytes by haematological analysers. Application to screening for hereditary and acquired spherocytosis. Clin Lab 48(3–4):163–170

Da Costa L, Mohandas N, Sorette M, Grange MJ, Tchernia G, Cynober T (2001) Temporal differences in membrane loss lead to distinct reticulocyte features in hereditary spherocytosis and in immune hemolytic anemia. Blood 98(10):2894–2899

Chiron M, Cynober T, Mielot F, Tchernia G, Croisille L (1999) The gen.S: a fortuitous finding of a routine screening test for hereditary spherocytosis. Hematol Cell Ther 41(3):113–116

Girodon F, Garcon L, Bergoin E, Largier M, Delaunay J, Feneant-Thibault M, Maynadie M, Couillaud G, Moreira S, Cynober T (2008) Usefulness of the eosin-5′-maleimide cytometric method as a first-line screening test for the diagnosis of hereditary spherocytosis: comparison with ektacytometry and protein electrophoresis. Br J Haematol 140(4):468–470

King MJ, Telfer P, MacKinnon H, Langabeer L, McMahon C, Darbyshire P, Dhermy D (2008) Using the eosin-5-maleimide binding test in the differential diagnosis of hereditary spherocytosis and hereditary pyropoikilocytosis. Cytometry 74(4):244–250

Urrechaga E, Borque L, Escanero JF (2009) Potential utility of the new Sysmex XE 5000 red blood cell extended parameters in the study of disorders of iron metabolism. Clin Chem Lab Med 47(11):1411–1416

Saada V, Cynober T, Brossard Y, Schischmanoff PO, Sender A, Cohen H, Delaunay J, Tchernia G (2006) Incidence of hereditary spherocytosis in a population of jaundiced neonates. Pediatr Hematol Oncol 23(5):387–397

Sgro M, Campbell D, Shah V (2006) Incidence and causes of severe neonatal hyperbilirubinemia in Canada. CMAJ 175(6):587–590

Blanc L, Liu J, Vidal M, Chasis JA, An X, Mohandas N (2009) The water channel aquaporin-1 partitions into exosomes during reticulocyte maturation: implication for the regulation of cell volume. Blood 114(18):3928–3934

Harris N, Jou JM, Devoto G, Lotz J, Pappas J, Wranovics D, Wilkinson M, Fletcher SR, Kratz A (2005) Performance evaluation of the advia 2120 hematology analyzer: an international multicenter clinical trial. Lab Hematol 11(1):62–70

Banfi G, Mauri C, Morelli B, Di Gaetano N, Malgeri U, Melegati G (2006) Reticulocyte count, mean reticulocyte volume, immature reticulocyte fraction, and mean sphered cell volume in elite athletes: reference values and comparison with the general population. Clin Chem Lab Med 44(5):616–622

Rodrigues A, Ortega C, Santos L, Teixeira A, Dinis MJ, Vasconcelos I, Lacerda J, Fonseca E (2007) Clinical utility of Beckman–Coulter Gen's reticulocyte analysis in the study of anemia of chronic disease (ACD). Lab Hematol 13(3):85–92

Urrechaga E (2009) Clinical utility of the new Beckman–Coulter parameter red blood cell size factor in the study of erithropoiesis. Int J Lab Hematol 31(6):623–629

Bruce LJ, Robinson HC, Guizouarn H, Borgese F, Harrison P, King MJ, Goede JS, Coles SE, Gore DM, Lutz HU, Ficarella R, Layton DM, Iolascon A, Ellory JC, Stewart GW (2005) Monovalent cation leaks in human red cells caused by single amino-acid substitutions in the transport domain of the band 3 chloride-bicarbonate exchanger, ae1. Nat Genet 37(11):1258–1263
Acknowledgements
François Mullier is a FRIA researcher. The authors wish to thank all participating haematological centres: Catherine Bardiau (Huy, Belgium), Christophe Chantrain (Bruxelles and Mont-Godinne, Belgium), Andre Delattre (Verviers, Belgium), Andre Gothot (Liege, Belgium), Jean-Sebastien Goffinet (Bruxelles, Belgium), Vincent Hennaux (Gilly, Belgium), Olivier Ketelslegers (Liege, Belgium), Salah-eddine lali (Verviers, Belgium), Jacques Mairesse (Ottignies, Belgium), Jean-Marc Minon (Liège, Belgium) and David Tuerlinckx (Mont-Godinne, Belgium) Lydie Da Costa (Paris, France), Françoise Schillinger (Besançon, France).
Authorship and disclosures
F.M. and B.C conceived the idea and designed the study protocol; F.M and B.C. analysed the Sysmex data and together with N.B and Y.C analysed cryohemolysis and flow cytometric data. E.L., O.F. and L.D. analysed ektacytometry data and together with F.S. contributed with provision of study material or patients. F.M. and B.C. collected, assembled data and interpreted the data; F.M. performed statistical analysis, F.M, B.C, C.C and J.-M.D. wrote the manuscript; and all authors reviewed and approved the manuscript. The authors declare no competing financial interests.
About this article
Cite this article
Mullier, F., Lainey, E., Fenneteau, O. et al. Additional erythrocytic and reticulocytic parameters helpful for diagnosis of hereditary spherocytosis: results of a multicentre study. Ann Hematol 90, 759–768 (2011). https://doi.org/10.1007/s00277-010-1138-3
Received:

Accepted:

Published:

Issue Date:

DOI: https://doi.org/10.1007/s00277-010-1138-3
Keywords
Hereditary spherocytosis

Reticulocyte

Microparticles

Ankyrin