Abstract
To evaluate clinical outcomes of autologous peripheral blood stem cell transplantation (APBCST) between opticospinal multiple sclerosis (OSMS) and conventional multiple sclerosis (CMS) during disease progressive stage in a Chinese population. Thirty-six secondary progressive MS patients, among whom 21 were with OSMS and 15 with CMS, underwent APBSCT and were followed up for an average of 48.92 months (range, 10–91 months). Peripheral blood stem cells were obtained by leukapheresis after mobilization with granulocyte colony-stimulating factor. Modified BEAM conditioning regimen (Tiniposide, melphalan, carmustin, and cytosine arabinoside) were administered. Outcomes were evaluated using the expanded disability status scale (EDSS). No maintenance treatment was administered if there was no disease progression. No treatment-related mortality occurred. Among the 36 patients, one OSMS patient dropped during the follow-up. Among the 22 relapse-free patients, 20 were with continuous neurological improvement without any relapse events, and two remained in neurologically stable states. Among the 13 relapse patients, seven had experienced of neurological relapse, but with no progression during the follow-up period; and six experienced neurological deterioration after transplantation and needed further immunosuppressant treatment. The confirmed relapse-free survival rate was 62.9% and progression-free survival rate was 83.3% after 91 months according to Kaplan and Meier survival curves. Eleven of the 20 OSMS patients (55%) and two of the 15 CMS patients (13.3%) stayed in disease active group (P = 0.014). For the 20 OSMS patients, the overall EDSS score decreased significantly after transplantation (P = 0.016), while visual functions had no significant improvement (P = 0.716). Progressive OSMS has a higher relapse rate than CMS following APBSCT.
Access options
Buy single article
Instant access to the full article PDF.
US$ 39.95
Tax calculation will be finalised during checkout.
Subscribe to journal
Immediate online access to all issues from 2019. Subscription will auto renew annually.
US$ 119
Tax calculation will be finalised during checkout.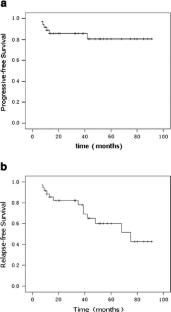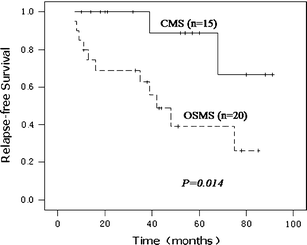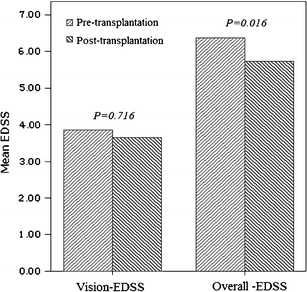 References
1.

Compston A, Coles A (2008) Multiple sclerosis. Lancet 372:1502–1517

2.

McDonald WL, Compston A, Edan G et al (2001) Recommended diagnostic criteria for multiple sclerosis: guidelines from the international panel on the diagnosis of multiple sclerosis. Ann Neurol 50:121–127

3.

Kira J (2003) Multiple sclerosis in the Japanese population. Lancet Neurol 2:117–127

4.

Wasay M, Khatri IA, Khealani B et al (2006) MS in Asian countries. Int MS J 13:58–65

5.

Lucchinetti CF, Mandler RN, McGavern D et al (2002) A role for humoral mechanisms in the pathogenesis of Devic's nueromyelitis optica. Brain 125:1450–1461

6.

Weinshenker BG, Wingerchuk DM, Nakashima I et al (2006) OSMS is NMO, but not MS: proven clinically and pathologically. Lancet Neurol 5:110–111

7.

Kikuchi S, Fukazawa T (2005) "OSMS is NMO, but not MS": confirmed by NMO-IgG? Lancet Neurol 4:594–595

8.

Wingerchuk DM, Pittock SJ, Lucchinetti CF et al (2007) A secondary progressive clinical course is uncommon in neuromyelitis optical. Neurology 68:603–605

9.

Nakashima I, Fujihara K, Miyazawa I et al (2006) Clinical and MRI features of Japanese patients with multiple sclerosis positive for NMO-IgG. J Neurol Neurosurg Psychiatry 77:1073–1075

10.

Matsuoka T, Matsushita T, Kawano Y et al (2007) Heterogeneity of aquaporin-4 autoimmunity and spinal cord lesions in multiple sclerosis in Japanese. Brain 130:1206–1223

11.

Kira J (2008) Neuromyelitis optica and Asian phenotype of multiple sclerosis. Ann N Y Acad Sci 1142:58–71

12.

Matsui M (2008) Classification of MS and treatment strategy. Nippon Rinsho 66:1112–1116

13.

Keegan M, Pineda AA, McClelland RL, Darby CH et al (2002) Plasma exchange for severe attacks of CNS demyelination: predictors of response. Neurology 58:143–146

14.

Wingerchuk DM, Weinshenker BG (2005) Neuromyelitis Optica. Curr Treat Options Neurol 7:173–182

15.

Comi G, Kappos L, Clanet M et al (2000) Guidelines for autologous blood and marrow stem cell transplantation in multiple sclerosis: a consensus report written on behalf of the European group for blood and marrow transplantation and the European Charcot foundation. J Neurol 247:376–382

16.

Saccardi R, Kozak T, Bocelli-Tyndall C et al (2006) Autologous stem cell transplantation for progressive multiple sclerosis: update of the European group for blood and marrow transplantation autoimmune disease working party database. Mutl Scler 12:814–823

17.

Kira J, Kanai T, Nishimura Y et al (1996) Western versus Asian types of multiple sclerosis: immunogenetically and clinically distinct disorders. Ann Neurol 40:569–574

18.

Beelen DW, Peceny R, Elmaagacli A et al (2000) Transplantation of highly purified HLA-identical sibling donor peripheral blood CD34+ cells without prophylactic post-transplant immunosuppression in adult patients with first chronic phase chronic myeloid leukemia: results of a phase II study. Bone Marrow Transplant 26:823–829

19.

Fassas A, Anagnostopoulos A, Kazis A et al (2000) Autologous stem cell transplantation in progressive multiple sclerosis—an interim analysis of efficacy. J Clin Immunol 20:24–30

20.

Kurtzke JF (1983) Rating neurologic impairment in multiple sclerosis: an expanded disability status scale (EDSS). Neurology 33:1444–1452

21.

Graber D, Levy M, Kerr D et al (2008) Neuromyelitis optica pathogenesis and aquaporin 4. J Neuroinflammation 5:22–42

22.

Nielsen S, Nagelhus EA, Amiry-Moghaddam M et al (1997) Specialized membrane domains for water transport in glial cells: high-resolution immunogold cytochemistry of aquaporin-4 in rat brain. J Neurosci 17:171–180

23.

Roemer SF, Pa risi JE, Lennon VA et al (2007) Pattern-specific loss of aquaporin-4 immunoreactivity distinguishes neuromyelitis optica from multiple sclerosis. Brain 130:1194–1205

24.

Ishizu T, Osoegawa M, Mei FJ et al (2005) Intrathecal activation of the IL-17/IL-8 axis in opticospinal multiple sclerosis. Brain 128:988–1002

25.

Jacob A, Weinshenker BG, Violich I et al (2008) Treatment of neuromyelitis optica with Rituximab. Arch Neurol 65:1443–1448

26.

Hawker K, O'Connor P, Freedman MS et al (2009) Rituximab in patients with primary progressive multiple sclerosis. Results of a randomized double-blind placebo-controlled multicenter trial. Ann Neurol 66:460–471
Acknowledgements
This work was supported by Programs Foundation of Ministry of Education of China (KM200810025001).
About this article
Cite this article
Xu, J., Ji, BX., Su, L. et al. Clinical outcome of autologous peripheral blood stem cell transplantation in opticospinal and conventional forms of secondary progressive multiple sclerosis in a Chinese population. Ann Hematol 90, 343–348 (2011). https://doi.org/10.1007/s00277-010-1071-5
Received:

Accepted:

Published:

Issue Date:
Keywords
Autologous peripheral blood stem cell transplantation

Clinical outcome

Opticospinal multiple sclerosis

Chinese