Abstract
With the optimization of transfusional and chelation regimens, beta-thalassemia has changed from a pediatric disease with poor life expectancy into a chronic disease. Bone demineralization is an important cause of morbidity in older patients; the etiology is multifactorial and partially unknown. We examined, cross-sectionally, 111 adult patients with beta-thalassemia major (66 females and 45 males, 32.6 ± 6 years) who were regularly transfused, sufficiently chelated and replaced for endocrine defects. Bone demineralization was detected in 92.7% of patients with different severity according to gender and site: osteopenia was the prominent finding at the femur, osteoporosis at the lumbar spine (p < 0.001), more evident in males. The femoral site was more influenced by biochemical and clinical factors; despite adequate replacement, the femoral T-score was lower in the hypogonadic group than in the eugonadic group (p = 0.047). A significant correlation was found between the bone mass and body mass index (BMI), alkaline phosphatase (ALP), and pre-transfusional Hb levels. The multivariate analysis indicated as significant regressors ALP, BMI and hypoparathyroidism (T-score, p = 0.005, 0.035, and 0.002; Z-score, 0.002, 0.009, and 0.003, respectively) at the femoral site; whereas, only ALP at the lumbar spine (p = 0.008 and 0.045 for T-and Z-scores, respectively). The statistical significance was reached more frequently by the T-score, while the Z-score seemed to be a less sensitive parameter. Despite best care facilities, bone demineralization in thalassemic patients remains a challenge. Further exploration of the relationships between bone loss and endocrine, biochemical and hematologic parameters is warranted to find effective measures to reduce the risk of fracture in this disease.
Access options
Buy single article
Instant access to the full article PDF.
USD 39.95
Price excludes VAT (USA)
Tax calculation will be finalised during checkout.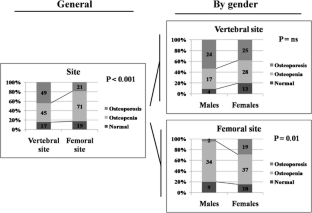 References
Borgna-Pignatti C, Cappellini MD, De Stefano P, Del Vecchio GC, Forni GL, Gamberini MR, Ghilardi R, Origa R, Piga A, Romeo MA, Zhao H, Cnaan A (2005) Survival and complications in thalassemia. Ann N Y Acad Sci 1054:40–47

Vogiatzi MG, Macklin EA, Fung EB, Vichinsky E, Olivieri N, Kwiatkowski J, Cohen A, Neufeld E, Giardina PJ (2006) Prevalence of fractures among the thalassemia syndromes in North America. Bone 38(4):571–575

Vogiatzi MG, Macklin EA, Fung EB, Cheung AM, Vichinsky E, Olivieri N, Kirby M, Kwiatkowski JL, Cunningham M, Holm IA, Lane J, Schneider R, Fleisher M, Grady RW, Peterson CC, Giardina PJ, Network Thalassemia Clinical Research (2009) Bone disease in thalassemia: a frequent and still unresolved problem. J Bone Miner Res 24(3):543–557

Cappellini M.D, Cohen A, Eleftheriou A, Piga A, Porter J, Taher A (2008) Guidelines for the clinical management of thalassemia; 2nd revised Edition. Thalassemia International Federation. http://thalassemia.org.cy

Wood JC, Enriquez C, Ghugre N, Tyzka JM, Carson S, Nelson MD, Coates TD (2005) MRI R2 and R2* mapping accurately estimates hepatic iron concentration in transfusion-dependent thalassemia and sickle cell disease patients. Blood 106(4):1460–1465

Dubey AP, Parakh A, Dublish S (2008) Current trends in the management of beta thalassemia. Indian J Pediatr 75(7):739–743

Perrotta S, Cappellini MD, Bertoldo F, Servedio V, Iolascon G, D'Agruma L, Gasparini P, Siciliani MC, Iolascon A (2000) Osteoporosis in beta-thalassaemia major patients: analysis of the genetic background. Br J Haematol 111(2):461–466

Origa R, Fiumana E, Gamberini MR, Armari S, Mottes M, Sangalli A, Paglietti E, Galanello R, Borgna-Pignatti C (2005) Osteoporosis in beta-thalassemia: clinical and genetic aspects. Ann N Y Acad Sci 1054:451–456

Skordis N (2009) The labyrinth of bone disease in thalassaemia: the search for Ariadne's thread continues. Eur J Haematol 82(1):13–14

Gurevitch O, Slavin S (2006) The hematological etiology of osteoporosis. Med Hypotheses 67(4):729–735

Voskaridou E, Terpos E (2008) Pathogenesis and management of osteoporosis in thalassemia. Pediatr Endocrinol Rev 6(Suppl 1):86–93

Salama OS, Al-Tonbary YA, Shahin RA, Eldeen OA (2006) Unbalanced bone turnover in children with beta-thalassemia. Hematology 11(3):197–202

Dresner Pollack R, Rachmilewitz E, Blumenfeld A, Idelson M, Goldfarb AW (2000) Bone mineral metabolism in adults with beta-thalassaemia major and intermedia. Br J Haematol 111(3):902–907

Voskaridou E, Kyrtsonis MC, Terpos E, Skordili M, Theodoropoulos I, Bergele A, Diamanti E, Kalovidouris A, Loutradi A, Loukopoulos D (2001) Bone resorption is increased in young adults with thalassaemia major. Br J Haematol 112(1):36–41

Morabito N, Gaudio A, Lasco A, Atteritano M, Pizzoleo MA, Cincotta M, La Rosa M, Guarino R, Meo A, Frisina N (2004) Osteoprotegerin and RANKL in the pathogenesis of thalassemia-induced osteoporosis: new pieces of the puzzle. J Bone Miner Res 19(5):722–727

Hiratsuka H, Katsuta O, Toyota N, Tsuchitani M, Akiba T, Marumo F, Umemura T (1997) Iron deposition at mineralization fronts and osteoid formation following chronic cadmium exposure in ovariectomized rats. Toxicol Appl Pharmacol 143:348–356

Mahachoklertwattana P, Sirikulchayanonta V, Chuansumrit A, Karnsombat P, Choubtum L, Sriphrapradang A, Domrongkitchaiporn S, Sirisriro R, Rajatanavin R (2003) Bone histomorphometry in children and adolescents with beta-thalassemia disease: iron-associated focal osteomalacia. J Clin Endocrinol Metab 88(8):3966–3972

Carmina E, Di Fede G, Napoli N, Renda G, Vitale G, Lo Pinto C, Bruno D, Malizia R, Rini GB (2004) Hypogonadism and hormone replacement therapy on bone mass of adult women with thalassemia major. Calcif Tissue Int 74(1):68–71

Adami S, Giannini S, Bianchi G, Sinigaglia L, Di Munno O, Fiore CE, Minisola S, Rossini M (2009) Vitamin D status and response to treatment in post-menopausal osteoporosis. Osteoporos Int 20(2):239–244

Napoli N, Carmina E, Bucchieri S, Sferrazza C, Rini GB, Di Fede G (2006) Low serum levels of 25-hydroxy vitamin D in adults affected by thalassemia major or intermedia. Bone 38(6):888–892

Angelopoulos NG, Goula A, Rombopoulos G, Kaltzidou V, Katounda E, Kaltsas D, Tolis G (2006) Hypoparathyroidism in transfusion-dependent patients with beta-thalassemia. J Bone Miner Metab 24(2):138–145

Laway BA, Goswami R, Singh N, Gupta N, Seith A (2006) Pattern of bone mineral density in patients with sporadic idiopathic hypoparathyroidism. Clin Endocrinol (Oxf) 64(4):405–409

Christoforidis A, Kazantzidou E, Tsatra I, Tsantali H, Koliakos G, Hatzipantelis E, Katzos G, Athanassiou-Metaxa M (2007) Normal lumbar bone mineral density in optimally treated children and young adolescents with beta-thalassaemia major. Hormones (Athens) 6(4):334–340
About this article
Cite this article
Baldini, M., Forti, S., Marcon, A. et al. Endocrine and bone disease in appropriately treated adult patients with beta-thalassemia major. Ann Hematol 89, 1207–1213 (2010). https://doi.org/10.1007/s00277-010-1007-0
Received:

Accepted:

Published:

Issue Date:

DOI: https://doi.org/10.1007/s00277-010-1007-0
Keywords
Thalassemia

Osteoporosis

Iron overload

Endocrinopathy