Abstract
Extensor hallucis capsularis (EHC) is an accessory tendon located medially to extensor halluces longus (EHL) tendon. Most EHC is known to originate as a tendinous slip of the EHL tendon, although it may be splitted from the tibialis anterior (TA) tendon or the extensor halluces brevis (EHB) tendon. During routine dissection of a 49-year-old male cadaver, independent muscle bellies of EHC were discovered bilaterally. The EHL muscle arose from the middle anteromedial aspect of fibula, lateral to the origin of TA muscle and medial to extensor digitorum longus (EDL) muscle. An additional muscle bellies were separated from EHL muscle at the point of 6 cm away from EHL origin in the right leg, and 3 cm away in the left. They coursed downward as EHC to reach the first metatarsophalangeal joint capsule. This muscle, unlike the variations identified to date, is considered to extend to EHC, and the name "extensor hallucis capsularis muscle" is offered. This kind of variation may be important for investigating the development of deformity at the first metatarsophalangeal joint, such as hallux valgus.
This is a preview of subscription content, log in to check access.
Access options
Buy single article
Instant access to the full article PDF.
US$ 39.95
Tax calculation will be finalised during checkout.
Subscribe to journal
Immediate online access to all issues from 2019. Subscription will auto renew annually.
US$ 99
Tax calculation will be finalised during checkout.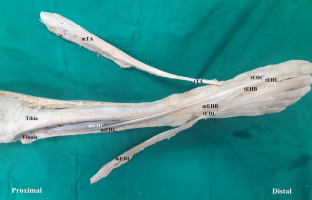 References
1.

Al-saggaf S (2003) Variations in the insertion of the extensor hallucis longus muscle. Folia Morphol (Warsz) 62(2):147–155

2.

Bergman RA AA, Miyauchi R Illustrated encyclopedia of human anatomic variation: opus I: muscular system: alphabetical listing of muscles: extensor hallucis longus. https://www.anatomyatlases.org/AnatomicVariants/MuscularSystem/Text/E/23Extensor.shtml. Accessed 12 Sept 2020

3.

Bibbo C, Arangio G, Patel DV (2004) The accessory extensor tendon of the first metatarsophalangeal joint. Foot Ankle Int 25(6):387–390

4.

Boyd N, Brock H, Meier A, Miller R, Mlady G, Firoozbakhsh K (2006) Extensor hallucis capsularis: frequency and identification on MRI. Foot Ankle Int 27(3):181–184

5.

Egea JM, Cabeza L, Ortiz R, Rama AR, Melguizo C, Prados J (2019) Double origin of the extensor hallucis longus muscle: a case report. Surg Radiol Anat 41(12):1421–1423

6.

Gruber W (1875) Über die varietäten des Musculus extensor hallucis longus. Arch Anat Physiol Wissen Med 1875:565–589

7.

Gruber W (1876) Ein neuer Fall von Musculus extensor hallucis longus tricaudatus. Arch Anat Physiol Wissen Med 1876:750–752

8.

Hill RV, Gerges L (2008) Unusual accessory tendon connecting the hallucal extensors. Anat Sci Int 83(4):298–300

9.

Jarusriwanna A, Thamphongsri K, Chuckpaiwong B (2016) Frequency and characteristics of extensor hallucis capsularis: a cadaveric study. J Med Assoc Thai 99(11):1215–1219

10.

DA Moore KL (1999) Clinically oriented anatomy, 4th edn. Lippincott Williams and Wilkins, New York

11.

Natsis K, Konstantinidis GA, Symeonidis PD, Totlis T, Anastasopoulos N, Stavrou P (2017) The accessory tendon of extensor hallucis longus muscle and its correlation to hallux valgus deformity: a cadaveric study. Surg Radiol Anat 39(12):1343–1347

12.

Olewnik L, Podgorski M, Polguj M, Ruzik K, Topol M (2019) A cadaveric study of the morphology of the extensor hallucis longus: a proposal for a new classification. BMC Musculoskelet Disord 20(1):310

13.

Tezer M, Cicekcibasi AE (2012) A variation of the extensor hallucis longus muscle (accessory extensor digiti secundus muscle). Anat Sci Int 87(2):111–114

14.

Williams PLBL, Berry MM et al (1995) Gray's anatomy: the anatomical basis of medicine and surgery, 38th edn. Churchill Livingstone, Edinburgh

15.

Wood J (1867) Variations in human myology observed during the winter session of 1866–1867 at King's College, London. Proc R Soc Lond 15:518–546

16.

Zdilla MJ, Paulet JE, Lear JJ, Addie KM, Lambert HW (2018) A review of extensor hallucis longus variants featuring a novel extensor primi internodii hallucis muscle merging with extensor hallucis brevis. J Foot Ankle Surg 57(6):1218–1220
Acknowledgements
We thank prof. Seung-Ho Han for contributing to the dissection of the cadavers.
Ethics declarations
Conflict of interest
The authors declare that there are no conflicts of interest related to this case report.
Additional information
Publisher's Note
Springer Nature remains neutral with regard to jurisdictional claims in published maps and institutional affiliations.
About this article
Cite this article
Park, JH., Choi, YJ., Park, KR. et al. Independent muscle of extensor hallucis capsularis: a cadaveric case report. Surg Radiol Anat (2020). https://doi.org/10.1007/s00276-020-02592-7
Received:

Accepted:

Published:
Keywords
Anatomy

Extensor hallucis capsularis

Extensor hallucis longus muscle

Variation

Cadaveric study