Abstract
Purpose
The aim of this study was to confirm our clinical observation that a pseudo-tear appearance of the Achilles tendon is commonly seen on MRI and is of no clinical relevance.
Materials and methods
Forty-one ankles were imaged on a 3 T MR system, and PD weighted images with fat saturation were obtained in three orthogonal planes (TR, 2969 ms; TE, 30 ms; NA, 2; slice thickness, 2.5 mm). Volunteer exclusion criteria were symptoms of Achilles tendon pathology (such as acute or chronic posterior heel pain), history of trauma or surgery of the Achilles tendon. Internal signal of the Achilles tendon on axial and sagittal images was assessed independently by two observers. Internal signal of the Achilles tendon was classified from homogenously dark to different degree of hyperintense signal, where 0 means no internal hyperintensity, 1—minimal hyperintensity, 2—moderate and 3—marked. Descriptive statistics were calculated. Correlation between the two readers was also assessed.
Two fresh cadavers were used in this study, one specimen being sliced in the sagittal plane and one specimen being dissected by an experienced anatomist.
Results
Twenty one volunteers (8 men, 13 women), mean age of 24.7 years (19–43 years) were included in the study. On sagittal images both raters appreciated any degree of hyperintense signal in 59% of tendons. On axial images any degree of hyperintensity was seen in almost half of the cases (46 vs. 49%). Minimal hyperintensities were seen most commonly. Cohen's kappa coefficient for sagittal images was 0.964 (almost perfect agreement); for axial images 0.764 (substantial agreement).
The anatomical studies demonstrated that the Achilles tendon is made up of different components that are partially separated and twist around each other explaining the pseudo-tear appearance.
Conclusion
The Achilles tendon is frequently not homogenously dark in normal volunteers as would be expected. Hyperintense signal is common in the long and short axis and related to the underlying anatomical features.
This is a preview of subscription content, log in to check access.
Access options
Buy single article
Instant access to the full article PDF.
US$ 39.95
Price includes VAT for USA
Subscribe to journal
Immediate online access to all issues from 2019. Subscription will auto renew annually.
US$ 99
This is the net price. Taxes to be calculated in checkout.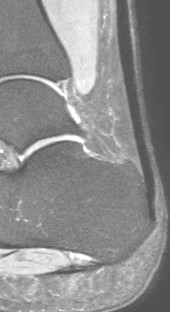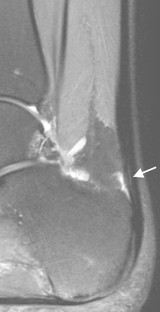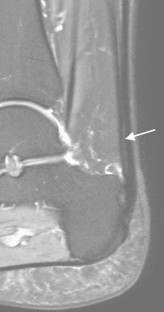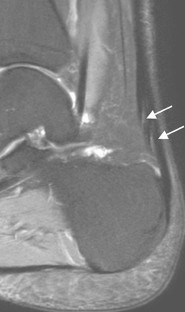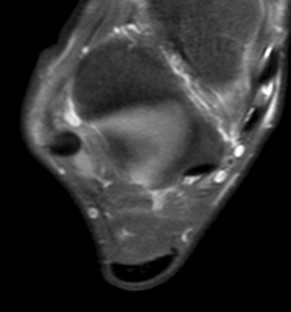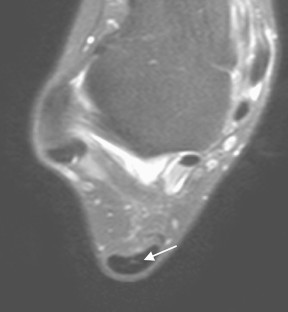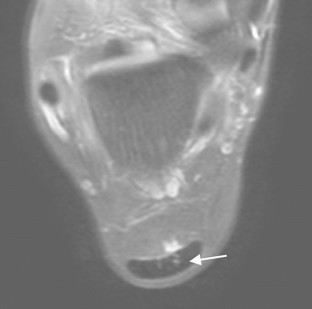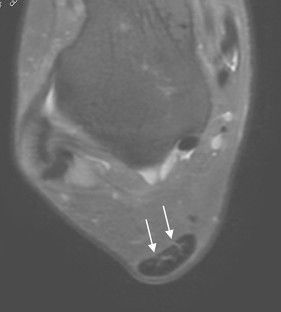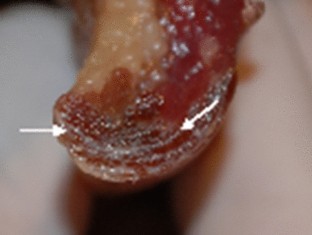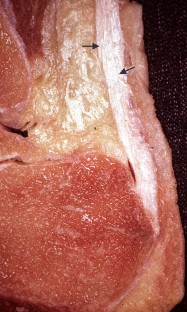 References
1.

Erickson J, Prost RW, Timins ME (1993) "Magic angle" effect: background physics and clinical relevance. Radiology 188:23–25

2.

Filho GH, Du J, Pak BC et al (2009) Quantitative characterization of the Achilles tendon in cadaveric specimens: T1 and T2* measurements using ultrashort-TE MRI at 3 T. AJR Am J Roentgenol 192:117Yd124

3.

Han M, Larson P, Liu J, Krug R (2014) Depiction of Achilles tendon microstructure in vivo using high-resolution 3-dimensional ultrashort echo-time magnetic resonance imaging at 7 T. Invest Radiol 49(5):339–345

4.

Mantel D, Flautre B, Bastian D, Delforge PM, Delvalle A, Leclet H (1996) Structural MRI study of the Achilles tendon: correlation with microanatomy and histology [in French]. J Radiol 77:261–265

5.

Robson MD, Benjamin M, Gishen P et al (2004) Magnetic resonance imaging of the Achilles tendon using ultrashort TE (UTE) pulse sequences. Clin Radiol 59:727Y735

6.

Rollandi G, Bertolotto M, Perrone R et al (1995) MRI of normal Achilles tendon. Eur Radiol 5:596Y598

7.

Schweitzer M, Karasick D (2000) MR imaging of disorders of the Achilles tendon. Am J Roentgenol 175(3):613–625

8.

Soila K, Karjalainen PT, Aronen HJ et al (1999) High-resolution MR imaging of the asymptomatic Achilles tendon: new observations. AJR Am J Roentgenol 173:323Y328

9.

Szaro P, Witkowski G, Śmigielski R, Krajewski P, Ciszek B (2009) Fascicles of the adult human Achilles tendon: an anatomical study. Ann Anat Anat Anz 191(6):586–593

10.

Splittgerber LE, Ihm JM (2019) Significance of asymptomatic tendon pathology in athletes. Curr Sports Med Rep 18(6):192–200. https://doi.org/10.1249/JSR.0000000000000600(PMID: 31385834)
Additional information
Publisher's Note
Springer Nature remains neutral with regard to jurisdictional claims in published maps and institutional affiliations.
About this article
Cite this article
Abelkis, E., Willekens, I., Boulet, C. et al. Pseudo-tear appearance of the Achilles tendon on MR imaging in normal volunteers. Surg Radiol Anat (2020). https://doi.org/10.1007/s00276-020-02542-3
Received:

Accepted:

Published:
Keywords
Achilles tendon

Ankle

Anatomy

Ankle

MR