Abstract
Purpose
The teaching of anatomy in medical education has historically been based on lectures, cadaveric dissections, and illustrated books for students. Stereoscopic 3D videos are now easily accessible via smartphone and affordable for students. This study aimed to investigate whether a 3D stereoscopic instruction video could improve learning over 2D video.
Methods
A prospective controlled study on a single-site was conducted at the University of Angers. Content knowledge was assessed, followed by the presentation of an instructional neuroanatomy video. Participants watched the video in either 3D or 2D format, then they completed an anatomy written test. Pre-video and post-video performances were analyzed with independent t tests on total score, fundamental anatomical knowledge, anatomical relationships and reasoning.
Results
175 subjects completed the study. At baseline, the 3D (n = 91) and 2D (n = 86) groups were similar, in age and class level. 3D and 2D scores were similar in the pre-test session and in the fundamental knowledge post-test (mean 73.2% vs 74.4%, p = 0.37). Average scores for the 3D group were better for the post-test regarding anatomical relationships (mean 86.4% vs. 63.5%, p = 0.004), clinical inference/reasoning (mean 76.8% vs. 67.6%, p = 0.023) and total note (mean 76.8% vs. 67.6%, p = 0.07). Regarding the 3D student's satisfaction questionnaire (n = 91), 70 students (77%) agreed that the stereoscopic video allowed good 3D visualization of anatomical structures. The student enjoyed using the stereoscopic video (n = 75, 82.5%). Most students supported the use of this kind of stereoscopic 3D video in their normal teaching as a complementary tool (n = 78, 85%).
Conclusions
The incorporation of 3D videos as ancillary teaching into curricula could be of interest to improve the knowledge of anatomical relationships and reasoning among students.
Access options
Buy single article
Instant access to the full article PDF.
USD 39.95
Price excludes VAT (USA)
Tax calculation will be finalised during checkout.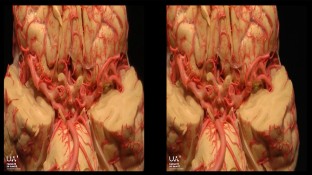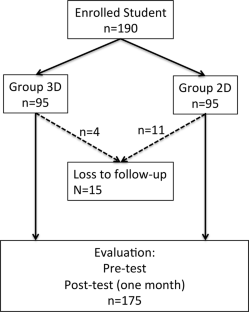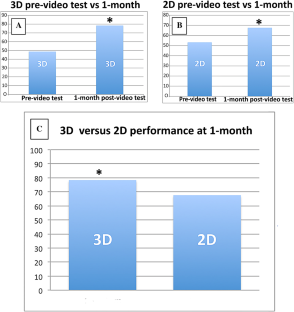 Abbreviations
2D:

Two dimensional

3D:

Three dimensional
References
Agbetoba A, Luong A, Siow JK, Senior B, Callejas C, Szczygielski K, Citardi MJ (2017) Educational utility of advanced three-dimensional virtual imaging in evaluating the anatomical configuration of the frontal recess. Int Forum Allergy Rhinol 7:143–148. https://doi.org/10.1002/alr.21864

d'Agoty JFG (1754) Anatomie générale des viscères. Paris 1:1–100

Battulga B, Konishi T, Tamura Y, Moriguchi H (2012) The effectiveness of an interactive 3-dimensional computer graphics model for medical education. Interact J Med Res 1:e2. https://doi.org/10.2196/ijmr.2172

Beermann J, Tetzlaff R, Bruckner T, Schöebinger M, Müller-Stich BP, Gutt CN, Meinzer H-P, Kadmon M, Fischer L (2010) Three-dimensional visualisation improves understanding of surgical liver anatomy. Med Educ 44:936–940. https://doi.org/10.1111/j.1365-2923.2010.03742.x

Bernard F, Lemée J-M, Aubin G, Ter Minassian A, Menei P (2018) Using a virtual reality social network during awake craniotomy to map social cognition: prospective trial. J Med Internet Res 20:e10332. https://doi.org/10.2196/10332

Bernard F, Lemée J-M, Lucas O, Menei P (2017) Postoperative quality-of-life assessment in patients with spine metastases treated with long-segment pedicle-screw fixation. J Neurosurg Spine 26:725–735. https://doi.org/10.3171/2016.9.SPINE16597

Bernard F, Troude L, Laccourreye L, Roche P-H, Fournier H-D (2018) Stereoscopic surgical video with virtual reality headset: 3D combined petrosectomy. Oper Neurosurg Hagerstown Md

Bernardino A, Santos-Victor J, Ferre M, Sanchez-Urán MA (2007) Stereoscopic image visualization for telerobotics. Experiments with active binocular cameras. In: Ferre M, Buss M, Aracil RR, Melchiorri C, Balaguer C (eds) Advances in telerobotics. Springer tracts in advanced robotics. Springer, Berlin, Heidelberg, pp 77–90

Berney S, Bétrancourt M, Molinari G, Hoyek N (2015) How spatial abilities and dynamic visualizations interplay when learning functional anatomy with 3D anatomical models. Anat Sci Educ 8:452–462. https://doi.org/10.1002/ase.1524

Clavert P, Bouchaïb J, Duparc F, Kahn JL (2012) A plea for the use of drawing in human anatomy teaching. Surg Radiol Anat 34:787–789. https://doi.org/10.1007/s00276-012-0967-2

Cobolet G, Garrison D, Vons J, Velut S, Nutton V, Williams DJ (2014) Andreas vesalius—the work. Vesalius Acta Int Hist Med 20:19–24

Cockburn A, McKenzie B (2001) 3D or not 3D?: evaluating the effect of the third dimension in a document management system. In: Proceedings of the SIGCHI conference on human factors in computing systems. ACM, pp 434–441

Cole RE, Merritt JO, Fore S, Lester P (1990) Remote-manipulator tasks impossible without stereo TV. In: Stereoscopic displays and applications. International Society for Optics and Photonics, pp 255–265

Cunningham DJ (1911) Stereoscopic studies of anatomy, vol 3. Imperial Pub, pp 1–100

D'Agoty G, Fabian J. Anatomie de la tête en tableaux imprimés. Paris, pp 1–200

Dubosc F (2006) Dr Auzoux "écorché d'anatomie" museum. Rev Prat 56:1850–1853

Fung W, Lo W, Liu Y, Xi N (2005) A case study of 3D stereoscopic vs. 2D monoscopic tele-reality in real-time dexterous teleoperation. IEEE, pp 181–186

Hattie J (2012) Visible learning for teachers: maximizing impact on learning. Routledge, New York

Holliman N (2005) 3D display systems. The handbook of optoelectronics. Institute of Physic Press. ISBN 07503 0645

Le Floch-Prigent P, Gillot J-B, Uhl J-F, Prévoteau C (2009) An enlarged dismantable anatomical model of the ear by Auzoux: observation and photographical tridimensional reconstruction. Morphol Bull Assoc Anat 93:20–26. https://doi.org/10.1016/j.morpho.2008.11.001

Louw G, Eizenberg N, Carmichael SW (2009) The place of anatomy in medical education: AMEE Guide no. 41. Med Teach 31:373–386

Martins C, Ribas EC, Rhoton AL, Ribas GC (2015) Three-dimensional digital projection in neurosurgical education: technical note. J Neurosurg 123:1077–1080. https://doi.org/10.3171/2014.10.JNS13542

Matsushima T, Kobayashi S, Inoue T, Rhoton AS, Vlasak AL, de Oliveira E (2018) Albert L. Rhoton Jr., MD: his philosophy and education of neurosurgeons. Neurol Med Chir (Tokyo) 58:279–289. https://doi.org/10.2176/nmc.ra.2018-0082

Matsushima T, Matsushima K, Kobayashi S, Lister JR, Morcos JJ (2018) The microneurosurgical anatomy legacy of Albert L. Rhoton Jr., MD: an analysis of transition and evolution over 50 years. J Neurosurg 129:1331–1341. https://doi.org/10.3171/2017.7.JNS17517

Mavridis IN (2013) A powerful way of teaching anatomy. Surg Radiol Anat 35:365–366. https://doi.org/10.1007/s00276-012-1041-9

Merritt JO (1991) Evaluation of stereoscopic display benefits. Proceedings of SPIE, stereoscopic displays and applications II, vol 1457, pp 133–150

Nelson TR, Ji EK, Lee JH, Bailey MJ, Pretorius DH (2008) Stereoscopic evaluation of fetal bony structures. J Ultrasound Med 27:15–24

Ortug A, Yuzbasioglu N (2019) Tracing the papier mache anatomical models of Ottoman Turkish medicine and Louis Thomas Jerôme Auzoux. Surg Radiol Anat 41:1147–1154. https://doi.org/10.1007/s00276-019-02267-y

Papa V, Vaccarezza M (2013) Teaching anatomy in the XXI century: new aspects and pitfalls. ScientificWorldJournal 2013:310348. https://doi.org/10.1155/2013/310348

Peterson S, Axholt M, Ellis SR (2008) Managing visual clutter: a generalized technique for label segregation using stereoscopic disparity. In: IEEE virtual reality conference. IEEE, pp 169–176

Rosenbaum AE, Huda W, Lieberman KA, Caruso RD (2000) Binocular three-dimensional perception through stereoscopic generation from rotating images. Acad Radiol 7:21–26

Smith CF, Martinez-Álvarez C, McHanwell S (2014) The context of learning anatomy: does it make a difference? J Anat 224:270–278. https://doi.org/10.1111/joa.12089

Triepels CPR, Smeets CFA, Notten KJB, Kruitwagen RFPM, Futterer JJ, Vergeldt TFM, Van Kuijk SMJ (2020) Does three-dimensional anatomy improve student understanding? Clin Anat N Y N 33:25–33. https://doi.org/10.1002/ca.23405

Vaccarezza M, Papa V (2015) 3D printing: a valuable resource in human anatomy education. Anat Sci Int 90:64–65. https://doi.org/10.1007/s12565-014-0257-7

Venail F, Deveze A, Lallemant B, Guevara N, Mondain M (2010) Enhancement of temporal bone anatomy learning with computer 3D rendered imaging software. Med Teach 32:e282–288. https://doi.org/10.3109/0142159X.2010.490280

Wardle SG, Cass J, Brooks KR, Alais D (2010) Breaking camouflage: binocular disparity reduces contrast masking in natural images. J Vis 10:38–38

Zemmoura I, Vons J, Velut S, Destrieux C (2015) From vesalius to tractography. J Neurosurg Sci 59:309–325

Bassett Anatomy (collection of stereoscopic images of human anatomy)—Lane Medical Library–Stanford University School of Medicine. https://lane.stanford.edu/biomed-resources/bassett/raw/index.html

Anatomy 3DVR. In: YouTube. https://www.youtube.com/channel/UCsNfjDCHdKWdjYu6S_wrd3g

Organogénèse du foie et ses variations anatomiques—YouTube. https://www.youtube.com/watch?v=n2qNM9C1dyk&list=PLqRaHQJBIA6aQMN8NbS7hwVZRZPwu1QYf&index=48
Acknowledgements
We are indebted to Cyril Royer (video editor, medical university of Angers), Julie Chalopin and Jean-Luc Bourrigaud (technicians at the anatomy laboratory of Angers) for their technical help and for providing us with the material needed to make the study happen. We are also indebted to Julie Lebeau (pedagogic engineer at Lab UA) for her pedagogical help building the anatomical questionnaire. We are indebted to Fanny Leluan-Higgins for her insight and advice while reviewing the article.
Funding
The Anatomy 3D project was supported by 3D-lab of the University of Angers and the Loire countries.
Ethics declarations
Conflict of interest
None of the authors disclose any conflict of interest and any financial disclosure in relation with this study. This manuscript has not been previously published in whole or in part or submitted elsewhere for review.
Additional information
Publisher's Note
Springer Nature remains neutral with regard to jurisdictional claims in published maps and institutional affiliations.
Electronic supplementary material
Below is the link to the electronic supplementary material.
Supplemental video material: Willis' circle anatomy 3D stereoscopic video. (MP4 44592 kb)
About this article
Cite this article
Bernard, F., Richard, P., Kahn, A. et al. Does 3D stereoscopy support anatomical education?. Surg Radiol Anat 42, 843–852 (2020). https://doi.org/10.1007/s00276-020-02465-z
Received:

Accepted:

Published:

Issue Date:

DOI: https://doi.org/10.1007/s00276-020-02465-z
Keywords