Abstract
Purpose
The pterygopalatine fossa is a deep viscerocranial space containing the maxillary artery and nerve, the pterygopalatine ganglion, and the nerve of the pterygoid canal (vidian nerve). The endoscopic approach to this area relies on adequate preoperative imaging, such as computed tomography (CT). The aim was to determine the morphometric characteristics of the pterygopalatine fossa and its communications, including several previously unpublished measurements.
Methods
100 CT scans (56 male and 44 female patients) were analyzed. The axial, coronal, and sagittal slices, together with the three-dimensional reconstructions, were used in the study.
Results
The central diameter and the length of the foramen rotundum, the vertical diameter and the length of the pterygoid (vidian) canal, and the diameter of the sphenopalatine foramen were significantly larger in men. The central diameters of the foramen rotundum and the vidian canal were significantly smaller than their anterior and posterior transverse diameters. The vidian canal length of 12.1 mm indicates the presence of the type 3 VC with a sensitivity of 83% and a specificity of 85%.
Conclusion
Several new descriptions of the pterygopalatine fossa are presented here (such as the angle between the sphenopalatine foramen and the vidian canal, a new aspect in the understanding of the FR, and the distance between the posterior wall of the maxillary sinus to the vidian canal and the foramen rotundum), which might prove useful in the comprehension of the anatomy of the pterygopalatine fossa.
This is a preview of subscription content, log in to check access.
Access options
Buy single article
Instant access to the full article PDF.
US$ 39.95
Price includes VAT for USA
Subscribe to journal
Immediate online access to all issues from 2019. Subscription will auto renew annually.
US$ 99
This is the net price. Taxes to be calculated in checkout.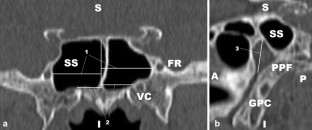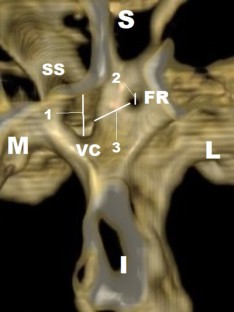 References
1.

Acar G, Cicekcibasi AE, Cukurova I, Ozen KE, Seker M, Guler I (2017) The anatomic analysis of the vidian canal and the surrounding structures concerning vidian neurectomy using computed tomography scans. Braz J Otorhinolaryngol S1808-8694(17):30215-X. https://doi.org/10.1016/j.bjorl.2017.11.008

2.

Alfieri A, Jho HD, Schettino R, Tschabitscher M (2003) Endoscopic endonasal approach to the pterygopalatine fossa: anatomic study. Neurosurgery 52:374–380

3.

Aoun G, Nasseh I, Sokhn S (2016) Radio-anatomical study of the greater palatine canal and the pterygopalatine fossa in a Lebanese population: a consideration for maxillary nerve block. J Clin Imaging Sci 6:35

4.

Berlis A, Putz R, Schumacher M (1992) Direct and CT measurements of canals and foramina of the skull base. Br J Radiol 65(776):653–661. https://doi.org/10.1259/0007-1285-65-776-653

5.

Bryant L, Goodmurphy CW, Han JK (2014) Endoscopic and three-dimensional radiographic imaging of the pterygopalatine and infratemporal fossae: improving surgical landmarks. Ann Otol Rhinol Laryngol 123(2):111–116. https://doi.org/10.1177/0003489414523707

6.

Chen CC, Chen ZX, Yang XD, Zheng JW, Li ZP, Huang F, Kong FZ, Zhang C (2010) Comparative research of the thin transverse sectional anatomy and the multislice spiral CT on the pterygopalatine fossa. Turk Neurosurg 20(2):151–158. https://doi.org/10.5137/1019-5149.JTN.2732-09.0

7.

Craiu C, Rusu MC, Hostiuc S, Sandulescu M, Derjac-Arama AI (2017) Anatomic variation in the pterygopalatine angle of the maxillary sinus and the maxillary bulla. Anat Sci Int 92:98–106. https://doi.org/10.1007/s12565-015-0320-z8.

8.

Daniels DL, Mark LP, Ulmer JL, Mafee MF, McDaniel J, Shah NC, Erickson S, Sether LA, Jaradeh SS (1998) Osseous anatomy of the pterygopalatine fossa. AJNR Am J Neuroradiol 19(8):1423–1432

9.

Daniels DL, Rauschning W, Lovas J, Williams AL, Haughton VM (1983) Pterygopalatine fossa: computed tomographic studies. Radiology 149:511–516. https://doi.org/10.1148/radiology.149.2.6622697

10.

Derinkuyu BE, Boyunaga O, Oztunali C, Alimli AG, Ucar M (2017) Pterygopalatine fossa: not a mystery! Can Assoc Radiol J 68(2):122–130. https://doi.org/10.1016/j.carj.2016.08.001

11.

Elhadi AM, Zaidi HA, Yagmurlu K, Ahmed S, Rhoton AL Jr, Nakaji P, Preul MC, Little AS (2016) Infraorbital nerve: a surgically relevant landmark for the pterygopalatine fossa, cavernous sinus, and anterolateral skull base in endoscopic transmaxillary approaches. J Neurosurg 125(6):1460–1468. https://doi.org/10.3171/2015.9.JNS151099

12.

Erdogan N, Unur E, Baykara M (2003) CT anatomy of the pterygopalatine fossa and its communications: a pictorial review. Comput Med Imaging Graph 27(6):481–487

13.

Fahmy CE, Carrau R, Kirsch C, Meeks D, de Lara D, Solares A, Otto BA, Prevedello DM (2014) Volumetric analysis of endoscopic and traditional surgical approaches to the infratemporal fossa. Laryngoscope 124:1091–1096. https://doi.org/10.1002/lary.24428

14.

Falcon RT, Rivera-Serrano CM, Miranda JF, Prevedello DM, Snyderman CH, Kassam AB, Carrau RL (2011) Endoscopic endonasal dissection of the infratemporal fossa: anatomic relationships and importance of Eustachian tube in endoscopic skull base surgery. Laryngoscope 121:31–41. https://doi.org/10.1002/lary.21341

15.

Fortes FSG, Sennes LU, Carrau RL, Brito R, Ribas GC, Yasuda A, Rodrigues AJ Jr, Snyderman CH, Kassam AB (2008) Endoscopic anatomy of the pterygopalatine fossa and the transpterygoid approach: development of surgical instruction model. Laryngoscope. 118:44–49. https://doi.org/10.1097/MLG.0b013e318155a492

16.

Grewal SS, Kurbanov A, Anaizi A, Keller JT, Theodosopulous PV, Zimmer LA (2014) Endoscopic endonasal approach to the maxillary strut: anatomical review and case series. Laryngoscope 124:1739–1743. https://doi.org/10.1002/lary.24528

17.

Gu Y, Yu Y, Zhang X, Hu F, Wang X, Xu W, Xie T (2015) Endoscopic endonasal transmaxillary transpterygoid approach to Meckel cave: anatomical study and preliminary clinical results. J Neurol Surg A Cent Eur Neurosurg 76(3):205–210. https://doi.org/10.1055/s-0034-1389092

18.

Guo J, Huang D, Chen S, Zhu S, Rong Q (2015) Treatment of a subtype of trigeminal neuralgia with descending palatine neurotomy in the pterygopalatine fossa via the greater palatine foramen—pterygopalatine canal approach. J Craniomaxillofac Surg 43:97–101. https://doi.org/10.1016/j.jcms.2014.10.016

19.

Hwang SH, Joo YH, Seo JH, Kim SW, Cho JH, Kang JM (2011) Three-dimensional computed tomography analysis to help define an endoscopic endonasal approach of the pterygopalatine fossa. Am J Rhinol Allergy 25:346–350. https://doi.org/10.2500/ajra.2011.25.363

20.

Kantola VE, McGarry GW, Rea PM (2013) Endonasal, transmaxillary, transpterygoid approach to the foramen ovale: radio-anatomical study of surgical feasibility. J Laryngol Otol 127:1093–1102. https://doi.org/10.1017/S0022215113002338

21.

Khonsary SA, Ma Q, Villablanca P, Emerson J, Malkasian D (2013) Clinical functional anatomy of the pterygopalatine ganglion, cephalgia and related dysautonomias: a review. Surg Neurol Int 4:S422–S428. https://doi.org/10.4103/2152-7806.121628

22.

Kim HS, Kim DI, Chung IH (1996) High-resolution CT of the pterygopalatine fossa and its communications. Neuroradiology 38(1):S120–S126

23.

Li J, Xu X, Wang J, Jing X, Guo Q, Qiu Y (2009) Endoscopic study for the pterygopalatine fossa anatomy: via the middle nasal meatus—sphenopalatine foramen approach. J Craniofac Surg 20(3):944–947. https://doi.org/10.1097/SCS.0b013e3181a2d9c8

24.

Mohebbi A, Rajaeih S, Safdarian M, Omidian P (2017) The sphenoid sinus, foramen rotundum and vidian canal: a radiological study of anatomical relationships. Braz J Otorhinolaryngol 83(4):381–387. https://doi.org/10.1016/j.bjorl.2016.04.013

25.

Oyama K, Tahara S, Hirohata T, Ishii Y, Prevedello DM, Carrau RL. Froelich S, Teramoto A, Morita A, Matsuno A (2017) Surgical anatomy for the endoscopic endonasal approach to the ventrolateral skull base. Neurol Med Chir (Tokyo) 57:534–541. https://doi.org/10.2176/nmc.ra.2017-0039

26.

Pinheiro-Neto CD1, Fernandez-Miranda JC, Rivera-Serrano CM, Paluzzi A, Snyderman CH, Gardner PA, Sennes LU (2011) Endoscopic anatomy of the palatovaginal canal (palatosphenoidal canal): a landmark for dissection of the vidian nerve during endonasal transpterygoid approaches. Laryngoscope 122(1):6–12. https://doi.org/10.1002/lary.21808

27.

Reymond J, Charuta A, Wysocki J (2005) The morphology and morphometry of the foramina of the greater wing of the human sphenoid bone. Folia Morphol 64(3):188–193

28.

Rusu MC (2011) Doubled foramen rotundum and maxillary nerve fenestration. Anat Sci Int 33:723–772. https://doi.org/10.1007/s00276-011-0810-1

29.

Rusu MC (2010) Microanatomy of the neural scaffold of the pterygopalatine fossa in humans: trigeminovascular projections and trigeminal-autonomic plexuses. Folia Morphol 69(2):84–91

30.

Rusu MC, Didilescu AC, Jianu AM, Paduraru D (2013) 3D CBCT anatomy of the pterygopalatine fossa. Surg Radiol Anat 35:143–159. https://doi.org/10.1007/s00276-012-1009-9

31.

Rusu MC, Pop F, Curca GC, Podoleanu L, Voinea LM (2009) The pterygopalatine ganglion in humans: a morphological study. Ann Anat 191:196–202. https://doi.org/10.1016/j.aanat.2008.09.008

32.

Sharma NA, Garud RS (2011) Morphometric evaluation and a report on the aberrations of the foramina in the intermediate region of the human cranial base: a study of an indian population. Eur J Anat 15(3):140–149

33.

Tashi S, Purohit BS, Becker M, Mundada P (2016) The pterygopalatine fossa: imaging anatomy, communications, and pathology revisited. Insights Imaging 2016 7(4):589–599. https://doi.org/10.1007/s13244-016-0498-1

34.

Tomaszewska IM, Kmiotek EK, Pena IZ, Sredniawa M, Czyzowska K, Chrzan R, Nowakowski M, Walocha JA (2015) Computed tomography morphometric analysis of the greater palatine canal: a study of 1500 head CT scans and a systematic review of literature. Anat Sci Int 90(4):287–297. https://doi.org/10.1007/s12565-014-0263-9

35.

Uehara M, Tominaga K, Asahina I (2013) Surgical approach to the pterygopalatine fossa—comparison between anterior approach and lateral approach. J Craniofac Surg 24:536–539. https://doi.org/10.1097/SCS.0b013e3182646b44

36.

Wormald PJ, Athanasiadis T, Rees G, Robinson S (2005) An evaluation of effect of pterygopalatine fossa injection with local anesthetic and adrenalin in the control of nasal bleeding during endoscopic sinus surgery. Am J Rhinol 19(3):288–292

37.

Xu F, Sun X, Hu L, Wang J, Wang D, Pasic TR, Kern RC (2011) Endoscopic surgical treatment of neurogenic tumor in pteryopalatine and infratemporal fossae via extended medial maxillectomy. Acta Otolaryngol 131:161–165. https://doi.org/10.3109/00016489.2010.522594
Ethics declarations
Conflict of interest
The authors declare that they have no conflict of interest.
About this article
Cite this article
Vuksanovic-Bozaric, A., Vukcevic, B., Abramovic, M. et al. The pterygopalatine fossa: morphometric CT study with clinical implications. Surg Radiol Anat 41, 161–168 (2019). https://doi.org/10.1007/s00276-018-2136-8
Received:

Accepted:

Published:

Issue Date:
Keywords
Computed tomography

Morphometry

Pterygopalatine fossa

Pterygoid canal