Abstract
Despite the fact that there are numerous reports on muscular variations in the sole of the foot, routine dissection in a formaldehyde-fixed cadaver revealed an accessory flexor digiti quinti muscle, which to the best of our knowledge is a very unusual variant. This was in the form of a slender, 38 mm long muscular slip, with a proximal and distal tendon extending from the common flexor digitorum longus tendinous plate out to the distal phalanx of the fifth toe. An associated finding was the absence of the musculotendinous portion of the flexor digitorum brevis to the same toe. A developmental explanation for this variation is presented. Clinical implications with regard to this anatomical condition may result in clawing of the fifth toe.
Access options
Buy single article
Instant access to the full article PDF.
US$ 39.95
Tax calculation will be finalised during checkout.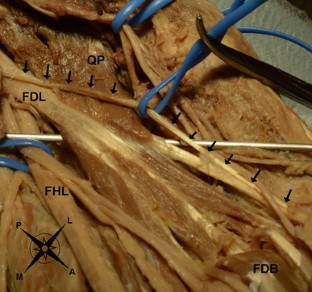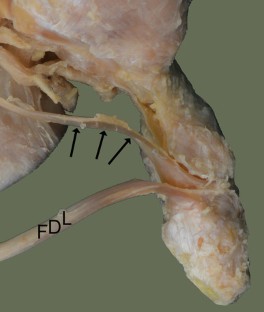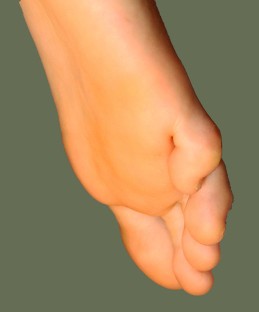 References
1.

Al-Himdani S, Talbot C, Kurdy N, Pillai A (2013) Accessory muscles around the foot and ankle presenting as chronic undiagnosed pain. An illustrative case report and review of the literature. Foot (Edinb) 23:154–161. https://doi.org/10.1016/j.foot.2013.08.002

2.

Athavale SA, Geetha GN, Swathi (2012) Morphology of flexor digitorum accessorius muscle. Surg Radiol Anat 34:367–372. https://doi.org/10.1007/s00276-011-0909-4

3.

Bergman RA, Thompson SA, Afifi AK, Saddeh FA (1988) Compendium of human anatomic variation: text, atlas, and world literature. Urban & Schwarzenberg, Baltimore, pp 27, 318

4.

Claassen H, Wree A (2003) Isolated flexor muscles of the little toe in the feet of an individual with atrophied or lacking 4th head of the M. extensor digitorum brevis and lacking the 4th tendon of the M. extensor digitorum longus. Ann Anat 185:81–84. https://doi.org/10.1016/S0940-9602(03)80017-1

5.

Fasel J, Dick W (1984) Akzessorische Muskeln in der Regio retromalleolaris medialis. Z Orthop 122:835–837. https://doi.org/10.1055/s-2008-1045075

6.

Humphry GM (1873) Lectures on the varieties in the muscles of man. Br Med J 26:78–80 (PMID: 20747157)

7.

Kopuz C, Tetik S, Ozbenli S (1999) A rare anomaly of the abductor digiti minimi muscle of the foot. Cells Tissues Organs 164:174–176. https://doi.org/10.1159/000016655

8.

Lewis OJ (1962) The comparative morphology of M. flexor accessorius and the associated long flexor tendons. J Anat 96:321–333 (PMID: 14464897)

9.

Lobo SW, Menezes RG, Mamata S, Baral P, Hunnargi SA, Kanchan T, Bodhe AV, Bhat NB (2008) Phylogenetic variation in flexor digitorum brevis: a Nepalese cadaveric study. Nepal Med Coll J 10:230–232 (PMID: 19558059)

10.

Nathan H, Gloobe H (1974) Flexor digitorum brevis—anatomical variations. Anat Anz 135:295–301 (PMID: 4413476)

11.

Peterson DA, Stinson W, Lairmore JR (1995) The long accessory flexor muscle: an anatomical study. Foot Ankle Int 16:637–640. https://doi.org/10.1177/107110079501601010

12.

Saar WE, Bell J (2011) Accessory flexor digitorum longus presenting as tarsal tunnel syndrome: a case report. Foot Ankle Spec 4:379–382. https://doi.org/10.1177/1938640011418496

13.

Testut L (1911) Traité d'Anatomie Humaine. Tome premier, Ostéologie—Arthrologie—Myologie, sixième édition. Octave Doin et fils, Paris
Ethics declarations
Conflict of interest
The authors (Stimec BV, Dash J, Assal M, Stern R and Fasel JHD) have no conflicts of interest or financial ties (direct or indirect) to disclose.
About this article
Cite this article
Stimec, B.V., Dash, J., Assal, M. et al. Additional muscular slip of the flexor digitorum longus muscle to the fifth toe. Surg Radiol Anat 40, 533–535 (2018). https://doi.org/10.1007/s00276-018-1991-7
Received:

Accepted:

Published:

Issue Date:
Keywords
Flexor digitorum longus

Anatomic variations

Muscles

Fifth toe