Abstract
Purpose
The accessory tendon (AT) of the extensor hallucis longus (EHL) is a common anatomic variation, whose clinical significance remains debatable. The purpose of this study was to investigate the incidence and morphology of accessory EHL tendons in cadavers and to examine any possible correlation to the occurrence and severity of hallux valgus (HV) deformity.
Methods
We examined any possible correlation between the AT presence and the cadavers' age and the HV deformity in 98 female adult cadaveric feet. The HV and intermetatarsal (IMA) angles were measured and compared with the relative angle between the primary EHL tendon and AT as well as the length of the AT.
Results
AT was present in 26.5% and HV deformity existed in 36.7% of all feet. There was a high prevalence (65.4%) of HV deformity in feet with AT, but the HV angle and IMA were similar in feet with AT and without AT. No significant correlations were found between AT morphological characteristics and the cadavers' age or the HV angle and IMA.
Conclusions
In conclusion, there is a high incidence of HV deformity in cadaveric feet with AT of EHL (almost 2/3), but there is no correlation between the severity of the HV deformity and the presence or characteristics of the AT.
This is a preview of subscription content, log in to check access.
Access options
Buy single article
Instant access to the full article PDF.
US$ 39.95
Tax calculation will be finalised during checkout.
Subscribe to journal
Immediate online access to all issues from 2019. Subscription will auto renew annually.
US$ 99
Tax calculation will be finalised during checkout.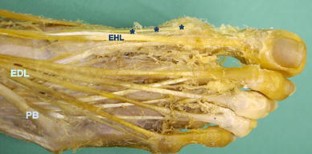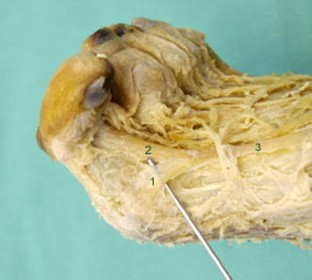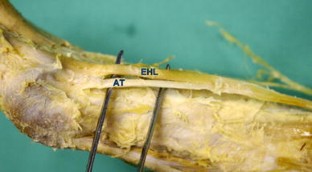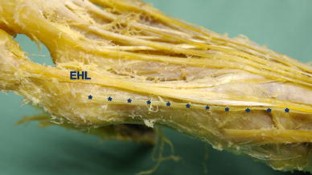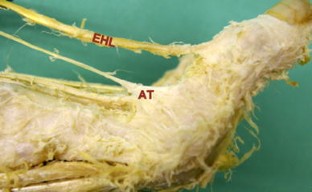 References
1.

Aktekin M, Uzmansel D, Kurtoglu Z, Sanli EC, Kara AB (2008) Examination of the accessory tendons of extensor hallucis longus muscle in fetuces. Clin Anat 21:713–717

2.

Al-Saggaf S (2003) Variations in the insertion of the extensor hallucis longus muscle. Folia Morphol (Warsz) 62:147–155

3.

Arinci Incel N, Genç H, Erdem HR, Yorgancioglu ZR (2003) Muscle imbalance in hallux valgus: an electromyographic study. Am J Phys Med Rehabil 82:345–349

4.

Bayer T, Kolodziejski N, Flueckiger G (2014) The extensor hallucis capsularis tendon—a prospective study of its occurrence and function. Foot Ankle Surg 20:192–194

5.

Bergman RA, Afifi AK (2014) Atlas of human anatomy, anatomy atlases is a digital library of anatomy information. http://www.anatomyatlases.org

6.

Bibbo C, Arangio G, Patel DV (2004) The accessory extensor tendon of the first metatarsophalangeal joint. Foot Ankle Int 25:387–390

7.

Coughlin MJ, Jones CP (2007) Hallux valgus: demographics, etiology and radiographic assessment. Foot Ankle Int 28:759–777

8.

Denk CC, Oznur A, Sürücü HS (2002) Double tendons at the distal attachment of the extensor hallucis longus muscle. Surg Radiol Anat 24:50–52

9.

Fuhrmann RA, Layher F, Wetzel WD (2003) Radiographic changes in forefoot geometry with weight bearing. Foot Ankle Int 24:326–331

10.

Hoffmeyer P, Cox JN, Blanc Y, Meyer JM, Taillard W (1988) Muscle in hallux valgus. Clin Orthop Relat Res 232:112–118

11.

Iida M, Basmajian JV (1974) Electromyography of hallux valgus. Clin Orthop Relat Res 101:220–224

12.

Lundeen RO, Latva D, Yant J (1983) The secondary tendinous slip of the extensor hallucis longus (extensor ossis metatarsi hallucis). J Foot Surg 22:142–144

13.

MacAlister A (1872) Additional observations on muscular anomalies in human anatomy (third series) with a catalogue of the principal muscular variations hitherto published. Trans Roy Irish Acad Sci 25:1–134

14.

MacAlister A (1871) On some points in the myology of the chimpanzee and others of the primates. Annals and magazine of natural history. Proc R Ir Acad 4:341–351

15.

Mann RA, Coughlin MJ (1986) Hallux valgus and complications of hallux valgus. In: Mann RA (ed) Surgery of the foot, 5th edn. CV Mosby, St Louis, pp 65–130

16.

Mann RA, Coughlin MJ (1981) Hallux valgus-etiology, anatomy, treatment and surgical considerations. Clin Orthop Relat Res 157:31–41

17.

Miller MD (2008) Review of orthopaedics: expert consult—online and print, 5th edn. Saunders Elsevier, Philadelphia, pp 366–367

18.

Nix S, Smith M, Vicenzino B (2010) Prevalence of hallux valgus in the general population: a systematic review and meta-analysis. J Foot Ankle Res 27:21

19.

Roddy E, Zhang W, Doherty M (2008) Prevalence and associations of hallux valgus in a primary care population. Arthritis Rheum 15(59):857–862

20.

Sim-Fook L, Hodgson AR (1958) A comparison of foot forms among the non-shoe and shoe wearing Chinese population. J Bone Joint Surg Am 40:1058–1062

21.

Tate R, Pachnik RL (1976) The accessory tendon of extensor hallucis longus: its occurrence and function. J Am Podiatry Assoc 66:899–907
Ethics declarations
Conflict of interest
The authors declare that they have no conflicts of interest.
About this article
Cite this article
Natsis, K., Konstantinidis, G.A., Symeonidis, P.D. et al. The accessory tendon of extensor hallucis longus muscle and its correlation to hallux valgus deformity: a cadaveric study. Surg Radiol Anat 39, 1343–1347 (2017). https://doi.org/10.1007/s00276-017-1881-4
Received:

Accepted:

Published:

Issue Date:
Keywords
Extensor hallucis longus muscle

Accessory tendon

Hallux abductovalgus

Tendon imbalance

Hallux valgus

Anatomical variations