Abstract
Background
There is little published information on the anatomy of the fovea capitis femoris (FCF), the distal attachment site of the ligament of the head of femur (LHF). This study investigates the morphology of the FCF on dry bones in an attempt to answer some of the debate around the functional significance of the LHF.
Methods
The morphological and morphometric details of the FCF were analysed on 125 dry isolated femora (n = 125) from the Anatomy Museum, University of Otago, New Zealand.
Results
All femora had a single distinct FCF. The proximal half of the foveal floor was rough indicating the attachment of the LHF, while the distal half or receptacle zone, was smooth. The long axis of most FCF (63.2%) was directed posteroinferiorly. The FCF measured 1.77 ± 0.4 cm (SD) in the longitudinal plane and 1.3 ± 0.32 cm (SD) in the transverse plane and occupied 17% of the surface area of the femoral head. The shape of the FCF was oval in 66%, circular in 28%, and triangular in 6%. In 123 of 125 bones, the FCF was located on the posteroinferior quadrant of the femoral head. Multiple vascular foramina were found in the ligament attachment zone in 76% of the bones and a quarter of the samples showed a shallow perifoveal groove (24%) or a deep perifoveal notch (26%) on the dry bones.
Discussion
This study shows that the fovea consistently lies posteroinferior to the true centre of the femoral head and is usually oval in shape. Patent vascular foramina clustered within the LHF attachment site suggest that the ligament conveys some blood supply to the femoral head in adults.
Access options
Buy single article
Instant access to the full article PDF.
USD 39.95
Price excludes VAT (USA)
Tax calculation will be finalised during checkout.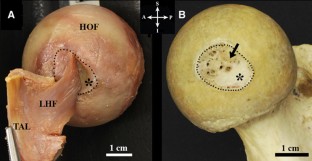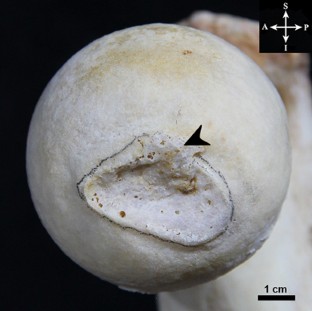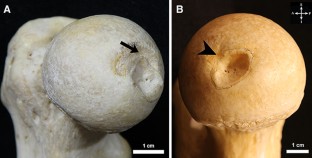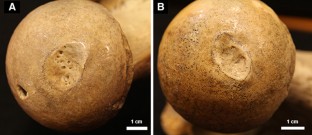 References
Amenabar T, O'Donnell J (2014) Arthroscopic ligamentum teres reconstruction using semitendinosus tendon: Surgical technique and an unusual outcome. Arthrosc Tech 1:169–174

Baker BJ, Dupras TL, Tocheri MW (2005) The osteology of infants and children. A&M University Press, Texas, p 114

Bardakos NV, Villar RN (2009) The ligamentum teres of the adult hip. J Bone Jt Surg Br 91:8–15

Bass WMB (2005) Human osteology: a laboratory and field manual, 5th Ed. Missouri Archaeological Society, Columbia, p 223

Beltran LS, Mayo JD, Rosenberg ZS, Tuesta MDD, Martin O, Neto LP, Bencardino JT (2012) Fovea alta on MR images: Is it a marker of hip dysplasia in young adults? Am J Roentgenol 199:879–883

Byrd JW (2012) Operative hip arthroscopy, 3rd Ed. Springer-Verlag, New York, p 108

Byrd JWT, Jones KS (2004) Traumatic rupture of the ligamentum teres as a source of hip pain. Arthroscopy 20:385–391

Calandriello B, Mignani G (1962) The role of ligamentum teres in congenital dislocation of the hip. Clin Orthop Relat Res 22:60–72

Cerezal L, Arnaiz J, Canga A, Piedra T, Altonaga JR, Munafo R, Perez-Carro L (2012) Emerging topics on the hip: ligamentum teres and hip microinstability. Eur J Radiol 81:3745–3754

Cerezal L, Kassarjian A, Canga A, Dobado MC, Montero JA, Llopis E, Rolón A, Pérez-Carro L (2010) Anatomy, biomechanics, imaging, and management of ligamentum teres injuries. Radiographics 30:1637–1651

Chandler SB, Kreuscher PH (1932) A study of the blood supply of the ligamentum teres and its relation to the circulation of the head of the femur. J Bone Jt Surg 14:834–846

Chung SMK (1976) The arterial supply of the developing proximal end of the human femur. J Bone Jt Surg Am 58:961–970

Conte E, Dennison J (1995) An anthropological study of the burials in Marae Te Tahata, Tepoto (Tuamotu Archipelago, French Polynesia). J Polynesian Soc 104:397–427

Crelin ES (1976) An experimental study of hip stability in human newborn cadavers. Yale J Biol Med 49:109–121

Garabekyan T, Chadayammuri V, Pascual-Garrido C, Mei-Dan O (2016) All-arthroscopic ligamentum teres reconstruction with graft fixation at the femoral head-neck junction. Arthrosc Tech 5:143–147

Garcia AV, McDonald JR, Coventry MB (1956) Vascular changes of the ligamentum teres femoris in disease of the hip. Proc Staff Meet Mayo Clin 31:599–604

Hammer HB, Hovden IAH, Haavardsholm EA, Kvein TK (2006) Ultrasonography shows increased cross-sectional area of the median nerve in patients with arthritis and carpal tunnel syndrome. Rheumatology 45:584–588

Hay A (1996) The morphology of the pre-European Maori femur and its functional significance. PhD Thesis, University of Otago, New Zealand, p 393

Hepburn D (1896) The platymetric, pilastric and popliteal indices of the race collection of femora in the anatomical museum of the University of Edinburgh. J Anat Physiol XXXI:116–156

Houghton P (1996) People of the great ocean. Cambridge University press, Cambridge, p 126

Jeffery AK (1975) Osteophytes and the osteoarthritic femoral head. J Bone Jt Surg 57:314–324

Kapandji I (2007) Physiology of joints, 6th Ed. Churchill Livingstone, London, p 24

Kaplan EB (1949) The ligamentum teres femoris in relation to the position of the femur. Bull Hosp Jt Dis 10:112–117

Kaya M, Suziki T, Minowa T, Yamashita T (2014) Ligamentum teres injury is associated with the articular damage pattern in patients with femoroacetabular impingement. J Arth Rel Surg 30:1582–1587

Keene G, Villar RN (1994) Arthroscopic anatomy of the hip: an in vivo study. Arthroscopy 10:392–399

Kim YJ, Mamisch TC (2014) Hip magnetic resonance imaging. Springer, Berlin, p 58

Kirby AS, Wallace WA, Moulton A, Burwell RG (1993) Comparison of four methods for measuring femoral anteversion. Clin Anat 6:280–288

Lindner D, Sharp KG, Trenga AP, Stone J, Stake CE, Domb BG (2013) Arthroscopic ligamentum teres reconstruction. Arthrosc Tech 2:21–25

Martin HD, Hatem MA, Kivlan BR, Martin RL (2014) Function of the ligamentum teres in limiting hip rotation: a cadaveric study. Arthroscopy 30:1085–1091

Martin RL, Kivlan BR, Clemente FR (2013) A cadaveric model for ligamentum teres function: a pilot study. Knee Surg Sports Traumatol Arthrosc 21:1689–1693

Martin RL, Palmer I, Martin HD (2012) Ligamentum teres: a functional description and potential clinical relevance. Knee Surg Sports Traumatol Arthrosc 20:1209–1214

Mei-Dan O, McConkey MO (2014) A novel technique for ligamentum teres reconstruction with all-suture anchors in the medial acetabular wall. Arthrosc Tech 3:217–221

Michaels G, Matles AL (1970) The role of the ligamentum teres in congenial dislocation of the hip. Clin Orthop 71:199–201

Molini L, Precerutti M, Gervasio A, Draghi F, Bianchi S (2011) Hip: anatomy and US technique. J Ultrasound 14:99–108

O'Donnell JM, Pritchard M, Salas AP, Singh PJ (2014) The ligamentum teres- its increasing importance. J Hip Preserv Surg 1:1–9

Oliver G (1969) Practical anthropology. Charles C Thomas, Illinois, p 261

Ozonoff MB, Ziter FMH (1987) The femoral head notch. Skelet Radiol 16:19–22

Perez-Carro L, Golano P, Vega J, Escajadillo NF, Rubin CG, Cerezal L (2011) The ligamentum capitis femoris: anatomic, magnetic resonance and computed tomography study. Hip Int 21:367–372

Perumal V, Woodley SJ, Nicholson HD (2016) Ligament of the head of femur: A comprehensive review of its anatomy, embryology and potential function. Clin Anat 29:247–255

Philippon MJ, Pennock A, Gaskill TR (2012) Arthroscopic reconstruction of the ligamentum teres: technique and early outcomes. J Bone Jt Surg Br 94:1494–1498

Philippon MJ, Rasmussen MT, Turnbull TL, Trindade CAC, Hamming MG, Ellman MB, Harris M, LaPrade RF, Wijdicks CA (2014) Structural properties of the native ligamentum teres. Orthop J Sports Med 2. doi:2325967114561962

Sampatchalit S, Barbosa D, Gentili A, Haghighi P, Trudell D, Resnick D (2009) Degenerative changes in the ligamentum teres of the hip: Cadaveric study with magnetic resonance arthrography, anatomical inspection, and histologic examination. J Comp Assist Tomogr 33:927–933

Scheuer L, Black SM, Liversidge H, Christie A (2004) The juvenile skeleton. Elsevier, Amsterdam, p 355

Shinohara Y, Kumai T, Higashiyama I, Hayashi K, Matsuda T, Tanaka Y, Takakura Y (2013) Histological and molecular characterisation of the femoral attachment of the human ligamentum capitis femoris. Scand J Med Sci Sports 24:245–253

Siebenrock KA, Steppacher SD, Albers CE, Haefeli PC, Tannast M (2013) Diagnosis and management of developmental dysplasia of the hip from triradiate closure through young adulthood. J Bone Jt Surg 95:749–755

Simpson JM, Field RE, Villar RN (2011) Arthroscopic reconstruction of the ligamentum teres. Arthroscopy 27:436–441

Tan CK, Wong WC (1990) Absence of the ligament of head of femur in the human hip joint. Singap Med J 31:360–363

Wenger DR (2007) The mechanical properties of the ligamentum teres: a pilot study to assess its potential for improving stability in children's hip surgery. J Pediatr Orthop 27:408–410

Wertheimer L, Fernande S (1971) Arterial supply of femoral head - combined angiographic and histological study. J Bone Jt Surg Am 53:545–556
Ethics declarations
Conflict of interest
The authors declare that they have no conflict of interest.
About this article
Cite this article
Perumal, V., Woodley, S.J. & Nicholson, H.D. The morphology and morphometry of the fovea capitis femoris. Surg Radiol Anat 39, 791–798 (2017). https://doi.org/10.1007/s00276-016-1810-y
Received:

Accepted:

Published:

Issue Date:

DOI: https://doi.org/10.1007/s00276-016-1810-y
Keywords
Fovea capitis

Hip joint

Ligament of the head of femur