Abstract
Horseshoe kidney (HSK) is the most common renal fusion, which is characterized by three anatomic anomalies: ectopia, malrotation and vascular changes. Patients with HSK are prone to a variety of complications, genitourinary and non-genitourinary. In this paper, the anatomy of HSK is delineated with a great emphasis on its blood supply. After reviewing the literature, the arterial supply patterns found by each author were categorized according to the classification system proposed by Graves. The majority of HSKs were found to be supplied by renal arteries derived from the abdominal aorta below the isthmus or by vessels originating from the common iliac arteries. In addition, the abnormalities associated with HSK are highlighted and classified in anatomical variations, congenital anomalies as well as in pathologic conditions related to HSK.
Access options
Buy single article
Instant access to the full article PDF.
USD 39.95
Price excludes VAT (USA)
Tax calculation will be finalised during checkout.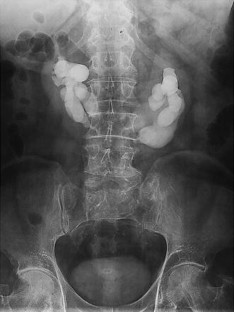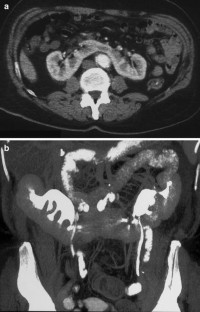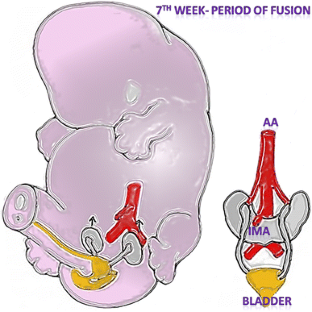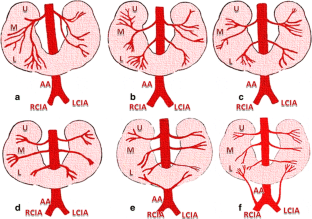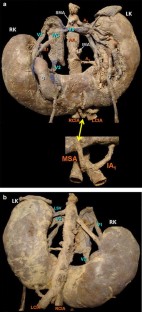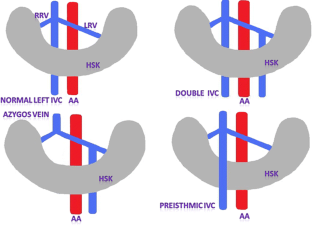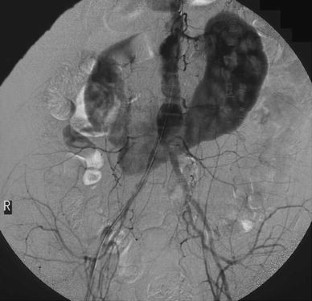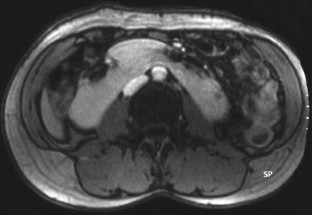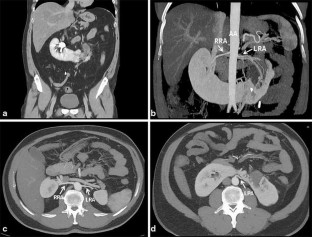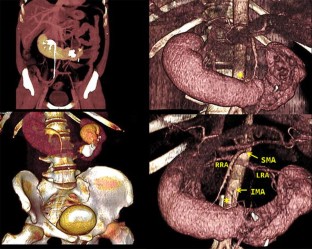 References
Araki K, Matsumoto K, Shiraishi T, Ogura H, Kurashige T, Kitamura I (1987) Turner's syndrome with agenesis of the corpus callosum, Hashimoto's thyroiditis and horseshoe kidney. Acta Paediatr Jpn 29:622–666

Basso LS, Pasqualotto FF, Godoy AEG (2011) Abnormal vascular supply of the horseshoe kidney: case report and review of the literature. Int J Exp Clin Anat 5:48–52

Bietz DS, Merendino KA (1975) Abdominal aneurysm and horseshoe kidney: a review. Ann Surg 181:333–341

Boatman DL, Cornell SH, Kölln CP (1971) The arterial supply of horseshoe kidneys. Am J Roentgenol Radium Ther Nucl Med 113:447–451

Bronstein M, Kushnir O, Ben-Rafael Z (1990) Transvaginal sonographic measurement of fetal kidneys in the first trimester of pregnancy. J Clin Ultrasound 18:299

Cascio S, Sweeney B, Granata C, Piaggio G, Jasonni V, Puri P (2002) Vesicoureteral reflux and ureteropelvic junction obstruction in children with horseshoe kidney: treatment and outcome. J Urol 167:2566–2568

Cohn LH, Stoney RJ, Wylie EJ (1969) Abdominal aortic aneurysm and horseshoe kidney. Ann Surg 170:870–874

Costa RP, Schaal CH, Navarro FC (2004) Neoplasia in horseshoe kidney with pyelic fusion and crossed single ureter. Int Braz J Urol 30:319–320

Cukier J, Aubert J, Dufour B (1969) Retrocaval ureter and horseshoe kidney in a 6-year-old hypospadic boy. J Urol Nephrol (Paris) 75:749–757

Dajani AM (1966) Horseshoe kidney: a review of twenty-nine cases. Br J Urol 38:388–402

Ferko A, Krajina A, Jon B, Lesko M, Voboril Z (1997) Juxtarenal aortic aneurysm associated with a horseshoe kidney. Transfemoral endoluminal repair. Arch Surg 132:316–317

Fernbach SK, Davis TM (1986) The abnormal renal axis in children with spina bifida and gibbus deformity—the pseudohorseshoe kidney. J Urol 136:1258–1260

Frego M, Bianchera G, Angriman I, Pilon F, Fittà C, Miotto D (2007) Abdominal aortic aneurysm with coexistent horseshoe kidney. Surg Today 37:626–630

Gleason PE, Kramer SA (1995) Ectopic kidneys and renal fusion anomalies. AUA Update Ser 33:268–271

Glenn JF (1959) Analysis of 51 patients with horseshoe kidney. N Engl Med 261:684–687

Graves FT (1969) The arterial anatomy of the congenitally abnormal kidney. Br J Surg 56:533–541

Greenwood RD, Rosenthal A, Nadas AS (1976) Cardiovascular malformation associated with congenital anomalies of the urinary system: observations in a series of 453 infants and children with urinary system malformation. Clin Pediatr 15:1101–1105

Gupta M, Pandey AK, Goyal N (2007) Horseshoe kidney-a case report. Nepal Med Coll J 9:63–66

Hanley HG (1942) A horseshoe and a supernumerary kidney a triple kidney with a horseshoe component. BJS 30:165–168

Herrera L, Kakati S, Gibas L, Pietrzak E, Sandberg A (1986) Brief clinical report: Gardner syndrome in a man with an interstitial deletion of 5q. Am J Med Genet 25:473–476

Huang W, Ge G, Meng J, Xu Y (2010) High bifurcation of abdominal aorta upon horseshoe kidney at the level of upper L2 vertebral body: a rare case report. Surg Radiol Anat 32:605–608

Ichikawa T, Sekiguchi T, Kawada S, Koizumi J, Endo J, Yamada Y, Ito C, Sugiyama M, Terachi T, Usui Y, Torigoe K, Imai Y (2012) Study of the association between an anomalous superior vena cava and horseshoe kidney. Circ J 76:1253–1258

Julia P, Hanotel MC, Ghalayini B, Fabiani JN (1993) Abdominal aortic aneurysm associated with horseshoe kidney and duplication of the inferior vena cava. Ann Vasc Surg 7:587–589

Kehagias DT, Gouliamos AD, Vlahos LJ (1999) Horseshoe kidney associated with anomalous inferior vena cava. Eur Radiol 9:935–936

Kravtzova GI, Lazjuk GI, Lurie IW (1975) The malformations of the urinary system in autosomal disorders. Virchows Arch A Path Anat Histol 368:167–178

Krohn DL, Sanchez LA, Wain RA, Veith FJ (1999) Repair of bilateral common iliac artery aneurysms coexisting with a pelvic horseshoe kidney. Ann Vasc Surg 13:625–628

Machin GA, Popkin JS, Zachs D, Newbigging J, Walther G, Bell D (1987) Fetus with asymmetric parietal encephalocele, and hydrops secondary to laryngeal atresia. Am J Med Genet Suppl 3:311–321

Makita S, Yoshizaki T, Tabuchi N (2009) A case of abdominal aortic aneurysm with horseshoe kidney. Ann Thorac Cardiovasc Surg 15:129–132

Mandell GA, Maloney K, Sherman NH, Filmer B (1996) The renal axes in spina bifida: issues of confusion and fusion. Abdom Imaging 21:541–545

Merrot T, Lumenta DB, Tercier S, Morrison-Lacombes G, Guy JM, Alessandrini P (2006) Multicystic dysplastic kidney with ipsilateral abnormalities of genitourinary tract: experience in children. Urology 67:603–607

Moriyasu K, Funami M, Narisawa T, Matsuo Y, Inoue K, Takaba T (1996) The retroperitoneal approach to aortoiliac surgery associated with a horseshoe kidney: report of a case. Surg Today 26:655–657

Natsis K, Tsitouridis T, Totlis T, Loutradis Ch, Tarazi L, Papastergiou Ch, Koebke J (2005) Horseshoe kidney. Anatomical, radiological, embryological approach and clinical importance of eleven cases. Hellen Nephrol 17:311–319

Nieto Parga A, Villalon Ortega M, Barcelo Obregon J, Vilanova Busquets JC (2010) Rinon supernumerario fusionado con rinon en herradura. Valoracion por RM. Radiología 52:171–174

O'Brien J, Buckley O, Doody O, Ward E, Persaud T, Torreggiani W (2008) Imaging of horseshoe kidneys and their complications. J Med Imaging Radiat Oncol 52:216–226

O'Hara PJ, Hakaim AG, Hertzer NR, Krajewski LP, Cox GS, Beven EG (1993) Surgical management of aortic aneurysm and coexistent horseshoe kidney: review of a 31-year experience. J Vasc Surg 17:940–947

Oktem H, Gozil R, Calguner E, Bahcelioglu M, Mutlu S, Kurkcuoglu A, Yucel D, Senol E, Babus T, Kadioglu D (2008) Morphometric study of a horseshoe kidney. Med Princ Pract 17:80–83

Ongeti KW, Ogeng'O JA, Saidi H (2011) A horseshoe kidney with partial duplex systems. Int J Anat Var 4:55–56

Parrott TS, Skandalakis JE, Gray SW (1994) The kidney and ureter. In: Skandalakis G (ed) Embryology for surgeons, 2nd edn. Williams & Wilkins, Baltimore, pp 618–622

Radermecker MA, Van Damme H, Kerzmann A (2008) Association of abdominal aortic aneurysm, horseshoe kidney, and left-sided inferior vena cava: report of two cases. Vasc Surg 47:645–648

Sadler TW (2010) Langman's medical embryology, 11th edn. Lippincott Williams & Wilkins, Baltimore, p 332

Schubert RA, Söldner J, Steiner T, Schubert J, Kaiser WA (1998) Bilateral renal cell carcinoma in a horseshoe kidney: preoperative assessment with MRI and digital subtraction angiography. Eur Radiol 8:1694–1697

Shashikumar VL, Somers LA, Pilling GP 4th, Cresson SL (1974) Wilms' tumor in the horseshoe kidney. J Pediatr Surg 9:185–189

Shen HL, Yang PQ, Du LD, Lü WC, Tian Y (2012) Horseshoe kidney with retrocaval ureter: one case report. Chin Med J (Engl) 125:543–545

Stroosma OB, Scheltinga MRM, Stubenitsky BM, Kootstra G (2000) Horseshoe kidney transplantation an overview. Clin Transplant 14:515–519

Sturrock RS (1979) Deux cas de reins en fer a cheval en position ectopique. Anat Clin 2:123–125

Symes JM, Eadie DG (1973) Horseshoe kidney and abdominal aortic aneurysm. Br J Surg 60:243–245

Tijerina GO, Uresti J, Urrutia VE, Elizondo-Omana RE, Guzman-Lopez S (2009) Anatomical study of the horseshoe kidney. Int J Morphol 27:491–494

Vaniya VH (2004) Horseshoe kidney with multiple renal arteries and extrarenal calyces—a case report. J Anat Soc India 53:52–54

Yoshinaga K, Kodama K, Tanii I, Toshimori K (2002) Morphological study of a horseshoe kidney with special reference to the vascular system. Anat Sci Int 77:134–139
Acknowledgments
We wish to thank the surgeon Dr. Spyros Delis and the interventional radiologists Dr. Petros Maniatis and Dimitrios Fagrezos for their technical assistance with the imaging of the horseshoe kidney.
Conflict of interest
The authors declare that they have no conflict of interest.
About this article
Cite this article
Natsis, K., Piagkou, M., Skotsimara, A. et al. Horseshoe kidney: a review of anatomy and pathology. Surg Radiol Anat 36, 517–526 (2014). https://doi.org/10.1007/s00276-013-1229-7
Received:

Accepted:

Published:

Issue Date:

DOI: https://doi.org/10.1007/s00276-013-1229-7
Keywords
Horseshoe kidney

Embryology

Anatomy

Congenital anomalies

Pathology