Abstract
Evidence of areas of increased attenuation density within lateral ventricles at computed tomography (CT) of the brain is a finding of acute or subacute intraventricular hemorrhage. The purpose of this case report is to describe a 14-year-old female who presented with an episode of complicated migraine. Brain CT showed an area of high attenuation density (35 Hounsfield Units) in the trigone and occipital horn of the right lateral ventricle, mimicking a blood-fluid level from subacute intraventricular hemorrhage. Magnetic resonance imaging (MRI) of the brain showed that this resulted from gray matter lining a deep calcarine fissure. A deep calcarine fissure may mimic intraventricular hemorrhage at CT. Correct CT and MRI interpretation allows to avoid invasive diagnostic tests including lumbar puncture or intra-arterial catheter angiography.
This is a preview of subscription content, log in to check access.
Access options
Buy single article
Instant access to the full article PDF.
US$ 39.95
Price includes VAT for USA
Subscribe to journal
Immediate online access to all issues from 2019. Subscription will auto renew annually.
US$ 99
This is the net price. Taxes to be calculated in checkout.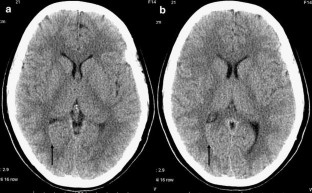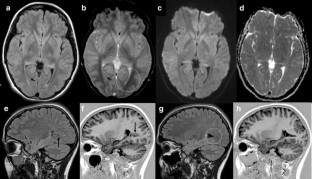 References
1.

Given CA 2nd, Burdette JH, Elster AD et al (2003) Pseudo-subarachnoid hemorrhage: a potential imaging pitfall associated with diffuse cerebral edema. AJNR Am J Neuroradiol 24:254–256

2.

Horsburgh A, Massoud TF (2013) The circumventricular organs of the brain: conspicuity on clinical 3T MRI and a review of functional anatomy. Surg Radiol Anat 35(4):343–349

3.

Iaria G, Petrides M (2007) Occipital sulci of the human brain: variability and probability maps. J Comp Neurol 501:243–259

4.

Iaria G, Robbins S, Petrides M (2008) Three-dimensional probabilistic maps of the occipital sulci of the human brain in standardized stereotaxic space. Neuroscience 151:174–185

5.

Kiroglu Y, Karabulut N, Oncel C et al (2008) Cerebral lateral ventricular asymmetry on CT: how much asymmetry is representing pathology? Surg Radiol Anat 30(3):249–255

6.

Lévêque C, Sabbah P, Ait-Ameur A et al (2002) Morphological imagery of the occipital lobe. J Fr Ophtalmol 25:1067–1072

7.

Savas R, Sener RN (1998) Deep calcarine sulcus and prominent calcar avis. J Neuroradiol 25:144–146
Conflict of interest
All the authors have no disclosures.
About this article
Cite this article
Cerase, A., Vallone, I.M., Rufa, A. et al. Pseudo-intraventricular hemorrhage from a deep calcarine fissure. Surg Radiol Anat 36, 601–603 (2014). https://doi.org/10.1007/s00276-013-1226-x
Received:

Accepted:

Published:

Issue Date:
Keywords
Brain

Computed tomography

Gyrus

Intraventricular hemorrhage

Magnetic resonance imaging

Sulcus

Ventricle