Abstract
Purpose
To describe the transoral viewpoint of the tongue base anatomy, focusing on a superior to inferior perspective, which is less familiar to the head and neck surgeon but, at the same time, worthy to be known given the expanding interest and diffusion of the transoral robotic technique.
Methods
Seven heads were dissected, two with the Da Vinci® robotic system, three by means of a transoral endoscopic approach and another two by means of a lateral "traditional" external approach. Ten normal patients, with normal oral cavity and oropharynx, were studied as control samples by means of a 3-T MRI scanner.
Results
Major neurovascular elements are placed laterally and deeply within the tongue base. Dissection within intrinsic and genioglossus muscles is safe because the main trunk of the lingual artery lies on the lateral surface of genioglossus muscle, covered by the hyoglossus muscle. The hypoglossal nerve, with its comitant vein, is more lateral, lying on the external surface of the hyoglossus muscle. Radiological evaluation can visualize important details of this complex anatomy. The position of the vessels can be directly identified, whereas major nerves are more difficult to be visualized unless they are surrounded by fibro-fatty tissue.
Conclusions
A medial to lateral dissection of the tongue base can be considered safe. A strict collaboration with the radiologist is helpful in approaching these cases by means of a robotic technique and in improving a true 3D understanding of this complex anatomy.
Access options
Buy single article
Instant access to the full article PDF.
US$ 39.95
Tax calculation will be finalised during checkout.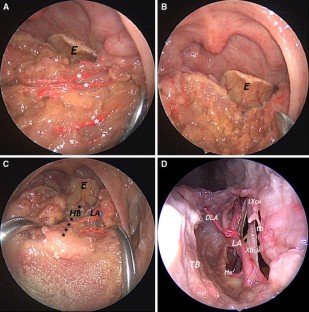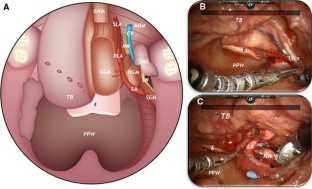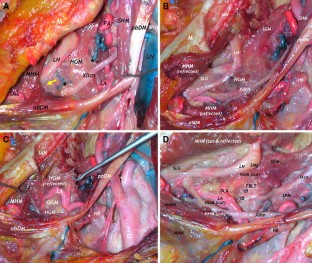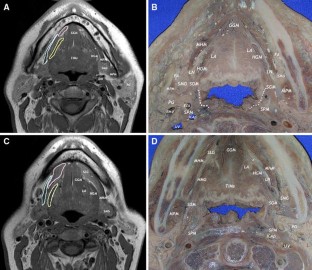 References
1.

Alves P (2010) Imaging the hypoglossal nerve. Eur J Radiol 74:368–377

2.

Calais G, Alfonsi M, Bardet E, Sire C, Germain T, Bergerot P, Rhein B, Tortochaux J, Oudinot P, Bertrand P (1999) Randomized trial of radiation therapy versus concomitant chemotherapy and radiation therapy for advanced stage oropharynx carcinoma. J Natl Cancer Inst 91:2081–2086

3.

Chabolle F, Wagner I, Blumen MB, Sequert C, Fleury B, De Dieuleveult T (1999) Tongue base reduction with hyoepiglottoplasty: a treatment for severe obstructive sleep apnea. Laryngoscope 109:1273–1280

4.

Dean NR, Rosenthal EL, Carroll WR, Kostrzewa JP, Jones VL, Desmond RA, Clemons L, Magnuson JS (2010) Robotic assisted surgery for primary or recurrent oropharyngeal carcinoma. Arch Otolaryngol Head Neck Surg 136(4):380–384

5.

Dwivedi RC, Rhys Evans PH, Patel SG (2009) Tumors of the oropharynx. In: Montgomery PQ, Rhys Evans PH, Gullane PJ (eds) Principles and practice of head and neck surgery and oncology, 2nd edn. Informa Healthcare, London, pp 192–232

6.

Garfein ES, Greaney PJ Jr, Easterlin B, Schiff B, Smith RV (2011) Transoral robotic reconstructive surgery reconstruction of a tongue base defect with a radial forearm flap. Plast Reconstr Surg 127(6):2352–2354

7.

Grant DG, Salassa JR, Hinni ML, Pearson BW, Perry WC (2006) Carcinoma of the tongue base treated by transoral laser microsurgery. Part I: untreated tumors, a prospective analysis of oncologic and functional outcomes. Laryngoscope 116:2150–2155

8.

Haughey BH, Hinni ML, Salassa JR, Hayden RE, Grant DG, Rich JT, Milov S, Lewis JS, Krishna M (2011) Transoral laser microsurgery as primary treatment for advanced stage oropharngeal cancer: a United States multicenter study. Head Neck. doi:10.1002/hed.21669

9.

Henstrom DK, Moore EJ, Olsen KD, Kasperbaeur JL, McGree ME (2009) Transoral resection for squamous cell carcinoma of the base of the tongue. Arch Otolaryngol Head Neck Surg 135(12):1231–1238

10.

Hockstein NG, O'Malley BW Jr (2008) Transoral robotic surgery. Oper Tech Otolaryngol 19:67–71

11.

La'porte SJ, Juttla JK, Lingam RK (2011) Imaging the floor of the mouth and the sublingual space. Radiographics 31(5):1215–1230

12.

Laccourreye O, Seccia V, Menard M, Garcia D, Vacher C, Holsinger FC (2007) Extended lateral pharyngotomy for selected squamous cell carcinomas of the lateral tongue base. Ann Otol Rhinol Laryngol 118(6):428–434

13.

Leonhardt FD, Quon H, Abrahao M, O'Malley BW Jr, Weinstein GS (2011) Transoral robotic surgery for oropharyngeal carcinoma and its impact on patient-reported quality of life and function. Head Neck. doi:10.1002/hed.21688

14.

Lopez R, Lauwers F, Paoli JR, Boutault F, Guitard J (2007) Vascular territories of the tongue: anatomical study and clinical applications. Surg Radiol Anat 29:239–244

15.

O'Malley BW Jr, Weinstein GS, Snyder W, Hockstein NG (2006) Transoral robotic surgery (TORS) for base of tongue neoplasms. Laryngoscope 116(8):1465–1472

16.

Rodrigo JP, Diaz-Molina JP, Moreno C, Suarez C (2011) Oncologic and functional results after transhyoid surgical approach for cancer of the tongue base. Head Neck 121(7):1449–1454

17.

Seikaly H, Rieger J, Wolfaardt J, Moysa G, Harris MD, Naresh J (2003) Functional outocomes after primary oropharyngeal cancer resection and reconstruction with the radial forearm free flap. Laryngoscope 113:897–904

18.

Sorrenti G, Piccin O, Mondini S, Ceroni AR (2006) One-phase management of severe obstructive sleep apnea: tongue base reduction with hyoepiglottoplasty plus uvulopalatopharyngoplasty. Otolaryngol Head Neck Surg 135:906–910

19.

Steiner W, Fierek O, Ambrosch P, Hommerich CP, Kron M (2003) Transoral laser microsurgery for squamous cell carcinoma of the base of tongue. Arch Otolaryngol Head Neck Surg 129:36–43

20.

Thompson EO, Smoker WR (1994) Hypoglossal nerve palsy: a segmental approach. Radiograhics 14(5):939–958

21.

Vicini C, Dallan I, Canzi P, Frassineti S, Nacci A, Seccia V, Panicucci E, La Pietra MG, Montevecchi F, Tschabitscher M (2012) Transoral Robotic surgery of the tongue base in Obstructive Sleep Apnoea–Hypopnoea Syndrome: anatomic considerations and clinical experience. Head Neck 34(1):15–22

22.

Weinstein GS, O'Malley BW Jr, Cohen MA, Quon H (2010) Transoral robotic surgery for advanced oropharyngeal carcinoma. Arch Otolaryngol Head Neck Surg 136(11):1079–1085

23.

Weinstein GS, O'Malley BW Jr, Snyder W, Sherman E, Quon H (2007) Transoral Robotic surgery. Radical tonsillectomy. Arch Otolaryngol Head Neck Surg 133(12):1220–1226

24.

Wu AP, Whitney MA, Crisp JL, Friedman B, Tsien RY, Nguyen QT (2011) Improved facial nerve identification with novel fluorescently labeled probe. Laryngoscope 121(4):805–810
Acknowledgments
We thank Mrs. Diana Hearn for help in translation and revision of the manuscript.
Conflict of interest
The authors certify that they have no potential conflicts of interest with any entity mentioned in this manuscript and that they received no financial support for this work.
About this article
Cite this article
Dallan, I., Seccia, V., Faggioni, L. et al. Anatomical landmarks for transoral robotic tongue base surgery: comparison between endoscopic, external and radiological perspectives. Surg Radiol Anat 35, 3–10 (2013). https://doi.org/10.1007/s00276-012-0983-2
Received:

Accepted:

Published:

Issue Date:
Keywords
Tongue base surgery

Transoral robotic surgery

Lingual artery

Hypoglossal nerve

Tongue base anatomy