Abstract
Purpose
This study aims at analysing the stresses distribution in the temporomandibular joint (TMJ) using a complete high-resolution finite element model (FE Model). This model is used here to analyse the stresses distribution in the discs during a closing jaw cycle. In the end, this model enables the prediction of the stress evolution in the TMJ disc submitted to various loadings induced by mandibular trauma, surgery or parafunction.
Materials and methods
The geometric data for the model were obtained from MRI and CT scans images of a healthy male patient. Surface and volume meshes were successively obtained using a 3D image segmentation software (AMIRA®). Bone components of skull and mandible, both of joint discs, temporomandibular capsules and ligaments and dental arches were meshed as separate bodies. The volume meshes were transferred to the FE analysis software (FORGE®). Material properties were assigned for each region. Boundary conditions for closing jaw simulations were represented by different load directions of jaws muscles. The von Mises stresses distribution in both joint discs during closing conditions was analyzed.
Results
The pattern of von Mises stresses in the TMJ discs is non-symmetric and changed continuously during jaw movement. Maximal stress is reached on the surface disc in areas in contact with others bodies.
Conclusions
The three-dimension finite element model of masticatory system will make it possible to simulate different conditions that appear to be important in the cascade of events leading to joint damage.
Access options
Buy single article
Instant access to the full article PDF.
US$ 39.95
Tax calculation will be finalised during checkout.
Subscribe to journal
Immediate online access to all issues from 2019. Subscription will auto renew annually.
US$ 79
Tax calculation will be finalised during checkout.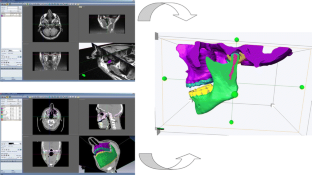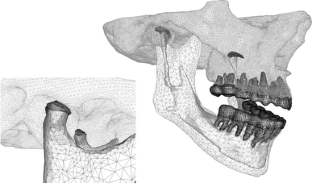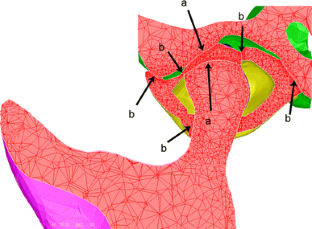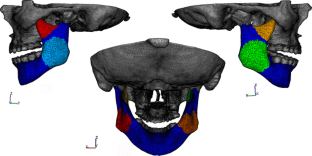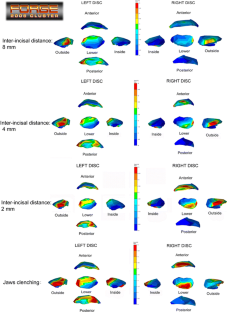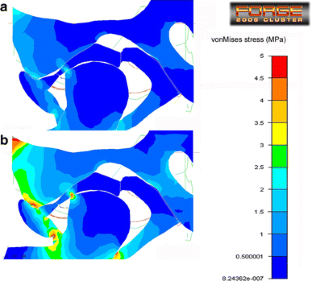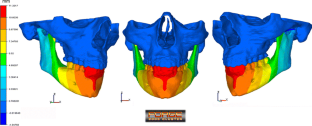 References
1.

Asundi A, Kishen A (2000) A strain gauge and photoelastic analysis of in vivo strain and in vitro strain distribution in human dental supporting structures. Arch Oral Biol 45:543–550

2.

Beek M, Koolstra JH, van Ruijven LJ, van Eijden TM (2000) Three-dimensional finite element analysis of the human temporomandibular joint disc. J Biomech 33:307–316. doi:S0021929099001682

3.

Benbelaid R, Fleiter B, Zouaoui A, Gaudy JF (2005) Proposed graphical system of evaluating disc-condyle displacements of the temporomandibular joint in MRI. Surg Radiol Anat 27:361–367. doi:10.1007/s00276-005-0013-8

4.

Costa AL, Yasuda CL, Appenzeller S, Lopes SL, Cendes F (2008) Comparison of conventional MRI and 3D reconstruction model for evaluation of temporomandibular joint. Surg Radiol Anat 30:663–667. doi:10.1007/s00276-008-0400-z

5.

Devocht JW, Goel VK, Zeitler DL, Lew D (2001) Experimental validation of a finite element model of the temporomandibular joint. J Oral Maxillofac Surg 59:775–778

6.

Donzelli PS, Gallo LM, Spilker RL, Palla S (2004) Biphasic finite element simulation of the TMJ disc from in vivo kinematic and geometric measurements. J Biomech 37:1787–1791. doi:10.1016/j.jbiomech.2004.01.029

7.

Faulkner M, Hatcher D, Hay A (1987) A three-dimensional investigation of temporomandibular joint loading. J Biomech 20:997–1002

8.

Gupta A, Hazarey PV, Kharbanda OP, Kohli VS, Gunjal A (2009) Stress distribution in the temporomandibular joint after mandibular protraction: a three-dimensional finite element study. Am J Orthod Dentofacial Orthop 135:749–756

9.

Hirose M, Tanaka E, Tanaka M, Fujita R, Kuroda Y, Yamano E, van Eijden TM, Tanne K (2006) Three-dimensional finite-element model of the human temporomandibular joint disc during prolonged clenching. Eur J Oral Sci 114:441–448

10.

Hu K, Qiguo R, Fang J, Mao J (2003) Effects of condylar fibrocartilage on the biomechanical loading of the human temporomandibular joint in a three-dimensional, nonlinear finite element model. Med Eng Phys 25:170–113

11.

Iwasaki LR, Petsche PE, McCall WD, Marx D, Nickel JC (2003) Neuromuscular objectives of the human masticatory apparatus during static biting. Arch Oral Biol 48:767–777

12.

Koolstra JH (2002) Dynamics of the human masticatory system. Crit Rev Oral Biol Med 13:366–376

13.

Koolstra JH, Tanaka E (2009) Tensile stress patterns predicted in the articular disc of the human temporomandibular joint. J Anat 215:411–416

14.

Koolstra JH, van Eijden TM (1992) Application and validation of a three-dimensional mathematical model of the human masticatory system in vivo. J Biomech 25:175–187

15.

Koolstra JH, van Eijden TM (2005) Combined finite-element and rigid-body analysis of human jaw joint dynamics. J Biomech 38:2431–2439

16.

Koolstra JH, van Eijden TM (2007) Consequences of viscoelastic behavior in the human temporomandibular joint disc. J Dent Res 86:1198–1202. doi:86/12/1198

17.

Koolstra JH, van Eijden TM, Weijs WA, Naeije M (1988) A three-dimensional mathematical model of the human masticatory system predicting maximum possible bite forces. J Biomech 21:563–576. doi:0021-9290(88)90219-9

18.

Landes CA, Laudemann K, Sader R, Mack M (2008) Prospective changes to condylar position in symphyseal distraction osteogenesis. Oral Surg Oral Med Oral Pathol Oral Radiol Endod 106:163–172

19.

Lindenmeyer A, Sutcliffe P, Eghtessad M, Goudden R, Speculand B, Harris M (2010) Oral and maxillofacial surgery and chronic painful temporomandibular disorders—a systematic review. J Oral Maxillofac Surg 68:2755–2764

20.

Nagahara K, Murata S, Nakamura S, Tsuchiya T (1999) Displacement and stress distribution in the temporomandibular joint during clenching. Angle Orthod 69:372–379

21.

Natali N (2003) Dental biomechanics. Taylor & Francis, London, pp 20–33

22.

Odin G, Savoldelli C, Bouchard PO, Tillier Y (2010) Determination of Young's modulus of mandibular bone using inverse analysis. Med Eng Phys 32:630–637

23.

Pérez Del Palomar A, Doblare M (2006) Finite element analysis of the temporomandibular joint during lateral excursions of the mandible. J Biomech 39:2153–2163

24.

Rohrle O, Pullan AJ (2007) Three-dimensional finite element modelling of muscle forces during mastication. J Biomech 40:3363–3372

25.

Savoldelli C, Tillier Y, Bouchard PO, Odin G (2009) Apport de la méthode des éléments finis en chirurgie maxillofaciale. Rev Stomatol Chir Maxillofac 110:27–33

26.

Spilker RL, Nickel JC, Iwasaki LR (2009) A biphasic finite element model of in vitro plowing tests of the temporomandibular joint disc. Ann Biomed Eng 37:1152–1164. doi:10.1007/s10439-009-9685-2

27.

Tanaka E, Hirose M, Koolstra JH, van Eijden TM, Iwabuchi Y, Fujita R, Tanaka M, Tanne K (2008) Modeling of the effect of friction in the temporomandibular joint on displacement of its disc during prolonged clenching. J Oral Maxillofac Surg 66:462–468

28.

Tanaka E, Koolstra JH (2008) Biomechanics of the temporomandibular joint. J Dent Res 87:989–991. doi:87/11/989

29.

Tanaka E, Rodrigo DP, Tanaka M, Kawaguchi A, Shibazaki T, Tanne K (2001) Stress analysis in the TMJ during jaw opening by use of a three-dimensional finite element model based on magnetic resonance images. Int J Oral Maxillofac Surg 30:421–430

30.

Tanaka E, Yamano E, Dalla-Bona DA, Watanabe M, Inubushi T, Shirakura M, Sano R, Takahashi K, van Eijden T, Tanne K (2006) Dynamic compressive properties of the mandibular condylar cartilage. J Dent Res 85:571–575. doi:85/6/571
About this article
Cite this article
Savoldelli, C., Bouchard, PO., Loudad, R. et al. Stress distribution in the temporo-mandibular joint discs during jaw closing: a high-resolution three-dimensional finite-element model analysis. Surg Radiol Anat 34, 405–413 (2012). https://doi.org/10.1007/s00276-011-0917-4
Received:

Accepted:

Published:

Issue Date:
Keywords
Temporomandibular joint

Biomechanics

Finite element analysis