Abstract
The hyoid bone is a horseshoe-shaped and a solitary bone located at the neck just above the thyroid cartilage. It consists of a body, two greater cornua and two lesser cornua. In this report, we demonstrated an extra bone variation which is attached to the hyoid bone and located at the left side of its corpus. In addition to this abnormal bone attachment to the corpus, lesser cornua were absent bilaterally. Abnormal bone attachment was approximately 3.79-cm long and 0.38–0.50-cm wide and heads toward the upper left of the hyoid bone. We believe that clinicians should be aware of such abnormalities of the hyoid bone because of the functional and clinical importance of its variations and abnormal relations within nearby structures. These abnormalities have a great importance for the surgical operations and radiological studies of the neck region and for the forensic medicine because of the susceptibility of the hyoid bone to the fractures in relation to the strangulation cases.
Access options
Buy single article
Instant access to the full article PDF.
USD 39.95
Price excludes VAT (USA)
Tax calculation will be finalised during checkout.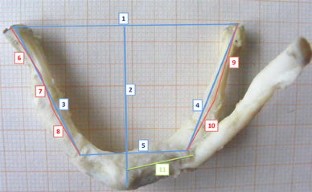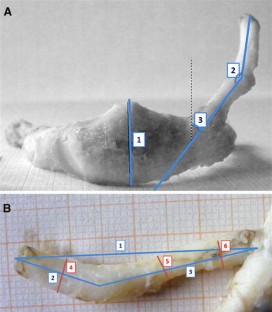 References
Clément R, Guay JP, Sauvageau A (2011) Fracture of the neck structures in suicidal hangings: a retrospective study on contributing variables. Forensic Sci Int 207:122–126

Demirci S, Dogan KH, Erkol Z, Gunaydin G (2009) Ligature strangulation deaths in the province of Konya (Turkey). J Forensic Leg Med 16:248–252

El Amm CA, Denny A (2008) Hyoid bone abnormalities in Pierre Robin patients. J Craniofac Surg 19:259–263

Kim DI, Lee UY, Park DK, Kim YS, Han KH, Kim KH, Han SH (2006) Morphometrics of the hyoid bone for human sex determination from digital photographs. J Forensic Sci 51:979–984

Miller KW, Walker PL, O'Halloran RL (1998) Age and sex-related variation in hyoid bone morphology. J Forensic Sci 43:1138–1143

Mukhopadhyay PP (2010) Morphometric features and sexual dimorphism of adult hyoid bone: a population specific study with forensic implications. J Forensic Leg Med 17:321–324

O'Halloran RL, Lundy JK (1987) Age and ossification of the hyoid bone: forensic implications. J Forensic Sci 32:1655–1659

Pollanen MS, Chiasson DA (1996) Fracture of the hyoid bone in strangulation: comparison of fractured and unfractured hyoids from victims of strangulation. J Forensic Sci 41:110–113

Pollard J, Piercecchi-Marti MD, Thollon L, Bartoli C, Adalian P, Bécart-Robert A, Tournel G, Hédouin V, Panuel M, Gosset D, Leonetti G (2011) Mechanisms of hyoid bone fracture after modelling: evaluation of anthropological criteria defining two relevant models. Forensic Sci Int 212:274.e1–274.e5

Shimizu Y, Kanetaka H, Kim YH, Okayama K, Kano M, Kikuchi M (2005) Age-related morphological changes in the human hyoid bone. Cells Tissues Organs 180:185–192
Conflict of interest
The authors declare that they have no conflict of interest.
About this article
Cite this article
Gok, E., Kafa, İ.M. & Fedakar, R. Unusual variation of the hyoid bone: bilateral absence of lesser cornua and abnormal bone attachment to the corpus. Surg Radiol Anat 34, 567–569 (2012). https://doi.org/10.1007/s00276-011-0908-5
Received:

Accepted:

Published:

Issue Date:

DOI: https://doi.org/10.1007/s00276-011-0908-5
Keywords