Abstract
Esophageal hiatal hernias have been reported to affect anywhere from 10 to 50% of the population. Hiatal hernias are characterized by a protrusion of the stomach into the thoracic cavity through a widening of the right crus of the diaphragm. There are four types of esophageal hiatal hernias: sliding (type I), paraesophageal (type II), and combined (type III), which include elements of types I and II, and giant paraesophageal (type IV). Each type may present with different symptoms and complications. The potential severity of symptoms necessitates proper and prompt diagnosis. Diagnosis is established with the use of barium swallow on chest radiographs. Treatment for sliding hernias involves laparoscopic fundoplication. The aim of our paper is to review the extensive literature regarding hiatal hernias in an effort to enhance awareness and diagnosis of this pathology.
Access options
Buy single article
Instant access to the full article PDF.
USD 39.95
Price excludes VAT (USA)
Tax calculation will be finalised during checkout.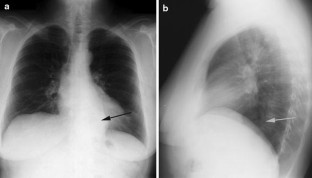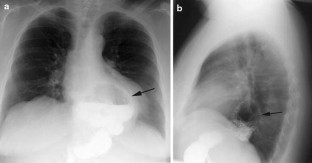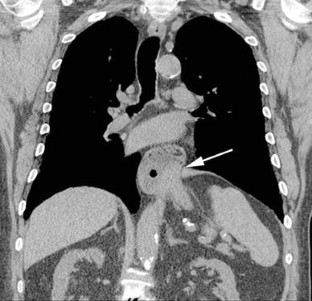 References
Al-Assiri A, Wiseman N, Bunge M (2005) Prenatal diagnosis of intrathoracic stomach gastric herniation. J Pediatr Surg 40:E15–E17

Allison PR (1951) Reflux esophagitis, sliding hiatal hernia, and the anatomy of repair. Surg Gynecol Obstet 92:419–431

Alrabeeah A, Giacomantonio M, Gillis DA (1988) Paraesophageal hernia after Nissen fundoplication: a real complication in pediatric patients. J Pediatr Surg 23:766–768

Al-Salem AH (2000) Intrathoracic gastric volvulus in infancy. Pediatr Radiol 12:842–845

Altorki NK, Yankelevitz D, Skinner DB (1998) Massive hiatal hernias: the anatomic basis of repair. J Thorac Cardiovasc Surg 115:828–835

Apaydin N, Uz A, Elhan A, Loukas M, Tubbs RS (2008) Does an anatomical sphincter exist in the distal esophagus? Surg Radiol Anat 30:11–16

Apaydin N, Uz A, Evirgen O, Loukas M, Tubbs RS, Elhan A (2008) The phrenico-esophageal ligament: an anatomical study. Surg Radiol Anat 30:29–36

Awais O, Luketich JD (2009) Management of giant paraesophageal hernia. Minerva Chir 64:159–168

Botha GS (1958) The gastro-oesophageal region in infants; observations on the anatomy, with special reference to the closing mechanism and partial thoracic stomach. Arch Dis Child 33:78–94

Brunicardi FC (2004) Schwartz's principles of surgery, 8th edn. McGraw-Hill, New York, pp 859–862

Carlson MA, Richards CG, Frantzides CT (1999) Laparoscopic prosthetic reinforcement of hiatal herniorrhaphy. Dig Surg 16:407–410

Catarci M, Gentileschi P, Papi C et al (2004) Evidence-based appraisal of antireflux fundoplication. Ann Surg 239:325–337

Chandrasekar S, Welch RJ, Watson H (2006) Congenital mixed hiatus hernia in a neonate. Arch Dis Child Fetal Neonatal 91:F317

Cuschieri A, Shimi S, Nathanson LK (1992) Laparoscopic reduction, crural repair, and fundoplication of large hiatal hernia. Am J Surg 163:425–430

Davis SS Jr (2008) Current controversies in paraesophageal hernia repair. Surg Clin N Am 88:959–978

Del Genio G, Collard JM (2006) Acute complications of antireflux surgery. In: Ferguson MK, Fennerty MB (eds) Managing failed anti-reflux therapy. Springer, London, p 73

Delattre JF, Avisse C, Marcus C, Flament JB (2000) Functional anatomy of the gastroesophageal junction. Surg Clin N Am 80:241–260

Delattre JF, Palot JP, Ducasse A et al (1985) The crura of the diaphragm and the diaphragmatic passage. Applications to gastroesophageal reflux, its invention and treatment. Clin Anat 7:271–283

Delmas A, Roux J (1938) Les gaines de l'oesophagediaphragmatique. Ann Anat Pathol 15:635–640

Draaisma WA, Gooszen HG, Tournoij E, Broeders IA (2005) Controversies in paraesophageal hernia repair: a review of literature. Surg Endosc 19:1300–1308

Drake RL, Vogl AW, Mitchell AWM (2010) Gray's anatomy for students, 2nd edn. Churchill Livingstone, Philadelphia, p 352

Dunn DB, Quick G (1990) Incarcerated paraesophageal hernia. Am J Emerg Med 8:36–39

Fei L, Del Genio G, Rossetti G et al (2009) Hiatal hernia recurrence: surgical complication or disease? Electron microscope findings of the diaphragmatic pillars. J Gastrointest Surg 13:459–464

Fei L, Di Martino N, Amato G et al (1984) Effect of a slipped hiatal hernia on the activity of the lower esophageal sphincter and of the abdominal portion of the esophagus. A pH-manometric study. Minerva Med 75:2155–2160

Ferri LE, Feldman LS, Stanbridge D et al (2005) Should laparoscopic paraesophageal hernia repair be abandoned in favor of the open approach? Surg Endosc 19:4–8

Fischer JE, Bland KI, Calley MP et al (2007) Surgical anatomy of the diaphragm, mastery of surgery. Lippincott Williams & Wilkins, Philadelphia, pp 598–618

Fitzgibbons RJ, Greenburg AG, Nyhus LM (2001) Nyhus and Condon's hernia, 5th edn. Lippincott Williams & Wilkins, Philadelphia, pp 480–505

Gonzalez de Santander R (1962) Contribucional estudo de la morfología desciurollo de la bursaomentalis en embriones humanos. An Desarrollo 10:269–298

Granderath FA, Schweiger UM, Pointner R (2007) Laparoscopic antireflux surgery: tailoring the hiatal closure to the size of hiatal surface area. Surg Endosc 21:542–548

Hashemi M, Peters JH, DeMeester TR et al (2000) Laparoscopic repair of large type III hiatal hernia: objective follow-up reveals high recurrence rate. J Am Coll Surg 190:553–560

Hayward J (1961) The phreno-esophageal ligament in hiatal hernia repair. Thorax 16:41–45

Hill LD, Aye RW, Ramel S (1990) Antireflux surgery: a surgeon's look. Gastroenterol Clin North Am 19:745–775

Hill LD, Tobias JA (1968) Paraesophageal hernia. Arch Surg 96:735–744

Hogan S, Pohi D, Bogetti D, Eubanks T, Pellegrini C (1999) Failed antireflux surgery. Arch Surg 134:809–817

Horstmann R, Klotz A, Classen C et al (2004) Feasibility of surgical technique and evaluation of postoperative quality of life after laparoscopic treatment of intrathoracic stomach. Langenbecks Arch Surg 389:23–31

Imamoglu M, Cay A, Kosucu P et al (2005) Congenital paraesophageal hiatal hernia: pitfalls in the diagnosis and treatment. J Pediatr Surg 40:1128–1133

Jawad AJ, Al-Samarrai Al-MofadaS et al (1998) Congenital paraesophageal hiatal hernia in infancy. Pediatr Surg Int 13:91–94

Jetley NK, Al-Assiri AH, Al Awadi D (2009) Congenital para esophageal hernia: a 10 year experience from Saudi Arabia. Indian J Pediatr 76:489–493

Kahrilas PJ, Lin S, Chen J, Manka M (1999) The effect of hiatus hernia on gastro-esophageal junction pressure. Gut 44:476–484

Karpelowsky JS, Wieselthaler N, Rode H (2006) Primary paraesophageal hernia in children. J Pediatr Surg 41:1588–1593

Kramer P (1969) Does a sliding hiatus hernia constitute a distinct clinical entity? Gastroenterology 57:442–448

Kuster GG, Gilroy S (1993) Laparoscopic technique for repair of paraesophageal hiatal hernias. J Laparoendosc Surg 3:331–338

Kwok H, Marriz Y, Al-Ali S, Windsor JA (1999) Phrenoesophageal ligament revisited. Clin Anat 12:164–170

Liebermann-Meffert D, MeVert LD, Allgöwer M et al (1979) Muscular equivalent of the lower esophageal sphincter. Gastroenterology 76:31–38

Loukas M, Bellary SS, Tubbs SR et al (2011) Congenital diaphragmatic hernias: a review. Clin Anat (in press)

Loukas M, Wartman CT, Tubbs RS et al (2008) Morphologic variation of the diaphragmatic crura: a correlation with pathologic processes of the esophageal hiatus? Folia Morphol 67:1–7

Maziak DE, Todd TR, Pearson FG (1998) Massive hiatus hernia: evaluation and surgical management. J Thorac Cardiovasc Surg 115:53–60

McVay CB (1984) Anson and McVay surgical anatomy, 6th edn. Saunders Co., Philadelphia, pp 357–369

Michelson E, Siegel CI (1964) The role of the phrenico-esophageal ligament in the lower esophageal sphincter. Surg Gynecol Obst 118:1291–1294

Nissen R (1956) Eineeinfache Operation zurBeeinflussung der Refluxo-esophagitis. Schwiez med Wochenschr 86:590–592

Ochsner JL, Hughes JP, Mills NL (1975) Repair of hiatal hernia: description and long-term results of a technique. Am Surg 41:629–631

Olsen AM, Holman CB, Harris LE (1960) Hiatal hernia in children: special reference to the short esophagus. Chest 38:495–506

Patel HJ, Tan BB, Yee J et al (2004) A 25-year experience with open primary transthoracic repair of paraesophageal hiatal hernia. J Thorac Cardiovasc Surg 127:843–849

Pearson FG, Cooper JD, Ilves R et al (1983) Massive hiatal hernia with incarceration: a report of 53 cases. Ann Thorac Surg 35:45–51

Pellegrini CA (1998) Invited Commentary. In: Gantert WA, Patti MG, Arcerito M, et al. Laparoscopic repair of paraesophageal hiatal hernias. J Am Coll Surg 186:428–432

Salem AH (2000) Congenital paraesophageal hernia in infancy and childhood. Saudi Med J 21:164–167

Samujh R, Kumar D, Rao KL (2004) Paraesophageal hernia in the neonatal period: suspicion on chest X-ray. Indian Pediatr 41:189–191

Schauer PR, Ikramuddin S, McLaughlin RH et al (1998) Comparison of laparoscopic versus open repair of paraesophageal hernia. Am J Surg 176:659–665

Schoenwolf GL, Bleyl SB, Brauer PR, Francist-West PH (2009) Development of the respiratory system and body cavities, Larsen's human embryology. Elsevier, Philadelphia, pp 329–336

Sinaki B, Jayabose S, Sandoval C (2010) Iron-deficiency anemia associated with hiatal hernia: case reports and literature review. Clin Pediatr 49:984–985

Skandalakis JE, Skandalakis PN, Skandalakis LJ (1995) Openings of the diaphragm, surgical anatomy and technique: a pocket manual. Springer, New York

Skandalakis JE (2005) Surgical anatomy, the embryologic and anatomic basis of modern medicine. Diaphragm, Chap 8. Paschalidis Medical Publication, Athens, pp 367–372

Skandalkis JE, Gray SW (1972) The diaphragm in Gray and Skandalakis. In: Skandalkis JE, Gray SW (eds) Embryology for surgeons, the embryological basis for the treatment of congenital defects. WB Saunders, Philadelphia, pp 359–362

Skinner DB (1985) Hernias (hiatal, traumatic, and congenital). In: Berk JE (ed) Bockus gastroenterology, 4th edn. WB Saunders, Philadelphia, pp 705–747

Standring S, Ellis H, Healy JC et al (2005) Diaphragm and phrenic nerve. In: Gray's anatomy, 39th edn. Churchill Livingstone, New York, pp 1081–1086

Vas W, Malpani AR, Singer J et al (1989) Computed tomographic evaluation of paraesophageal hernia. Gastrointest Radiol 14:91–94

Walther B, DeMeester TR, Lafontaine E et al (1984) Effect of paraesophageal hernia on sphincter function and its implication on surgical therapy. Am J Surg 147:111–116

Watson DI, Davies N, Devitt PG, Jamieson GG (1999) Importance of dissection of the hernial sac in laparoscopic surgery for large hiatal hernias. Arch Surg 134:1069–1073

Williams PL, Bannister LH, Berry MM et al (1995) Alimentary system. In: Gray's anatomy, 38th edn. Churchill Livingstone, Edinburgh, pp 1751–1753

Wu JS, Dunnegan DL, Soper NJ (1999) Clinical and radiologic assessment of laparoscopic paraesophageal hernia repair. Surg Endosc 13:497–502

Yadav K, Myers NA (1997) Paraesophageal hernia in the neonatalperiod-another differential diagnosis of esophageal atresia. Pediatr Surg Int 12:420–421
Acknowledgments
The authors would like to thank Mohammadali M. Shoja, University of Alabama at Birmingham, Division of Neurosurgery, Birmingham, AL, USA for his valuable contribution to this work.
Conflict of interest
The paper is not under consideration elsewhere. All authors have read and approved the manuscript. All authors declare that there are no financial associations and no conflict of interest.
About this article
Cite this article
Dean, C., Etienne, D., Carpentier, B. et al. Hiatal hernias. Surg Radiol Anat 34, 291–299 (2012). https://doi.org/10.1007/s00276-011-0904-9
Received:

Accepted:

Published:

Issue Date:

DOI: https://doi.org/10.1007/s00276-011-0904-9
Keywords
Fundoplication

Phrenico-esophageal ligament

Hiatus