Abstract
The goal of the study was to perform a detailed anatomical description of the retrocalcaneal bursa (RB). Its morphological arrangement was studied on 10 fresh and 30 embalmed lower extremities by microdissection and light microscopy. The RB was present constantly and in all the cases contained 1–2 cm long synovial fold, beginning on the upper wall of RB and distally interposed between the anterior surface of the Achilles tendon and the posterior surface of the calcaneal tuberosity. The volume of RB was 1–1.5 ml. The histological analysis confirmed that the inner surface of the superior and posterior wall of RB have been covered by unilayered synovial membrane, projecting into synovial villi of different shapes and sizes. In the ceiling of RB, delicate fascicle of skeletal muscle fibers was discovered, radiating distally into the regularly present synovial fold. The whole bottom of RB has been covered by 200–500 μm layer of fibrous cartilage into which the calcaneal tendon attached. The cartilagineous layer continued anteroproximally to cover the whole bursal surface of the calcaneal tuberosity, where the thickness of the cortical bone was reduced on mere 50 μm. The obtained results can be used in the improvement of the differential diagnostics and therapy of diagnostics and therapy of the retrocalcaneal bursitis as well as of other kinds of achillar enthesopathies and heel pain.
Access options
Buy single article
Instant access to the full article PDF.
US$ 39.95
Tax calculation will be finalised during checkout.
Subscribe to journal
Immediate online access to all issues from 2019. Subscription will auto renew annually.
US$ 79
Tax calculation will be finalised during checkout.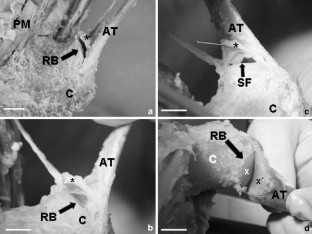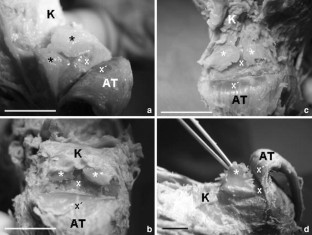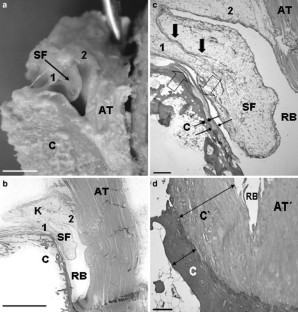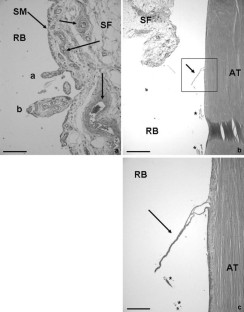 References
1.

Boutry N, Flipo RM, Cotten A (2005) MR imaging appearance of rheumatoid arthritis in the foot. Semin Musculoskelet Radiol 9:199–209

2.

Canoso JJ, Liu N, Traill MR, Runge VM (1988) Physiology of the retrocalcaneal bursa. Ann Rheum Dis 47:910–912

3.

Doskocil M (1981) Special traits of the structure of the Achilles tendon in humans during development. Sbor lek 83:1–4, (In Czech, English Summary)

4.

Fowler A, Philip JF (1945) Abnormality of the calcaneus as a cause of painful heel. Br J Surg 32:494–498

5.

Frey C, Rosenberg Z, Shereff MJ, Kim H (1992) The retrocalcaneal bursa: anatomy and bursography. Foot Ankle 13:203–207

6.

Heineke W (1868) Die Anatomie und Pathologie der Schleimbeutel und Sehnenscheiden. A. Deichert, Erlangen, pp 129–130

7.

Hohmann G (1939) Fuss und Bein, ihre Erkrankungen und deren Behandlung. Verl. J.F. Bergmann, München, pp 299–302

8.

Kamel M, Eid H, Mansour R (2003) Ultrasound detection of heel enthesitis: a comparison with magnetic resonance imaging. J Rheumathol 30:774–778

9.

Lang J, Wachsmuth W (1972) Bein und Statik. 2. Aufl. Springer, Berlin, pp 346–348

10.

Lu CC, Cheng YM, Fu YC, Tien YC, Chen SK, Juany PJ (2007) Angle analysis of Haglund syndrome and its relationship with osseous variations and Achilles tendon calcifcation. Foot Ankle Int 28:181–185

11.

Mahlfeld K, Kayser R, Mahlfeld A, Grasshoff H, Franke J (2001) Wert der Sonographie in der Diagnostik von Bursopathien im Bereich der Achillessehne. Ultraschall Med 22:87–90

12.

McGarwey WC, Palumbo RC, Baxter DE, Leibman BD (2002) Insertional Achilles tendinosis: surgical treatment through a central tendon splitting approach. Foot Ankle Int 23:19–25

13.

Mutlu H, Sildiroglu H, Pekkafali Z, Kizilkaya E, Cermik H (2006) MRI appearance of retrocalcaneal bursitis and rheumatoid nodule in a patient with rheumatoid arthritis. Clin Rheumatol 25:734–736

14.

Narváez JA, Narváez J, Ortega R, Aguilera C, Sánchez A, Andia E (2000) Painful heel: MR imaging findings. Radiographics 20:333–352

15.

Ortmann FW, McBryde AM (2007) Endoscopic bony and soft-tissue decompression of the retrocalcaneal space for the treatment of Haglund deformity and retrocalcaneal bursitis. Foot Ankle Int 28:149–153

16.

Rhodin JAG (1977) Histology. A text and atlas. 2nd edn. Oxford University Press, New York, pp 200–203

17.

Rosenmüller IC (1799) Alexandri Monroi Icones et descriptiones bursarum mucosarum corporis humani. Breitkopf et Haertel, Lipsiae, pp 55, 104, Tab. XI

18.

Rössler A (1895) Zur Kenntniss der Achillodynie. Dtsch Z Chir 42:274–291

19.

Schepsis AA, Jones H, Haas AL (2002) Achilles tendon disorders in athletes. Am J Sports Med 30:287–305

20.

Stephens MS (1994) Haglund's deformity and retrocalcaneal bursitis. Orthop Clin N Am 25:41–46

21.

Stingl J (1989) Normal anatomy of Achilles tendon. Sbor lek 91:73–82, (In Czech, English Summary)

22.

Synnestvedt ASD (1869) En anatomisk beskrivelse af de paa over- og underextremiteterne forekommende Bursae mucosae. Brögger&Chriestie's Bootrykkerie, Christiania, pp 75–77, 86–87

23.

Testut L, Latarjet A (1948) Traité d'Anatomie humaine. Neuvième Ed. Tome I. Doin & Cie, Paris, pp 1172–1173

24.

van Dijk CN, van Dyk GE, Scholten PE, Kort NP (2001) Endoscopic calcaneoplasty. Am J Sports Med 29:185–189

25.

Watson AD, Anderson RB, Davis WH (2000) Comparison of results of retrocalcaneal decompression for retrocalcaneal bursitis and insertional Achilles tendinosis with calcific spur. Foot Ankle Int 21:638–642

26.

Wheater PR, Burkitt HG, Daniels VG (1979) Funktionelle Histologie. Urban and Schwarzenberg, München, p 143

27.

Williams SK, Bragge M (2004) Heel pain—plantar fasciitis and Achilles enthesopathy. Clin Sport Med 23:123–144

28.

Yodlowski ML, Scheller AD, Minos L (2002) Surgical treatment of Achilles tendinitis by decompression of the retrocalcaneal bursa and the superior calcaneal tuberosity. Am J Sports Med 30:318–321

29.

Zwierzchowski TJ, Dorman T, Fabis J (2003) Operative treatment of Haglund's deformity. Chir Narzadow Ruchu Ortop Pol 68:35–38, (In Polish, English Summary)

30.

Zwipp H (1994) Chirurgie des Fusses. Springer, Wien, pp 17–19, 342–34
Acknowledgments
The study was supported by a grant of the Grant Agency of the Charles University in Prague GA UK 105/2004/C.
About this article
Cite this article
Kachlik, D., Baca, V., Cepelik, M. et al. Clinical anatomy of the retrocalcaneal bursa. Surg Radiol Anat 30, 347–353 (2008). https://doi.org/10.1007/s00276-008-0335-4
Received:

Accepted:

Published:

Issue Date:
Keywords
Retrocalcaneal bursa

Anatomy

Histology

Achilles tendon

Calcaneal tendon