Abstract
The objectives of this study were to determine the prevalence, size, shape and location of the oral tori in 1,520 Thai dental patients and to investigate the relationship between the findings with age and gender. The prevalence rates were 60.5% for torus palatinus (TP) and 32.2% for torus mandibularis (TM). The concurrence of TP and TM was noted in 23.2% subjects. The peak incidence of TP and TM was in the third decade of life. TP affected more women than men (70.5 vs. 48.8%, P < 0.001). Most TP were found in spindle shape (56%), small size (52.1%) and located at premolar region (47.4%). The occurrence of TM was higher in men than in women (36.3 vs. 28.6%, P = 0.002). TM was found most common in small size (65.6%), as bilateral multiple nodes (59.3%) and usually located at the premolars (89.2%). The age and gender-related differences with the size of tori were noted. Subjects who had larger TP or TM were older than those who had smaller TP or TM (P < 0.001 and P = 0.001, respectively). Women were more likely to have larger TP whereas men tended to have larger TM. This study showed high prevalence rates of TP and TM in dental patients and the occurrences were related to gender.
Access options
Buy single article
Instant access to the full article PDF.
USD 39.95
Price excludes VAT (USA)
Tax calculation will be finalised during checkout.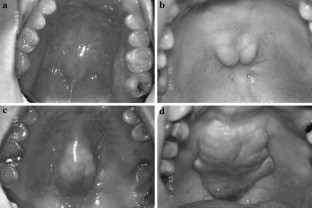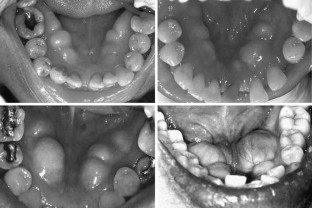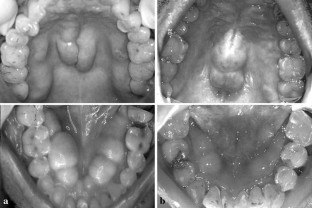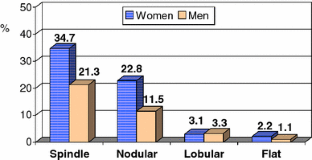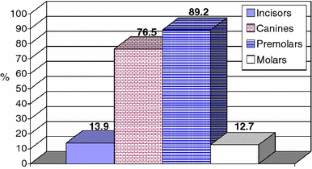 References
Apinhasmit W, Jainkittivong A, Swasdison S (2002) Torus palatinus and torus mandibularis in a Thai population. Sci Asia 28:105–111

Austin JE, Radford GH, Banks SO (1965) Palatal and mandibular tori in the Negro. N Y State Dent J 31:187–191

Axelsson G, Hedegard B (1981) Torus mandibularis among Icelanders. Am J Phys Anthropol 54:383–389

Axelsson G, Hedegard B (1985) Torus palatinus in Icelandic school children. Am J Phys Anthropol 67:105–112

Belsky JL, Hamer JS, Hubert JE et al (2003) Torus palatinus: a new anatomical correlations with bone density in postmenopausal women. J Clin Endocrinol Metab 88:2081–2086. doi:10.1210/jc.2002-021726

Bernaba JM (1977) Morphology and incidence of torus palatinus and mandibularis in Brazilian Indians. J Dent Res 56:499–501

Bouquot JE, Gundlach KKH (1986) Oral exophytic lesions in 23,616 white Americans over 35 years of age. Oral Surg Oral Med Oral Pathol 62:284–291

Bruce I, Ndanu TA, Addo ME (2004) Epidemiological aspects of oral tori in a Ghanaian community. Int Dent J 54:78–82

Chew CL, Tan PH (1984) Torus palatinus. A clinical study. Aust Dent J 29:245–248

Eggen S, Natvig B (1986) Relationship between torus mandibularis and number of present teeth. Scand J Dent Res 94:233–240

Eggen S (1989) Torus mandibularis: an estimation of the degree of genetic determination. Acta Odontol Scand 47:409–415

Eggen S, Natvig B (1991) Variation in torus mandibularis prevalence in Norway. Commun Dent Oral Epidemiol 19:32–35

Eggen S, Nativig B (1994) Concurrence of torus mandibularis and torus palatinus. J Dent Res 102:60–63

Eggen S, Natvig B, Gasemyr J (1994) Variation in torus palatinus prevalence in Norway. Scand J Dent Res 102:54–59

Ellertson CH (1969) Continuous growth of the torus mandibularis. Oral Surg Oral Med Oral Pathol 27:786–789

Gorsky M, Raviv M, Kfir E et al (1996) Prevalence of torus palatinus in a population of young and adult Israelis. Arch Oral Biol 41:621–625

Gorsky M, Bukai A, Shohat M (1998) Genetic influence on the prevalence of torus palatinus. Am J Med Genet 75:138–140

Gould AW (1964) An investigation of the inheritance of torus palatinus and torus mandibularis. J Dent Res 43:159–167

Halffmann LM, Scott GR, Pederson PO (1992) Palatine torus in the Greenlandic Norse. Am J Phys Anthropol 88:145–161

Hashim Y, Haidar T, Kalsom I (1983) The prevalence of oral tori in Malaysians. J Oral Med 38:40–42

Haugen LK (1992) Palatine and mandibular tori. A morphologic study in the current Norwegian population. Acta Odontol Scand 50:65–77

Hjertstedt J, Burns EA, Fleming R et al (2001) Mandibular and palatal tori, bone mineral density, and salivary cortisol in community dwelling elderly men and women. J Gerontol Biol Sci Med Sci 56:M731–735

Hrdlicka A (1940) Mandibular and maxillary hyperostoses. Am J Phys Anthropol 27:1–67

Jarvis A, Gorlin RJ (1972) Minor orofacial abnormalities in an Eskimo population. Oral Surg Oral Med Oral Pathol 33:417–427

Johnson CC, Gorlin RJ, Anderson VE (1965) Torus mandibularis: a genetic study. Am J Hum Genet 17:433–442

Kerdpon D, Sirirungrojying S (1999) A clinical study of oral tori in southern Thailand: prevalence and the relation to parafunctional activity. Eur J Oral Sci 107:9–13

Kolas S, Halperin V, Jefferis K et al (1953) The occurrence of torus palatinus and torus mandibularis in 2,478 dental patients. Oral Surg Oral Med Oral Pathol 6:1134–1141

Moorrees CFA, Osborne RH, Wilde E (1952) Torus mandibularis. Its occurrence in Aleut children and its genetic determinants. Am J Phys Anthropol 10:319–329

Naidich TP, Valente M, Abrams K et al (1997) Torus palatinus. Int J Neuroradiol 3:229–243

Neville BW, Damn DD, Allen CM et al (2002) Oral and maxillofacial pathology, 2nd edn. WB Saunders, Philadelphia, pp 20–21

Regezi JA, Sciubba JJ (1994) Oral pathology. Clinico-pathologic correlations, 3rd edn. WB Saunders, Philadelphia, pp 376–378

Reichart PA, Neuhaus F, Sookasem M (1988) Prevalence of torus palatinus and torus mandibularis in Germans and Thai. Commun Dent Oral Epidemiol 16:61–64

Schaumann BF, Peagler FD, Gorlin RJ (1970) Minor craniofacial anomalies among a Negro population. I. Prevalence of cleft uvula, commissural lip pits, preauricular pits, torus palatinus, and torus mandibularis. Oral Surg Oral Med Oral Pathol 29:566–575

Sonnier KE, Horning GM, Cohen ME (1999) Palatal tubercles, palatal tori, and mandibular tori: prevalence and anatomical features in a U.S. population. J Periodontol 70:329–336

Suzuki M, Sakai T (1960) A familial study of torus palatinus and torus mandibularis. Am J Phys Anthropol 18:263–272

Thoma KH, Goldman HM (1960) Oral pathology, 5th edn. Mosby, St Louis, pp 1241–1247

Topazian DS, Mullen FR (1977) Continued growth of a torus palatinus. J Oral Surg 35:845–846

Woo JK (1950) Torus palatinus. Am J Phys Anthropol 8:81–111

Yildiz E, Deniz M, Ceyhan O (2005) Prevalence of torus palatinus in Turkish Schoolchildren. Surg Radiol Anat 27:368–371. doi:10.1007/s00276-005-0003-x
Acknowledgments
This study was supported by grant from the Faculty of Dentistry Research Fund, Chulalongkorn University. We would like to thank W. Thongtha and M. Prasanthong for their clinical assistance.
About this article
Cite this article
Jainkittivong, A., Apinhasmit, W. & Swasdison, S. Prevalence and clinical characteristics of oral tori in 1,520 Chulalongkorn University Dental School patients. Surg Radiol Anat 29, 125–131 (2007). https://doi.org/10.1007/s00276-007-0184-6
Received:

Accepted:

Published:

Issue Date:

DOI: https://doi.org/10.1007/s00276-007-0184-6
Keywords
Torus palatinus

Torus mandibularis

Thais

Gender