Abstract
Low back pain is frequent and results in major disability for patients. This anatomical study was done to understand mechanisms involved in that pain. Two kinds of innervation are present in the lumbar spine: one depends on the somatic nervous system and the other on the sympathetic nervous system. The sympathetic nerves are the sinu-vertebral nerves and the rami communicantes which innervate the intervertebral disc, the ventral surface of the dura mater, the longitudinal dorsal ligament and the longitudinal ventral ligament. The sinu-vertebral nerve was described first by Luschka in 1850. This nerve is implicated in diffuse low back pain because of its pathway and its sympathetic component. This nerve cannot directly reach a somatic element at each level of the lumbar spine, so must first reach the L2 spinal ganglion. Thus, there is a "hole" in the somatic innervation between L3 and L5 because the dorsal nerves do not reach the skin at these levels. The pain therefore takes another route through the sympathetic system. Discogenic pain is mediated by the sinu-vertebral nerves, and through the rami communicantes reaches the L2 spinal ganglion. Anatomical and clinical features reinforce this hypothesis. The French version of this article is available in the form of electronic supplementary material and can be obtained by using the Springer Link server at http://dx.doi.org/10.1007/s00276-002-0084-8.
Résumé
Les lombalgies sont fréquentes et invalidantes. Afin de mieux comprendre les mécanismes qui sous-tendent ces douleurs lombaires, des travaux anatomiques ont été réalisés. Il existe deux grands types d'innervation pour la colonne lombaire: une innervation somatique et une innervation sympathique. Les nerfs dépendant du système sympathique sont les nerfs sinu-vertébraux et les rameaux communicants qui prennent en charge le disque intervertébral, le ligament longitudinal dorsal, le ligament longitudinal ventral et la face ventrale de la dure-mère. Le nerf sinu-vertébral lombaire a été décrit par Luschka pour la première fois en 1850. Du fait de sa composante sympathique et de son territoire d'innervation il pourrait être impliqué dans les douleurs lombaires diffuses, mal systématisées, en barre, correspondant à des douleurs sympathiques. Ce nerf ne peut rejoindre un élément somatique, impliqué dans la transmission de l'influx douloureux (le ganglion spinal), qu'au niveau de L2. En effet, il existe un "trou" d'innervation somatique entre L3 et L5 car les branches dorsales du nerf spinal n'atteignent pas l'élément cutané à ce niveau. L'influx douloureux est donc transmis par une autre voie, en l'occurrence par le système sympathique. La douleur d'origine discale ou ligamentaire emprunte les nerfs sinu-vertébraux correspondants, transite par les rameaux communicants, rejoint le tronc sympathique latéro-vertébral et remonte jusqu'au ganglion spinal de L2. Des arguments anatomiques et cliniques viennent renforcer cette hypothèse.
This is a preview of subscription content, log in to check access.
Access options
Buy single article
Instant access to the full article PDF.
US$ 39.95
Price includes VAT for USA
Subscribe to journal
Immediate online access to all issues from 2019. Subscription will auto renew annually.
US$ 99
This is the net price. Taxes to be calculated in checkout.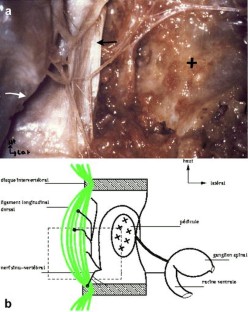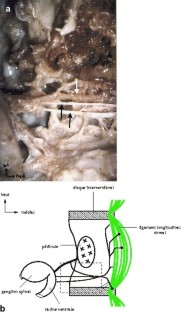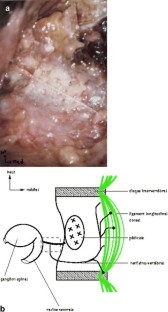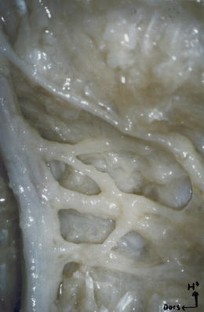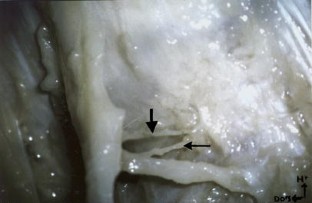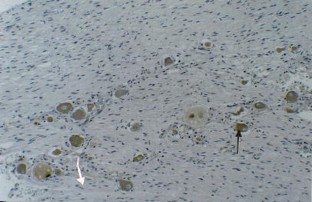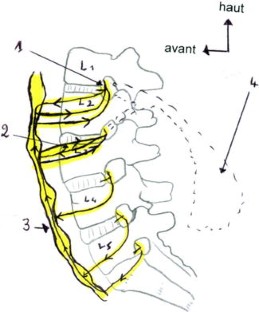 References
1.

Bogduck N (1993) The innervation of the lumbar spine. Spine 8: 286–293

2.

Bogduck N, Tynan W, Wilson AS (1981) The nerve supply to the human lumbar intervertebral discs. J Anat 132: 36–56

3.

Edgar MA, Ghadially JA (1976) Innervation of the lumbar spine. Clin Orthop 115: 35–41

4.

Edgar MA, Nundy S (1966) Innervation of the spinal dura mater. J Neurol Neurosurg Psychiatry 29: 530–534

5.

Groen GJ, Baljet B, Drukker J (1990) Nerves and nerve plexuses of the human vertebral column. Am J Anat 188: 282–296

6.

Herlihy WF (1946) The sinu-vertebral nerve. N Z Med J 34: 35–41

7.

Hovelacque A (1925) Le nerf sinu-vertébral. Ann Anat Pathol 2: 435–443

8.

Kojima Y, Maeda T, Arai R, Shichikawa K (1990) Nerve supply to the posterior longitudinal ligament and the intervertebral disc of the rat vertebral column as studied by acetylcholinesterase histochemistry. I. Distribution in the lumbar region. J Anat 169: 237–246

9.

Kuslich SD, Ulstrom CI, Michael CJ (1991) The tissue origin of low back pain and sciatica: a report of pain response to tissue stimulation during operations on the lumbar spine using local anesthesia. Orthop Clin North Am 22: 181–187

10.

Lazorthes G, Poulhes J, Espagno J (1947) Etude sur les nerfs sinu-vertébraux lombaires: le nerf de Roofe existe-t-il? C R Assoc Anat 34: 317–320

11.

Lazorthes G, Zadeth J, Galy E, Roux P (1987) Le territoire cutané des branches postérieures des nerfs rachidiens. Neurochirurgie 33: 386–390

12.

Laux W, Massare C, Lazorthes G (1850) Douleur et système nerveux végétatif. C R Assoc Anat 103: 483–488

13.

Luschka H von (1850) Die Nerven des menschlichen Wirbelkanals. Karger, Tübingen, pp 343–456

14.

Maigne JY, Lazareth JP, Guérin-Surville H, Maigne R (1989) The lateral cutaneous branches of the dorsal rami of the thoraco-lumbar junction: an anatomical study on 37 dissections. Surg Radiol Anat 11: 289–293

15.

Malinsky J (1959) The ontogenetic development of nerve terminations in the intervertebral discs of man. Acta Anat 38: 96–113

16.

Nakamura S, Takahashi K, Takahashi Y, Yamagata M, Moriya H (1996) The afferent pathway of discogenic low-back pain. J Bone Joint Surg Br 78: 606–612

17.

Peterson HE, Blunck CJ, Gardner E (1956) The anatomy of lumbosacral posterior rami and meningeal branches of spinal nerves (sinu-vertebral nerves). J Bone Joint Surg Am 38: 377–391

18.

Rabischong P, Louis R, Vignaud J, Massare C (1940) The intervertebral disc. Anat Clin 1: 55–64

19.

Roofe PG (1940) Innervation of annulus fibrosus and posterior longitudinal ligament. Arch Neurol Psych 3: 100–103

20.

Sekiguchi Y, Konnai Y, Kikuchi S, Sugiura Y (1996) An anatomical study of neuropeptide immunoreactivities in the lumbar dura mater after lumbar sympathectomy. Spine 21: 925–930

21.

Stilwell DL (1956) The nerve supply of the vertebral column and its associated structures in the monkey. Anat Rec 125: 139–169

22.

Wiberg G (1949) Back pain in relation to the nerve supply of the intervertebral disc. Acta Orthop Scand 19: 211–221
Electronic supplementary material
About this article
Cite this article
Raoul, S., Faure, A., Robert, R. et al. Role of the sinu-vertebral nerve in low back pain and anatomical basis of therapeutic implications. Surg Radiol Anat 24, 366–370 (2002). https://doi.org/10.1007/s00276-002-0084-8
Received:

Accepted:

Published:

Issue Date:
Keywords
Sinu-vertebral nerve

Lumbar spine

Sympathetic innervation

Anatomical study