Abstract
During previous dissections to investigate the incidence of the third head of the biceps brachii in neonate cadavers an accessory coracobrachialis muscle was unilaterally found in a neonate male cadaver. This muscle originated from the coracoid process and the capsule of the shoulder joint. It was inserted into the antebrachial fascia and the medial epicondyle of the humerus. The coracobrachialis muscle is used as a transposition flap in deformities of infraclavicular and axillary areas and in postmastectomy reconstruction. It is also a guide to the axillary artery during surgery and anesthesia. This additional muscle may cause musculocutaneous or high median nerve paralysis. We were unable to find any similar case in the published literature. The anatomic variations of the coracobrachialis muscle may cause confusion during surgery or evaluation of CT and MRI scans. The French version of this article is available in the form of electronic supplementary material and can be obtained by using the Springer Link server located at http://dx.doi.org/10.1007/s00276-002-0079-5.
Résumé
Au cours de dissections préalables destinées à rechercher l'incidence du troisième chef du muscle biceps brachial sur des cadavres de nouveau-nés, un muscle coraco-brachial accessoire a été trouvé d'un seul côté sur le cadavre d'un garçon nouveau-né. Le muscle naissait du processus coracoïde et de la capsule scapulo-humérale, il se terminait dans le fascia antébrachial et sur l'épicondyle médial de l'humérus. Le muscle coraco-brachial est utilisé comme lambeau dans les déformations des régions infra-claviculaire et axillaire et dans les reconstructions après mastectomie. C'est également un guide pour l'artère axillaire en chirurgie et en anesthésie. Ce muscle supplémentaire pourrait entraîner une paralysie du nerf musculo-cutané ou une paralysie haute du nerf médian. Nous n'avons pu trouver aucun cas similaire dans la littérature. Les variations anatomiques du muscle coraco-brachial peuvent entraîner des confusions au cours de la chirurgie ou des examens par scanner ou IRM.
This is a preview of subscription content, log in to check access.
Access options
Buy single article
Instant access to the full article PDF.
US$ 39.95
Price includes VAT for USA
Subscribe to journal
Immediate online access to all issues from 2019. Subscription will auto renew annually.
US$ 99
This is the net price. Taxes to be calculated in checkout.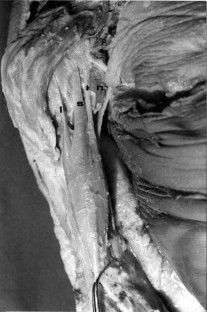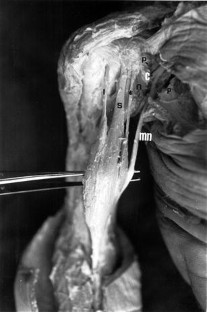 References
1.

Asvat R, Candler P, Sarmiento EE (1993) High incidence of the third head of biceps brachii in South African populations. J Anat 182: 101–104

2.

Beattie PH (1947) Description of bilateral coracobrachialis brevis muscle, with a note on its significance. Anat Rec 97: 123−126

3.

Bechtol CO (1954) Coracobrachialis brevis. Clin Orthop 4: 152 (Cited in: Warner JP, Paletta GA, Warren RF (1992) Accessory head of the biceps brachii. Clin Orthop 280: 179–181)

4.

Berson BL, Gilbert MS, Green S (1978) Acromioclavicular dislocations: treatment by transfer of the conjoined tendon and distal end of the coracoid process to the clavicle. Clin Orthop 135: 157–164

5.

Bergman RA, Thompson SA, Afifi AK, Saadeh FA (1988) Catalogue of human variation. Urban & Schwarzenberg, Baltimore, pp 127–164

6.

Bergman AR, Afifi AK, Miyauchi R (2000) Illustrated encyclopedia of human anatomic variation. Part I: Muscular system: Upper limb. Http: //www.vh.org/Providers/Textbooks/Anatomic Variants/Text/C/31 Coracobrachialis.html

7.

Bohnel P (1979) Variant of the coracobrachialis muscle (accessory origin from the shoulder joint capsule). Handchirurgie 11: 119–120

8.

Chiak R (1972) Ontogenesis of the skeleton and intrinsic muscles of the human hand and foot. Adv Anat Embryol Cell Biol 46: 1–194

9.

Chouke KS (1924) Variations of coracobrachialis. Anat Rec 27: 157 (Cited in: Warner JP, Paletta GA, Warren RF (1992) Accessory head of the biceps brachii. Clin Orthop 280: 179–181)

10.

Ferner H (1938) Der Nervus musculocutaneous, seine Verlaufsvarietäten am Oberarm und deren Beziehung zur Entwicklungsgeschichte eines caput tertium musculi bicipitis. Z Anat Entwickl Gesch 108: 567–586

11.

Flatow E, Bigliani LU, April EW (1987) An anatomic study of the musculocutaneous nerve and its relationship to the coracoid process. Clin Orthop 244: 166–171

12.

Frohse F, Frankel M (1908) Die Muskeln des menschlichen Armes. In: Bardelen K. (ed): Handbuch der Anatomie des Menschen. Fischer, Jena (Cited in: Flatow E, Bigliani LU, April EW (1987) An anatomic study of the musculocutaneous nerve and its relationship to the coracoid process. Clin Orthop 244: 166–171)

13.

Fujita T (1957) Complete fusion of the musculocutaneous and median nerves in a human arm, with remarks on its combination with some anomalies of the biceps brachii muscle. Acta Anat Nippon 32: 257–262

14.

Golan J, Kaus M, Szwarc P (1994) High origin of the ulnar and radial arteries in human. Folia Morphol 53: 37–43

15.

Gray DJ (1945) Some variations appearing in the dissecting room. Standard Med Bull 3: 120

16.

Hobar PC, Rohrich RJ, Mickel TJ (1990) The coracobrachialis muscle flap for coverage of exposed axillary vessels: A salvage procedure. Plast Reconstr Surg 85: 801–804

17.

Hollinshead WH (1982) Anatomy for surgeons, vol.3, 3rd edn. Harper & Row, Philadelphia, pp 364–365

18.

Jakubowicz M, Ratajczak W (2000) Variation in morphology of the biceps brachii and coracobrachialis muscle associated with abnormal course of blood vessels and nerves. Folia Morphol (Warsz) 58: 255–258

19.

Kerr AT (1918) The brachial plexus of nerves in man the variations in its formation and branches. Am J Anat 23: 285–345

20.

Koizumi M (1989) A morphological study on the coracobrachialis muscle. Acta Anat Nippon 64: 18–35

21.

Kosugi K, Shibata S, Yamashita H (1992) Supernumerary head of biceps brachii and branching pattern of the musculocutaneous nerve in Japanese. Surg Radiol Anat 14: 175–185

22.

Kopuz C, Sancak B, Őzbenli Ţ (1999) On the incidence of third head of biceps brachii in neonates and adults. Acta Anat Nippon 74: 301–305

23.

Kyou-Jouffroy MK, Lessertisseur J, Saban R, Souteyrand-Boulenger JD (1971) Musculature des membres, membre pectoral, groupe branchial ventral. In: Traité de zoologie, mammifères, vol XVI, part III. Masson, Paris, pp 96–98

24.

Le Minor JM (1990) A rare variation of the median and musculocutaneous nerve in man. Arch Anat Histol Embryol 73: 33–42

25.

Macalister A (1875) Additional observations on muscular anomalies in human anatomy (third series), with a catalogue of the principal muscular variations hitherto published. Trans R Irish Acad 25: 1–130 (Cited in: Bergman RA, Thompson SA, Afifi AK, Saadeh FA (1988) Catalogue of human variation. Urban & Schwarzenberg, Baltimore, pp 127–164)

26.

Mori M (1964) Statistics on the musculature of the Japanese. Okajimas Fol Anat Jpn 40: 195–300

27.

Nakatani T, Mizukami Z, Tanaka S (1997) Three cases of the musculocutaneous nerve not perforating the coracobrachialis muscle. Acta Anat Nippon 72: 191–194

28.

Nakatani T, Tanaka S (1997) Absence of the musculocutaneous nerve with innervation of coracobrachialis, biceps brachii, brachialis and the lateral border of the forearm by branches from the lateral cord of the brachial plexus. J Anat 191: 459–460

29.

Nakatani T, Tanaka S (1998) Two rare anomalies of the brachial plexus. J Anat 192: 303–304

30.

Neer CS (1963) Prosthetic replacement of the humeral head. Indications and operative technique. Surg Clin North Am 43: 1581(Cited in: Flatow E, Bigliani LU, April EW (1987) An anatomic study of the musculocutaneous nerve and its relationship to the coracoid process. Clin Orthop 244: 166–171)

31.

Neto HS, Camilli JA, Andrade JCT et al. (1998) On the incidence of the biceps brachii third head in Brazilian whites and blacks. Ann Anat 180: 69–71

32.

Parry SW, Ward JW, Mathes SJ (1988) Vascular anatomy of the upper extremity muscles. Plast Reconstr Surg 81: 358

33.

Schaeffer JP (1947) Human anatomy, 10th edn. Saunders, Philadelphia, p 443

34.

Spinner M, Winkelman MA (1973) Variant branch of the median nerve. Bull Hosp Joint Dis 34: 161–166

35.

Tirman PF, Steinbach LS, Bost FW (1997) A practical approach to imaging of the shoulder with emphasis on MR imaging. Orthop Clin North Am 28: 483–515

36.

Warner JP, Paletta GA, Warren RF (1992) Accessory head of the biceps brachii. Clin Orthop 280: 179–181

37.

Watanabe M, Takatsuji K, Sakamoto N, Morita Y, Ito H (1985) Two cases of fusion of the musculocutaneous and median nerves. Acta Anat Nippon 60: 1–7

38.

Williams PL, Warwick R (1980) Gray's anatomy, 36th edn. Lea & Febiger, Philadelphia, pp 442–444

39.

Wood J (1864) On some varieties in human myology. Proc R Soc Lond 13: 299–303

40.

Wood J (1867) On human muscular variations and their relation to comparative anatomy. J Anat Physiol 1: 44–59

41.

Woodworth GE, Katz J (1992) The coracobrachialis muscle: a guide to the axillary artery. Reg Anesth 17: 180–181
Additional information
Presented at the 5th National Symposium of Anatomy with International Participation, 25–30 September 1999, Antalya, Turkey
The French version of this article is available in the form of electronic supplementary material and can be obtained by using the Springer Link server located at https://doi.org/10.1007/s00276-002-0079-5
Electronic supplementary material
About this article
Cite this article
Kopuz, C., İçten, N. & Yildirim, M. A rare accessory coracobrachialis muscle: a review of the literature. Surg Radiol Anat 24, 405–409 (2002). https://doi.org/10.1007/s00276-002-0079-5
Received:

Accepted:

Published:

Issue Date:
Keywords
Anomaly

Coracobrachialis muscle

Musculocutaneous nerve

Variation

Upper extremity

Gross anatomy