Abstract
The authors present an anatomical study on vascularization of the retro-auricular skin, focusing on the origin, distribution and anastomoses of the superior auricular artery. This artery is used as the pedicle of a retro-auricular flap to repair defects in the upper third of the auricle and in the temporal region. The study was carried out on 13 fresh cadavers, with a total of 25 auricles. The common carotid artery had previously been injected with dyed latex. The superior auricular artery was found in all specimens. It had constant course and caliber, mean axial length 2.4 cm, mean caliber 0.8 mm. This artery connected the superficial temporal artery, or its parietal branch, and the posterior auricular artery network. This branch proved a reliable vascular pedicle for the mobilization of retro-auricular flaps. The results of this study are presented together with preliminary clinical results obtained using an antero-superior retro-auricular flap, never previously described, to reconstruct the superior third of the auricle and the temporal region. The French version of this article is available in the form of electronic supplementary material and can be obtained by using the Springer Link server located at https://doi.org/10.1007/s00276-002-0077-7.
Résumé
Les auteurs présentent une étude anatomique sur la vascularisation de la peau rétro-auriculaire, focalisée en particulier sur l'origine, la distribution et les anastomoses de l'artère auriculaire supérieure. Cette artère est utilisée comme pédicule d'un lambeau rétro-auriculaire pour combler les pertes de substance du tiers supérieur de l'auricule et de la région temporale. L'étude a été réalisée sur 13 cadavres frais, soit un total de 25 auricules. L'artère carotide commune avait été préalablement injectée avec du latex coloré. L'artère auriculaire supérieure a été trouvée sur tous les spécimens. Son trajet et son calibre étaient constants, sa longueur axiale moyenne était de 2,4 cm, son calibre moyen de 0,8 mm. L'artère s'anastomosait avec l'artère temporale superficielle ou son rameau pariétal et avec le réseau de l'artère auriculaire postérieure. Cette branche s'est révélée être un pédicule vasculaire fiable pour la mobilisation de lambeaux rétro-auriculaires. Les résultats de cette étude sont présentés simultanément aux résultats cliniques préliminaires, obtenus en utilisant un lambeau rétro-auriculaire antéro-supérieur, qui n'avait jamais été décrit préalablement, pour reconstruire le tiers supérieur de l'auricule et la région temporale.
This is a preview of subscription content, log in to check access.
Access options
Buy single article
Instant access to the full article PDF.
US$ 39.95
Price includes VAT for USA
Subscribe to journal
Immediate online access to all issues from 2019. Subscription will auto renew annually.
US$ 99
This is the net price. Taxes to be calculated in checkout.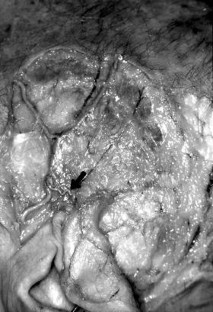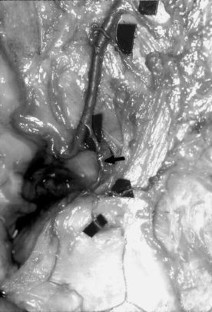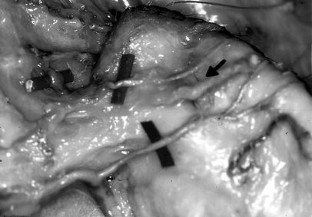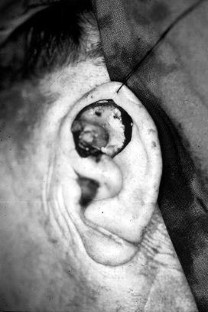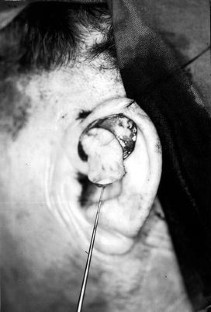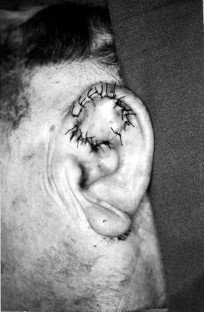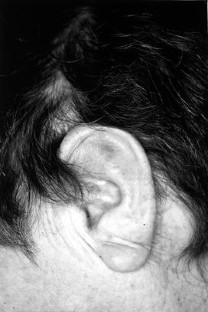 References
1.

Guyuron B (1985) Retroauricular island flap for eye socket reconstruction. Plast Reconstr Surg 76: 527–533

2.

Houseman ND, Taylor GI, Pan WR (2000) The angiosomes of the head and neck: anatomic study and clinical applications. Plast Reconstr Surg 105: 2287–2313

3.

Kobayashi S, Nagase T, Ohmori K (1997) Colour Doppler flow imaging of postauricular arteries and veins. Br J Plast Surg 50: 172–175

4.

McKinnon BJ (1999) The vascular anatomy and angiosome of the posterior auricular artery. Arch Facial Plast Surg 1: 101–104

5.

Mitchell EL, Taylor GI, Houseman ND, Mitchell PJ, Breidahl A, Ribuffo D (2001) The angiosome concept applied to arteriovenous malformations of the head and neck. Plast Reconstr Surg 107: 633–646

6.

Orticochea M (1980) Refined technique for reconstructing the whole nose with the conchas of the ear. Br J Plast Surg 33: 68–75

7.

Ozdemir R, Sungur N, Sensoz O, Cagri U, Ulusoy MG, Ortak T, Baran N (2002) Reconstruction of facial defects with superficial temporal artery island flap: a donor site with various alternatives. Plast Reconstr Surg 109: 1528–1535

8.

Park C, Lineweaver WC, Rumly TO, Buncke HJ (1992) Arterial supply of the anterior ear. Plast Reconstr Surg 90: 38–44

9.

Song R, Song Y, Qi K, Jiang H, Pan F (1996) The superior auricular artery and retroauricular arterial island flaps. Plast Reconstr Surg 98: 657–667

10.

Yang D, Morris SF (1998) Vascular basis of the retroauricular flap. Ann Plast Surg 40: 28–33

11.

Yotsuyanagi T, Watanabe Y, Kamashita K (2001) Retroauricular flap: its clinical application and safety. Br J Plast Surg 54: 12–19

12.

Washio H (1969) Retroauricular-temporal flap. Plast Reconstr Surg 43: 162–171
Additional information
Presented at: Société Anatomique de Paris (Paris, 23 June 2002), 12th Meeting of EURAPS (Helsinki, 31 May–2 June 2001)
The French version of this article is available in the form of electronic supplementary material and can be obtained by using the Springer Link server located at https://doi.org/10.1007/s00276-002-0077-7
Electronic supplementary material
About this article
Cite this article
Moschella, F., Cordova, A., Pirrello, R. et al. The supra-auricular arterial network: anatomical bases for the use of superior pedicle retro-auricular skin flaps. Surg Radiol Anat 24, 343–347 (2002). https://doi.org/10.1007/s00276-002-0077-7
Received:

Accepted:

Published:

Issue Date:
Keywords
Superior auricular artery

Retroauricular flaps

Ear