Abstract
The aim of this study was to determine the effect of deficit irrigation applications at different levels on cool-season and warm-season turf irrigated by a sprinkler irrigation method. Field experiments were conducted in Istanbul, Turkey (41°03ʹN; 28°00ʹE; 46 m above sea level) during the growing season of 2019. In the study, two different turf types: a cool-season turfgrass mixture (C) and a warm-season turfgrass or Bermudagrass (W) were subjected to three different irrigation levels (I1: Full irrigation, I2: 1/3 deficiency, I3: 2/3 deficiency) and examined in split-plots via a randomized complete block design conducted in triplicate. The soil moisture level was monitored via time-domain reflectometry (TDR) each day to provide irrigation timing. Unfortunately, none of the treatments were adequate to keep cool-season turf green after July because of a high MAD (Management Allowable Deficit) value. In the first 3-month period (May to July) of the experiment, during which both types of turf could survive, the seasonal evapotranspiration and the total amount of irrigation water applied were 11% more for the cool-season turf than for the warm-season turf. In the warm-season turf, although all irrigation levels provided for plant survival, the I2 treatment is suggested when all quality parameters, such as the amount of irrigation water applied, the water used, the irrigation water-use efficiency and the quality parameters are evaluated together. Seasonal average values for Crop Water Stress Index (CWSI) were calculated for the different irrigation treatments ranging from 0.57 to 0.66 for cool-season turf and from 0.52 to 0.66 for warm-season turf. The average CWSI values before irrigation was applied were from 0.68 to 0.79 for cool-season turf and from 0.69 to 0.79 for warm-season turf. The Jensen-Haise method (JH) was chosen as the best equation when reference evapotranspiration estimation methods were compared for both types of turf.
Access options
Buy single article
Instant access to the full article PDF.
USD 39.95
Price excludes VAT (USA)
Tax calculation will be finalised during checkout.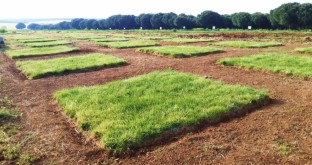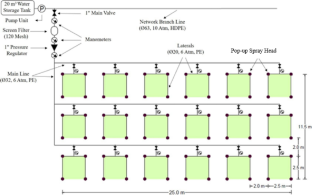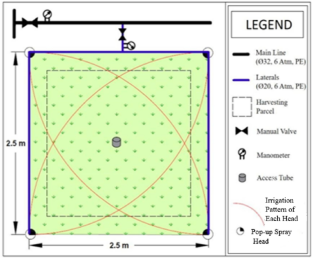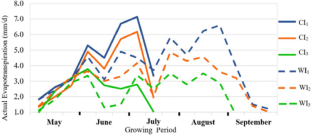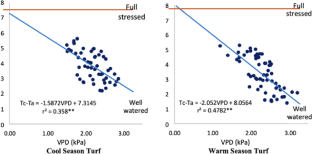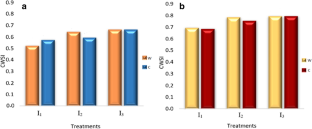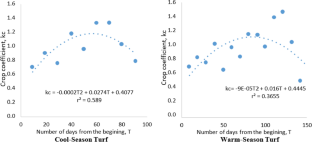 References
Alderfasi AA, Nielsen D (2001) Use of water stress index for monitoring water status and scheduling irrigation in wheat. Agric Water Manag 47:69–75

Alves I, Pereıra LS (2000) Nonwater-stressed baselines for irrigation scheduling with infrared thermometers, a new approach. Irrig Sci 19:101–106

Amgain NR, Harris DK, Thapa SB et al (2018) Evapotranspiration rates of turf ber- mudagrasses under nonlimiting soil moisture conditions in Oklahoma. Crop Sci 58:1409–1415

Avcıoğlu R (1997) Çim Tekniği-Yeşil Alanların Ekimi. Dikimi ve Bakımı, Ege Üniversitesi Matbaası, Bornova/İzmir, p 271s

Barnes MR, Nelson KC, Meyer AJ et al (2018) Public land managers and sustainable urban vegetation: the case of low input turfgrasses. Urban Fore Urban Green 29:284–292

Bijanzadeh E, Ruhollah N, Yahya E (2013) Determination of crop water stress index for irrigation scheduling of turfgrass (Cynodon Dactylon L. Pers.) under drought conditions. J Plant Physiol Breed 3(2):13–22

Brede AD, Duich JM (1984) Establishment characteristics of kentucky bluegrass-perennial ryegrass turf mixtures affected by seeding rate and ratio. Argonomy J 76:875–879

Carrow RN (1995) Drought resistance aspects of turfgrasses in the southeast: evapotranspiration and crop coefficients. Crop Sci 35:1685–1690. https://doi.org/10.2135/cropsci1995.0011183X003500060029x

Chiesura A (2004) The role of urban parks for the sustainable city. Landsc Urban Plan 68:129–138

Cremona MV, Stützel H, Kage H (2004) Irrigation scheduling of Kholrabi Brassica oleracea var Gongylodes using crop water stress index. Hort Sci 39(2):276–279

Demuzere M, Orru K, Heidrich O et al (2014) Mitigating and adapting to climate change: Multi-functional and multi- scale assessment of green urban infrastructure. J Environ Manage 146:107–115

Domenghini JC, Bremer DJ, Fry JD et al (2013) Evapotranspiration and performance among turfgrass and ornamental landscape species in response to irrigation deficit. Inter Turf Soc Res J 12:405–414. https://doi.org/10.1002/csc2.20790

Doorenbos J, Pruitt W (1977) Guidelines for Predicting Crop Water Requirements. Irrigation and dranaige food and agriculture organization of the united nations, Rome, p p144

Dyment JE, Bell AC (2008) Grounds for movement: green school grounds as sites for promoting physical activity. Health Educ Res 23(6):952–962

Emekli Y, Baştuğ R, Büyüktaş D, Emekli NY (2007) Evaluation of a crop water stress index for irrigation scheduling of bermudagrass. Agric Water Manag 90:205–212. https://doi.org/10.1016/j.agwat.2007.03.008

Fisher RA (1935) The Design of Experiments. Oliver and Boyd, Edinburgh

Grimes D, Yamada WH, Hughes SW (1987) Climatenormalized cotton leaf water potentials for irrigation scheduling. i4gnc. Water Mgmt 12:293–304

Heerman DF (1985) ET in irrigation management. In: Proceedings of the national conference on advances in evapotranspiration, Chicago, IL, USA, 16–17 Dec 1985, pp 323–334

Idso SB, Jackson RD, Pinter PJ (1981) Normalizing the stress degree-day parameter for environmental variability. Agric Meteorol 24:45–55

Irmak S, Haman DZ, Baştuğ R (2000) Determination of crop water stress index for irrigation timing and yield estimation of corn. Agron J 92:1221–1227

Jackson RD, Idso SB, Reginato RJ, Pinter PJ (1981) Canopy Temperature as a Crop Water Stress İndicator. Water Resour Res 17:1133–1138

Jalali-Farahani HR, Slack DC, Kopec DM, Matthias AD (1993) Crop water stress index models for bermudagrass turf: a comparison. Agron J 85(6):1210

Jensen M (1973) Consumptive Use of Water and Irrigation Water Requirements. ASCE, Irrig. Drain. Div, New York, p 215

Kenna MR (1993) Horst GL (1993) Turfgrass water conservation and quality. Inter Turf Soc Res J 7:99–113

Kneebone WR, Kopec DM, Mancino CF (1992) Water Requirement and Irrigation. In: Waddington DV, Carrow RN, Shearman RC (eds) Turfgrass. Agronomy ASA-CSSA-SSSA, Madison, Wisconsin, pp 441–473

Kopec D, Umeda K (2015) Overseeding winter grasses into bermudagrass turf. The University of Arizona, Tucson, Arizona

Leinauer B, Smeal D (2012) Turfgrass Irrigation. New Mexico State University, Las Cruces, pp 1–12

Milesi C, Running SW, Elvidge CD et al (2005) Mapping and modeling the biogeochemical cycling of turf grasses in the United States. Environ Manage 36:426–438. https://doi.org/10.1007/s00267-004-0316-2

Öncel ÇS, Todorovıc M, Orta H (2019) Irrigation scheduling based on Crop Water Stress Index (CWSI) for cool and warm-season turf grass under subsurface-drip irrigation method. Mustafa Kemal Üniversitesi Tarım Bilimleri Dergisi 24:24–40

Orta AH, Türk B (2019) Irrigation Scheduling of Cool and Warm Season Turfgrasses Irrigated with Sprinkler Method. Proceedings of International Biological, Agricultural and Life Science Congress. Ukrayna 281–295s

Orta AH, Erdem Y, Erdem T (2003) Crop Water Stress Index for Watermelon. Scientia Horticulturae98(2):121–30.RetrievedOctober26,2017 (http://www.sciencedirect.com/science/article/pii/S0304423802002157)

Orta AH (1994) Farklı Sulama Yöntemlerinin Biber (Capsicum annuum L.) Verimine Etkisi. Doktora Tezi, Ankara Üniversitesi Tarımsal Yapılar ve Sulama Anabilim Dalı, Ankara

Pinnix GD, Miller GD (2019) Comparing evapotranspiration rates of tall fescue and bermudagrass in North Carolina. Agric Water Manag 223:1–7. https://doi.org/10.1016/j.agwat.2019.105725

U.S. Salinity Laboratory Staff (1954) Diagnosis and improvement of saline and alkali soils. USDA handbook 60. U.S. Gov. Print. Office, Washington, DC

Wherley B, Dukes MD, Cathey S, Miller G, Sinclair T (2015) Consumptive water use and crop coefficients for warm-season turfgrass species in the southeastern United States. Agric Water Manage 156:10–18. https://doi.org/10.1016/j.agwat.2015.03.020

Zhang H, Owesis T (1999) Water - yield relations and optimal irrigation scheduling o wheat in the mediterranean Region. Agric Water Manag 38:195–211
Acknowledgements
The authors wish to acknowledge the funding support by The Scientific and Technological Research Council of Turkey (TÜBİTAK), under project registry number 119O088. The authors would also like to thank the staff and support from cooperators at Silivri-Istanbul Municipality.
Funding
This Project was funded by The Scientific and Technological Research Council of Turkey (TÜBİTAK).
Ethics declarations
Conflict of interest
The authors declared no potential conflicts of interest with respect to the research, authorship, and/or publication of this article.
Additional information
Publisher's Note
Springer Nature remains neutral with regard to jurisdictional claims in published maps and institutional affiliations.
Rights and permissions
Springer Nature or its licensor (e.g. a society or other partner) holds exclusive rights to this article under a publishing agreement with the author(s) or other rightsholder(s); author self-archiving of the accepted manuscript version of this article is solely governed by the terms of such publishing agreement and applicable law.
About this article
Cite this article
Orta, A.H., Kuyumcu, S. Evapotranspiration and the response of cool-season and warm-season turfgrass species to deficit irrigation under a sprinkler irrigation method. Irrig Sci 41, 81–91 (2023). https://doi.org/10.1007/s00271-022-00833-8
Received:

Accepted:

Published:

Issue Date:

DOI: https://doi.org/10.1007/s00271-022-00833-8