Abstract
The cultivation mode of planting offseason crops, such as cucumber, with drip irrigation has been widely used in greenhouses in North China to achieve high yields, obtain large economic benefits, and improve water use efficiency. The objectives of this study were to evaluate the effects of drip irrigation on the irrigation water amount, irrigation water use efficiency (IWUE), and cucumber yield and the corresponding economic benefits. These objectives were achieved using data from a seven-season experiment in a commercial greenhouse with cucumber plants in North China. Local furrow irrigation was used as the control. The results showed that the cucumber yields and income with drip irrigation were 4.3% and 3.1% higher than those under furrow irrigation, respectively. However, the seasonal total irrigation depth for drip irrigation was approximately 50% lower than that for furrow irrigation. The IWUE averaged 0.41 in furrow irrigation but increased to 0.79 in drip irrigation. The irrigation water productivity and the economic irrigation water productivity for drip irrigation were approximately 100% higher than those for furrow irrigation. The mean economic irrigation water productivity was 19.8 US$ m−3 for drip irrigation, which is 7 times higher than the 2019 value of 2.7 US$ m−3 in the agricultural sector in China, indicating potential high economic benefits. In conclusion, drip irrigation is recommended in greenhouses to reduce irrigation water by approximately 50% and increase cucumber yield and economic benefits by approximately 3–4% compared to traditional furrow irrigation in North China.
Access options
Buy single article
Instant access to the full article PDF.
USD 39.95
Price includes VAT (USA)
Tax calculation will be finalised during checkout.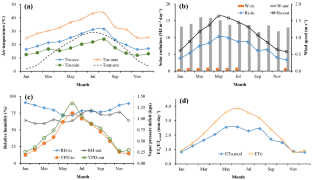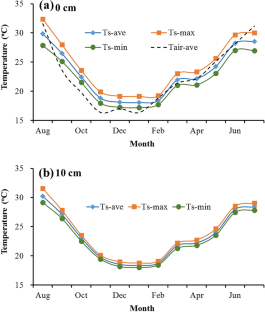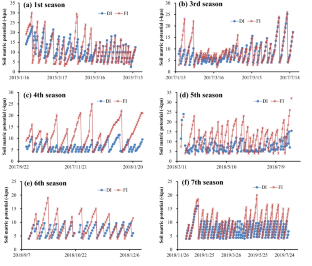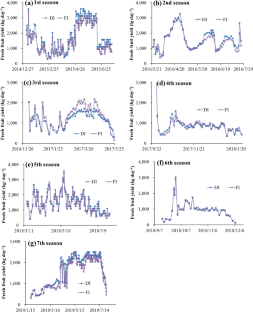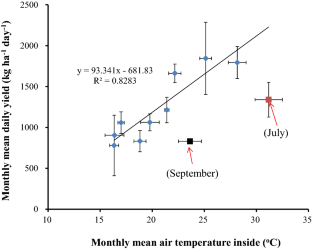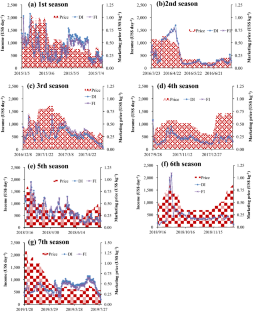 References
Abdalhi MAM, Cheng J, Feng S, Yi G (2016) Performance of drip irrigation and nitrogen fertilizer in irrigation water saving and nitrogen use efficiency for waxy maize (Zea mays L.) and cucumber (Cucumis sativus L.) under solar greenhouse. Grassland Sci 62(3):174–187

Allen RG, Pereira LS, Raes D, Smith M (1998) Crop evapotranspiration:guidelines for computing crop water requirements. Irrigation and DrainagePaper 56. Food and Agriculture Organization of the United nations, Rome

Ayas S, Demirtas C (2009) Deficit irrigation effects on cucumber (L. Maraton) yield in unheated greenhouse condition. J Food Agric Environ 7(3–4):645–649

Çakir R, Kanburoglu-Çebi U, Altintas S, Ozdemir A (2017) Irrigation scheduling and water use efficiency of cucumber grown as a spring-summer cycle crop in solar greenhouse. Agric Water Manage 180:78–87

Du Y, Cao H, Liu S, Gu X, Cao Y (2017) Response of yield, quality, water and nitrogen use efficiency of tomato to different levels of water and nitrogen under drip irrigation in Northwestern China. J Integr Agric 16(5):1153–1161

Fernández MD, Bonachela S, Orgaz F, Thompson RB, López JC, Granados MR, Gallardo M, Fereres E (2010) Measurement and estimation of plastic greenhouse reference evapotranspiration in a Mediterranean climate. Irrig Sci 28(6):497–509

Fernández MD, Bonachela S, Orgaz F, Thompson RB, López JC, Granados MR, Gallardo M, Fereres E (2011) Erratum to: Measurement and estimation of plastic greenhouse reference evapotranspiration in a Mediterranean climate. Irrig Sci 29(1):91–92

Guo JH, Liu XJ, Zhang Y, Shen JL, Han WX, Zhang WF, Christie P, Goulding KWT, Vitousek PM, Zhang FS (2010) Significant acidification in major Chinese croplands. (Author abstract)(Report). Science 327(5968):1008

Han J, Luo Y, Yang L, Liu X, Wu L, Xu J (2014) Acidification and salinization of soils with different initial pH under greenhouse vegetable cultivation. J Soils Sediments 14(10):1683–1692

Hashem FA, Medany MA, El-Moniem EMA, Abdallah MMF (2011) Influence of green-house cover on potential evapotranspiration and cucumber water requirements. Ann Agric Sci 56(1):49

Heidari MD, Omid M, Mohammadi A (2012) Measuring productive efficiency of horticultural greenhouses in Iran: a data envelopment analysis approach. Expert Syst Appl 39(1):1040–1045

Hodge C, Rogers M, Handeen D, Schweser G (2019) Yield of leafy greens and microclimate in deep winter greenhouse production in Minnesota. Sustainability 11(1):1–11

Hossain SAAM, Wang L, Liu H (2018) Improved greenhouse cucumber production under deficit water and fertilization in Northern China. Int J Agric Biol Eng 11(4):58–64

Kitta E, Katsoulas N, Savvas D (2012) Shading effects on greenhouse microclimate and crop transpiration in a cucumber crop grown under Mediterranean conditions. Appl Eng Agric 28(1):129–140

Li J (2020) Microirrigation in China: history, current situation and future. Irrig Drain 69(2):88–96

Li Y-J, Yuan B-Z, Bie Z-L, Kang Y (2012) Effect of drip irrigation criteria on yield and quality of muskmelon grown in greenhouse conditions. Agric Water Manage 109:30–35

Li A, Huang L, Zhang T (2017) Field test and analysis of microclimate in naturally ventilated single-sloped greenhouses. Energ Buildings 138:479–489

Li Y, Xue X, Guo W, Wang L, Duan M, Chen H, Chen F (2019) Soil moisture and nitrate-nitrogen dynamics and economic yield in the greenhouse cultivation of tomato and cucumber under negative pressure irrigation in the North China Plain. Sci Rep 9(1):4439

Li B, Shi B, Yao Z, Kumar Shukla M, Du T (2020a) Energy partitioning and microclimate of solar greenhouse under drip and furrow irrigation systems. Agric Water Manage 234:106096

Li Y, Huang G, Zhang L, Gu H, Lou C, Zhang H, Liu H (2020b) Phthalate esters (PAEs) in soil and vegetables in solar greenhouses irrigated with reclaimed water. Environ Sci Pollut Res 27:22658–22669

Li B, Wim V, Shukla MK, Du T (2021) Drip irrigation provides a trade-off between yield and nutritional quality of tomato in the solar greenhouse. Agric Water Manage 249:106777

Liu H, Cohen S, Hugo LJ, Yair I, Josef T (2015) Sap flow, canopy conductance and microclimate in a banana screenhouse. Agric Forest Meteorol 201:165–175

Lv H, Lin S, Wang Y, Lian X, Zhao Y, Li Y, Du J, Wang Z, Wang J, Butterbach-Bahl K (2019) Drip fertigation significantly reduces nitrogen leaching in solar greenhouse vegetable production system. Environ Pollut 245:694–701

Medrano E, Lorenzo P, Sánchez-Guerrero MC, Montero JI (2005) Evaluation and modelling of greenhouse cucumber-crop transpiration under high and low radiation conditions. Sci Hortic 105(2):163–175

Ni M, Lan D, Jahan M, Wang J, Guo S (2019) A pilot study on the microclimate of a multi-span solar energy greenhouse. Appl Eng Agric 35(4):601–616

Ntinas GK, Koukounaras A, Kotsopoulos T (2015) Effect of energy saving solar sleeves on characteristics of hydroponic tomatoes grown in a greenhouse. Sci Hortic 194:126–133

Panwar NL, Kaushik SC, Kothari S (2011) Solar greenhouse an option for renewable and sustainable farming. Renew Sust Energ Rev 15(8):3934–3945

Qiu R, Du T, Kang S (2017) Root length density distribution and associated soil water dynamics for tomato plants under furrow irrigation in a solar greenhouse. J Arid Land 9(5):637–650

Rahil MH, Qanadillo A (2015) Effects of different irrigation regimes on yield and water use efficiency of cucumber crop. Agric Water Manage 148:10–15

Reynolds S, Guerrero B, Golden B, Amosson S, Marek T, Bell JM (2020) Economic feasibility of conversion to mobile drip irrigation in the Central Ogallala region. Irrig Sci 38(5-6):569-575

Sanchez-Molina J, Ming L, Rodriguez F, Guzman J, Hui W, Xinting Y (2017) Development and test verification of air temperature model for Chinese solar and Spainish Almeria-type greenhouses. Int J Agric Biol Eng 10(4):66–76

Shock CC, Wang F-X (2011) Soil water tension, a powerful measurement for productivity and stewardship. HortScience 46(2):178–185

Statistics, CNBo (2019) China National Statistical Yearbook. China Statistics Press, Beijing

Sun Y, Hu K, Fan Z, Wei Y, Lin S, Wang J (2013) Simulating the fate of nitrogen and optimizing water and nitrogen management of greenhouse tomato in North China using the EU-Rotate_N model. Agric Water Manage 128:72–84

Sun Y, Zhang J, Wang H, Wang L, Li H (2019) Identifying optimal water and nitrogen inputs for high efficiency and low environment impacts of a greenhouse summer cucumber with a model method. Agric Water Manage 212:23–34

Tapani H, Pauliina P, Antti T, Jukka A (2015) Effects of different paper mulches on soil temperature and yield of cucumber (Cucumis sativus L.) in the temperate zone. Agric Food Sci 24(1):52–58

Wan S, Kang Y, Wang D, Liu S-P (2010) Effect of saline water on cucumber (Cucumis sativus L.) yield and water use under drip irrigation in North China. Agric Water Manage 98(1):105–113

Wang A, Gallardo M, Zhao W, Zhang Z, Miao M (2019) Yield, nitrogen uptake and nitrogen leaching of tunnel greenhouse grown cucumber in a shallow groundwater region. Agric Water Manage 217:73–80

Yan Q-Y, Duan Z-Q, Mao J-D, Li X, Dong F (2013) Low root zone temperature limits nutrient effects on cucumber seedling growth and induces adversity physiological response. J Integr Agric 12(8):1450–1460

Yan Q, Dong F, Yang F, Duan Z, Wang A, Tang Y, Li X (2017) Effect of soil temperature and organic manure on grwoth, nutrient uptake and utilization pf cucumber. Acta Agriculturae Boreali-Sinica 32(6):222–228

Yang L, Huang B, Mao M, Yao L, Niedermann S, Hu W, Chen Y (2016) Sustainability assessment of greenhouse vegetable farming practices from environmental, economic, and socio-institutional perspectives in China. Environ Sci Pollut Res 23(17):17287–17297

Yang H, Du T, Qiu R, Chen J, Wang F, Li Y, Wang C, Gao L, Kang S (2017) Improved water use efficiency and fruit quality of greenhouse crops under regulated deficit irrigation in northwest China. Agric Water Manage 179:193–204

Yuan B-Z, Sun J, Kang Y, Nishiyama S (2006) Response of cucumber to drip irrigation water under a rainshelter. Agric Water Manage 81(1):145–158

Zhang X (2020) Progress of mechanised agriculture in China. Agric Mech Inform 2020(1):1–16

Zhang L, Gao L, Zhang L, Wang S, Sui X, Zhang Z (2012) Alternate furrow irrigation and nitrogen level effects on migration of water and nitrate-nitrogen in soil and root growth of cucumber in solar-greenhouse. (Report). Sci Hortic 138:43–49

Zhao Q, Zhang B, Yao Y, Wu W, Meng G, Chen Q (2019) Geodetic and hydrological measurements reveal the recent acceleration of groundwater depletion in North China Plain. J Hydrol 575:1065–1072

Zhu Q, de Vries W, Liu X, Hao T, Zeng M, Shen J, Zhang F (2018) Enhanced acidification in Chinese croplands as derived from element budgets in the period 1980–2010. Sci Total Environ 618:1497–1505
Acknowledgements
The authors greatly appreciate the field support of Chaoyang Sun, the owner of the sunken solar greenhouse, and Li Yang for her help in preparing figures, data and word corrections in the revision process.
Funding
This work was financially supported by the National Nature Science Foundation of China (NO. 91479004, 51939005) and the 111 Project (B18006).
Ethics declarations
Conflict of interest
On behalf of all authors, the corresponding author states that there is no conflict of interest.
Additional information
Publisher's Note
Springer Nature remains neutral with regard to jurisdictional claims in published maps and institutional affiliations.
About this article
Cite this article
Liu, H., Yuan, B., Hu, X. et al. Drip irrigation enhances water use efficiency without losses in cucumber yield and economic benefits in greenhouses in North China. Irrig Sci (2021). https://doi.org/10.1007/s00271-021-00756-w
Received:

Accepted:

Published: