Abstract
Increasing population, pollution of current natural resources, global warming and climate change are increasing pressure on water resources. To maintain the food security of the increasing population, it is essential to increase sustainable agricultural production and to use current limited water resources optimally. In this study, the effect of surface drip (SDI) and subsurface drip (SSDI) irrigation methods on water productivity, yield and quality characteristics of soybeans were evaluated. The study was carried out in Batı Akdeniz Agricultural Research Institute located in Antalya, Turkey. To evaluate the performance of the SDI and to compare it with the SSDI, an experiment was conducted based on a randomized blocks design with two factors: irrigation method (SDI and SSDI) and irrigation levels defined as the percentages of available water capacity of the soil profile (100%, 80%, 60%, and 0%). Applied water varied between 45–488 mm and 171–541 mm in the SSDI, and between 50–573 and 164–640 mm in the SDI, during 2016 and 2017, respectively. The yield ranged from 1.98 to 5.61 t ha−1 for SDI and from 2.29 to 6.33 t ha−1 for SSDI. While the increased amount of irrigation water had a positive relationship with the yield, there was a negative relationship with the oil content and fatty acid composition. The SSDI treatments used approximately 90 mm less water than the SDI without any reduction in yield.
Access options
Buy single article
Instant access to the full article PDF.
US$ 39.95
Tax calculation will be finalised during checkout.
Subscribe to journal
Immediate online access to all issues from 2019. Subscription will auto renew annually.
US$ 79
Tax calculation will be finalised during checkout.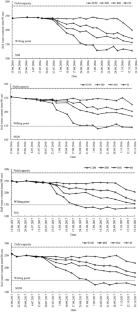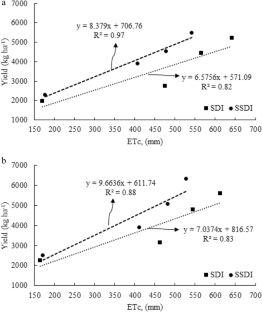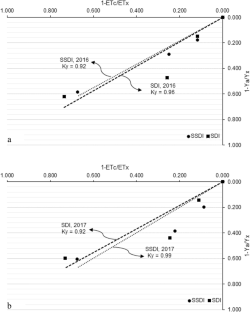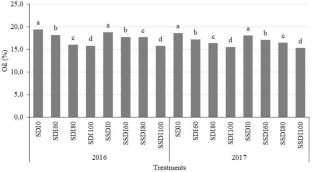 References
Abd El-Mageed TA, El-Sherif AMA, Ali MM, Abd El-Wahed MH (2017) Combined effect of deficit irrigation and potassium fertilizer on physiological response, plant water status and yield of soybean in calcareous soil. Arch Agron Soil Sci 63:827–840

Adeboye OB, Schultz B, Adekalu KO, Prasad K (2015) Crop water productivity and economic evaluation of drip-irrigated soybeans (Glyxine max L. Merr.). Agric Food Secur 4:10

Atti S, Bonnell R, Smith D, Prasher S (2004) Response of an indeterminate soybean (Glycine Max (L.) Merr) to chronic water deficit during reproductive development under greenhouse conditions. Can Water Resour J 29:209–222

Aydinsakir K (2018) Yield and quality characteristics of drip-ırrigated soybean under different ırrigation levels. Agron J 110:1473–1481

Aydinsakir K, Dinc N, Buyuktas D, Bastug R, Toker R (2016) Assessment of different irrigation levels on peanut crop yield and quality components under mediterranean conditions. J Irrig Drain Eng 142:1–9

Ayers RS, Westcot DW (1985) Water Quality for Agriculture. Irrigation and Drainage Paper No. 29, FAO, , Rome

Bellaloui N, Mengistu A (2008) Seed composition is influenced by irrigation regimes and cultivar differences in soybean. Irrig Sci 26:261–268

Bellaloui N, Hu Y, Mengistu A, Kassem MA, Abel CA (2013) Effects of foliar boron application on seed composition, cell wall boron, and seed δ15N and δ13C isotopes in water-stressed soybean plants. Front Plant Sci 4:1–12

Bilyeu K, Skrabisova M, Allen D, Rajcan I, Palmquist DE, Gillen A, Mian R, Jo H (2018) The interaction of the soybean seed high oleic acid oil trait with other fatty acid modifications. J Am Oil Chem Soc 95:39–49

Boydak E, Alpaslan M, Hayta M, Gerçek S, Simsek M (2002) Seed composition of soybeans grown in the Harran Region of Turkey as affected by row spacing and irrigation. J Agric Food Chem 50:4718–41720

Bunce JA (1977) Leaf elongation in relation to leaf water potential in soybean. J Exp Bot 28:156–161

Candogan BN (2009) Water–yield relationship of soybean. PhD Thesis. Uludag University, Turkey

Candogan BN, Yazgan S (2016) Yield and quality response of soybean to full and deficit irrigation at different growth stages under sub-humid climatic conditions. J Agric Sci 22:129–144

Candogan BN, Sincik M, Buyukcangaz H, Demirtas C, Goksoy AT, Yazgan S (2013) Yield, quality and crop water stress index relationships for deficit-irrigated soybean [Glycine max (L.) Merr.] in sub-humid climatic conditions. Agric Water Manag 118:113–121

Çelik S (1989) Evapotranspiration of soybean (Amsoy-71) grown in Tokat-Kozova. Tokat Rural Affairs Research Institute, Turkey (Paper no: 97)

Christie WW (1993) Preparation of ester derivatives of fatty acids for chromatographic analysis. In: Christie WW (ed) Advances in lipid methodology. The Scottish Crop Research Institute, Dundee, pp 69–111

Clemente TE, Cahoon EB (2009) Soybean oil: Genetic approaches for modification of functionality and total content. Plant Physiol 151:1030–1040

Çömlekcioglu N, Simsek M (2011) Effects of deficit irrigation on yield and yield components of vegetable soybean (Glycine max L.) in semi-arid conditions. African J Biotechnol 10:6227–6234

Demirtaş Ç, Yazgan S, Candogan BN, Sincik M, Büyükcangaz H, Göksoy AT (2010) Quality and yield response of soybean (Glycine max L. Merr.) to drought stress in subhumid environment. African J Biotechnol 9:6873–6881

Derviş Ö, Özel M (1987) Evapotranspiration of soybean grown in Çukurova conditions as a second crop. Tarsus Rural Affairs Research Institute, Turkey (Paper no:139)

Desclaux D, Huynh TT, Roumet P (2000) Identification of soybean plant characteristics that indicate the timing of drought stress. Crop Sci 40:716–722

Dhakal KH, Jung KH, Chae JH, Shannon JG, Lee JD (2014) Variation of unsaturated fatty acids in soybean sprout of high oleic acid accessions. Food Chem 164:70–73

Doorenbos J, Kassam AH (1979) Yield response to water. FAO Irrigation and Drainage Paper 33, Rome

Dornbo DL, Mullen RE (1992) Soybean seed protein and oil contents and fatty acid composition adjustments by drought and temperature. J Am Oil Chem Soc 69:228–231

Evans RG, Sadler EJ (2008) Methods and technologies to improve efficiency of water use. Water Resour Res 44:1–15

Farre I, Faci JM (2006) Comparative response of maize (Zea mays L.) and sorghum (Sorghum bicolor L. Moench) to deficit irrigation in a Mediterranean environment. Agric Water Manag 83:135–143

Gomez KA, Gomez AA (1984) Statistical procedures for agricultural research. John Wiley and Sons Inc, New York, p 680

Grassinia P, Torrionb JA, Yanga HS, Reesc J, Andersend D, Cassmana KG, Specht JE (2015) Soybean yield gaps and water productivity in the western U.S. Corn Belt Field Crops Res 179:150–163

Güler F (1990) A research on determination of water consumption and water-yield relationships of second product soybeans in Amik Plain conditions. PhD Thesis, Ankara University, Turkey

Hobbs EH, Muendel HH (1983) Water requirements of irrigated soybeans in southern Alberta. Can J Plant Sci 63:855–860

Hodges HF, Heatherly LG (1983) Principles of water management for soybean production in Mississippi. Mississippi Agric for Exp Stn Bull 919:9

Holt S (1997) Soybean: the health food of the next millennium. Korea Soybean Dig 14:77–90

Howell TA, Cuenca RH, Solomon KH (1990) Crop yield response. In: Hoffman GJ et al (eds) Management of farm irrigation systems. American Society of Agricultural Engineers (ASAE) St. Joseph, MI, pp 93–122

Hunt PG, Stone KC, Matheny TA, Vanotti MB, Szogi AA, Busscher WJ (2011) Double-cropped soybean and wheat with subsurface drip irrigation supplemented by treated swine wastewater. Commun Soil Sci Plant Anal 42:2778–2794

İlker E, Kocaturk M, Kadiroglu A, Yildirim A, Oztürk G, Yildiz H, Köken I (2018) Adaptation abilities and quality parameters of selected soybean lines under double cropping in the Mediterranean region. Turkish J Field Crop 23:49–55

IPCC (2001) Climate change 2001: the scientific basis. Contribution of working group I to the third assessment report of the intergovernmental panel on climate change. Cambridge University Press, Cambridge and New York

Irmak S, Specht JE, Odhiambo LO, Rees JM, Cassman KG (2014) Soybean yield, evapotranspiration, water productivity, and soil water extraction response to subsurface drip irrigation and fertigation. Trans ASABE 57:729–748

James LG (1988) Principles of farm irrigation system design. John Wiley & Sons Inc, New York

Kadhem FA, Specht JE, Williams JH (1985) Soybean irrigation serially timed during stages R1 to R6. II Yield Component Responses Agron J 7:209–304

Kanemasu ET (1981) Irrigated soybean production in arid and semi-arid regions. In: Judy WH, Jacksobs JA (eds) Irrigation water requirement and water stress. International Agriculture Publications, pp 82–85

Kang BK, Kim HT, Choi MS, Koo SC, Seo JH, Kim HS, Shin SO, Yun HT, Oh IS, Kulkarni KP, Lee JD (2017) Genetic and environmental variation of first pod height in Soybean [Glycine max (L.) Merr.]. Plant Breed Biotechnol 5:36–44

Karakaya Z, Odemis B (2019) Determination of relationship water-yield of inoculated and uninoculated soybean in different irrigation water level. Mustafa Kemal University J Agric Sci 24:278–289

Karam F, Masaad R, Sfeir T, Mounzer O, Rouphael Y (2005) Evapotranspiration and seed yield of field grown soybean under deficit irrigation conditions. Agric Water Manag 75:226–244

Kim MJ, Moon Y, Tou JC, Mou B, Waterland NL (2016) Nutritional value, bioactive compounds and health benefits of lettuce (Lactuca sativa L.). J Food Compos Anal 49:19–34

Kırda C, Kanber R, Tülücü K, Güngör H (1994) The use of nuclear and related technbiques in assessment of irrigation schedules of crops to increase the effective use of water in irrigation projects. In: Kirda et al (eds) Crop yield response to deficit ırrigation. Kluwer Academic Publishers, Netherlands

Kırda C, Kanber R, Tulucu K (1999) Yield response of cotton, maize, soybean, sugar beet, sunflower and wheat to deficit irrigation. In: Kirda C, Moutonnet P, Hera C, Nielsen DR (eds) Crop yield response to deficit irrigation. Kluwer Academic Publishers, Dordrecht, pp 21–38

Kirnak H, Dogan E, Turkoglu H (2010) Effect of drip irrigation intensity on soybean seed yield and quality in the semi-arid Harran plain, Turkey. Spanish J Agric Res 8:1208–1217

Kiziloglu FM, Sahin U, Kuslu Y, Tunc T (2009) Determining water–yield relationship, water use efficiency, crop and pan coefficients for silage maize in a semiarid region. Irrig Sci 27:129–137

Kumar V, Rani A, Solanki S, Hussain SM (2006) Influence of growing environment on the biochemical composition and physical characteristics of soybean seed. J Food Compos Anal 19:188–195

Lee S, Jung KY, Chun HY, Choi YD, Kang HW (2018) Response of soybean (Glycine max L.) to subsurface drip irrigation with different dripline placements at a sandy-loam soil. Korean J Soil Sci Fert 51:79–89

Lobato AKS, Neto CFO, Filho BGS, Costa RCL, Cruz FJR, Neves HKB, Lopes MJS (2008) Physiological and biochemical behavior in soybean (Glycine max cv. Sambaiba) plants under water deficit. Aust J Crop Sci 2:25–32

Maleki A, Naderi A, Naseri R, Fathi A, Bahamin S, Maleki R (2013) Physiological performance of soybean cultivars under drought stress. Bull Environ Pharmacol Life Sci 2:38–44

Malik MFA, Qureshi AS, Ashraf M, Ghafoor A (2006) Genetic variability of the main yield related characters in soybean. Int J Agric Biol 8:815–819

McKellar LB, Monjardino M, Bark R, Wittwer G, Banerjee O, Higgins A, MacLeod N, Crossman N, Prestwidge D, Laredo L (2013) Irrigation costs and benefits. A technical report to the Australian government from the CSIRO flinders and gilbert agricultural resource assessment, part of the North Queensland irrigated agriculture strategy. CSIRO Water for a Healthy Country and Sustainable Agriculture flagships, Australia

Mesa Garcia MD, Aguilera Garcia CM, Gil Hernandez A (2006) Importance of lipids in the nutritional treatment of inflammatory diseases. Nutr Hosp 21:28–41

Muchlish Adie M, Krisnawati A (2014) Soybean opportunity as source of new energy in Indonesia. Int J Renew Energy Dev 3:37–43

Oya T, Nepomuceno AL, Neumaier N, Farias JRB, Tobita S, Ito O (2004) Drought tolerance characteristics of Brazilian soybean cultivars—evaluation and characterization of drought tolerance of various Brazilian soybean cultivars in the field. Plant Prod Sci 7:129–137

Ozkara MM (1991) Water consumption of cecond-crop soybean in Menemen region. Menemen Agric Res Inst Publ 170:1–10

Park H (2012) Modifying the fatty acid profile of soybean oil for nutritional and industrial applications. PhD Thesis, University of Nebraska, USA

Payero JO, Melvin SR, Irmak S (2005) Response of soybean to deficit irrigation in the semi-arid environment of west-central Nebraska. Trans Am Soc Agric Eng 48:2189–2203

Pejic B, Maksimovic L, Cimpeanu S, Bucur D, Milic S, Cupina B (2011) Response of soybean to water stress at specific growth stages. J Food Agric Environ 9:280–284

Ramgiry SR, Raha P, Tiwari VN (1998) Genetic analysis of yield and quality attributes in soybean Merrill Adv. Plant Sci 11:83–86

Rosegrant MW, Cai X, Cline SA (2002) World water and food to 2025: dealing with scarcity. International Food Policy Research Institute, Washington, D.C, USA

Rotundo JL, Westgate ME (2009) Meta-analysis of environmental effects on soybean seed composition. F Crop Res 110:147–156

Saab MTA, Albrizio R, Nangia V, Karam F, Rouphael Y (2014) Developing scenarios to assess sunflower and soybean yield under different sowing dates and water regimes in the Bekaa valley (Lebanon): simulations with Aquacrop. Int J Plant Prod 8:457–482

Schlegel AJ, Assefa Y, O'Brien D, Lamm FR, Haag LA, Stone LR (2016) Comparison of corn, grain sorghum, soybean, and sunflower under limited irrigation. Agron J 108:1–10

Schneekloth JP, Klocke NL, Hergert GW, Martin DL, Clark RT (1991) Crop rotations with full and limited irrigation and dryland management. Trans of the ASAE 34:2372–2380

Scott HD, Ferguson JA, Wood LS (1987) Water use, yield, and dry matter accumulation by determinate Soybean grown in a humid Region. Agron J 79:870–875

Sincik M, Candogan BN, Demirtas C, Büyükcangaz H, Yazgan S, Göksoy AT (2008) Deficit irrigation of soya bean [Glycine max (L.) Merr.] in a sub-humid climate. J Agron Crop Sci 194:200–205

Sionit N, Kramer PJ (1977) Effect of water stress during different stages of growth of of soybean. Agron J 70:619–623

Smiciklas KD, Mullen RE, Carlson RE, Knapp AD (1992) Soybean seed quality response to drought stress and pod position. Agron J 84:166–170

Smith P, Howden M, Krug T, Masson-Delmotte V, Mbow C, Pӧrtner HO, Reisinger A, Canadell J, O'Brien P (2017) Bridging the gap—carbon dioxide removal. In: Christensen J et al (eds) The UNEP emissions Gap report 2017: a UN environment synthesis report. UNEP, Nairobi, Kenya, pp 58–66

Specht JE, Elmore RW, Eisenhauer DE, Klocke NW (1989) Growth stage scheduling criteria for sprinkler-irrigated soybeans. Irrig Sci 10:99–111

Specht JE, Chase K, Macrander M, Graef GL, Chung J, Markwell JP, Germann M, Orf JH, Lark KG (2001) Soybean response to water: a QTL analysis of drought tolerance. Crop Sci 41:493–509

Ucan K, Gencoglan C (2004) The effect of water deficit on yield and yield components of sugar beet. Turkish J Agric for 28:163–172

Yazar A, Oğuzer V, Tülücü K, Arıoğlu H, Gençoğlan C, Dıker K (1991) Development of irrigation program for second product soybean by using open water surface (Class A Pan) evaporation in Harran Plain conditions. Cukurova University, Turkey (Paper no: 45)

Yordanov I, Velikova V, Tsonev T (2000) Plant responses to drought, acclimation and stress tolerance. Photosynthetica 38:171–186
Ethics declarations
Conflict of interest
The authors declare that they have no known competing financial interests or personal relationships that could have appeared to influence the work reported in this paper.
Additional information
Publisher's Note
Springer Nature remains neutral with regard to jurisdictional claims in published maps and institutional affiliations.
About this article
Cite this article
Aydinsakir, K., Dinc, N., Buyuktas, D. et al. Water productivity of soybeans under regulated surface and subsurface drip irrigation conditions. Irrig Sci (2021). https://doi.org/10.1007/s00271-021-00744-0
Received:

Accepted:

Published: