Abstract
This work aimed at verifying the usefulness of the use of biofertilizer in the fertigation through a micro-sprinkler irrigation system. This work was performed in the experimental field of Embrapa Cassava and Fruit growing, in Cruz das Almas, Bahia, Brazil, with the duration of 380 days. The experimental design was in randomized blocks with three repetitions, in a scheme of sub-subdivided plots. The plots consisted on the number of days after the beginning of the application of treatments; the subplots consisted on the different outflows of the emitters which were 30, 40, 50, and 70 L h−1; and the sub-subplots were the concentrations of 50 and 75% of the biofertilizer. The assessed variables were: relative outflow, clogging degree and water distribution uniformity coefficient of the emitters. The analysis of variance showed interaction between the different outflow of the emitters and the concentrations of biofertilizer for all the variables. The emitters' water distribution uniformity coefficient decreased with the time, with a greater decrease for the emitters with outflow of 30 L h−1. The different biofertilizer concentrations did not influence the relative outflow for the micro-sprinkler with outflow of 30 L h−1. The micro-sprinklers presented, at the end of the assessment period, a clogging degree of moderate severity. The micro-sprinkler with outflow of 70 L h−1, with diameter of 1.2 mm, was the most adequate for the application of the biofertilizer with suspended solids content equal to 14.8 g L−1.
Access options
Buy single article
Instant access to the full article PDF.
USD 39.95
Price includes VAT (USA)
Tax calculation will be finalised during checkout.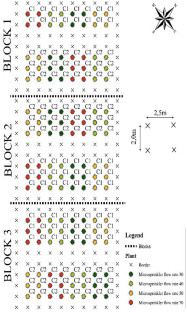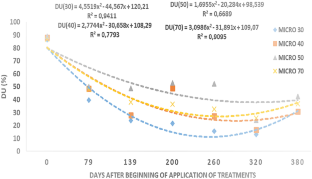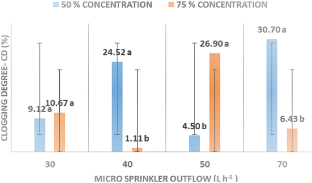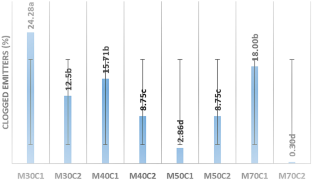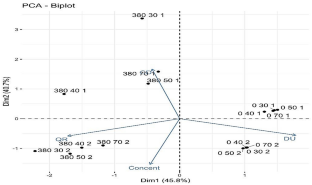 References
Agritempo (2016) Agrometeorological monitoring system. Available at: <http://www.agritempo.gov.br/agroclima/sumario?uf=RJ>. Access on 12 Nov

Batista RO, Matos AT, Cunha FF, Monaco P (2005) Obstrução de gotejadores utilizados para a aplicação de água residuária da despolpa dos frutos do cafeeiro. Irriga 10:299–305

Bralts VF (1986) Field performance and evaluation. In: Nakayama FS, Bucks DA (Eds.) Trickle irrigation for crop production. Development in Agricultural Engineering. Elsevier, Amsterdam 1: 216–240

Cavalcante LF, Cavalcante ÍHL, Santos GD (2008) Micronutrient and sodium foliar contentes of yellow passion plants as function of biofertilizers. Fruits 60:1–8

Coelho EF, De Oliveira RC, Pamponet AJM (2013) Necessidades hídricas de bananeira tipo Terra em condições de tabuleiros costeiros. Pesq Agropec Bras Brasília 48(9):1260–1268. https://doi.org/10.1590/S0100-204X2013000900010

Conceição MAF, Coelho RD (2004) Efeito do vento sobre a distribuição de água por microaspersores dan 2001. Irriga Botucatu 9(1):62–71

Cunha FF, Matos AT, Batista RO, Lo MPA (2006) Uniformidade de distribuição em sistemas de irrigação por gotejamento utilizando água residuária da despolpa dos frutos do cafeeiro. Acta Sci Agron 28(1):143–147

Cunha FN, Silva NF Da, Teixeira MB, Moura LMF De; Cabral Filho FR, Gomes FHF (2016) Grau de entupimento de um sistema de gotejamento subsuperficial na cultura do pinhão-manso (Jatropha curcas L.). Revista Brasileira de Agricultura Irrigada, 10 (3): 695–704

de Carvalho LCC, Coelho RD, Teixeira MB, Cunha FN, da Silva NF (2014) Comportamento de gotejadores submetidos aplicação de ferro solúvel, sólidos em suspensão e fitoplâncton. Rev Bras Agric Irr 8(6):538–547

de Souza JAR, Denículi W, Batista RO, Val JCC, de Matos AT (2005) Suscetibilidade ao entupimento de microaspersores operando com água residuária de bovinocultura. Engenharia Na Agricultura 13(3):155–160

de Souza JAR, Denículi W, de Matos AT, Batista RO, Val JCC (2006) Suscetibilidade ao entupimento de microaspersores operando com água residuária de avicultura. Engenharia Na Agricultura 14(1):23–31

Ferreira DF (2011) Sisvar: A computer statistical analysis system. Ciência e Agrotecnologia 35(6):1039–1042

Fischer Filho JA, Dalri AB, Dos Santos M G, Zanini JR, De Faria R T (2017) Non-pressure compensating emitters using treated sewage effluent for irrigation. Ciência Rural. https://doi.org/10.1590/0103-8478cr20151605

Frizzone JA, Freitas PSL, Rezende R, Faria MA (2012) Microirrigação: gotejamento e microaspersão. Eduem, Maringá

Guimarães MJM, Soares HR, De MPRF, Silva FE, De EF (2015) Desempenho hidráulico e perfil de distribuição de água de emissores tipo microaspersor multifuncional. Revista Brasileira De Agricultura Irrigada 9(6):383–391

Keller J, Karmeli D (1974) Trickle irrigation design parameters. Trans ASAE Saint Joseph 17(4):678–684

Morata GT, Dantas GF, Dalri AB, Palaretti LF, Faria RT, Santos GO (2014) Entupimento de gotejadores com uso de efluente de esgoto tratado sob dois sistemas de filtragem. Revista Brasileira De Agricultura Irrigada 8:86–97

R Development Core Team (2019) R Foundation for Statistical Computing. Austria, Vienna

Santos ACV (1992) Biofertilizante líquido: o defensivo agrícola da natureza. 2 ed. rev. EMATER-RIO, Niterói

Santos CGF, Lima VLA, Matos JA, Van Haandel AC, Azevedo CAV (2003) Efeito de uso de águas residuárias sobre a vazão de microaspersores. Revista Brasileira De Engenharia Agrícola e Ambiental 7(3):577–580

Santos HG, Jacomine PKT, Anjos LHC Dos, Oliveira VA DE, Lumbreras JF, Coelho MR, Almeida JA DE, Cunha TJF, Oliveira J DE (eds.) (2013) Brazilian system of soil classification. 3. ed. rev. ampl. Brasília, DF: Embrapa, 353 p.

Silva AF, Pinto JM, França CRRS, Fernandes SC, Gomes TC de A, Silva MSL da, Matos ANB (2007) Preparo e Uso de Biofertilizantes Líquidos. Comunicado técnico, 130. Online. ISSN 1808–9984. http://www.infoteca.cnptia.embrapa.br/infoteca/handle/doc/339493

Souza JLde, Resende P (2006) Manual de horticultura orgânica. 2 ed. Atual. Aprenda fácil, Viçosa

Timm PJ, Gomes JCC, Morselli TB (2004) Insumos para agroecologia: Pesquisa em vermicompostagem e produção de biofertilizantes líquido. Revista Ciência Ambiente 29:131–140

Tripathi VK, Rajput TBS, Patel N (2016) Biometric properties and selected chemical concentration of cauliflower influenced by wastewater applied through surface and subsurface drip irrigation system. J Clean Prod 139(1):396–406
Acknowledgements
We thank FAPESB for providing the scholarship for the development of this work.
Ethics declarations
Conflict of interest
The authors declare that they have no conflict of interest.
Additional information
Publisher's Note
Springer Nature remains neutral with regard to jurisdictional claims in published maps and institutional affiliations.
About this article
Cite this article
Barros, D.L., Coelho, E.F., de Andrade, T.P. et al. Emitters uneveness used in fertigation with biofertilizer. Irrig Sci 39, 751–758 (2021). https://doi.org/10.1007/s00271-021-00743-1
Received:

Accepted:

Published:

Issue Date: