Abstract
One of the greatest challenges in recent years is providing enough food to feed the increasing world population, while available freshwater resources become limited. However, effective fertilizer management has also a fundamental role to improve yield quality and quantity. A field experiment was conducted over 2 years, using a split-plot arrangement in a randomized complete block design. The experiments had three water deficit severity treatments: 25% (control), 40% (mild stress), and 55% (severe stress) depletion from the available water. The subplot division consisted of six fertilizer treatments; FR1: unfertilized (control), FR2: 140 kg ha−1 urea; FR3: 105 kg ha−1 urea + 3.3 ton ha−1 vermicompost; FR4: 70 kg ha−1 urea + 6.6 ton ha−1 vermicompost; FR5: 35 kg ha−1 urea + 10 ton ha−1 vermicompost, and FR6: 13.5 ton ha−1 vermicompost. The maximum essential oil (0.97%) was observed under mild water deficit stress. The highest antioxidant activity (DPPH) and superoxide dismutase activity could be monitored under unfertilized and 140 kg ha−1 urea fertilized conditions, respectively. Vermicompost-treated soils reduced antioxidant features, total phenol, and rosmarinic acid content under water deficit. These results indicate that mild drought stress can increases the synthesis of medical compound and vermicomposting can alleviate the impact of drought by conserving soil moisture and improve nutrient uptake. Therefore, the results suggest that using vermicompost as a fast-acting nitrogen amendment can improve the leaf area index.
Access options
Buy single article
Instant access to the full article PDF.
US$ 39.95
Tax calculation will be finalised during checkout.
Subscribe to journal
Immediate online access to all issues from 2019. Subscription will auto renew annually.
US$ 79
Tax calculation will be finalised during checkout.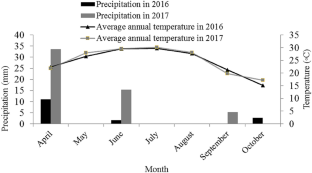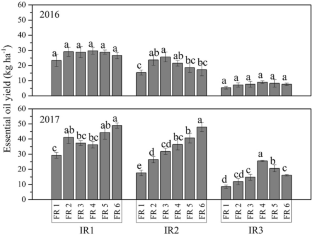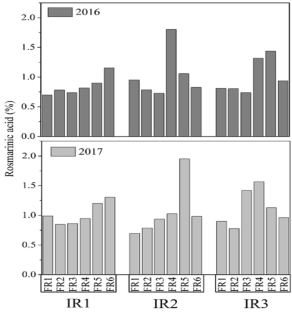 References
Afkari A (2018) An investigation to the vermicompost efficacy on the activity level of antioxidant enzymes and photosynthetic pigments of borage (Borago officinalis L.) under salinity stress conditions. Russ Agric Sci 44:310–317. https://doi.org/10.3103/S106836741804002X

Ahmadi SAK, Ebadi A, Jahanbakhsh S, Daneshian J, Siadat SA (2015) Changes in enzymatic and nonenzymatic antioxidant defense mechanisms of canola seedlings at different drought stress and nitrogen levels. Turk J Agric For 39(5):601–612. https://doi.org/10.3906/tar-1404-140

Allen RG, Pereira LS, Raes D, Smith M (1998) Crop evapotranspiration—guidelines for computing crop water requirements—FAO irrigation and drainage paper 56. FAO, Rome

Amer A, Abdallah M, Noreldin T (2019) Enhancing spearmint productivity and water use efficiency under alternative planting practices. J Cent Eur Agric 20(3):852–865. https://doi.org/10.5513/JCEA01/20.3.2282

Anwar M, Patra DD, Chand S, Kumar A, Naqvi AA, Khanuja SPS (2005) Effect of organic manures and inorganic fertilizer on growth herb and oil yield, nutrient accumulation, and oil quality of French basil. Commun Soil Sci Plant Anal 36:1737–1746. https://doi.org/10.1081/CSS-200062434

Attarzadeh M, Balouchi H, Rajaie M, Dehnavi MM, Saleh A (2020) Improving growth and phenolic compounds of Echinacea purpurea root by integrating biological and chemical resources of phosphorus under water deficit stress. Ind Crop Prod 115:112763. https://doi.org/10.1016/j.indcrop.2020.112763

Bagal UR, Leebens Mack JH, Walter Lorenz W, Dean JFD (2012) The phenylalanine ammonia lyase (PAL) gene family shows a gymnosperm specific line age. BMC Genom 13(3):1471–2164. https://doi.org/10.1186/1471-2164-13-S3-S1

Bajeli J, Tripathi Sh, Kumar A, Tripathi A, Upadhyay RK (2016) Organic manures a convincing source for quality production of Japanese mint (Mentha arvensis L.). Ind Crop Prod 83:603–606. https://doi.org/10.1016/j.indcrop.2015.12.064

Bakhtiar Z, Mirjalili MH, Sonboli A, Farimani MM, Ayyari M (2014) In vitro propagation, genetic and phytochemical assessment of Thymus persicusa medicinally important source of pentacyclic triterpenoids. Biologia 69:594–603. https://doi.org/10.2478/s11756-014-0346-z

Bettaieb I, Hamrouni-Sellami I, Bourgou S, Limam F, Marzouk B (2011) Drought effects on polyphenol composition and antioxidant activities in aerial parts of Salvia officinalis L. Acta Physiol Plant 33:1103–1111. https://doi.org/10.1007/s11738-010-0638-z

British Pharmacopoeia 1993, H.M. Stationery Office, London, 1993, vol. II, p. 1043

Cakmak I, Horst W (1991) Effect of aluminium on lipid peroxidation, superoxide dismutase, catalase and peroxidase activities in root tip of soybean (Glysin max). Plant Physiol 83:463–468. https://doi.org/10.1111/j.1399-3054.1991.tb00121.x

Caser M, Chitarra W, D'Angiolillo F, Perrone I, Demasi S, Lovisolo C, Pistelli L, Pistelli L, Scariot V (2019) Drought stress adaptation modulates plant secondary metabolite production in Salvia dolomitica Codd. Ind Crop Prod 129:85–96. https://doi.org/10.1016/j.indcrop.2018.11.068

Chen Y, Guo Q, Liu L, Liao L, Zhu Z (2011) Influence of fertilization and drought stress on the growth and production of secondary metabolites in Prunella vulgaris L. J Med Plant Res 5(9):1749–1755

Chiappero J, Cappellari LR, Alderete LS, Palermo T, Banchio E (2019) Plant growth promoting rhizobacteria improve the antioxidant status in Mentha piperita grown under drought stress leading to an enhancement of plant growth and total phenolic content. Ind Crop Prod 139:111553. https://doi.org/10.1016/j.indcrop.2019.111553

Doorenbos J, Pruitt WO (1977) Guidelines for predicting crop water requirements: irrigation drainage paper 24. Food and Agricultural Organization of the United Nations, Rome

Emami Bistgani Z, Siadat S, Bakhshandeh A, Ghasemi Pirbalouti A, Hashemi M, Maggi F, Morshedloo MR (2018) Application of combined fertilizers improves biomass, essential oil yield, aroma profile, and antioxidant properties of Thymus daenensis Celak. Ind Crop Prod 121:434–440. https://doi.org/10.1016/j.indcrop.2018.05.048

FAO (2017) (Food and Agricultural Organization). FAOSTAT database for agriculture. http://www.fao.org/faostat/en/#cpmpare

Fathi T, Golchin A, Safikhani F (2012) Effect of drought stress and vermicompost on Clary Sage. Ann Biol Res 3(7):3346–3349

Fejér J, Gruľová D, De Feo V (2017) Biomass production and essential oil in a new bred cultivar of peppermint (Mentha × piperita L.). Ind Crop Prod 109:812–817. https://doi.org/10.1016/j.indcrop.2017.09.034

Figueroa-Perez MG, Rocha-Guzman NE, Perez-Ramírez IF, Mercado-Silva E, Reynoso-Camacho R (2014) Metabolite profile, antioxidant capacity, and inhibition of digestive enzymes in infusions of peppermint (Mentha piperita) grown under drought stress. J Agric Food Chem 62:12027–12033. https://doi.org/10.1021/jf503628c

Gao LP, Wei HL, Zhao HS, Xiao SY, Zheng RL (2005) Antiapoptotic and antioxidant effects of rosmarinic acid in astrocytes. Pharmazie 60:62–65

Ghanati F, Morita A, Yokota H (2002) Induction of suberin and increase of liginin content by exess boron in Tabacco cell. Soil Sci Plant Nutr 48(3):357–364. https://doi.org/10.1080/00380768.2002.10409212

Gharibi S, Sayed Tabatabaei BE, Saeidi G, Hossein Goli SA (2015) Effect of drought stress on total phenolic, lipid peroxidation, and antioxidant activity of Achillea species. Appl Biochem Biotechnol. https://doi.org/10.1007/s12010-015-1909-3

Ghiasy-Oskoee M, Agha Alikhani M, Sefidkon F, Mokhtassi-Bidgoli A, Ayyari M (2018) Blessed thistle agronomic and phytochemical response to nitrogen and plant density. Ind Crop Prod 122:566–573. https://doi.org/10.1016/j.indcrop.2018.06.027

Giannopolitis C, Ries S (1977) Superoxid desmutase. I. Occurence in higher plant. Plant Physiol 59:309–314. https://doi.org/10.1104/pp.59.2.309

Govahi M, Ghalavand A, Nadjafi F, Sorooshzadeh A (2015) Comparing different soil fertility systems in Sage (Salvia officinalis) under water deficiency. Ind Crop Prod 74:20–27. https://doi.org/10.1016/j.indcrop.2015.04.053

Heydari A, Hadian J, Esmaeili H, Kanani MR, Mirjalili MH, Sarkhosh A (2019) Introduction of Thymus daenensis into cultivation: analysis of agro-morphological, phytochemical and genetic diversity of cultivated clones. Ind Crop Prod 131:14–24. https://doi.org/10.1016/j.indcrop.2019.01.033

Huang J, Gu M, Lai Z, Fan B, Shi K, Zhou YH, Yu JQ, Chen Z (2010) Functional analysis of the Arabidopsis PAL gene family in plant growth, development, and response to environmental stress. Plant Physiol 153(4):1526–1538. https://doi.org/10.1104/pp.110.157370

Jackson MB, Ishizawa K, Ito O (2009) Evolution and mechanisms of plant tolerance to flooding stress. Ann Bot 103:137–142. https://doi.org/10.1093/aob/mcn242

Jakovljević D, Stanković M, Bojović B, Topuzović M (2017) Regulation of early growth and antioxidant defense mechanism of sweet basil seedlings in response to nutrition. Acta Physiol Plant 39:243. https://doi.org/10.1007/s11738-017-2548-9

James LG (1988) Principles of farm irrigation system design. Wiley, New York

Keshavarz H, Modares-Sanavy SAM, Mahdipour Afra M (2018) Organic and chemical fertilizer affected yield and essential oil of two mint species. J Essent Oil Bear Plant 21(6):1674–1681. https://doi.org/10.1080/0972060X.2018.1497545

Krol A, Amarowicz R, Weidner S (2014) Changes in the composition of phenolic compounds and antioxidant properties of grapevine roots and leaves (Vitis vinifera L.) under continuous of long-term drought stress. Acta Physiol Plant 36:1491–1499. https://doi.org/10.1007/s11738-014-1526-8

Lawrence BM (2006) Mint: the genus Mentha. CRC Press, Boca Raton. https://doi.org/10.1201/9780849307980

Liu J, Wan Y, Zhao Z, Chen H (2013) Determination of the content of rosmarinic acid by HPLC and analytical comparison of volatile constituents by GC-MS in different parts of Perilla frutescens L. Britt. Chem Cent J 7(1):61. https://doi.org/10.1186/1752-153X-7-61

Lujan-Hidalgo MC, Perz-Gomez LE, Abud-Archila M, Meza-Gordillo R, Ruiz-Valdiziezo VM, Dendooven L, Gurierrez-Miceli FA (2015) Growth, phenolic content and antioxidant activity in Chincuya (Annona purpurea Moc and Sesse ex Dunal) cultivated with vermicompost and phosphate rock. Compost Sci Util 23:276–283. https://doi.org/10.1080/1065657X.2015.1046617

Marcum DB, Hanson BR (2006) Effect of irrigation and harvest timing on peppermint oil yield in California. Agric Water Manag 82(1/2):118–128. https://doi.org/10.1016/j.agwat.2005.07.022

Mokhtassi-Bidgoli A, AghaAlikhani M, Nassiri-Mahallati M, Zand E, GonzalezAndujar JL, Azari A (2013) Agronomic performance, seed quality and nitrogen uptake of Descurainia sophia in response to different nitrogen rates and water regimes. Ind Crop Prod 44:583–592. https://doi.org/10.1016/j.indcrop.2012.09.018

Moradbeygi H, Jamei R, Heidari R, Darvishzadeh R (2020) Fe2O3 NPs induced biochemical responses and expression of genes involved in rosmarinic acid. Biosynthesis pathway in Moldavian balm under salinity stress. Physiol Planta. https://doi.org/10.1111/ppl.13077

Nasiri-Bezenjani MA, Riahi-Madvar A, Baghizadeh A, Ahmadi AR (2014) Rosmarinic acid production and expression of tyrosine aminotransferase gene in Melissa officinalis seedlings in response to yeast extract. J Agric Sci Technol 16:921–930

Nichols SN, Hofmann RW, Williams WM (2015) Physiological drought resistance and accumulation of leaf phenolics in white clover interspecific hybrids. Environ Exp Bot 119:40–47. https://doi.org/10.1016/j.envexpbot.2015.05.014

Pandey V, Patra DD (2015) Crop productivity, aroma profile and antioxidant activity in Pelargonium graveolens L'Hér. under integrated supply of various organic and chemical fertilizers. Ind Crops Prod 67:257–263. https://doi.org/10.1016/j.indcrop.2015.01.042

Pandey V, Patel A, Patra D (2015) Amelioration of mineral nutrition, productivity, antioxidant activity and aroma profile in marigold (Tagetes minuta L.) with organic and chemical fertilization. Ind Crop Prod 76:378–385. https://doi.org/10.1016/j.indcrop.2015.07.023

Pandey V, Patel A, Patra DD (2016) Integrated nutrient regimes ameliorate crop productivity, nutritive value, antioxidant activity and volatiles in basil (Ocimum basilicum L.). Ind Crop Prod 87:124–131. https://doi.org/10.1016/j.indcrop.2016.04.035

Rahimi Y, Taleei A, Ranjbar M (2017) Changes in the expression of key genes involved in the biosynthesis of menthol and menthofuran in Mentha piperita L. under drought stress. Acta Physiol Plant 39:203

Riachi LG, De Maria CAB (2014) Peppermint antioxidants revisited. Food Chem. https://doi.org/10.1016/j.foodchem.2014.12.028

Sahandi MS, Mehrafarin A, Khalighi-Sigaroodi F, Sharifi M (2019) Changes in essential oil content and composition of peppermint (Mentha piperita L.) in responses to nitrogen application. J Med Plant 2(72):81–97. https://doi.org/10.29252/jmp.4.72.81

Salama ZA, El Baz FK, Gaafar AA, Zaki MF (2015) Antioxidant activities of phenolics, flavonoids and vitamin C in two cultivars of fennel (Foeniculum vulgare Mill.) in responses to organic and bio-organic fertilizers. J Saudi Soc Agric Sci 14:91–99. https://doi.org/10.1016/j.jssas.2013.10.004

Sekmen AH, Turkan I, Takio S (2007) Differential responses of antioxidative enzymes and lipid peroxidation to salt stress in salt-tolerant Plantago maritimea and salt-sensitive Plantago media. Acta Physiol Plant 131:399–411. https://doi.org/10.1111/j.1399-3054.2007.00970.x

Selseleh M, Hadian J, Ebrahimi SN, Sonboli A, Georgiev MI, Mirjalili MH (2019) Metabolic diversity and genetic association between wild populations of Verbascum songaricum (Scrophulariaceae). Ind Crop Prod 137:112–125. https://doi.org/10.1016/j.indcrop.2019.03.069

Singh M, Guleria N (2013) Influence of harvesting stage and inorganic and organic fertilizers on yield and oil composition of rosemary (Rosmarinus officinalis L.) in a semi-arid tropical climate. Ind Crop Prod 42:37–40. https://doi.org/10.1016/j.indcrop.2012.04.054

Singh R, Singh R, Soni K, Singh S, Chauhan UK, Kalra A (2013) Vermicompost from biodegraded distillation waste improves soil properties and essential oil yield of Pogostemon cablin (patchouli) Benth. Appl Soil Ecol 70:48–56. https://doi.org/10.1016/j.apsoil.2013.04.007

Singh R, Singh P, Singh H, Raghubanshi AS (2019) Impact of sole and combined application of biochar, organic and chemical fertilizers on wheat crop yield and water productivity in a dry tropical agro-ecosystem. Biochar 1:229–235. https://doi.org/10.1007/s42773-019-00013-6

Tan SC (1980) Phenylalanine ammonia-lyase and the phenylalanine ammonia-lyase inactivating system: effects of light, temperature and mineral deficiencies. Funct Plant Physiol 7(2):159–167. https://doi.org/10.1071/PP9800159

Temraz A, El-Tantawy WH (2008) Characterization of antioxidant activity of extract from Artemisia vulgaris. Pak J Pharm Sci 21(4):321–326

Thorsen MA, Hildebrandt KS (2003) Quantitative determination of phenolic diterpenes in rosemary extracts. Aspects of accurate quantification. J Chromatogr A 995:119–125. https://doi.org/10.1016/S0021-9673(03)00487-4

Trócsányi E, György Z, Inotai K, Szabó K, Pluhár Z, Radácsi P, Malekzadeh M, Németh-Zámboriné E (2015) Enhanced rosmarinic acid accumulation and rosmarinic acid synthase gene expression under drought stress in thyme (Thymus vulgaris). Planta Med 81:246. https://doi.org/10.1055/s-0035-1565623

Turtola S, Manninen AM, Rikala R, Kainulainen P (2003) Drought stress alters the concentration of wood terpenoids in Scots pine and Norway spruce seedlings. J Chem Ecol 29:1981–1985. https://doi.org/10.1023/A:1025674116183

Xu L, Yan D, Ren X, Wei Y, Zhou J, Zhao H, Liang M (2016) Vermicompost improves the physiological and biochemical responses of blessed thistle (Silybum marianum Gaertn.) and peppermint (Mentha haplocalyx Briq) to salinity stress. Ind Crop Prod 94:574–585. https://doi.org/10.1016/j.indcrop.2016.09.023
Acknowledgements
The authors thank Dr. Graeme Hammer (Professor in Crop Science at the Centre for Crop Science in the Queensland Alliance for Agriculture and Food Innovation, QAAFI, Australia) and Dr. David J. Cann (Department of Animal, Plant and Soil Sciences, La Trobe University, Melbourne, VIC, Australia) for critical reading and editing of the manuscript.
Funding
This research did not receive any specific grant from funding agencies in the public, commercial, or not-for-profit sectors. The authors declare no competing financial interest.
Ethics declarations
Conflict of interest
The authors declare no conflict of Interest.
Additional information
Publisher's Note
Springer Nature remains neutral with regard to jurisdictional claims in published maps and institutional affiliations.
About this article
Cite this article
Keshavarz Mirzamohammadi, H., Modarres-Sanavy, S.A.M., Sefidkon, F. et al. Irrigation and fertilizer treatments affecting rosmarinic acid accumulation, total phenolic content, antioxidant potential and correlation between them in peppermint (Mentha piperita L.). Irrig Sci (2021). https://doi.org/10.1007/s00271-021-00729-z
Received:

Accepted:

Published: