Abstract
Having an accurate yet simple method to estimate crop evapotranspiration (ETC) is a vital component of reliable irrigation scheduling. In this study, two versions of the two-source energy balance (TSEB) model: the TSEB model with the Priestley–Taylor equation (TSEB-PT) and the Penman–Monteith equation (TSEB-PM), were used to estimate ETC of dry edible beans in western Nebraska. Compared with previous studies, this study is unique in that a Visual Basic software—Crop Canopy Image Analyzer (CCIA) was developed to process digitally captured RGB canopy images to obtain necessary canopy cover (CC) parameters for the TSEB models such as CC percentage and leaf shape factor (leaf area divided by its perimeter). Software-estimated CC percentage was closely correlated with commercial sensor-derived CC percentage with an R2 of 0.96. Additionally, estimated leaf shape factor was closely correlated with measured leaf shape factor with R2 of 0.99. Both TSEB-PT and TSEB-PM models estimated ETC well for fully irrigated dry edible beans with a root-mean-square error (RMSE) that ranged from 0.95 to 1.63 mm day−1 in 2018, and 0.75 to 1.35 mm day−1 in 2019, as compared to ETC estimated from FAO56. Furthermore, ETC from TSEB-PT and TSEB-PM were compared with a soil water balance-derived ETC and the RMSE ranged from 2.03 to 9.65 mm in an approximate 1-week period under four irrigation treatments ranging from dry land to fully irrigated. The proposed methods in this study, by integrating digital image processing with TSEB models, have great potential to be automated and used in field-scale operations for various irrigation management scenarios of many crops.
Access options
Buy single article
Instant access to the full article PDF.
US$ 39.95
Tax calculation will be finalised during checkout.
Subscribe to journal
Immediate online access to all issues from 2019. Subscription will auto renew annually.
US$ 79
Tax calculation will be finalised during checkout.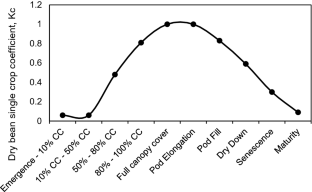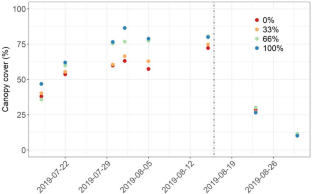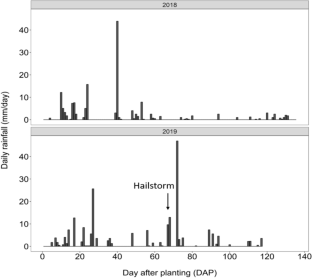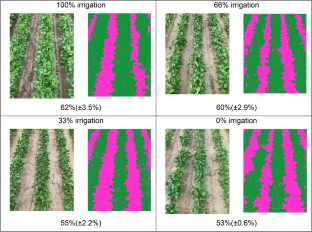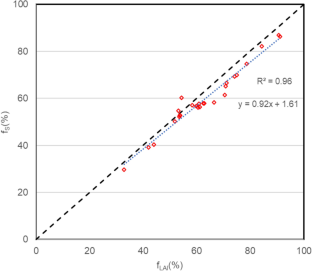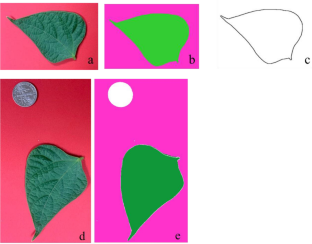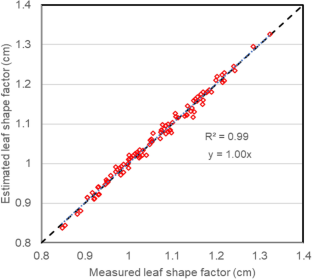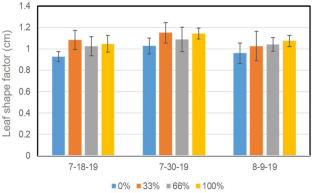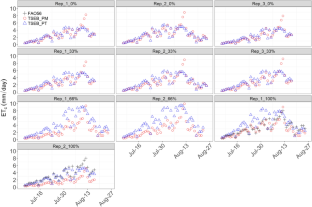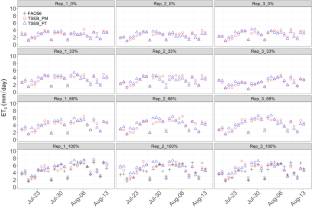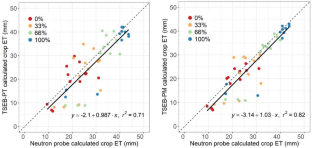 References
Allen RG, Pereira LS, Raes D, Smith M (1998) Crop evapotranspiration—Guidelines for computing crop water requirements—FAO Irrigation and drainage paper 56. Irrigation and Drainage, 1–15

Allen RG, Irmak A, Trezza R, Hendrickx JM, Bastiaanssen W, Kjaersgaard J (2011) Satellite-based ET estimation in agriculture using SEBAL and METRIC. Hydrol Process 25(26):4011–4027

Benli B, Bruggeman A, Oweis T, Üstün H (2010) Performance of Penman-Monteith FAO56 in a semiarid highland environment. J Irrigation Drainage Eng 136(11):757–765

Canny J (1986) A computational approach to edge detection. IEEE Trans Pattern Anal Mach Intell 8(6):679–698

Colaizzi PD, O'Shaughnessy SA, Gowda PH, Evett SR, Howrll TA, Kustas WP (2010) Radiometer footprint model to estimate sunlit and shaded components for tow crops. Agron J 102:942–955

Colaizzi PD, Kustas WP, Anderson MC, Agam N, Tolk JA, Evett SR, Howell TA, Gowda PH, O'Shaughnessy SA (2012) Two-source energy balance model estimates of evapotranspiration using component and composite surface temperatures. Adv Water Resour 50:134–151

Colaizzi PD, Agam N, Tolk JA, Evett SR, Howell TA, Gowda PH, O'Shaughnessy SA, Kustas WP, Anderson MC (2014) Two-source energy balance model to calculate E, T, and ET: comparison of Priestley-Taylor and Penman-Monteith formulations and two time scaling methods. Trans ASABE 57(2):479–498

Devroye L, Gyorfi L, Lugosi G (1996) A probabilistic theory of pattern recognition, 1st edn. Springer, New York

Dhungel R, Allen RG, Trezza R, Robison CW (2016) Evapotranspiration between satellite overpasses: methodology and case study in agricultural dominant semi-arid areas. Meteorol Appl 23(4):714–730

Dhungel R, Aiken R, Colaizzi PD, Lin X, O'Brien D, Baumhardt RL, Brauer DK, Marek GW (2018) Evaluation of uncalibrated energy balance model (BAITSS) for estimating evapotranspiration in a semiarid, advective climate. Hydrol Process 33(15):2110–2130

Di Virgilio N, Monti A, Venturi G (2007) Spatial variability of switchgrass (Panicum virgatum L.) yield as related to soil parameters in a small field. Field Crops Res 101(2):232–239

Diarra A, Jarlan L, Er-Raki S, Le Page M, Aouade G, Tavernier A, Boulet G, Ezzahar J, Merlin O, Khabba S (2017) Performance of the two-source energy budget (TSEB) model for the monitoring of evapotranspiration over irrigated annual crops in North Africa. Agric Water Manag 193:71–88

Evett SR, Tolk JA, Howell TA (2006) Soil profile water content determination. Vadose Zone J 5(3):894–907

Evett SR, Schwartz RC, Casanova JJ, Heng LK (2012) Soil water sensing for water balance, ET and WUE. Agric Water Manag 104:1–9

French AN, Hunsaker DJ, Thorp KR (2015) Remote sensing of evapotranspiration over cotton using the TSEB and METRIC energy balance models. Remote Sens Environ 158:281–294

Hoffman H, Nieto H, Jensen R, Guzinski R, Zarco-Tejada P, Friborg T (2016) Estimating evaporation with thermal UAV data and two-source energy balance models. Hydrol Earth Syst Sci 20:697–713

Kamble B, Kilic A, Hubbard K (2013) Estimating crop coefficients using remote sensing-based vegetation index. Remote Sens 5(4):1588–1602

Kravchenko AN, Bullock DG (2000) Correlation of corn and soybean grain yield with topography and soil properties. Agron J 92(1):75–83

Kustas WP, Norman JM (1999) Evaluation of soil and vegetation heat flux predictions using a simple two-source model with radiometric temperatures for partial canopy cover. Agric Forest Meteorol 94:13–29

Kwon H, Choi M (2011) Error assessment of climate variables for FAO-56 reference evapotranspiration. Meteorol Atmos Phys 112(1–2):81–90

Li F, Kustas WP, Prueger JH, Neale CMU, Jackson TJ (2005) Utility of remote sensing based two-source energy balance model under low and high vegetation cover conditions. J Hydromet 6:878–891

Liang W-Z, Kirk KR, Greene JK (2018) Estimation of soybean leaf area, edge, and defoliation using image analysis. Comput Electron Agric 150:41–51

Malone S, Herbert DM, Holshouser DL (2002) Evaluation of the LAI-2000 plant canopy analyzer to estimate leaf area in manually defoliated soybean. J Agronomy 94:1012–1019

Neale CMU, Bausch WC, Heermann DF (1990) Development of reflectance-based crop coefficients for corn. Trans ASAE 32(6):1891–1900

Nieto H, Kustas WP, Torres-Rúa A, Alfieri JG, Gao F, Anderson MC, White WA, Song L, del Mar AM, Prueger JH, McKee M (2019) Evaluation of TSEB turbulent fluxes using different methods for the retrieval of soil and canopy component temperatures from UAV thermal and multispectral imagery. Irrig Sci 37(3):389–406

Norman JM, Kustas WP, Humes KS (1995) A two-source approach for estimating soil and vegetation energy fluxes from observations of directional radiometric surface temperature. Agric Forestry Meteorol 77:263–293

North Platte Natural Resources District (2019) Rules & Regulations For the Enforcement of the Nebraska Ground Water Management and Protection Act and the Nebraska Chemigation Act

O'Neal ME, Landis DA, Issacs R (2002) An inexpensive, accurate method for measuring leaf area and defoliation through digital image analysis. J Econ Entomol 95(6):1190–1194

Papadavid G, Hadjimitsis DG, Toulios L, Michaelides S (2013) A modified SEBAL modeling approach for estimating crop evapotranspiration in semi-arid conditions. Water Resour Manage 27(9):3493–3506

Pereira LS, Allen RG, Smith M, Raes D (2015) Crop evapotranspiration estimation with FAO56: Past and future. Agric Water Manag 147:4–20

SAS software, Version 9.4 for Windows was used for this analysis. Copyright © (2014) SAS Institute Inc. SAS and all other SAS Institute Inc. product or service names are registered trademarks or trademarks of SAS Institute Inc., Cary

Sau F, Boote KJ, Bostick WM, Jones JW, Mínguez MI (2004) Testing and improving evapotranspiration and soil water balance of the DSSAT crop models. Agron J 96(5):1243–1257

Singh RK, Irmak A, Irmak S, Martin DL (2008) Application of SEBAL model for mapping evapotranspiration and estimating surface energy fluxes in south-central Nebraska. J Irrigation Drainage Eng 134(3):273–285

Singh J, Lo T, Rudnick DR, Dorr TJ, Burr CA, Werle R, Muñoz-Arriola F (2018) Performance assessment of factory and field calibrations for electromagnetic sensors in a loam soil. Agric Water Manag 196:87–98

Sobel I (1978) Neighborhood coding of binary images fast contour following and general array binary processing. Comput Graphics Image Proc 8:127–135

Stotz HU, Pittendrigh BR, Kroymann J, Weniger K, Fritsche J, Bauke A, Mitchell-Olds T (2000) Induced plant defense responses against chewing insects: ethylene signaling reduces resistances of Arabidopsis against Egyptian cotton worm but not diamondback moth. Plant Physiol 124:1007–1019

Timmermans WJ, Kustas WP, Anderson MC, French AN (2007) An intercomparison of the surface energy balance algorithm for land (SEBAL) and the two-source energy balance (TSEB) modeling schemes. Remote Sens Environ 108(4):369–384

University of Nebraska Extension (2020) Crop Water Use by Growth Stage—Dry Beans. https://cropwatch.unl.edu/et_resources. Accessed 1 December 2020

University of Nebraska Extension, University of Wyoming Extension (2019) Recovering from 2019 Canal Breach. https://extension.unl.edu/statewide/panhandle/canal-break/. Accessed 1 December 2020

USDA (2013) Farm and Ranch Irrigation Survey

Yang Y, Qiu J, Zhang R, Huang S, Chen S, Wang H, Luo J, Fan Y (2018) Intercomparison of three two-source energy balance models for partitioning evaporation and transpiration in semiarid climates. Remote Sens 10:1149

Yonts CD, Haghverdi A, Reichert DL, Irmak S (2018) Deficit irrigation and surface residue cover effects on dry bean yield, in-season soil water content and irrigation water use efficiency in western Nebraska high plains. Agric Water Manag 199:38–147
Acknowledgements
We greatly appreciate the financial support from Nebraska Dry Bean Commission on this project. This research project is also supported by the U.S. Department of Agriculture National Institute of Food and Agriculture (Hatch project NEB-21-177, accession number 1015698).
Ethics declarations
Conflict of interest
On behalf of all authors, the corresponding author states that there is no conflict of interest.
Additional information
Publisher's Note
Springer Nature remains neutral with regard to jurisdictional claims in published maps and institutional affiliations.
About this article
Cite this article
Liang, Wz., Possignolo, I., Qiao, X. et al. Utilizing digital image processing and two-source energy balance model for the estimation of evapotranspiration of dry edible beans in western Nebraska. Irrig Sci (2021). https://doi.org/10.1007/s00271-021-00721-7
Received:

Accepted:

Published: