Abstract
The study was conducted to evaluate the economic and environmental impacts of water-saving technologies (WST) on Boro rice (Oryza sativa; var. BRRIdhan 29) farming in Bangladesh. A total of 480 farmers (80 focal and 400 control) were selected as sample from Mymensingh, Comilla, Bogra and Gaibandha districts. Focal farmers were selected purposively and a limited amount of financial support was provided to them to implement WST. On the other hand, control farmers were selected randomly. They did not receive any financial support and continued practicing conventional irrigation methods. For analyzing the data, a combination of descriptive, mathematical and statistical techniques was used. The study revealed that 62.5 and 37.5% of focal farmers adopted alternate wetting and drying (AWD) and system of rice intensification (SRI) methods, respectively, where the majority of them were within the late majority group in terms of adoption. The profitability and productivity of Boro rice, as well as water productivity, were comparatively higher for focal farmers compared to control farmers. Furthermore, focal farmers' irrigation amount for producing Boro rice  was significantly lower than control farmers. The study also revealed that focal farmers' income from rice production was 24.6% higher than control farmers. Input support, motivation, training programs and extension services are recommended to implement to raise the awareness and enrich the knowledge of the farmers on water-saving technologies.
Access options
Buy single article
Instant access to the full article PDF.
US$ 39.95
Tax calculation will be finalised during checkout.
Subscribe to journal
Immediate online access to all issues from 2019. Subscription will auto renew annually.
US$ 79
Tax calculation will be finalised during checkout.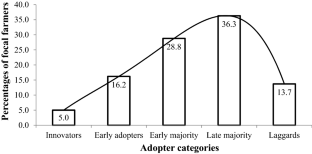 Notes
1.

1 US$ = Tk. 85 (in 5 September, 2019).
References
Alam MS, Islam MS, Salam MA, Islam MA (2009) Economics of alternate wetting and drying method of irrigation: evidences from farm level study. Agriculturists 7(1&2):82–89

Balasubramaniam P, Vijayaraghavan R, Selvaraj G (2009) An Analysis on Micro- irrigation System. Agropedia. http://agropedia.iitk.ac.in/content/analysis-micro-irrigation

Barker R, Dawe D, Inocencio A (2003) Economics of Water Productivity in Managing Water for Agriculture. Water Productivity in agriculture: limits and opportunities for improvement, CABI Publishing in association with International Water Management Institute, United Kingdom

Berbel J, Gutiérrez-Martín C, Expósito A (2018) Impacts of irrigation efficiency improvement on water use, water consumption and response to water price at field level. Agric Water Manag 203:423–429

Bouman, B. 2012. Smart Rice Cultivation: Plastic Tube Irrigation Saves Water and Boosts Harvest. Gaia Discovery. https://www.gaiadiscovery.com/agriculture-industry/smart-rice-cultivation-plastic-tube-irrigation-saves-water-a.html

Cabangon R, Lampayan R, Bouman B, Tuong TP (2014) Water saving technologies for rice production in the Asian region. Food and Fertilizer Technology Center, Taipei

Cook S, Gichuki F, Turral H (2006) Agricultural water productivity: estimation at plot, farm and basin scale. Basin Focal Project Working Paper No. 2, CGIAR Challenge Program on Water and Food. http://ageconsearch.umn.edu/bitstream/91959/2/H039742.pdf. Accessed 24 Mar 2018

DFID (2000) Sustainable livelihoods guidance sheets. Department for International Development, London

Dharmasiri LM (2009) Measuring agricultural productivity using the average productivity index (API). Sri Lanka J Adv Soc Stud 1(2):25–44

Dillon JL, Hardaker JB (1993) Farm management research for small farmer development. FAO, Rome

Duttarganvi S, Tirupataiah K, Yella RK, Sandhyrani K, Mahendra KR, Kadasiddappa M (2014) Yield and water productivity of rice under different cultivation practices and irrigation regimes. International Symposium on Integrated Water Resources Management (IWRM-2014), 19–21 February, Kerala, India

FAO (1996) Irrigation scheduling: from theory to practice. Food and agriculture Organization of the United Nations. Proceedings of the ICID/FAO Workshop on Irrigation Scheduling, 12–13 September, Rome, Italy

FAO (2013) Rice farming: saving water through alternate wetting drying (AWD) Method, Indonesia. Available at http://www.fao.org/3/ca4023en/ca4023en.pdf. Accessed 30 Oct 2019

Foster GR (2001) Keynote: soil erosion prediction technology for conservation planning. http://www.tucson.ars.ag.gov/isco/isco10/SustainingTheGlobalFarm/K005-Foster.pdf

Gujarati DN (2003) Basic econometrics. McGraw-Hill, New York

Gürel E, Tat M (2017) SWOT analysis: a theoretical review. J Int Soc Res 10(51). https://www.researchgate.net/publication/3193677_SWOT_ANALYSIS_A_THEORETICAL_REVIEW. Accessed 16 Mar 2018

HDR, 2015. Human Development Report, Work for Human Development, United Nations Development Programme, New York, United States of America

HIES (2016) Preliminary report on household income and expenditure survey, Bureau of Statistics Division, Ministry of Planning. Government of the People's Republic of Bangladesh, Dhaka

Huang Q, Wang J, Li Y (2016) Do water saving technologies save water? Empirical Evidence from North China. J Environ Econ Manag. https://doi.org/10.1016/j.jeem.2016.10.003

Husain MM, Alam MS, Kabir MH, Khan AK, Islam MM (2009) Water saving irrigation in rice cultivation with particular reference to alternate wetting and drying method: an overview. Agriculturists 7(1&2):128–136

ICIMOD (2006) System of Rice Intensification (SRI). International Centre for Integrated Mountain Development, Nepal

IFC (2014) Impact of efficient irrigation technology on small farmers. International Finance Corporation, World Bank Group, Washington, D.C., United States of America

Islam MR, Takeuchi W (2018) AWD irrigation techniques in rice paddy irrigation: a great opportunity for Bangladesh. Paper presented at IIS Forum-2018, University of Tokyo, Tokyo, Japan

Kabir MS, Salam MU, Chowdhury A, Rahman NMF, Iftekharuddaula KM, Rahman MS, Rashid MH, Dipti SS, Islam A, Latif MA, Islam AKMS, Hossain MM, Nessa B, Ansari TH, Ali MA, Biswas JK (2015) Rice vision for Bangladesh: 2050 and beyond. Bangladesh Rice J 19(2):1–18

Kammer S (2014) Factors influencing the adoption of soil and water conservation technologies: a case study of two farming communities in rural Ethiopia. MS Thesis, Department of Forest Resources, University of Washington, Seattle, Washington

Kjine JW, Barker R, Molden D (2003) Water productivity in agriculture. Centre for Agriculture and Bioscience International, Wallingford

Kumar DM, Turral H, Sharma BR, Amarasinghe U, Singh OP (2008) Water Saving and Yield Enhancing Micro Irrigation Technologies in India: When Do they Become Best Bet Technologies? Managing Water in the Face of Growing Scarcity, Inequity and Declining Returns: Exploring Fresh Approaches, Proceedings of the 7th Annual Partners' Meet of IWMI-Tata Water Policy Research program, International Crops Research Institute for the Semi-Arid Tropics (ICRISAT), Hyderabad, India

Kürschner E (2010) Water saving in rice production—dissemination, adoption and short term impacts of alternate wetting and drying (AWD) in Bangladesh. SLE Publication Series—S241, Study commissioned by the Advisory Service on Agricultural Research for Development of German Technical Cooperation (GTZ-BEAF) in collaboration with the International Rice Research Institute (IRRI)

Luo J, Rahman MW (2010) Successful Cases of Irrigation Water Management and Technological Advancement in Bangladesh. Yangling International Agri-Science Forum. https://ssrn.com/abstract=1651189

Mann HB, Whitney DR (1947) On a test of whether one of two random variables is stochastically larger than the other. Ann Math Stat 18(1):50–60

Materu ST, Shukla S, Sishodia RP, Tarimo A, Tumbo SD (2018) Water use and rice productivity for irrigation management alternatives in tanzania. Water. https://doi.org/10.3390/w10081018

Miah MTH, Hardaker JB (1988) Benefit-cost analysis of deep and shallow tubewell projects in the Tangail District in Bangladesh. Bangladesh J Agric Econ 11(1):1–3

Narayanamoorthy A, Devika N, Bhattarai M (2016) More crop and profit per drop of water: drip irrigation for empowering distressed small farmers. IIM Kozhikode Soc Manag Rev 5(1):83–90

Neogi MG, Uddin AKMS, Uddin MT, Miah MAH (2018) Alternate wetting and drying (AWD) technology: a way to reduce irrigation cost and ensure higher yields of Boro rice. J Bangladesh Agric Univ 16(1):1–4

Perry C, Steduto P, Allen RG, Burt CM (2009) Increasing productivity in irrigated agriculture: agronomic constraints and hydrological realities. Agric Water Manag 96(11):1517–1524

Rashid MM, Yasmin R (2017) Cold injury and flash flood damage in boro rice cultivation in bangladesh: a review. Bangladesh Rice J 21(1):13–25

Rashid MA, Kabir W, Khan LR, Saleh AFM, Khair MA (2009) Estimation of water loss from irrigated rice fields. SAARC J Agric 7(1):29–42

Ravichandran VK, Prakash KC, Nayar V (2015) An evaluation of the SRI on increasing yield, water productivity and profitability; experiences from TN-IAMWARM project. Irrig Drain Syst Eng. https://doi.org/10.4172/2168-9768.1000137

RDA (2015) Water saving technologies. Rural Development Academy, Sherpur

Rippin N (2016) multidimensional poverty in germany: a capability approach. Forum Soc Econ 45(2–3):230–255

Rogers EM (1995) Diffusion of innovations, 4th edn. The Free Press, New York

Samaila S, Ismail WIBW, Kassim MSM (2016) The system of rice intensification (SRI) practices and mechanization needs. Asian J Agric Sci 8(3):10–17

Sattar MA, Maniruzzaman M, Kashem MA (2009) AWD Technology for rice production in Bangladesh. National Workshop Proceedings, Bangladesh Rice Research Institute (BRRI), Gazipur, Bangladesh

Seidazimova D, Aitbayev T, Kampitova G (2016) Impact of water-saving irrigation technology on yield and quality of white cabbage varieties in the south-east Kazakhstan. International Conference on Agricultural, Civil and Environmental Engineering (ACEE-16), Istanbul, Turkey

Seigel S (1988) Non-parametric statistics for the behavioral sciences, 2nd edn. McGraw Hill, New York

Sharma SK, Mishra PK, Panse R, Jamliya G (2018) Effect of irrigation methods on yields attributes and water productivity of wheat in Vertisol of Betwa River Basin commands of Vidisha District of M.P., India. Int J Curr Microbiol Appl Sci 7(8):2670–2673

Sheehy JE, Peng S, Dobermann A, Mitchel PL, Ferrer A, Yang J, Zou Y, Zhong X, Huang J (2004) Fantastic yields in the system of rice intensification: fact or fallacy? Field Crops Res 88(1):1–8

Shelley IJ, Takahashi-Nosaka M, Kano-Nakata M, Haque MS, Inukai Y (2016) Rice cultivation in Bangladesh: present scenario, problems, and prospects. J Int Cooperat Agric Dev 14:20–29

SRI-Rice, 2010. SRI International Network and Resources Center, College of Agriculture and Life Sciences, Cornell University, New York, United States of America

Thakur AK, Rath S, Mandal KG (2013) Differential responses of system of rice intensification (SRI) and conventional flooded-rice management methods to applications of nitrogen fertilizer. Plant Soil 370(1&2):59–71

Thakur AK, Singh R, Kumar A (2014) The science behind the system of rice intensification (SRI). Research Bulletin No. 69, Directorate of Water Management (ICAR), Odisha, India

Uddin MT, Dhar AR (2016) Conservation agriculture practice and its impact on farmer's livelihood status in Bangladesh. SAARC J Agric 14(1):119–140

Uddin MT, Dhar AR (2018) Government input support on Aus rice production in Bangladesh: impact on farmers' food security and poverty situation. Agric Food Secur 7:1–15

Uddin MT, Dhar AR, Rahman MH (2017) Improving farmers' income and soil environmental quality through conservation agriculture practice in Bangladesh. Am J Agric Biol Sci 12(1):55–65

Uddin MT, Dhar AR, Hossain N (2018a) A socioeconomic study on farming practices and livelihood status of Haor farmers in Kishoreganj district: natural calamities perspective. Bangladesh J Ext Educ 30(1):27–42

Uddin MT, Goswami A, Rahman MS, Dhar AR, Khan MA (2018b) Value chain of Pangas and Tilapia in Bangladesh. J Bangladesh Agric Univ 16(3):503–512

Uddin MT, Hossain N, Dhar AR (2019) Business Prospects and Challenges in Haor Areas of Bangladesh. J Bangladesh Agric Univ 17(1):65–72

UNB (2016) United News of Bangladesh. Water Management for Agricultural Development. The Daily Star. https://www.thedailystar.net/supplements/25th-anniversary-special-part-4/water-management-agricultural-development-211999

UNB (2018) United News of Bangladesh. Water Saving Technology Vital to Lessening Pressure on Groundwater. The Independent. http://www.theindependentbd.com/arcprint/details/157450/2018-07-12

UNP (2018) United news of Pakistan. alternate wetting drying: a novel technique to save water in flooded rice. The Weekly Technology Times. https://www.technologytimes.pk/alternate-wetting-drying-water-saving-flooded-rice/

Uphoff N (2003) Higher yields with fewer external inputs? The system of rice intensification and potential contributions to agricultural sustainability. Int J Agric Sustain 1(1):38–50

Uphoff N (2004) System of rice intensification responds to 21st century needs. Rice Today. http://tatiek.lecture.ub.ac.id/files/2009/08/sri-3.pdf

Wart JV, Kersebaum C, Peng S, Milner M, Cassman KG (2013) Estimating crop yield potential at regional to national scales. Field Crops Res 143:34–43

Wu X (1998) Development of water saving irrigation technique on Large Paddy Rice Area in Guangxi Region of China. International Commission for Irrigation and Drainage. http://www.icid.org/wat_xijin.pdf

Yang WY (1965) Methods of farm management investigation for improving farm productivity. Food and Agriculture Organization of the United Nations, Rome

Zhi M (2002) Water efficient irrigation and environmentally sustainable irrigated rice production in china. International Commission on Irrigation and Drainage. http://www.icid.org/wat_mao.pdf
Acknowledgement
The authors are thankful to the Ministry of Education (MoE), Government of the People's Republic of Bangladesh for funding to conduct this study.
Ethics declarations
Conflict of interest
On behalf of all authors, the corresponding author states that there is no conflict of interest.
Additional information
Publisher's Note
Springer Nature remains neutral with regard to jurisdictional claims in published maps and institutional affiliations.
Communicated by Alberto Garrido.
About this article
Cite this article
Uddin, M.T., Dhar, A.R. Assessing the impact of water-saving technologies on Boro rice farming in Bangladesh: economic and environmental perspective. Irrig Sci 38, 199–212 (2020). https://doi.org/10.1007/s00271-019-00662-2
Received:

Accepted:

Published:

Issue Date: