Abstract
In the U.S., container plant growers use high-quality water sources which can be expensive. The use of recycled irrigation runoff water could save growers money. The objective of this study was to compare the cost of recycled irrigation water with the cost of untreated municipal water at a nursery in Southern California over multiple years. Water cost for municipal (Western) supplied water ranged from $2.26 to $2.91 per 1000 gallons (3785 L). Water capturing and recycling system construction and infrastructure costs accounted for a large portion of recycled water cost. However, water provider rebates and a Natural Resource Conservation Service (NRCS) grant reduced total and per volume recycled water costs. Without considering rebates from water providers and a NRCS grant, the cost of recycled water was between $0.92 and $1.21 per 1000 gallons (3785 L). With consideration of rebates and the grant, the cost of recycled water ranged between $0.43 and $0.53 per 1000 gallons (3785 L). Thus, recycled water is a viable alternative to many high cost water sources and public funds facilitate adoption of recycled water for irrigation by containerized plant growers.
Access options
Buy single article
Instant access to the full article PDF.
US$ 39.95
Tax calculation will be finalised during checkout.
Subscribe to journal
Immediate online access to all issues from 2019. Subscription will auto renew annually.
US$ 79
Tax calculation will be finalised during checkout.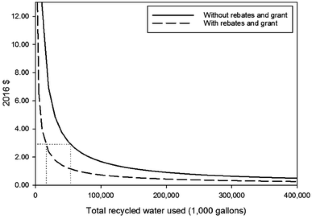 References
Allen RG, Pereira LS, Raes D, Smith M (1998) Crop evapotranspiration-Guidelines for computing crop water requirements-FAO Irrigation and drainage paper 56. FAO, Rome 300 (9):p D05109

Behe BK, Campbell BL, Hall CR, Khachatryan H, Dennis JH, Yue CY (2013) Consumer preferences for local and sustainable plant production characteristics. Hortscience 48(2):200–208

Board CSWRC. (2015) Irrigated lands regulatory program. http://www.swrcb.ca.gov/water_issues/programs/agriculture/docs/about_agwaivers.pdf. Accessed 27 March 2017

Burger DW, Hartin JS, Hodel DR, Lukaszewski TA, Tjosvold SA, Wagner SA (1987) Water use in California's ornamental nurseries. Calif Agric 41(9–10):7–8

CDFA (2016) State water efficiency and enhancement program. https://www.cdfa.ca.gov/oefi/sweep/. Accessed 27 Mar 2017

DeVincentis AJ, Brumfield RG, Gottlieb P, Johnson JR (2015) Cost analysis of using recycled water in container production: a case study of Southern New Jersey. Hortscience 50(8):1196–1201

Evans RY (2014) Nutrition and Fertilization. In: Newman JP (ed) Container nursery production and business management manual. University of California, Agriculture and Natural Resources Communication Services, Richmond, CA, pp 69–80

Fulcher A, LeBude AV, Owen JS, White SA, Beeson RC (2016) The next ten years: strategic vision of water resources for nursery producers. Horttechnology 26(2):121–132

Hall CR, Campbell BL, Behe BK, Yue CY, Lopez RG, Dennis JH (2010) The appeal of biodegradable packaging to floral consumers. Hortscience 45(4):583–591

Jones DW (2012) Reference evapotranspiration zones. State of California

Lamm AJ, Warner LA, Martin E, White SA, Fisher PR (2017) Enhancing extension programs by discussing water conservation technology adoption with growers. J Agric Educ 58(1):251–266

Newman JP, Kabashima JN, Merhaut D, Haver DL, Gan J, Oki LR (2014) Controlling runoff and recycling water, nutrients, and waste. In: Newman JP (ed) Container nursery production and business management manual. University of California, Agriculture and Natural Resources Communication Services, Richmond, pp 95–118

NOAA (2017) National Climatic Data Center. https://www.ncdc.noaa.gov/cdo-web/datatools/normals. Accessed 13 Apr 2017

NRCS U (2014) Environmental quality incentives program. Accessed 4 Apr 2017

Raudales RE, Fisher PR, Hall CR (2017) The cost of irrigation sources and water treatment in greenhouse production. Irrig Sci 35(1):43–54

Schaible G, Aillery M (2012) Water conservation in irrigated agriculture: trends and challenges in the face of emerging demands

Schuch UK, Burger DW (1997) Water use and crop coefficients of woody ornamentals in containers. J Am Soc Hortic Sci 122(5):727–734

Skimina CA, Kabashima JN (1994) Water recycling in container crop production. In: Heuser CW, Heuser PE (eds) Recycling and resource conservation practices. Pennsylvania Nurserymen's Association, Harrisburg, pp 13–19

USDA (2014a) Census of horticultural specialties. vol 3. Washington D.C.

USDA (2014b) Farm and ranch irrigation survey. vol 3. Washington D.C.

Zetland D (2011) Colorado river aqueduct. In: Danver SL, Burch JR (eds) Encyclopedia of water politics and policy in the United States. CQ Press/SAGE, Washington D.C., pp 420–421
Acknowledgements
This work is supported by the National Institute of Food and Agriculture, U.S. Department of Agriculture, under award number 2014-51181-22372. We would like to thank Altman Plants including Ken Altman, Jim Hessler, Jerry Miller, and Javier Lopez for contributing information for this study. Western Municipal Water District staff, Mallory Gandara and Gregory Bucy, provided water meter reading and cost information. Richard Evans was instrumental in providing a thorough review of this manuscript prior to submission. We appreciate Grant Johnson's assistance in obtaining recycled water data.
Ethics declarations
Conflict of interest
The authors declare that they have no conflict of interest.
Additional information
Communicated by E. Fereres.
About this article
Cite this article
Pitton, B.J.L., Hall, C.R., Haver, D.L. et al. A cost analysis for using recycled irrigation runoff water in container nursery production: a Southern California nursery case study. Irrig Sci 36, 217–226 (2018). https://doi.org/10.1007/s00271-018-0578-8
Received:

Accepted:

Published:

Issue Date: