Abstract
The AquaCrop model was parameterized and evaluated using data relative to supplemental irrigated vining pea for industry using observations in farmers' fields located in the Ribatejo region, Portugal. Data refers to field observations relative to leaf area index (LAI), soil water content, biomass and final yield relative to two contrasting rainfall years, 2011 and 2012, a wet and a dry year, respectively. LAI data were used to parameterize the canopy cover (CC, %) curve. Results showed that after parameterization of the CC curve the respective root mean square errors (RMSE) were smaller than 15 % of the fraction of ground cover by the crop. The model performance relative to the soil water balance simulation revealed a slight over-estimation bias for the wet year but estimation errors were small, with RMSE representing <5 % of the average soil water content observations. Good accuracy for biomass and yield predictions was obtained, with deviations between predictions and observations ranging from 1 to 7 % of the average observed biomass and up to 11 % of the average observed yield. Overall, results have shown that AquaCrop is appropriate for vining pea biomass and yield estimation. Therefore, the model was explored to assess impacts of sowing dates and alternative supplemental irrigation strategies on water use and yield. Results have shown that sowing by early January is appropriate in terms of improved water use and yield and that a very mild deficit irrigation schedule may be adopted without significantly affecting yields.
Access options
Buy single article
Instant access to the full article PDF.
US$ 39.95
Tax calculation will be finalised during checkout.
Subscribe to journal
Immediate online access to all issues from 2019. Subscription will auto renew annually.
US$ 79
Tax calculation will be finalised during checkout.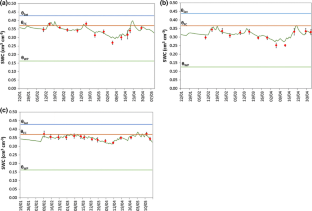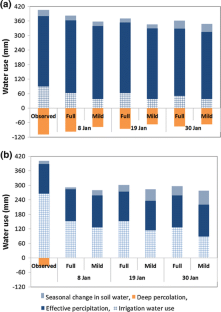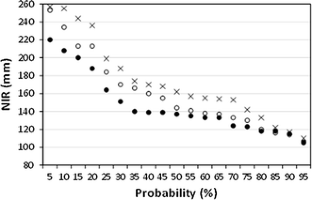 References
Allen RG, Pereira LS, Raes D, Smith M (1998) Crop Evapotranspiration. Guidelines for computing crop water requirements. FAO Irrigation and Drainage Paper 56, FAO, Rome

Anderson JAD, White JGH (1974) Yield of green peas. II. Effects of water and plant density. N Z J Exp Agric 2(2):165–171

Annandale JG, Campbell GS, Olivier FC, Jovanovic NZ (2000) Predicting crop water uptake under full and deficit irrigation: an example using pea (Pisum sativum L. cv. Puget). Irrig Sci 19:65–72

Ashraf MI, Pervez MA, Amjad M, Ahmad R, Ayub M (2011) Qualitative and quantitative response of pea (Pisum sativum L.) cultivars to judicious applications of irrigation with phosphorus and potassium. Pak J Life Soc Sci 9(2):159–164

Beaudoin N, Launay M, Sauboua E, Ponsardin G, Mary B (2008) Evaluation of the soil crop model STICS over 8 years against the "on farm" database of Bruyères catchment. Eur J Agron 29:46–57

Berntsen J, Hauggard-Nielsen H, Olesen JE, Petersen BM, Jensen ES, Thomsen A (2004) Modelling dry matter production and resource use in intercrops of pea and barley. Field Crop Res 88:69–83

Castañeda-Vera A, Leffelaar PA, Álvaro-Fuentes J, Cantero-Martínez C, Mínguez MI (2015) Selecting crop models for decision making in wheat insurance. Eur Agron 68:97–116

Chen W, Robertson M, Lingling L, Bellotti W, French R, Bell R (2008) Simulation of field pea growth and yield in diverse environments. In: M Unkovich (Ed) Global issues. Paddock action, proceedings of 14th agronomy conference, Adelaide, Australia, pp 21–25

Corre-Hellou G, Brisson N, Launay M, Fustec J, Crozat Y (2007) Effect of root depth penetration on soil nitrogen competitive interactions and dry matter production in pea–barley intercrops given different soil nitrogen supplies. Field Crop Res 103:76–85

Cousin R (1997) Peas (Pisum sativum L.). Field Crop Res 53:111–130

Cutforth HW, McConkey BG, Ulrich D, Miller PR, Angadi SV (2002) Yield and water use efficiency of pulses seeded directly into standing stubble in the semiarid Canadian Prairie. Can J Plant Sci 82:681–686

Díaz-Ambrona CGH, O'Leary GJ, Sadras VO, O'Connell MG, Connor DJ (2005) Environmental risk analysis of farming systems in a semi-arid environment: effect of rotations and management practices on deep drainage. Field Crop Res 94:257–271

Farahani HJ, Izzi G, Oweis T (2009) Parameterization and evaluation of the AquaCrop model for full and deficit irrigated cotton. Agron J 101:469–476

Farooq M, Gogoi N, Barthakur S, Baroowa B, Bharadwaj N, Alghamdi SS, Siddique KHM (2016) Drought stress in grain legumes during reproduction and grain filling. J Agro Crop Sci. doi:10.1111/jac.12169

Gan Y, Campbell CA, Liu L, Basnyat P, McDonald CL (2009) Water use and distribution profile under pulse and oilseed crops in semiarid northern high latitude areas. Agric Water Manag 96:337–348

Heath MC, Hebblethwaite PD (1985) Solar radiation interception by leafless, semileafless and leafed peas (Pisum sativum) under contrasting field conditions. Ann Appl Biol 107:309–318

Jeuffroy M-H, Ney B (1997) Crop physiology and productivity. Field Crop Res 53:3–16

Katerji N, Campi P, Mastrorilli M (2013) Productivity, evapotranspiration, and water use efficiency of corn and tomato crops simulated by AquaCrop under contrasting water stress conditions in the Mediterranean region. Agric Water Manag 130:14–26

Knörzer H, Lawes R, Robertson M, Graeff-Hönninger S, Claupein W (2011) Evaluation and performance of the APSIM crop growth model for German winter wheat, maize and field pea varieties in monocropping and intercropping systems. J Agric Sci Technol B1:698–717

Kottek M, Grieser J, Beck C, Rudolf B, Rubel F (2006) World Map of the Köppen–Geiger climate classification updated. Meteorol Z 15(3):259–263

Lecoeur J, Guilioni L (2010) Influence of water deficit on pea canopy functioning. In: Munier-Jolain N, Biarnès V, Chaillet I, Lecoeur J, Jeuffroy M-H (eds) Physiology of the pea crop. Science Publishers, Enfield, pp 135–161

Lecoeur J, Sinclair TR (2001) Harvest index increase during seed growth of field pea. Eur J Agron 14:173–180

Legates DR, McCabe GJ Jr (1999) Evaluating the use of "goodness-of-fit" measures in hydrologic and hydroclimatic model validation. Water Resour Res 35:233–241

Machado S, Petrie S, Rhinhart K, Ramig RE (2008) Tillage effects on water use and grain yield of winter wheat and green pea in rotation. Agron J 100:154–162

Mahieu S, Germon F, Aveline A, Hauggaard-Nielsen H, Ambus P, Jensen ES (2009) The influence of water stress on biomass and N accumulation, N partitioning between above and below ground parts and on N rhizodeposition during reproductive growth of pea (Pisum sativum L.). Soil Biol Biochem 41:380–387

Martin RJ, Jamieson PD (1996) Effect of timing and intensity of drought on the growth and yield of field peas (Pisum sativum L.). N Z J Crop Hortic 24:167–174

Martin RJ, Tabley FJ (1981) Effects of irrigation, time of sowing, and cultivar on yield of vining peas. N Z J Crop Agric 9:291–297

Martin DL, Kincaid DC, Lyle WM (2007) Design and operation of sprinkler systems. In: Hoffman GJ, Evans RG, Jensen ME, Martin DL, Elliot RL (eds) Design and operation of farm irrigation systems, 2nd edn. ASABE, St. Joseph, MI, pp 557–631

Maurer AR, Ormrod DP, Fletcher HF (1968) Response of peas to environment. IV. Effects of five water regimes on growth and development of peas. Can J Plant Sci 48:129–137

Nash JE, Sutcliffe JV (1970) River flow forecasting through conceptual models: part 1. A discussion of principles. J Hydrol 10(3):282–290

Nielsen D, Miceli-Garcia JJ, Lyon DJ (2012) Canopy cover and leaf area index relationships for wheat, triticale, and corn. Agron J 104:1569–1573

Paredes P, de Melo-Abreu JP, Alves I, Pereira LS (2014) Assessing the performance of the FAO AquaCrop model to estimate maize yields and water use under full and deficit irrigation with focus on model parameterization. Agric Water Manag 144:81–97

Paredes P, Wei Z, Liu Y, Chi WW, Pereira LS (2015) Performance assessment of the FAO AquaCrop model for soil water, soil evaporation, biomass and yield of soybeans in North China Plain. Agric Water Manag 152:57–71

Pereira LS, Cordery I, Iacovides I (2012) Improved indicators of water use performance and productivity for sustainable water conservation and saving. Agric Water Manag 108:39–51

Pereira LS, Paredes P, Rodrigues GC, Neves M (2015) Modeling malt barley water use and evapotranspiration partitioning in two contrasting rainfall years. Assessing AquaCrop and SIMDualKc models. Agric Water Manag 159:39–254. Corrigendum in Agric Water Manag 163:408 (2016). doi:10.1016/j.agwat.2015.08.017

Popova Z, Ivanova M, Martins D, Pereira LS, Doneva K, Alexandrov V, Kercheva M (2014) Vulnerability of Bulgarian agriculture to drought and climate variability with focus on rainfed maize systems. Nat Hazards 74:865–886

Raes D, Steduto P, Hsiao TC, Fereres E (2012) Crop water productivity. Calculation procedures and calibration guidance. AquaCrop version 4.0., FAO, Land and Water Development Division, Rome

Ramos TB, Gonçalves MC, Martins JC, Pereira LS (2014) Comparação de diferentes funções de pedotransferência para estimar as propriedades hidráulicas em Portugal. In: Gonçalves MC, Ramos TB, Martins JC (eds) Solo. Produção Agrária e Sustentabilidade dos Ecossistemas, INIA-V, Oeiras, pp 29–34 (in Portuguese)

Rankine DR, Cohen JE, Taylor MA, Coy AD, Simpson LA, Stephenson T, Lawrence JL (2014) Parameterizing the FAO AquaCrop Model for rainfed and irrigated field-grown sweet potato. Agron J 107(1):375–387

Rasaei A, Ghobadi M-E, Ghobadi M (2012) Effect of supplemental irrigation and plant density on yield and yield components of peas (Pisum sativum L.) in Kermanshah region. American-Eurasian J Agric Environ Sci 12(3):352–357

Steduto P, Hsiao TC, Fereres E, Raes D (eds) (2012) Crop yield response to water. FAO Irrigation and Drainage Paper 66, FAO, Rome, Italy

Stoker R (1973) Response of viner peas to water during different phases of growth. N Z J Exp Agric 1:73–76

Uzun A, Açkgöz E (1998) Effect of sowing season and seeding rate on morphological traits and yields in pea cultivars of different leaf types. J Agron Crop Sci 181:215–222

Vanuytrecht E, Raes D, Steduto P, Hsiao TC, Fereres E, Heng LK, Garcia-Vila M, Mejias Moreno P (2014) AquaCrop: FAO'S crop water productivity and yield response model. Environ Model Softw 62:351–360

Wellens J, Raes D, Traore F, Denis A, Djaby B, Tychon B (2013) Performance assessment of the FAO AquaCrop model for irrigated cabbage on farmer plots in a semi-arid environment. Agric Water Manag 127:40–47
Acknowledgments
The support provided by Mr. Manuel Campilho, Mr. Diogo Campilho and Mr. Abílio Pereira of Quinta da Lagoalva de Cima and Sociedade Agrícola Barracão do Duque are hereby acknowledged. The information provided by Eng. Nuno Botelho from Bonduelle Portugal is also acknowledged. The first author also thanks the postdoctoral fellowship (SFRH/BPD/102478/2014) provided by FCT. The support of FCT through  the research unit  LEAF (UID/AGR/04129/2013) is also acknowledged.
Additional information
Communicated by S. O. Shaughnessy.
About this article
Cite this article
Paredes, P., Torres, M.O. Parameterization of AquaCrop model for vining pea biomass and yield predictions and assessing impacts of irrigation strategies considering various sowing dates. Irrig Sci 35, 27–41 (2017). https://doi.org/10.1007/s00271-016-0520-x
Received:

Accepted:

Published:

Issue Date:
Keywords
Soil Water

Root Mean Square Error

Canopy Cover

Crop Season

Irrigation Schedule