Abstract
Sustaining irrigation is vital for ensuring future food security in the face of population growth and a changing climate in Bangladesh. In this study, a daily soil water balance simulation model was used to estimate the net irrigation requirements of nine crops including Boro rice for the historical period of 1985–2010 and for future climate scenarios of 2030 and 2050 dry and average conditions using the A1B emission scenario. The average net irrigation requirement of Boro rice, the main crop, is 676 mm with temporally averaged spatial variation of 644–779 mm and spatially averaged temporal variation of 570–755 mm for base case planting on clay loam soil. The variations are due to the variation in crop evapotranspiration and rainfall during the cropping period. Changing planting or sowing date affects the net irrigation requirement which for Boro rice is lower in early (October–November) or late planting (January–February). The net irrigation requirement of Boro rice is about twice that required by wheat, maize, potato, tomato and sunflower, three times that of pulses and 5–6 times that required by oilseeds. The impact of climate change on irrigation requirements of Boro rice is small. The average irrigation requirement is projected to increase by a maximum of 3 % for the 2050 dry scenario. For other crops this is projected to increase by 1–5 % depending on the crop and the time of sowing/planting.
Access options
Buy single article
Instant access to the full article PDF.
US$ 39.95
Tax calculation will be finalised during checkout.
Subscribe to journal
Immediate online access to all issues from 2019. Subscription will auto renew annually.
US$ 79
Tax calculation will be finalised during checkout.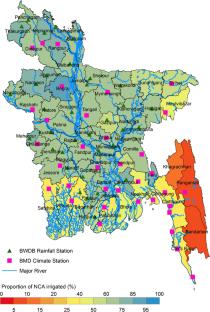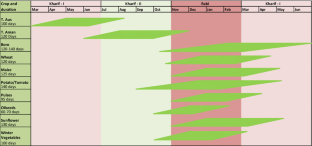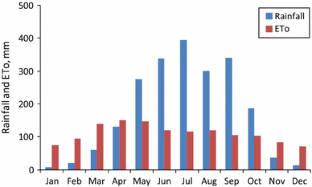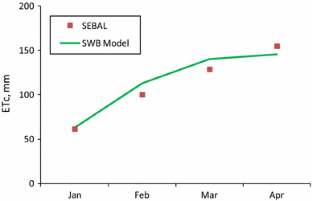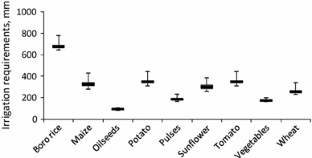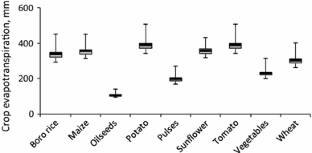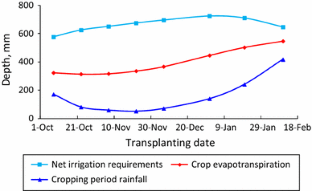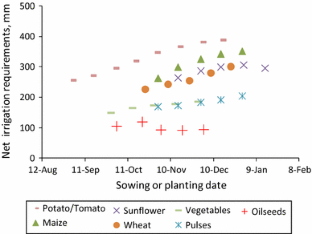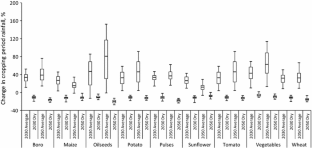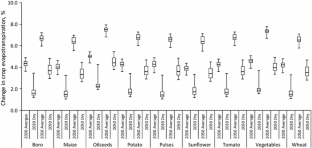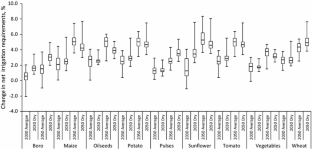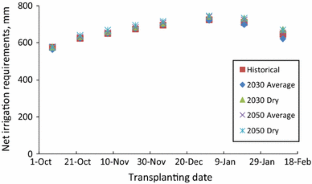 References
Adel MA (2001) Effect on water resources from upstream water diversion in the Ganges Basin. J Environ Qual 30:356–368

Aggarwal PK, Joshi PK, Ingram JSI, Gupta RK (2004) Adapting food systems of the Indo-Gangetic plains to global environmental change: key information needs to improve policy formulation. Environ Sci Policy 7(6):487–498

Ahmad MD, Kirby M, Islam MS, Hossain MJ, Islam MM (2014) Groundwater use for irrigation and its productivity: status and opportunities for crop intensification to achieve food security in Bangladesh. Water Resources Management. doi:10.1007/s11269-014-0560-z

Allen RG (2011) REF-ET: reference evapotranspiration calculator, version—Windows 3.1. University of Idaho Research and Extension Center, Kimberly, Idaho 83341

Allen RG, Pereira LS, Raes D, Smith M (1998) Crop evapotranspiration: guidelines for computing crop water requirements. FAO Irrigation and Drainage Paper 56, FAO, Rome

BADC (Bangladesh Agricultural Development Corporation) (2010) Minor irrigation survey report 2009–2010. BADC, Ministry of Agriculture, Dhaka

Baker JT, Allen LH Jr, Boote KJ (1992) Response of rice to carbon dioxide and temperature. Agric For Meteorol 60:153–166

Battisti DS, Naylor RL (2009) Historical warnings of future food insecurity with unprecedented seasonal heat. Science 323:240–244

BBS (2011) 2011 yearbook of agricultural statistics of Bangladesh. Bangladesh Bureau of Statistics, Dhaka

Biswas MR (1987) Water management for small scale irrigation schemes, A handbook (published in Bangla). National Institute of Local Government, Dhaka

Bruinsma J (ed) (2003) World agriculture: towards 2015/1030, A FAO perspective. Food and Agricultural Organization of the United Nations, Rome, p 432

Comprehensive Assessment of Water Management in Agriculture (2007) Water for food, water for life: a comprehensive assessment of water management in agriculture. International Water Management Institute, Colombo

CSIRO, BWDB, WARPO, IWM, BIDS, CEGIS (2014) Bangladesh integrated water resources assessment: final report. CSIRO, Australia

Dalgliesh NP, Poulton PL (2011) Physical constraints to cropping in southern Bangladesh: soil and water. In Rawson HM (ed) Sustainable intensification of Rabi cropping in southern Bangladesh using wheat and mungbean. ACIAR Technical Report No. 78. Australian Centre for International Agricultural Research: Canberra, 256 pp

De Silva CS, Weatherhead EK, Knox JW, Rodriguez-Diaz JA (2007) Predicting the impacts of climate change—a case study on paddy irrigation water requirements in Sri Lanka. Agric Water Manage 93(1–2):19–29

Doll P (2002) Impact of climate change and variability on irrigation requirements: a global perspective. Clim Change 54:269–293

Doorenbos J, Kassam AH (1979) Yield response to water. FAO Irrigation and Drainage Paper No. 33.FAO, Rome

Doorenbos J, Pruitt WO (1984) Crop water requirements. FAO Irrigation and Drainage Paper No. 24, FAO, Rome

Elgaali E, Garcia LA, Ojima DS (2007) High resolution modeling of the regional impacts of climate change on irrigation water demand. Clim Change 84:441–461

EPC (1989) Third flood control and drainage project, design manual volume-1. BWDB, Dhaka

FAO-BGD (1984) Irrigation management programme for Upazila officers. Training aid for RDA, Bogra

Fisher G, Tubiello FN, van Velthuizen H, Wiberg DA (2007) Climate change impacts on irrigation water requirements: effects of mitigation, 1990–2080. Technol Forecast Soc Change 74:1083–1107

Fowler HJ, Blenkinsop S, Tebaldi C (2007) Linking climate change modelling to impact studies: recent advances in downscaling techniques of hydrological modelling. Int J Climatol 27:1547–1578

Gondim RS, de Castro MAH, Maia ADHN, Evangelista SRM, Fuck SCFD Jr (2012) Climate change impacts on irrigation water needs in the Jaguaribe River basin. J Am Water Resour Assoc (JAWRA) 48(2):355–365. doi:10.1111/j.1752-1688.2011.00620.x

Hanjra MA, Qureshi ME (2010) Global water crisis and future food security in an era of climate change. Food Policy 35:365–377

Hasegawa T, Sawano S, Goto S, Konghakote P, Polthanee A, Ishigooka Y, Kuwagata T, Toritani H, Furuya J (2008) A model driven by crop water use and nitrogen supply for simulating changes in the regional yield of rainfed lowland rice in Northeast Thailand. Paddy Water Environ 6:73–82

IPCC (Intergovernmental Panel on Climate Change) (2007) Climate change 2007: impacts, adaptation and vulnerability. In: Parry ML, Canziani OF, Palutikof JP et al. (eds) Contribution of working group II to the fourth assessment report of the intergovernmental panel on climate change. Cambridge University Press, Cambridge. Online available from http://www.ipcc.ch/pdf/assessment-report/ar4/wg2/ar4-wg2-chapter10.pdf [Accessed on December 25, 2012]

Jahan CS, Mazumder QH, Islam ATMM, Adham MI (2010) Impact of irrigation in Barind area, NW Bangladesh—an evaluation based on meteorological parameters and fluctuation trend in groundwater table. J Geol Soc India 76:134–142

Jensen ME, Burman RD, Allen RG (eds) (1990) Evapotranspiration and Irrigation Water Requirements. In: ASCE Manuals and Reports on Engineering Practice No 70. American Society of Civil Engineers, New York

Kirby M, Ahmad MD, Poulton P, Zhu Z, Lee G, Mainuddin M (2013) Review of water, crop production and system modelling approaches for food security studies in the Eastern Gangetic Plains. CSIRO: Sustainable Agriculture Flagship. https://publications.csiro.au/rpr/pub?pid=csiro:EP134291

Kumar KR, Sahai AK, Kumar KK, Patwardhan SK, Lishra PK, Revadekar JV, Kamala K, Pant GB (2006) High resolution climate change scenarios for India for the 21st century. Curr Sci 90(3):334–345

Laux P, Jackel G, Tingem RM, Kunstmann H (2010) Impact of climate change on agricultural productivity under rainfed conditions in Cameroon—a method to improve attainable crop yields by planting date adaptations. Agric For Meteorol 150:1258–1271

Li X, Waddington SR, Dixon J, Joshi AK, de Vincente MC (2010) The relative importance of drought and other water-related constraints for major food crops in South Asian farming systems. Food Secur 3:19–33

Mainuddin M, Kirby M (in review) National food security in Bangladesh to 2050. Food Sec

Mainuddin M, Kirby M, Hoanh CT (2011) Adaptation to climate change for food security in the lower Mekong Basin. Food Security 3:433–450

Mainuddin M, Rawson HM, Poulton PL, Ali R, Roth C, Islam KM, Saifuzzaman M, Rahman MM, Quader ME, Shah-Newaz SM, Sarker MH, Islam MS (2013a) Scoping study to assess constraints and opportunities for future research into intensification of cropping systems in Southern Bangladesh. Australian Centre for International Agricultural Research, Canberra

Mainuddin M, Kirby M, Hoanh CT (2013b) Impact of climate change on rainfed rice and options for adaptation in the lower Mekong Basin. Nat Hazards 66(2):905–938

Mainuddin M, Kirby M, Chowdhury RAR, Sanjida L, Sarker MH, Shah-Newaz SM (2014) Bangladesh integrated water resources assessment: supplementary report on land use, crop production and irrigation demand. CSIRO, Water for a Healthy Country Flagship

Mirza MMQ (1997) Hydrological changes in the Ganges system in Bangladesh in the post-Farakka period. Hydrol Sci J 42:613–631

Moors EJ, Groot A, Biemans H, van Sceltinga CT, Siderius C, Stoffel M, Huggel C, Wiltshire A, Mathison C, Ridley J, Jacob D, Kumar P, Bhadwal S, Gosina A, Collins DN (2011) Adaptation to changing water resources in the Ganges basin, northern India. Environ Sci Policy 14:758–769

MPO (Master Plan Organization) (1987) Technical Report No. 2, irrigation water requirement. Dhaka: Ministry of Irrigation, Water Development and Flood Control

Mulligan M, Fisher M, Sharma B, Xu Z, Ringler C, Mahe G, Jarvis A, Ramirez J, Clanet JC, Ogilvie A, Ahmad MD (2011) The nature and impact of climate change in the Challenge Program on water and food (CPWF) basins. Water Int 36(1):96–124

Nishiyama I (1976) Effects of temperature on the vegetative growth of rice plants. In: International Rice Research Institute (ed) Climate and rice. International Rice Research Institute, Los Banos, p 159–185

OECD (Organization for Economic Co-operation and Development) (2003) Development and climate change in Bangladesh: focus on coastal flooding and the Sundarbans. In: Agrawala S, Ota T, Ahmed A U et al. (eds) Organization for economic co-operation and development (OECD) Report COM/ENV/EPOC/DCD/DAC(2003)3/FINAL, Paris, France. Online available from http://www.oecd.org/dataoecd/46/55/21055658.pdf [Accessed on December 25, 2012]

Rahman MM, Mahbub AQM (2012) Groundwater depletion with expansion of irrigation in Barind Tract: a case study of Tanore Upazila. J Water Resour Prot 4:567–575

Rehana S, Mujumdar PP (2013) Regional impacts of climate change on irrigation water demands. Hydrol Process 27:2918–2933

Rosegrant MW, Paisner MS, Meijer S, Witcover J (2001) Global Food Projections to 2020: emerging Trends and alternative futures. International Food Policy Research Institute, Washington

Seckler D, Molden D, Amarasinghe U, de Fraiture C (2000) Water issues for 2025: a research perspective. International Water Management Institute, Colombo

Shahid S (2011) Impact of climate change on irrigation water demand of dry season Boro rice in northwest Bangladesh. Clim Change 105:433–533

Shahid S, Hazarika MK (2010) Groundwater drought in the northwestern districts of Bangladesh. Water Resour Manage 24:1989–2006

Shamsudduha M, Chandler RE, Taylor R, Ahmed KM (2009) Recent trends in groundwater levels in a highly seasonal hydrological system: the Ganges-Brahmaputra-Meghna Delta. Hydrol Earth Syst Sci 13:2373–2385

UN Population Division (2012) World Population Prospects: The 2012 Revision, http://esa.un.org/unpd/wpp/index.htm. Wednesday, September 11, 2013; 11:45:10 PM

Yu W, Alam M, Hassan M, Khan AS, Ruane AC, Rosenzweig C, Major DC, Thurlow T (2010) Climate change risks and food security in Bangladesh. Earthscan, London, p 144

Zhang XC (2006) Spatial downscaling of global climate model output for site-specific assessment of crop production and soil erosion. Agric For Meteorol 135:215–229
Acknowledgments
The authors express their sincere thanks to the Australian Government's Department of Foreign Affairs and Trade—CSIRO Research for Development Alliance for funding this study. The comments of the anonymous reviewers on an earlier draft are also gratefully acknowledged.
Additional information
Communicated by J. Hornbuckle.
About this article
Cite this article
Mainuddin, M., Kirby, M., Chowdhury, R.A.R. et al. Spatial and temporal variations of, and the impact of climate change on, the dry season crop irrigation requirements in Bangladesh. Irrig Sci 33, 107–120 (2015). https://doi.org/10.1007/s00271-014-0451-3
Received:

Accepted:

Published:

Issue Date:
Keywords
Crop Evapotranspiration

Irrigation Requirement

Irrigation Demand

Irrigation Water Requirement

Irrigation Water Demand