Abstract
Deficit irrigation (DI) strategies using moderately saline waters save water, but may enhance soil salinization. Based on data gathered during years 2007–2012 in three drip-irrigated grapevine, peach, and nectarine crops subjected to several irrigation and soil-mulching treatments, we assessed trends in root-zone soil salinity [saturation extract electrical conductivity (ECe)], related the changes in soil salinity (ΔECe) to field-wide leaching fraction (LF), evaluated management strategies for soil salinity control, and examined the sustainability of DI strategies under present and expected climate change (CC) scenarios in the Middle Ebro River Basin (ERB, Spain). ECe increased in 82 % of the irrigation seasons and decreased in 75 % of the non-irrigation seasons examined. Soil salinization trends were not apparent during the study years due to these annual salt accumulation–salt leaching cycles. ECe increases were higher in the more severe DI treatments and in the geotextile-mulched soil and lower in the full and less severe irrigation treatments and in the organic-mulched soil. As expected, ΔECe and LF were linearly and negatively correlated (P < 0.01), indicating that soil salinization increased with decreasing LF. These linear relationships provided a way to evaluate best management strategies (increased irrigation, rainfall harvesting, and soil mulching) for soil salinity control. These strategies decreased soil salinization, but did not guarantee the sustainability of severe DIs in the study area. The application of these relationships to the CC precipitation and crop evapotranspiration projections in the ERB shows that the examined DI strategies will be unsustainable due to soil salinization.
Access options
Buy single article
Instant access to the full article PDF.
USD 39.95
Price excludes VAT (USA)
Tax calculation will be finalised during checkout.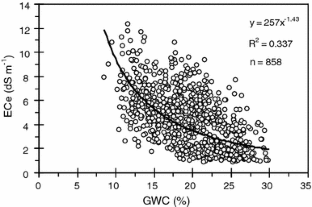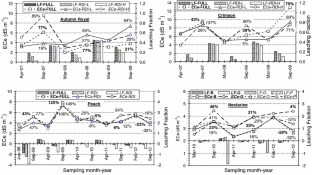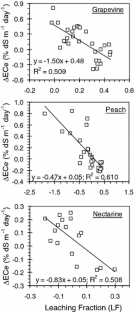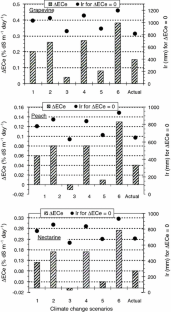 References
Allen RG, Pereira LS, Raes D, Smith M (1998) Crop Evapotranspiration: guidelines for computing crop water requirements. FAO Irrigation and Drainage Paper 56. Food and Agriculture Organization of the United Nations, Rome, Italy

Aragüés R, Tanji KK (2003) Water quality of irrigation return flows. In: Stewart BA, Howell TA (eds) Encyclopaedia of water science. Marcel Dekker, New York, pp 502–506

Aragüés R, Medina ET, Clavería I, Martínez-Cob A, Faci J (2014a) Regulated deficit irrigation, soil salinization and soil sodification in a table grape vineyard drip-irrigated with moderately saline waters. Agric Water Manage 134:84–93

Aragüés R, Medina ET, Martínez-Cob A, Faci J (2014b) Deficit irrigation strategies, soil salinization and soil sodification in a semiarid drip-irrigated peach orchard. Agric Water Manage 142:1–9

Aragüés R, Medina ET, Claveria I (2014c) Effectiveness of inorganic and organic mulching for soil salinity and sodicity control in a grapevine orchard drip-irrigated with moderately saline waters. Span J Agric Res 12:501–508

Brunet M, Casado MJ, de Castro M, Galán P, López JA, Martín JM, Pastor A, Petisco E, Ramos P, Ribalaygua J, Rodríguez E, Sanz I, Torres L (2008) Generación de escenarios regionalizados de cambio climático para España. Agencia Estatal de Meteorología. Ministerio de Medio Ambiente, Medio Rural y Marino. Gobierno de España

CEDEX (2012) Estudio de los impactos del cambio climático en los recursos hídricos y las masas de agua. Informe Final

Chalmers DJ, Mitchell PD, Van Heek L (1981) Control of peach tree growth and productivity by regulated water supply, tree density and summer pruning. J Amer Soc Hort Sci 106:307–312

Chaudhry MR, Aziz AM, Sidhu M (2004) Mulching impacto n moisture conservation, soil properties and plant growth. Pakistan J Water Re 82:1–8

Chen W, Hou Z, Wu L, Liang Y, Wei C (2010) Evaluating salinity distribution in soil irrigated with saline water in arid regions of northwest China. Agric Water Manag 97:2001–2008

Dehghanisanij H, Agassi M, Anyoji H, Yamamoto T, Inoue M, Eneji AE (2006) Improvement of saline water use under drip irrigation system. Agric Water Manag 85:232–242

FAO (1996) Global climate change and agricultural production. Direct and indirect effects of changing hydrological, pedological and plant physiological processes. Natural Resources Management and Environmental Department, FAO, Rome, Italy (http://www.fao.org/docrep/w5183e/w5183e03.htm)

FAO (2002) Deficit irrigation practices. Food and Agriculture Organization of the United Nations, Rome

Fereres E, Soriano MA (2007) Deficit irrigation for reducing agricultural water use. J Exp Bot 58:147–159

Gan YT, Siddique KHM, Turner NC, Li XG, Niu JY, Yang C, Liu LP (2013) Ridge-furrow mulching systems: an innovative technique for boosting crop productivity in semiarid rainfed environments. Adv Agron 118:429–476

Garcia-Vera MA (2013) The application of hydrological planning as a climate change adaptation tool in the Ebro basin. Int J Water Resour Dev 29:219–236

Geerts A, Raes D (2009) Deficit irrigation as an on-farm strategy to maximize crop water productivity in dry areas. Agric Water Manage 96:1275–1284

Hanson B (2012) Drip irrigation and salinity. Agricultural Salinity Assessment and Management. Manuals and reports on engineering practice 71 (2 edn). American Society of Civil Engineers, Reston (Vi), pp. 539–560

Hanson B, Hopmans JW, Simunek J (2008) Leaching with subsurface drip irrigation under saline, shallow groundwater conditions. Vadose Zone J. 7:810–818

IPCC (2007) Climate Change 2007: The physical science basis. Contribution of working group i to the fourth assessment report of the intergovernmental panel on climate change, S. Solomon, D. Qin, M. Manning, Z. Chen, M. Marquis, K.B. Averyt, M. Tignor and H.L. Miller, Eds., Cambridge University Press, Cambridge, UK

Isidoro D, Aragüés R (2007) River water quality and irrigated agriculture in the Ebro Basin: an overview. Water Resour Dev 23:91–106

Isidoro D, Grattan SR (2011) Predicting soil salinity in response to different irrigation practices, soil types and rainfall scenarios. Irrig Sci 29:197–211

Kimball BA, Kobayashi K, Bini M (2002) Responses of agricultural crops to free-air CO2 enrichment. Adv Agron 77:293–368

Kool D, Agam N, Lazarovitch N, Heitman JL, Sauer TJ, Ben-Gal A (2014) A review of approaches for evapotranspiration partitioning. Agr Forest Meteorol 184:56–70

MARM (2013) Sistema de Información Agroclimática para el Regadío (SIAR). http://www.marm.es/es/agua/temas/observatorio-del-regadio-espanol/sistema-de-informacion-agroclimatica-para-el-regadio/. Spanish Ministry of Natural, Rural and Marine Environment (MARM)

Moratiel R, Durán JM, Snyder RL (2010) Responses of reference evapotranspiration to changes in atmospheric humidity and air temperature in Spain. Clim Res 44:27–40

Mounzer O, Pedrero-Salcedo F, Nortes PA, Bayona JM, Nicolás E, Alarcón JJ (2013) Transient soil salinity under the combined effect of reclaimed water and regulated deficit drip irrigation of Mandarin trees. Agric Water Manage 120:23–29

Ortega-Farias S, Fereres E, Sadras VO (2012) Special issue on water management in grapevines. Irrig Sci 30:335–337

Page AL, Miller RH, Keeney DR (1982) Methods of soil analysis. Chemical and microbiological properties. American Society of Agronomy, Madison

Raine SR, Meyer WS, Rassam DW, Hutson JL, Cook FJ (2007) Soil-water and solute movement under precision irrigation: knowledge gaps for managing sustainable root zones. Irrig Sci 26:91–100

Sarwar A, Bastiaanssen WGM (2001) Long-term effects of irrigation water conservation on crop production and environment in semiarid areas. J Irrig Drain E ASCE 127:331–338

SAS Institute (2004) SAS/STAT user's guide release 9.0. Statistical Analysis Institute, Cary, NC

Shalhevet J (1994) Using water of marginal quality for crop production: major issues. Agric Water Manag 25:233–269

Soil Survey Staff (1999) Soil taxonomy. A basic system of soil classification for making and interpreting soil surveys, 2nd edn. USDA-Natural Resources Conservation Service, Washington

Stevens RM, Pitt TR, Dyson C (2013) Changes in vineyard floor management reduce the Na + and Cl- concentrations in wine grapes grown with saline supplementary drip irrigation. Agric Water Manag 129:130–137

Wang D, Heckathorn SA, Wang XZ, Philpott SM (2012) A meta-analysis of plant physiological and growth responses to temperature and elevated CO2. Oecologia 169:1–13

Zribi W (2013) Efectos del acolchado sobre distintos parámetros del suelo y la nectarina en riego por goteo. Dissertation (in Spanish). University of Lérida (Spain)
Acknowledgments
This work was financed by the CSD2006-00067 project (CONSOLIDER-INGENIO 2010). The authors thank the field and laboratory technicians of the Soils and Irrigation Department (CITA). The ALM company, owner of the vineyards, and the AFRUCCAS organization, owner of the peach and nectarine orchards, are also acknowledged for the facilities given in this work.
Additional information
Communicated by E. Fereres.
About this article
Cite this article
Aragüés, R., Medina, E.T., Zribi, W. et al. Soil salinization as a threat to the sustainability of deficit irrigation under present and expected climate change scenarios. Irrig Sci 33, 67–79 (2015). https://doi.org/10.1007/s00271-014-0449-x
Received:

Accepted:

Published:

Issue Date:

DOI: https://doi.org/10.1007/s00271-014-0449-x
Keywords
Soil Salinity

Deficit Irrigation

Irrigation Season

Gravimetric Soil Water Content

Full Irrigation