Abstract
Capillary barriers (CBs) occur at the interface between two soil layers having distinct differences in hydraulic characteristics. In preliminary work without growing crops, it was demonstrated that CBs implemented in sandy soils increased hydrostatic volumetric water content by 20–70%, depending on soil texture and depth of barrier insertion. We hypothesized that the introduction of an artificial CB at the lower root-zone boundary of horticultural crops can increase yields as a result of increased water content and uptake efficiency. The effects of introduced CBs on soil water content, plant growth, and yields of bell peppers (Capsicum annum L), lettuce (Lactuca sativa L), tomatoes (Lycopersicon esculantum L.), and melons (Cucumis melo L.) were studied in a desert environment in southern Israel. Inclusion of a CB increased soil water content by 60% and biomass and fruit yields by 25% for pepper, and increased matric head and biomass yield by 80 and 36%, respectively, for lettuce. Neither tomatoes nor melons reacted significantly to the presence of CBs, in spite of increased soil moisture. Daily soil matric head amplitude was reduced fivefold when lettuce was grown with a CB. Spatial variability was highly reduced when a CB was present. When peppers were grown with a CB, the standard deviations of water content and biomass yield were reduced by 40% relative to control.
Access options
Buy single article
Instant access to the full article PDF.
US$ 39.95
Tax calculation will be finalised during checkout.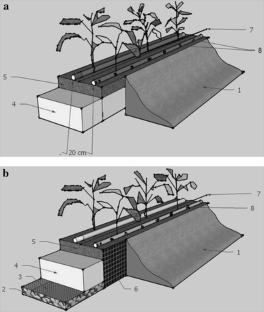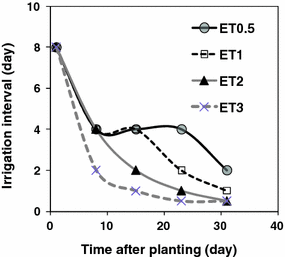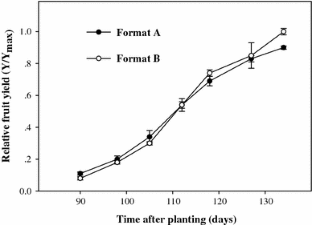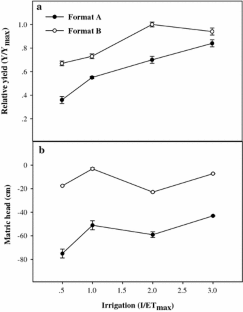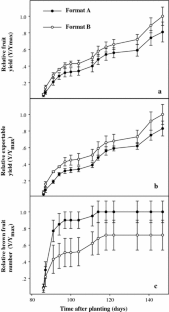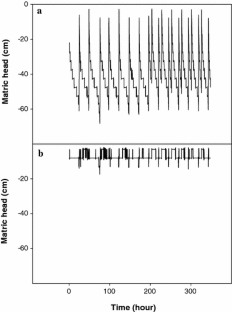 References
Assouline S, Moller M, Cohen S, Ben-Hur M, Grava A, Narkis K, Silber A (2006) Soil-plant system response to pulsed drip irrigation and salinity: bell pepper case study. Soil Sci Soc Am J 70:1556–1568

Ben-Gal A, Dudley L (2003) Phosphorus availability under continuous point-source irrigation. Soil Sci Soc Am J 67:1449–1456

Ben-Gal A, Ityel E, Dudley LM, Cohen S, Yermiyahu U, Presnov E, Zigmond L, Shani U (2008) Effect of irrigation water salinity on transpiration and on leaching requirements: a case study for bell peppers. Agric Water Manag 95:587–597

Ben-Gal A, Yermiyahu U, Cohen S (2009) Fertilization and blending alternatives for irrigation with desalinated water. J Environ Qual 38:529–536

Bussière B (1999) Tude du comportement hydrique de couverture avec effets de barrire capillaire inclines l'aide de modelisations physiques et numeriques. PhD thesis, cole Polytechnique de Montreal, Canada, p 354

De Wit CT (1958) Transpiration and crop yields. Versl. Landbouwk. Onderz. On field crops and herbage, vol 64. Institute of Biological and Chemical Residence, The Netherlands, p 64

Feddes RA, Hoff H, Bruen M, Dawson T, de Rosnay P, Dirmeyer P, Jackson RB, Kabat P, Kleidon A, Lilly A, Pitman AJ (2001) Modeling root water uptake in hydrological and climate models. Bull Am Meteor Soc 82(12):2797–2809

Geiger SC, Manu A (1993) Soil surface characterization and variability in the growth of millet in the plateau and valley region of western Niger. Agr Ecos Environ 45:203–211

Ityel E, Lazarovitch N, Silberbush M, Ben-Gal A (2011) An artificial capillary barrier to improve root-zone conditions for horticultural crops: physical effects on water content. Irr Sci 29:171–180. doi:10.1007/s00271-010-0227-3

Jones HG (1992) Plants and microclimate, 2nd edn. Cambridge University Press, Cambridge, 428 p

Kampf M, Holfelder T, Montenegro H (1998) Inspection and numerical simulations of flow processes in capillary barrier cover systems. In: Holz KP, Bechteler W, Wang SSY, Kawahara M (eds) Advances in hydro-science and engineering. In: Proceedings of the 3rd International Confernce on Hydro-Science and-Engineering. Brandenburg University, Cottbus

Kravchenko AN, Bullock DG (2000) Correlation of corn and soybean grain yield with topography and soil properties. Agron J 92:75–83

Lazarovitch N, Shani U, Thompson TL, Warrick AW (2006) Soil hydraulic properties affecting discharge uniformity of subsurface drip irrigation. J Irrig Drain Eng 132(6):531–536

Li H, Lascano RJ, Booker J, Wilson LT, Bronson KF (2001) Cotton lint yield variability in a heterogeneous soil at a landscape scale. Soil Till Res 58:245–258

Meiri A, Plaut Z (1985) Crop production and management under saline conditions. Plant Soil 89:253–271

Oron G, DeMalach Y, Gillerman L, David I, Lurie S (2002) Effect of water salinity and irrigation technology on yield and quality of pears. Bios Eng 81(2):237–247

Russo D, Zaidel J, Laufer A (2007) Numerical analysis of solute transport from trickle sources in a combined desert soil: imported soil flow system. Vadose Zone J 7:53–66

Segal E, Ben-Gal A, Shani U (2006) Root water uptake efficiency under ultra-high irrigation frequency. Plant Soil 282:333–341

Shani U, Ben-Gal A, Tripler E, Dudley LM (2007) Plant response to the soil environment: an analytical model integrating yield, water, soil type and salinity. Water Resour Res 43(8):W08418. doi:10.1029/2006WR005313

Terra JA, Shaw JN, Reeves DW, Raper RL, van Santen E, Schwab EB, Mask PL (2006) Soil management and landscape variability affects field-scale cotton productivity. Soil Sci Soc Am J 70:98–107

Vauclin M, Viera SR, Vachaud G, Nielsen DR (1983) The use of co-kriging with limited field soil observations. Soil Sci Soc Am J 47:175–184

Wallach R, da Silva FF, Chen Y (1992) Unsaturated hydraulic characteristics of composted agricultural wastes, tuff and mixtures. Soil Sci 153:434–441

Warrick AW, Yates SR (1987) Crop yield as influenced by irrigation uniformity. Adv Irrig 4:69–180
Additional information
Communicated by J. Ayars.
About this article
Cite this article
Ityel, E., Lazarovitch, N., Silberbush, M. et al. An artificial capillary barrier to improve root-zone conditions for horticultural crops: response of pepper, lettuce, melon, and tomato. Irrig Sci 30, 293–301 (2012). https://doi.org/10.1007/s00271-011-0281-5
Received:

Accepted:

Published:

Issue Date:
Keywords
Melon

Vapor Pressure Deficit

Fruit Yield

Water Application

Pepper Plant