Abstract
A 3-year study was conducted in the eastern Mediterranean region of northern Syria to develop crop coefficient, K c, for drip-irrigated short-season cotton (Gossypium hirsutum L.). Two sets of K c curves were determined, the generalized K c published by the UN's Food and Agriculture Organization (FAO) that was adjusted for local climate, and the locally developed K c as the ratio of measured cotton evapotranspiration to calculated reference evapotranspiration. The adjusted FAO K c curves were the same for the 3 years. However, the locally developed K c curves not only differed among the 3 years, but also from the adjusted FAO K c. During the mid-season stage, the adjusted FAO K c was 24% higher than the locally developed value of 1.05. Variations in locally developed K c values were caused by normal year-to-year variations in irrigation timing and amount, suggesting sensitivity of K c that cautions against the use of locally developed K c based on limited data (i.e., a single season). On the season, the overestimation of crop evapotranspiration by using adjusted FAO K c was substantial and equivalent to 150 mm water or about two additional irrigations per season. Results caution against blind application of published FAO K c curve, suggesting some local or regional calibration for increased accuracy.
Access options
Buy single article
Instant access to the full article PDF.
US$ 39.95
Tax calculation will be finalised during checkout.
Subscribe to journal
Immediate online access to all issues from 2019. Subscription will auto renew annually.
US$ 79
Tax calculation will be finalised during checkout.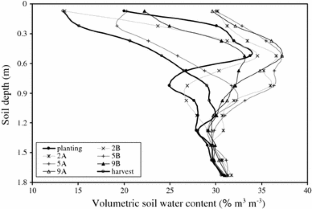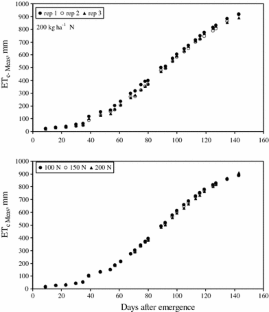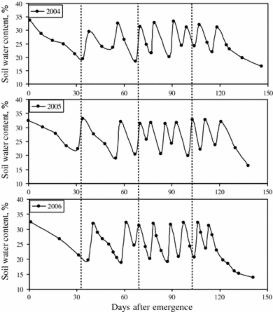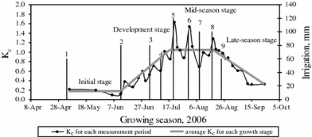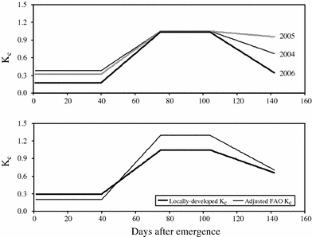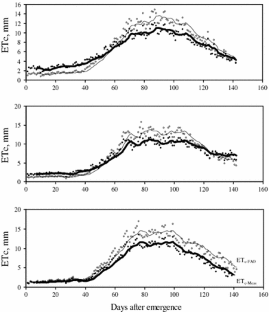 References
Al-Darir A (1998) Determination of cotton irrigation methods efficiency in Hama. R J Aleppo Univ Agric Sci Series 31:19–20

Allen RG (2000) Using the FAO-56 dual crop coefficient method over an irrigated region as part of an evapotranspiration intercomparison study. J Hydrol 229(1–2):27–41

Allen RG, Pereira LS, Raes D, Smith M (1998) Crop evapotranspiration. Irrig and Drain Paper No 56. Rome, Italy: United Nations FAO

Allen RG, Clemmens AJ, Burt CM, Solomon K, O'Halloran T (2005) Prediction accuracy for projectwide evapotranspiration using crop coefficients and reference evapotranspiration. J Irrig Drain Eng 131(1):24–36

Ayars JE, Phene CJ, Hutmacher RB, Davis KR, Schoneman RA, Vail SS, Mead RM (1999) Subsurface drip irrigation of row crops: a review of 15 years of research at the Water Management Research Laboratory. Agric Water Manag 42(1):1–27

Doorenbos J, Pruitt WO (1977) Guidelines for predicting crop water requirements. Irrig and Drain Paper No 24, 2nd edn. Rome, Italy: United Nations FAO

Farahani HJ, Oweis TY, Bruggeman A (2006) Management of modern irrigation systems for high water productivity. In: Proceedings of international symposium on irrigation modernization—constraints and solutions. FAO IPTRID, March 28–31, Damascus, Syria (http://dotproject.fao.org/syria/program.php)

Farahani HJ, Howell TA, Shuttleworth WJ, Bausch WC (2007) Evapotranspiration—progress in measurement and modeling in agriculture. Trans ASABE 50(5):1627–1638

Grismer ME (2002) Regional cotton lint yield, ETc and water value in Arizona and California. Agric Water Manag 54:227–242

Howell TA, Evett SR, Tolk JA, Schneider AD (2004) Evapotranspiration of full-, deficit-irrigated, and dryland cotton on the northern Texas high Plains. J Irrig Drain Eng 130(4):277–285

Hunsaker DJ (1999) Basal crop coefficients and water use for early maturity cotton. Trans ASAE 42(4):927–936

Hunsaker DJ, Clemmens AJ, Fangmeier AD (1998) Cotton response to high frequency surface irrigation. Agric Water Manag 37(1):55–74

Hunsaker DJ, Pinter PJ Jr, Barnes EM, Kimball BA (2003) Estimating cotton evapotranspiration crop coefficients with a multispectral vegetation index. Irrig Sci 22(2):95–104

Jamal MS, Al-Shayeb R, Kaisi A (2006). Country Review Paper. In: Proceedings of international symposium on irrigation modernization—constraints and solutions. FAO IPTRID, March 28–31, Damascus, Syria (http://dotproject.fao.org/syria/program.php)

Janat M, Somi G (2001) Performance of cotton crop grown under surface irrigation and drip fertigation. I. Seed cotton yield, dry matter production, and lint properties. Commun Soil Sci Plant Anal 32(19–20):3045–3061

Janat M (2004) Assessment of nitrogen content, uptake, partitioning, and recovery by cotton crop grown under surface irrigation and drip fertigation by using isotopic technique. Commun Soil Sci Plant Anal 35(17–18):2515–2535

Jensen ME, Burman RD, Allen RG (1990) Evapotranspiration and irrigation water requirements. ASCE Manual No 70. ASCE, New York

Kassam AH (1981) Climate, soil and land resources in North Africa and West Asia. Plant Soil 58:1–29

Martin DL, Gilley JR (1993) Irrigation water requirements. Chapter 2 of the SCS National Engineering Handbook, Soil Conservation Service, Washington DC, pp 284

Ryan J, Masri S, Garabet S, Diekmann J, Habib H (1997) Soils of ICARDA's agricultural experiment stations and sites: climate, classification, physical and chemical properties, and land use. ICARDA, Aleppo, Syria

Salman M (2004) The Euphrates and Tigris: south boundary utilization and views, international workshop on water, development and cooperation-cooperative perspective: Euphrates–Tigris and Southern Africa, Bonn, Germany, March, IPTRID, FAO. Rome, Italy

Sammis TW, Mapel CL, Lugg DG, Lansford RR, McGuckin JT (1985) Evapotranspiration crop coefficients predicted using growing degree days. Trans ASAE 28(3):773–780

Slack DC, Marti ED, Sheta AE, Fox Jr FA, Clark LJ, Ashley RO (1996) Crop Coefficients normalized for climate variability with growing-degree-days. In: Camp CR, Sadler EJ, Yoder RE (eds) ASAE proceedings of international conference on evapotranspiration and irrigation scheduling. San Antonio, TX, 3–6 Nov. St Joseph, MI.: ASAE pp 982–898

Varela-Ortega C, Sagardoy JA (2003) Irrigation water policies in Syria: current developments and future options. (Chap. 13), In: Fiorillo C, Vercueil J (eds) Syrian agriculture at the crossroads. FAO Agricultural Policy and Economic Development Series No 8, Rome, Italy

Wright JL (1979) Recent developments in determining crop coefficient values. Proc 1979 Irrig and Drain Div Spec Conf ASCE. New York, N.Y.: ASCE, pp 161–162

Wright JL (1981) Crop coefficient for estimates of daily crop evapotranspiration. In: Proc ASAE Irrig Scheduling Conf. St. Joseph, MI: ASAE pp 18–26

Wright JL (1982) New evapotranspiration crop coefficients. J Irrig Drain Div ASCE 108(1):57–74

Wright JL (1990) Comparison of ET measured with neutron moisture meters and weighing lysimeters. In: Harris SR (eds) Irrigation and drainage. ASCE, New York. pp 202–209
Additional information
Communicated by A. Kassam.
About this article
Cite this article
Farahani, H.J., Oweis, T.Y. & Izzi, G. Crop coefficient for drip-irrigated cotton in a Mediterranean environment. Irrig Sci 26, 375–383 (2008). https://doi.org/10.1007/s00271-007-0101-0
Received:

Accepted:

Published:

Issue Date:
Keywords
Crop Coefficient

Crop Evapotranspiration

Crop Growth Stage

Mass Balance Error

Short Season Cotton