Abstract
We measured a series of physiological and physical indicators and compared them to xylem sap flow, to identify the most sensitive and reliable plant water status indicator. In the growing season of 1998, 4-year-old peach trees (Prunus persica Batsch cv. 'Suncrest', grafted on 'GF 677' rootstock) were studied under two irrigation treatments, 25 l day−1 and no irrigation, and during recovery. Trials were conducted near Pisa (Italy) in a peach orchard situated on a medium clay loam soil and equipped with a drip-irrigation system (four 4 l h−1 drippers per tree). Measurements of leaf water potential (Ψ W ), stem water potential (Ψ S ), and leaf temperature (T l) were taken over 5 days (from dawn to sunset) and analyzed in conjunction with climatic data, sap flow (SF), trunk diameter fluctuation (TDF) and soil water content (SWC). Physiological indicators showed substantial differences in sensitivity. The first indication of changes in water status was the decrease of stem radial growth. TDF and SF revealed significant differences between the two irrigation treatments even in the absence of differences in pre-dawn leaf water potential (pdΨW), up until now widely accepted as the benchmark of water status indicators. Irrigated trees showed a typical trend in SF rate during the day, while in non-irrigated plants the maximum peak of transpiration was anticipated. Measurements of water potential showed ΨS to be a better indicator of tree water status than ΨW. T l was found to have poor sensitivity. In conclusion, we found the sensitivity of the indicators from the most to the least was: TDF >SF rate >SF cumulated = pdΨW=ΨS>mdΨW>T l.
Access options
Buy single article
Instant access to the full article PDF.
USD 39.95
Price excludes VAT (USA)
Tax calculation will be finalised during checkout.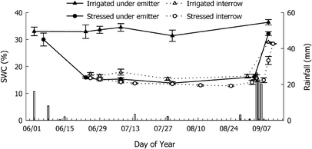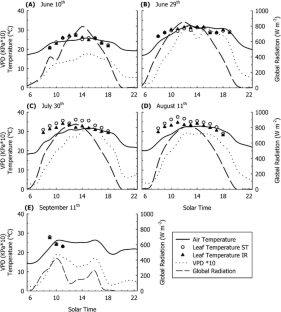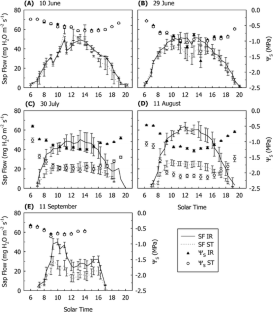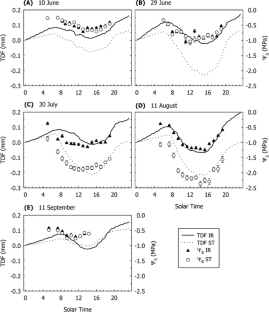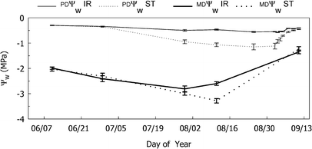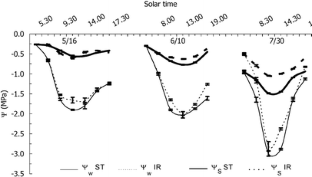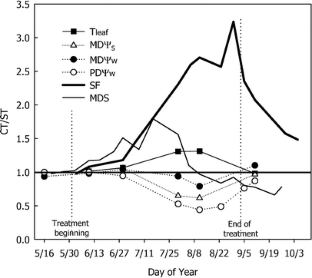 References
Améglio T, Daudet FA, Archer P, Ferreira I (1993) Comparaison de trois méthode de mesure de la transpiration de jeunes arbres. Agronomie 13:751–759

Bennett JM (1990) Problems associated with measuring plant water status. HortSci 25:1551–1554

Cohen M, Améglio T, Cruiziat P, Archer P, Valancogne C, Dayau S (1997) Yield and physiological responses of walnut trees in semiarid conditions: application to irrigation scheduling. Acta Hort 449:273–280

Ferreira MI, Pacheco CA., Valancogne C, Michaelsen J, Améglio T, Daudet FA (1997) Evapotranspiration, water stress indicators and soil water balance in a Prunus persica orchard, in central Portugal. Acta Hort 449:379–385

Garnier E, Berger A (1985) Testing water potential in peach trees as an indicator of water stress. J Hort Sci 60:47–56

Girona J, Mata M, Goldhamer DA, Johnson RS, DeJong TM (1993) Patterns of soil and tree water status and leaf functioning during regulated deficit irrigation scheduling in peach. J Am Soc Hort Sci 118:580–586

Glenn DM, Worthington JW, Welker WV, McFarland MJ (1989) Estimation of peach tree water use using infrared thermometry. J Am Soc Hort Sci 114:737–741

Goldhamer DA, Fereres E, Mata M, Girona J, Cohen M (1999) Sensitivity of continuous and discrete plant and soil water status monitoring in peach trees subjected to deficit irrigation. J Am Soc Hort Sci 124:437–444

Harrison RD, Daniell JW, Cheshire JMJ (1989) Net photosynthesis and stomatal conductance of peach seedlings and cuttings in response to changes in soil water potential. J Am Soc Hort Sci 114:986–990

Huguet JG, Li SH, Lorendau JY, Pelloux G (1992) Specific micromorphometric reactions of fruit trees to water stress and irrigation scheduling automation. J Hort Sci 67:631–640

Katerji N, Itier B, Ferreira I (1988) Etude de quelques critères indicateurs de l'état hydrique d'une culture de tomate en région semi-aride. Agronomie 8:425–433

Jones HG, Aikman D, McBurney TA (1997) Improvements to infra-red thermometry for irrigation scheduling in humid climates. Acta Hort 449:259–265

Massai R, Remorini D (2000) Estimation of water requirements in a young peach orchard under irrigated and stressed conditions. Acta Hort 537:77–86

Massai R, Remorini D, Casula F (2000a) Leaf temperature measured on peach trees in different climatic conditions and soil water contents. Acta Hort 537:399–406

Massai R, Ferreira MI, Paço TA, Remorini D (2000b) Sap flow in peach trees during water stress and recovery in two environmental conditions. Acta Hort 537:351–358

McCutchan H, Shackel KA (1992) Stem-water potential as a sensitive indicator of water stress in prune trees (Prunus domestica L. cv. French). J Am Soc Hort Sci 117:607–611

Meyer WS, Green GC (1980) Water use by wheat and plant indicators of available soil water. Agron J 72:253–257

Nadezhdina N (1999) Sap flow index as an indicator of plant water status. Tree Physiol 19:885–891

Naor A, Klein I, Hupert H, Grinblat Y, Peres M, Kaufman A (1999) Water stress and crop level interactions in relation to nectarine yield, fruit size distribution, and water potentials. J Am Soc Hort Sci 124:189–183

Sakuratani T (1981) A heat balance method for measuring water flux in the stem of intact plants. J Agric Meteorol 37:9–17

Scholander PF, Hammel HT, Brandstreet ED, Hemmingsen EA (1965) Sap pressure in vascular plants. Science 148:339–346

Sellés G, Berger A (1990) Physiological indicators of plant water status as criteria for irrigation scheduling. Acta Hort 278:87–100

Simonneau T, Habib R, Goutouly JP, Huguet JG (1993) Diurnal changes in stem diameter depend upon variations in water content: direct evidence in peach trees. J Exp Bot 44:615–621

Smith DM, Allen SJ (1996). Measurement of sap flow in plant stems. J Exp Bot 47:1833–1844

Steinberg S, Bavel CHMv, McFarland MJ (1989) A gauge to measure mass flow rate of sap in stems and trunks of woody plants. J Am Soc Hort Sci 114:466–472

Tan CS, Layne REC (1991) Soil water content and stomatal conductance in a mature peach orchard as influenced by various irrigation regimes. Can J Soil Sci 71:253–258

Turner NC (1981) Techniques and experimental approaches for the measurement of plant water status. Plant and Soil 58: 339-366

Valancogne C, Dayau S, Améglio T, Archer P, Daudet FA, Ferreira Gama MI, Cohen M (1997) Relations between relative transpiration and predawn leaf water potential in different fruit tree species. Acta Hort 449:423–429
Acknowledgements
Research work was supported by the European Community under Project FAIR1-CT95-0030 (Innovative biological indicators to improve water and nitrogen use and fruit quality in tree crops). We thank Dr. Edi Cecchini and Enrico Barone for revising the English and for their useful comments.
About this article
Cite this article
Remorini, D., Massai, R. Comparison of water status indicators for young peach trees. Irrig Sci 22, 39–46 (2003). https://doi.org/10.1007/s00271-003-0068-4
Received:

Accepted:

Published:

Issue Date:

DOI: https://doi.org/10.1007/s00271-003-0068-4
Keywords
Soil Water Content

Vapor Pressure Deficit

Leaf Water Potential

Irrigate Tree

Plant Water Status