Abstract
Purpose
Primary Aldosteronism (PA) is increasingly considered as a common disease affecting up to 10% of the hypertensive population. Standard of care comprises laparoscopic total adrenalectomy but innovative treatment such as RadioFrequency Ablation (RFA) constitutes an emerging promising alternative to surgery. The main aim of this study is to analyse the cost of RFA versus surgery on aldosterone-producing adenoma patient from the French National Health Insurance (FNHI) perspective.
Methods
The ADERADHTA study was a prospective pilot study aiming to evaluate both safety and efficacy of the novel use of adrenal RFA on the patients with PA. This study conducted on two French sites and enrolled adult patients, between 2016 and 2018, presenting hypertension and underwent the RFA procedure. Direct medical (inpatient and outpatient) and non-medical (transportation, daily allowance) costs were calculated over a 6-month follow-up period. Moreover, the procedure costs for the RFA were calculated from the hospital perspective. Descriptive statistics were implemented.
Results
Analysis was done on 21 patients in RFA groups and 27 patients in the surgery group.
The difference in hospital costs between the RFA and surgery groups was €3774 (RFA: €1923; Surgery: €5697 p < 0.001) in favour of RFA. Inpatient and outpatient costs over the 6-month follow-up period were estimated at €3,48 for patients who underwent RFA. The production cost of implementing the RFA procedure was estimated at €1539 from the hospital perspective.
Conclusion
Our study was the first to show that RFA is 2 to 3 times less costly than surgery.
The trial is registered at ClinicalTrials.gov under the number NCT02756754.
Access options
Buy single article
Instant access to the full article PDF.
USD 39.95
Price excludes VAT (USA)
Tax calculation will be finalised during checkout.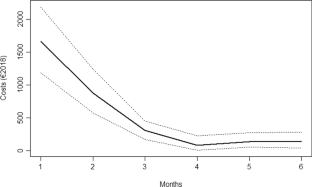 References
Fagugli RM, Taglioni C. Changes in the perceived epidemiology of primary hyperaldosteronism. Int J Hypertens. 2011;2011:162804.

Hellman P, Björklund P, Åkerström T. Aldosterone-producing adenomas. Vitam Horm. 2019;109:407–31.

Brown JM, Siddiqui M, Calhoun DA, Carey RM, Hopkins PN, Williams GH, Vaidya A. The unrecognized prevalence of primary aldosteronism: a cross-sectional study. Ann Intern Med. 2020;173(1):10–20.

Williams TA, Lenders JWM, Mulatero P, Burrello J, Rottenkolber M, Adolf C, Primary Aldosteronism Surgery Outcome (PASO) investigators, et al. Outcomes after adrenalectomy for unilateral primary aldosteronism: an international consensus on outcome measures and analysis of remission rates in an international cohort. Lancet Diabetes Endocrinol. 2017;5:689–99.

Funder JW, Carey RM, Fardella C, Gomez-Sanchez CE, Mantero F, Stowasser M, Young WF Jr, et al. Case detection, diagnosis, and treatment of patients with primary aldosteronism: an endocrine society clinical practice guideline. 2008; 93. J Clin Endocrinol Metab. 2008;93:3266–81.

Funder JW, Carey RM, Mantero F, Murad MH, Reincke M, Shibata H, Stowasser M, et al. The management of primary aldosteronism: case detection, diagnosis, and treatment: an endocrine society clinical practice guideline. J Clin Endocrinol Metab. 2016;101:1889–919.

Steichen O, Amar L, Chaffanjon P, Kraimps JL, Me´ne´gaux F, Zinzindohoue F. SFE/SFHTA/AFCE consensus on primary aldosteronism, part 6: adrenal surgery. Ann Endocrinol. 2016;77:220–5.

Nomine-Criqui C, Brunaud L, Germain A, Klein M, Cuny T, Ayav A, Bresler L. Robotic lateral transabdominal adrenalectomy. J Surg Oncol. 2015;112:305–9.

Pedziwiatr M, Wierdak M, Ostachowski M, Natkaniec M, Białas M, Hubalewska-Dydejczyk A, et al. Single center outcomes of laparoscopic transperitoneal lateral adrenalectomy-lessons learned after 500cases: a retrospective cohort study. Int J Surg. 2015;20:88–94.

Lei JY, Wang WT, Yan LN, Wen TF, Li B. Radiofrequency ablation versus surgical resection for small unifocal hepatocellular carcinomas. Medicine (Baltimore). 2014;93(29):e271.

Gazelle GS, Goldberg SN, Solbiati L, Livraghi T. Tumor ablation with radio-frequency energy. Radiology. 2000;217:633–46.

Bouhanick B, Delchier MC, Lagarde S, Boulestreau R, Conil C, Gosse P, Rousseau H, Lepage B, Olivier P, Papadopoulos P, Trillaud H, Cremer A. Radiofrequency ablation for adenoma in patients with primary aldosteronism and hypertension: ADERADHTA, a pilot study. J Hypertens. 2021;39(4):759–65.

Nunes TF, Szejnfeld D, Szejnfeld J, Kater CE, Faintuch S, Castro CHM, Goldman SM. Assessment of early treatment response with DWI after CT-guided radiofrequency ablation of functioning adrenal adenomas. AJR Am J Roentgenol. 2016;207:804–10.

Liu SY, Chu CC, Tsui TK, Wong SK, Kong AP, Chiu PW, et al. Aldosterone-producing adenoma in primary aldosteronism: CT-guided radiofrequency ablation-long-term results and recurrence rate. Radiology. 2016;281:625–34.

Yang R, Xu L, Lian H, Gan W, Guo H. Retroperitoneoscopic-guided cool-tip radiofrequency ablation of adrenocortical aldosteronoma. J Endourol. 2014;28:1208–14.

Szejnfeld D, Nunes TF, Giordano EE, Freire F, Ajzen SA, Kater CE, Goldman SM. Radiofrequency ablation of functioning adrenal adenomas: preliminary clinical and laboratory findings. J Vasc Interv Radiol. 2015;26:1459–64.

Yang MH, Tyan YS, Huang YH, Wang SC, Chen SL. Comparison of radiofrequency ablation versus laparoscopic adrenalectomy for benign aldosterone-producing adenoma. Radiol Med. 2016;121:811–9.

Sarwar A, Brook OR, Vaidya A, Sacks AC, Sacks BA, Goldberg SN, et al. Clinical outcomes following percutaneous radiofrequency ablation of unilateral aldosterone-producing adenoma: comparison with adrenalectomy. J Vasc Interv Radiol. 2016;27:961–7.

Lo CH, Tyan YS, Ueng KC. Immediate results and long-term outcomes following percutaneous radiofrequency ablation of unilateral aldosterone- producing adenoma. Acta Cardiol Sin. 2020;36:160–7.

Bonastre J, De Baère T, Elias D, Evrard S, Rouanet P, Bazin C, Giovannini M, Delpero JR, De Pouvourville G, Marchal F. Cost of radiofrequency ablation in the treatment of hepatic malignancies. Gastroenterol Clin Biol. 2007;31(10):828–35.

Shetty SK, Rosen MP, Raptopoulos V, Goldberg SN. Cost-effectiveness of percutaneous radiofrequency ablation for malignant hepatic neoplasms. J Vasc Interv Radiol. 2001;12(7):823–33.

Alexander ES, Machan JT, Ng T, Breen LD, DiPetrillo TA, Dupuy DE. Cost and effectiveness of radiofrequency ablation versus limited surgical resection for stage I non-small-cell lung cancer in elderly patients: is less more? J Vasc Interv Radiol. 2013;24(4):476–82.

Boudemaghe T, Belhadj I. Data resource profile: the French national uniform hospital discharge data set database (PMSI). Int J Epidemiol. 2017;46(2):392–392d.

Ross MM, Rideout EM, Carson MM. The use of the diary as a data collection technique. West J Nurs Res. 1994;16(4):414–25.

Frick KD. Microcosting quantity data collection methods. Med Care. 2009;47(S1):S76-81.

Raft J, Millet F, Meistelman C. Example of cost calculations for an operating room and a post-anaesthesia care unit. Anaesth Crit Care Pain Med. 2015;34(4):211–5.

Yue WW, Wang SR, Li XL, et al. Quality of life and cost-effectiveness of radiofrequency ablation versus open surgery for benign thyroid nodules: a retrospective cohort study. Sci Rep. 2017;10(7):413342.

Bernardi S, Dobrinja C, Fabris B, Bazzocchi G, Sabato N, Ulcigrai V, Giacca M, Barro E, De Manzini N, Stacul F. Radiofrequency ablation compared to surgery for the treatment of benign thyroid nodules. Int J Endocrinol. 2014;2014:934595.

Sacks BA, Sacks AC, Faintuch S. Radiofrequency ablation treatment for aldosterone-producing adenomas. Curr Opin Endocrinol Diabetes Obes. 2017;24(3):169–73. https://doi.org/10.1097/MED.0000000000000329 (PMID: 28248752).

Farres H, Felsher J, Brodsky J, Siperstein A, Gill I, Brody F. Laparoscopic adrenalectomy: a cost analysis of three approaches. J Laparoendosc Adv Surg Tech A. 2004;14(1):23–6. https://doi.org/10.1089/109264204322862315 (PMID: 15035840).

Feng Z, Feng MP, Feng DP, Rice MJ, Solórzano CC. A cost-conscious approach to robotic adrenalectomy. J Robot Surg. 2018;12(4):607–11. https://doi.org/10.1007/s11701-018-0782-9 (Epub 2018 Jan 31. PMID: 29388004).

Bouhanick B, Amar J, Amar L, Gosse P, Girerd X, Reznik Y, investigators of the ASAPAS study. Arterial stiffness evaluated by pulse wave velocity is not predictive of the improvement in hypertension after adrenal surgery for primary aldosteronism: a multicentre study from the French European society of hypertension excellence centres. ArchCardiovasc Dis. 2018;111:564–72.
Acknowledgments
The authors are grateful to the sponsoring team (ME Llau, A Pauze and L Chabbert) and clinical research assistants (M Rodriguez, Toulouse; J Gaudissard, Bordeaux) for their contributions. Sources of funding: The Societé Française d'HyperTension Artérielle (SFHTA: French Society of Hypertension) provided funding for the study; this study was supported by a grant from the French Ministry of Health with the participation of the Groupement Interrégional de Recherche Clinique et d'Innovation Sud-Ouest Outre-Mer Hospitalier (PHRCI 2015).
Funding
This study was supported by a grant from the French Ministry of Health with the participation of the Groupement Interrégional de Recherche Clinique et d'Innovation Sud-Ouest Outre-Mer Hospitalier (PHRCI 2015). The funder plays no role in the design of the study and collection, analysis, and interpretation of data and in writing the manuscript.
Ethics declarations
Conflict of interest
The authors declare that they have no conflict of interest.
Consent for Publication
For this type of study consent for publication is not required.
Ethical Approval
All procedures performed in studies involving human participants were in accordance with the ethical standards of the institutional and/or national research committee and with the 1964 Helsinki Declaration and its later amendments or comparable ethical standards.
The study protocol was reviewed and approved by an ethics committee and the French Competent Authorities.
Informed Consent
Informed consent was obtained from all individual participants included in the study.
Additional information
Publisher's Note
Springer Nature remains neutral with regard to jurisdictional claims in published maps and institutional affiliations.
Rights and permissions
Springer Nature or its licensor (e.g. a society or other partner) holds exclusive rights to this article under a publishing agreement with the author(s) or other rightsholder(s); author self-archiving of the accepted manuscript version of this article is solely governed by the terms of such publishing agreement and applicable law.
About this article
Cite this article
Costa, N., Mounie, M., Gombault-Datzenko, E. et al. Cost Analysis of Radiofrequency Ablation for Adrenal Adenoma in Patients with Primary Aldosteronism and Hypertension: Results from the ADERADHTA Pilot Study and Comparison with Surgical Adrenalectomy. Cardiovasc Intervent Radiol 46, 89–97 (2023). https://doi.org/10.1007/s00270-022-03295-9
Received:

Accepted:

Published:

Issue Date:

DOI: https://doi.org/10.1007/s00270-022-03295-9
Keywords
Cost of care

Production costs

Primary aldosteronism

Radio Frequency Ablation