Abstract
Purpose
Minimally Invasive Segmental Artery Coil Embolization (MISACE) is a novel approach to reduce paraplegia risk in Thoracoabdominal aortic aneurysm (TAAA) repair with limited data. We report our experience with MISACE as a method of spinal cord pre-conditioning to prevent spinal cord ischemia following endovascular repair of TAAA.
Material and Methods
A retrospective analysis of 17 patients who had an attempted MISACE prior to endovascular TAAA repair with mean follow-up of 350 days (2017–2020). Baseline patient and aneurysm characteristics along with procedural technique and outcomes were analyzed.
Results
Mean age of 69 years and 76.5% were males. TAAA Crawford classification were II, n = 6 (35.3%), III, n = 4 (23.5%) and IV, n = 5 (29.4%). The mean aortic diameter was 70.6 ± 10.9 mm. Staged repair was performed on 9 patients. Technically successful embolization occurred in 14 patients (82.4%) and was unsuccessful in 3 patients. The median number of embolized arteries was 3 and 71% of the target arteries were between T9 and T12. Mean fluoroscopy time was 51.5 ± 22.5 min and mean contrast volume used was 132.8 ± 56.1 mL. Average number of catheters used was 4.6 and 3.5 wires. No complications related to the procedure. Mean interval between embolization to endovascular TAAA repair was 51.2 days (5–110 days). All patients received spinal drainage at the time of repair. Postoperatively, 2/14 of patients developed paraparesis in the MISACE successful group and 1/3 patients developed paraplegia in the unsuccessful group.
Conclusions
MISACE is a promising strategy to prevent SCI. This data demonstrates the technique is feasible and safe but anatomic challenges remain.
Access options
Buy single article
Instant access to the full article PDF.
USD 39.95
Price excludes VAT (USA)
Tax calculation will be finalised during checkout.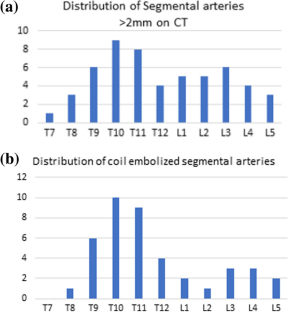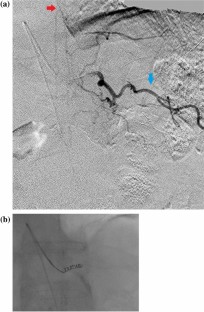 Abbreviations
MISACE:

Minimally invasive segmental artery coil embolization

TAAA:

Thoracoabdominal aortic aneurysm

EVAR:

Endovascular aortic repair

BEVAR:

Branched EVAR

FEVAR:

Fenestrated EVAR

TEVAR:

Thoracic EVAR

SCI:

Spinal cord ischemia

SA:

Segmental artery

T:

Thoracic vertebral level

L:

Lumbar Vertebral level

CFA:

Common femoral artery
References
Jacobs MJ, Schurink GW, Mees BM. Spinal cord ischaemia after complex aortic procedures. Eur J Vasc Endovasc Surg. 2016;52(3):279–80.

Branzan D, Etz CD, Moche M, Von Aspern K, Staab H, Fuchs J. Ischaemic preconditioning of the spinal cord to prevent spinal cord ischaemia during endovascular repair of thoracoabdominal aortic aneurysm: first clinical experience. EuroIntervention. 2018;14(7):828–35.

Greenberg RK, Lu Q, Roselli EE, Svensson LG, Moon MC, Hernandez AV, Dowdall J, Cury M, Francis C, Pfaff K, Clair DG, Ouriel K, Lytle BW. Contemporary analysis of descending thoracic and thoracoabdominal aneurysm repair: a comparison of endovascular and open techniques. Circulation. 2008;118(8):808–17. https://doi.org/10.1161/CIRCULATIONAHA.108.769695 (Epub 2008 Aug 4 PMID: 18678769).

Rocha RV, Lindsay TF, Friedrich JO, Shan S, Sinha S, Yanagawa B, Al-Omran M, Forbes TL, Ouzounian M. Systematic review of contemporary outcomes of endovascular and open thoracoabdominal aortic aneurysm repair. J Vasc Surg. 2020;71(4):1396–412.

Aucoin VJ, Eagleton MJ, Farber MA, Oderich GS, Schanzer A, Timaran CH, Schneider DB, Sweet MP, Beck AW. Spinal cord protection practices used during endovascular repair of complex aortic aneurysms by the US Aortic research consortium. J Vasc Surg. 2021;73(1):323–30.

Geisbusch S, Stefanovic A, Koruth JS, et al. Endovascular coil embolization of segmental arteries prevents paraplegia after subsequent thoracoabdominal aneurysm repair: an experimental model. J Thorac Cardiovasc Surg. 2014;147:220–6. https://doi.org/10.1016/j.jtcvs.2013.09.022.

Etz CD, Kari FA, Mueller CS, Brenner RM, Lin HM, Griepp RB. The collateral network concept: remodeling of the arterial collateral network after experimental segmental artery sacrifice. J Thorac Cardiovasc Surg. 2011;141(4):1029–36.

Safi HJ, Miller CC III. Spinal cord protection in descending thoracic and thoracoabdominal aortic repair. Ann Thorac Surg. 1999;67(6):1937–9.

Lombardi JV, Hughes GC, Appoo JJ, Bavaria JE, Beck AW, Cambria RP, Charlton-Ouw K, Eslami MH, Kim KM, Leshnower BG, Maldonado T. Society for vascular surgery (SVS) and society of thoracic surgeons (STS) reporting standards for type B aortic dissections. Ann Thorac Surg. 2020;109(3):959–81.

Chaikof E, Blankensteijn J, Harris P, White G, Zarins C, Bernhard V, et al. Reporting standards for endovascular aortic aneurysm repair. J Vasc Surg. 2002;35(5):1048–60.

Fairman A, Wang G. Spinal cord ischemia management: current indications and timing for drainage endovascular today November 2020 vol. 19, no. 11

Becske T, Raz E. (2015) Spinal vascular anatomy In: Saba L, Raz E. (eds.) Neurovascular Imaging. Springer New York NY https://doi.org/10.1007/978-1-4614-9212-2_14-1

Shimizu S, Tanaka R, Kan S, Suzuki S, Kurata A, Fujii K. Origins of the segmental arteries in the aorta: an anatomic study for selective catheterization with spinal arteriography. Am J Neuroradiol. 2005;26(4):922–8.

von Aspern K, Haunschild J, Simoniuk U, Kaiser S, Misfeld M, Mohr FW, Borger MA, Etz CD. Optimal occlusion pattern for minimally invasive staged segmental artery coil embolization in a chronic porcine model. Eur J Cardiothorac Surg. 2019;56(1):126–34.

Awad H, Tili E, Nuovo G, Kelani H, Ramadan ME, Williams J, Binzel K, Rajan J, Mast D, Efanov AA, Rasul KB. Endovascular repair and open repair surgery of thoraco-abdominal aortic aneurysms cause drastically different types of spinal cord injury. Sci Rep. 2021;11(1):1–3.

Etz CD, Weigang E, Hartert M, Lonn L, Mestres CA, Di Bartolomeo R, Bachet JE, Carrel TP, Grabenwöger M, Schepens MA, Czerny M. Contemporary spinal cord protection during thoracic and thoracoabdominal aortic surgery and endovascular aortic repair: a position paper of the vascular domain of the European Association for Cardio-Thoracic Surgery. Eur j Cardio Thorac Surg. 2015;47(6):943–57.

Etz CD, Debus ES, Mohr FW, Kölbel T. First-in-man endovascular preconditioning of the paraspinal collateral network by segmental artery coil embolization to prevent ischemic spinal cord injury. J Thorac Cardiovasc Surg. 2015;149(4):1074–9.

Wortmann M, Böckler D, Geisbüsch P. Perioperative cerebrospinal fluid drainage for the prevention of spinal ischemia after endovascular aortic repair. Gefässchirurgie. 2017;22(2):35–40.

American College of Cardiology Foundation, American Heart Association Task Force on Practice Guidelines, American Association for Thoracic Surgery, American College of Radiology, American Stroke Association, Society of Cardiovascular Anesthesiologists, Society for Cardiovascular Angiography and Interventions, Society of Interventional Radiology, Society of Thoracic Surgeons, Society for Vascular Medicine, North American Society for Cardiovascular Imaging. 2010 ACCF/AHA/AATS/ACR/ASA/SCA/SCAI/SIR/STS/SVM guidelines for the diagnosis and management of patients with thoracic aortic disease. Journal of the American College of Cardiology. 2010 55(14):e27–129.

Tenorio ER, Ribeiro MS, Banga PV, Mendes BC, Karkkainen J, DeMartino RR. Prospective assessment of a protocol using neuromonitoring, early limb reperfusion and selective temporary aneurysm sac perfusion to prevent spinal cord injury during fenestrated-branched endovascular aortic repair. J Vasc Surg. 2021;73(5):1829.

Petroff D, Czerny M, Kölbel T, Melissano G, Lonn L, Haunschild J, Von Aspern K, Neuhaus P, Pelz J, Epstein DM, Romo-Avilés N. Paraplegia prevention in aortic aneurysm repair by thoracoabdominal staging with 'minimally invasive staged segmental artery coil embolisation'(MIS2ACE): trial protocol for a randomised controlled multicentre trial. BMJ Open. 2019;9(3):e025488.
Ethics declarations
Conflict of interests
Thomas F. Lindsay: Cook Canada Proctor and Clinical Trial participation. Maral Ouzounian: Consulting agreements with Terumo, Edwards, Medtronic, and Gore. Abstract presented at International Symposium on Endovascular Therapy (ISET) 2021.
Additional information
Publisher's Note
Springer Nature remains neutral with regard to jurisdictional claims in published maps and institutional affiliations.
Rights and permissions
Springer Nature or its licensor holds exclusive rights to this article under a publishing agreement with the author(s) or other rightsholder(s); author self-archiving of the accepted manuscript version of this article is solely governed by the terms of such publishing agreement and applicable law.
About this article
Cite this article
Addas, J.A.K., Mafeld, S., Mahmood, D.N. et al. Minimally Invasive Segmental Artery Coil Embolization (MISACE) Prior to Endovascular Thoracoabdominal Aortic Aneurysm Repair. Cardiovasc Intervent Radiol 45, 1462–1469 (2022). https://doi.org/10.1007/s00270-022-03230-y
Received:

Accepted:

Published:

Issue Date:

DOI: https://doi.org/10.1007/s00270-022-03230-y
Keywords
MISACE

TAAA

Spinal cord ischemia

Segmental arteries