Abstract
Purpose
To evaluate the safety and 2-year follow-up clinical outcomes of transcatheter arterial embolization (TAE) using imipenem/cilastatin sodium for chronic low back pain resistant to conservative treatment.
Materials and Methods
A retrospective review identified 14 patients who underwent TAE for chronic low back pain between October 2017 and August 2018. Patients with low back pain related to the facet or sacroiliac joint, lasting ≥ 6 months, refractory to ≥ 3 months of conservative treatment were eligible for TAE. Each patient received embolization of feeding arteries of painful regions. The changes in brief pain inventory (BPI) scores, adverse events, and the Oswestry Disability Index (ODI) were evaluated at baseline and 1, 3, and 24 months after TAE. Clinical success was defined as BPI maximum pain intensity decrease of ≥ 2 and ODI decrease of ≥ 10 points from baseline.
Results
Follow-up data were available in 13 and 11 patients, at 3 and 24 months after embolization, respectively. Intention-to-treat clinical success was obtained in 11/14 (79%) of patients at 3 months and 8/14 (57%) of patients at 24 months after TAE. Mean BPI maximum pain intensity and ODI scores decreased significantly from baseline to 1, 3, and 24 months after treatment (7.6 vs.. 4.3, 3.4, and 4.1; 40.8 vs 21.5, 20.0, and 23.8, respectively; all P < 0.01). No major adverse events were associated with the procedures.
Conclusion
TAE is one possible treatment option for patients with chronic low back pain refractory to conservative treatment.
Access options
Buy single article
Instant access to the full article PDF.
USD 39.95
Price excludes VAT (USA)
Tax calculation will be finalised during checkout.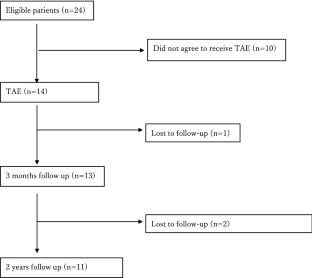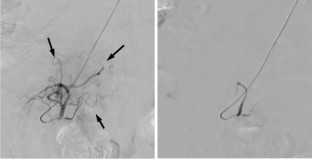 Abbreviations
TAE:

Transcatheter arterial embolization

BPI:

Brief pain inventory

ODI:

Oswestry disability index
References
Maher C, Underwood M, Buchbinder R. Non-specific low back pain. Lancet. 2017;389:736–47.

Dagenais S, Tricco AC, Haldeman S. Synthesis of recommendations for the assessment and management of low back pain from recent clinical practice guidelines. Spine J. 2010;10:514–29.

Koes BW, van Tulder MW, Thomas S. Diagnosis and treatment of low back pain. BMJ. 2006;332:1430–4.

Manchikanti L, Pampati V, Fellows B, Bakhit CE. Prevalence of lumbar facet joint pain in chronic low back pain. Pain Phys. 1999;2:59–64.

Bogduk N. The anatomical basis for spinal pain syndromes. J Manipulative Physiol Ther. 1995;18:603–5.

Staal JB, de Bie R, de Vet HC, Hildebrandt J, Nelemans P. Injection therapy for subacute and chronic low-back pain. Cochrane Database Syst Rev. 2008;2008:CD001824.

Juch JNS, Maas ET, Ostelo RWJG, et al. Effect of radiofrequency denervation on pain intensity among patients with chronic low back pain the mint randomized. Clin Trials. 2017;318:68–81.

Suzuki H, Kanchiku T, Imajo Y, et al. Diagnosis and characters of non-specific low back pain in Japan: the Yamaguchi low back pain study. PLoS ONE. 2016;11:1–13.

Iwamoto W, Okuno Y, Matsumura N, Kaneko T, Ikegami H. Transcatheter arterial embolization of abnormal vessels as a treatment for lateral epicondylitis refractory to conservative treatment: a pilot study with a 2-year follow-up. J Shoulder Elb Surg. 2017;26:1335–41.

Okuno Y, Korchi AM, Shinjo T, Kato S. Transcatheter arterial embolization as a treatment for medial knee pain in patients with mild to moderate osteoarthritis. Cardiovasc Interv Radiol. 2015;38:336–43.

Okuno Y, Oguro S, Iwamoto W, Miyamoto T, Ikegami H, Matsumura N. Short-term results of transcatheter arterial embolization for abnormal neovessels in patients with adhesive capsulitis: a pilot study. J shoulder Elb Surg. 2014;23:e199-206.

Bagla S, Piechowiak R, Hartman T, Orlando J, Del Gaizo D, Isaacson A. Genicular artery embolization for the treatment of knee pain secondary to osteoarthritis. J Vasc Interv Radiol. 2020;31:1096–102.

Hwang JH, Park SW, Kim KH, Lee SJ, Oh KS, Chung SW, et al. Early results of transcatheter arterial embolization for relief of chronic shoulder or elbow pain associated with tendinopathy refractory to conservative treatment. J Vasc Interv Radiol. 2018;29:510–7. https://doi.org/10.1016/j.jvir.2017.11.013.

Little MW, Gibson M, Briggs J, et al. Genicular artery embolization in patients with osteoarthritis of the knee (GENESIS) using permanent microspheres: interim analysis. Cardiovasc Interv Radiol. 2021;44:931–40.

Lee SH, Hwang JH, Kim DH, So YH, Park J, Cho SB, et al. Clinical outcomes of transcatheter arterial embolisation for chronic knee pain: mild-to-moderate versus severe knee osteoarthritis. Cardiovasc Intervent Radiol. 2019;42:1530–6.

Yoshioka K, Niinuma H, Ehara S, Nakajima T, Nakamura M, Kawazoe K. MR angiography and CT angiography of the artery of Adamkiewicz: state of the art. Radiogr Rev Publ Radiol Soc. 2006;26(Suppl 1):S63-73.

Yamada K, Jahangiri Y, Li J, et al. Embolic characteristics of imipenem-cilastatin particles in vitro and in vivo: implications for transarterial embolization in joint arthropathies. J Vasc Interv Radiol. 2021;32:1031-1039.e2.

Tan G, Jensen MP, Thornby JI, Shanti BFJ. Validation of the brief pain inventory for chronic nonmalignant pain. J Pain. 2004;5:133–7.

Hägg O, Fritzell P, Nordwall A. The clinical importance of changes in outcome scores after treatment for chronic low back pain. Eur Spine J. 2003;12:12–20.

Deyo RA, Weinstein JN. Low back pain. N Engl J Med. 2001;344:363–70.

Alfredson H, Ohberg L, Forsgren S. Is vasculo-neural ingrowth the cause of pain in chronic Achilles tendinosis? An investigation using ultrasonography and colour doppler, immunohistochemistry, and diagnostic injections. Knee Surg Sports Traumatol Arthrosc. 2003;11:334–8.

Walsh DA, Bonnet CS, Turner EL, Wilson D, Situ M, McWilliams DF. Angiogenesis in the synovium and at the osteochondral junction in osteoarthritis. Osteoarthr Cartil. 2007;15:743–51.

Xu Y, Bonar F, Murrell GAC. Enhanced expression of neuronal proteins in idiopathic frozen shoulder. J Shoulder Elb Surg. 2012;21:1391–7.

Taguchi H, Tanaka T, Nishiofuku H, Fukuoka Y, Minamiguchi K, Taiji R, et al. A rat model of frozen shoulder demonstrating the effect of transcatheter arterial embolization on angiography, histopathology, and physical activity. J Vasc Interv Radiol. 2021;32:376–83.

Grönblad M, Korkala O, Konttinen YT, Nederström A, Hukkanen M, Tolvanen E, et al. Silver impregnation and immunohistochemical study of nerves in lumbar facet joint plical tissue. Spine. 1991;16:34–8.

Pinheiro MB, Ferreira ML, Refshauge K, et al. Symptoms of depression and risk of new episodes of low back pain: a systematic review and meta-analysis. Arthritis Care Res. 2015;67:1591–603.
Funding
This study received no funding support.
Ethics declarations
Conflict of interest
The authors declare that they have no conflict of interest.
Ethical Approval
The Institutional Review Board of Okuno Clinic approved this study (Approval Number: OC IRB 2020-0401).
Informed Consent
Informed consent was obtained from all individual participants included in the study.
Consent for Publication
Consent for publication was obtained from every individual whose data are included in the study.
Additional information
Publisher's Note
Springer Nature remains neutral with regard to jurisdictional claims in published maps and institutional affiliations.
About this article
Cite this article
Fujiwara, K., Inui, S., Shibuya, M. et al. Transcatheter Arterial Embolization Using Imipenem/Cilastatin Sodium for Chronic Low Back Pain Resistant to Conservative Treatment: A Pilot Study with 2-Year Follow-Up. Cardiovasc Intervent Radiol 44, 1964–1970 (2021). https://doi.org/10.1007/s00270-021-02976-1
Received:

Accepted:

Published:

Issue Date:

DOI: https://doi.org/10.1007/s00270-021-02976-1
Keywords
Chronic low back pain

Transcatheter arterial embolization

Brief pain inventory score

Oswestry disability index