Abstract
Objective
To evaluate the safety of the insertion of a blunt-tip thermosensor inside the anterior epidural space using the trans-osseous route in the dorsal spine and the double oblique trans-foraminal approach in the lumbar spine.
Materials and Methods
A total of 10 attempts were made on a 91 years old human specimen. Thermosensors were inserted under fluoroscopic guidance in the anterior part of the spinal canal using various oblique angulations. Surgical dissection was then performed to identify the position of the thermosensor and look for any injury to the dural sac or the spinal cord/cauda equina.
Results
Nine thermosensors could be deployed successfully in the anterior part of the spinal canal from Th8 to L5 while one attempt (L5 level) failed due to a technical issue on the coaxial needle. On anteroposterior projection, the tip of thermosensor relative to the midline was classified as centered in 5 cases, overcrossing in 3 cases and undercrossing in 1 case. At surgical dissection, the tip of the thermosensor was epidural posterior to the posterior longitudinal ligament in 8 cases and anterior to the longitudinal ligament in 1 case (the undercrossing case). There were 3 tears to the dura, all in the overcrossing group. There was no case of injury to the spinal cord/cauda equina.
Conclusion
Insertion of a thin blunt-tip thermosensor with optimal angulation leads to an epidural post-ligamentous position on the midline without damage to the dural sac. The blunt-tip did not prevent from dural tearing should the insertion overcross the midline.
Access options
Buy single article
Instant access to the full article PDF.
USD 39.95
Price includes VAT (USA)
Tax calculation will be finalised during checkout.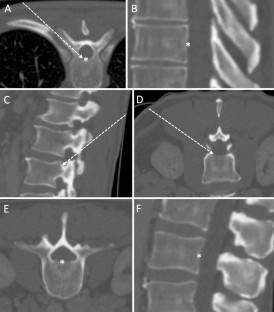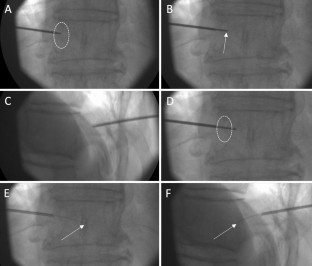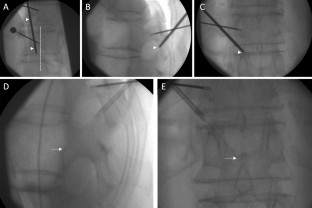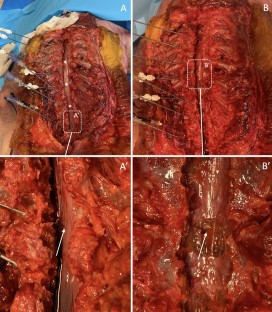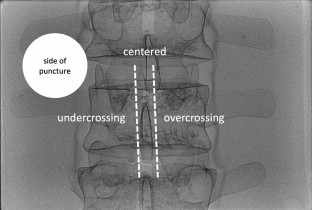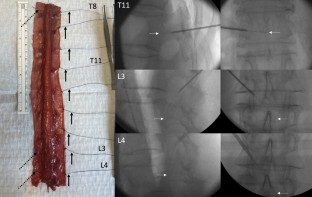 Funding
This study was not supported by any funding.
Ethics declarations
Conflict of interest
The authors declare that they have no conflict of interest.
Ethical approval
All procedures performed in studies involving human participants were in accordance with the ethical standards of the institutional and/or national research committee and with the 1964 Helsinki Declaration and its later amendments or comparable ethical standards.
Informed consent
This study has obtained IRB approval from the department of Anatomy of the University Hospital of Strasbourg and the need for informed consent was waived.
Consent for publication
For this type of study consent for publication is not required.
Additional information
Publisher's Note
Springer Nature remains neutral with regard to jurisdictional claims in published maps and institutional affiliations.
About this article
Cite this article
Garnon, J., Olivier, I., Lecigne, R. et al. Safety of Thermosensor Insertion in the Midline of the Spinal Canal Anterior to the Dura: A Cadaveric Study. Cardiovasc Intervent Radiol 44, 1986–1993 (2021). https://doi.org/10.1007/s00270-021-02962-7
Received:

Accepted:

Published:

Issue Date:
Keywords
Spinal ablation

Thermosensor

Temperature monitoring