Abstract
Purpose
We aimed to assess the efficacy of psoas density (PD) for predicting hepatic encephalopathy (HE) after transjugular intrahepatic portosystemic shunt (TIPS) procedures.
Methods
Data were collected from patients who underwent TIPS procedures at a single institution between 2013 and 2019. PD was manually measured using software on unenhanced CT scans at the level of third lumbar vertebra. Laboratory and physical examination data were collected within 24 h after admission in order to compare the differences between patients with and without post-TIPS HE.
Results
A total of 251 patients were included in this study. Among these patients, 77 (30.7%) developed post-TIPS HE within one year after TIPS creation. The threshold of PD for predicting HE was 51.24 Hounsfield unit (HU). PD values less than this threshold were correlated with an increased risk of HE (hazard ratio 0.92; 95% CI 0.89–0.95, P < 0.001). The area under the receiver operating characteristic curve (AUROC) of PD was 0.743 (95% CI 0.685–0.796), which was superior to Model for End-stage Liver Disease (MELD) (0.569, P = 0.007), albumin–bilirubin score (ALBI) (0.641, P = 0.018), and Child–Pugh score (0.583, P = 0.003).
Conclusion
PD measurement showed good HE predictive value in cirrhotic patients who underwent TIPS. This measure also performed better than MELD, ALBI and Child–Pugh.
Access options
Buy single article
Instant access to the full article PDF.
US$ 39.95
Tax calculation will be finalised during checkout.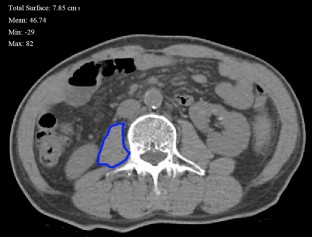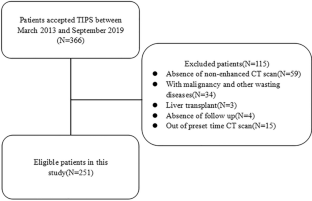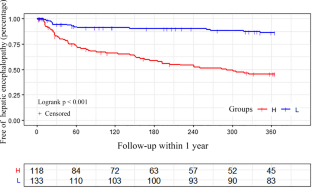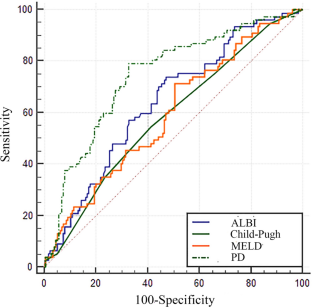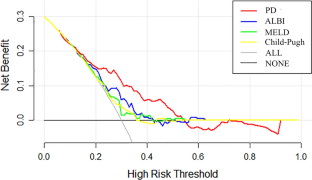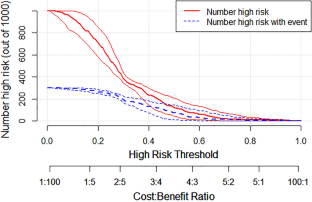 References
1.

Rössle M. TIPS: 25 years later. J Hepatol. 2013;59(5):1081–93.

2.

Riggio O, Nardelli S, Moscucci F, Pasquale C, Ridola L, Merli M. Hepatic encephalopathy after transjugular intrahepatic portosystemic shunt. Clin Liver Dis. 2012;16(1):133–46.

3.

Flud CR, Duarte-Rojo A. Prognostic implications of minimal/Covert Hepatic Encephalopathy: large-scale validation cohort studies. J Clin Exp Hepatol. 2019;9(1):112–6.

4.

Coronado WM, Ju C, Bullen J, Kapoor B. Predictors of occurrence and risk of Hepatic Encephalopathy after TIPS creation: A 15-year experience. Cardiovasc Intervent Radiol. 2020;43(8):1156–64.

5.

Rowley MW, Choi M, Chen S, Hirsch K, Seetharam AB. Refractory Hepatic Encephalopathy after elective transjugular intrahepatic portosystemic shunt: Risk factors and outcomes with revision. Cardiovasc Intervent Radiol. 2018;41(11):1765–72.

6.

Fonio P, Discalzi A, Calandri M, Doriguzzi Breatta A, Bergamasco L, Martini S, Ottobrelli A, Righi D, Gandini G. Incidence of hepatic encephalopathy after transjugular intrahepatic portosystemic shunt (TIPS) according to its severity and temporal grading classification. Radiol Med. 2017;122(9):713–21.

7.

Lin X, Gao F, Wu X, Cai W, Chen X, Huang Z. Efficacy of albumin-bilirubin score to predict hepatic encephalopathy in patients underwent transjugular intrahepatic portosystemic shunt. Eur J Gastroenterol Hepatol 2020.

8.

Merli M, Riggio O, Dally L. Does malnutrition affect survival in cirrhosis? PINC (Policentrica Italiana Nutrizione Cirrosi). Hepatology. 1996;23(5):1041–6.

9.

Anand AC. Nutrition and muscle in cirrhosis. J Clin Exp Hepatol. 2017;7(4):340–57.

10.

Albano D, Messina C, Vitale J, Sconfienza LM. Imaging of sarcopenia: old evidence and new insights. Eur Radiol. 2020;30(4):2199–208.

11.

Englesbe MJ, Patel SP, He K, Lynch RJ, Schaubel DE, Harbaugh C, Holcombe SA, Wang SC, Segev DL, Sonnenday CJ. Sarcopenia and mortality after liver transplantation. J Am Coll Surg. 2010;211(2):271–8.

12.

Praktiknjo M, Book M, Luetkens J, Pohlmann A, Meyer C, Thomas D, Jansen C, Feist A, Chang J, Grimm J, et al. Fat-free muscle mass in magnetic resonance imaging predicts acute-on-chronic liver failure and survival in decompensated cirrhosis. Hepatology. 2018;67(3):1014–26.

13.

Tsien C, Shah SN, McCullough AJ, Dasarathy S. Reversal of sarcopenia predicts survival after a transjugular intrahepatic portosystemic stent. Eur J Gastroenterol Hepatol. 2013;25(1):85–93.

14.

Praktiknjo M, Clees C, Pigliacelli A, Fischer S, Jansen C, Lehmann J, Pohlmann A, Lattanzi B, Krabbe VK, Strassburg CP et al: Sarcopenia is associated with development of acute-on-chronic liver failure in decompensated liver cirrhosis receiving transjugular intrahepatic portosystemic shunt. Clin Transl Gastroenterol 2019, 10(4):e00025.

15.

Montano-Loza AJ. Severe muscle depletion predicts postoperative length of stay but is not associated with survival after liver transplantation. Liver Transpl. 2014;20(11):1424.

16.

Aubrey J, Esfandiari N, Baracos VE, Buteau FA, Frenette J, Putman CT, Mazurak VC. Measurement of skeletal muscle radiation attenuation and basis of its biological variation. Acta Physiol (Oxf). 2014;210(3):489–97.

17.

Yamashita M, Kamiya K, Matsunaga A, Kitamura T, Hamazaki N, Matsuzawa R, Nozaki K, Tanaka S, Nakamura T, Maekawa E, et al. Prognostic value of Psoas muscle area and density in patients who undergo cardiovascular surgery. Can J Cardiol. 2017;33(12):1652–9.

18.

Shoreibah MG, Mahmoud K, Aboueldahab NA, Vande Lune P, Massoud M, Bae S, El Khudari H, Gunn AJ, Abdel Aal AK. Psoas muscle density in combination with model for end-stage liver disease score can improve survival predictability in transjugular intrahepatic portosystemic shunts. J Vasc Interv Radiol. 2019;30(2):154–61.

19.

Atterbury CE, Maddrey WC, Conn HO: Neomycin-sorbitol and lactulose in the treatment of acute portal-systemic encephalopathy. A controlled, double-blind clinical trial. Am J Dig Dis 1978, 23(5):398–406.

20.

Vilstrup H, Amodio P, Bajaj J, Cordoba J, Ferenci P, Mullen KD, Weissenborn K, Wong P. Hepatic encephalopathy in chronic liver disease: 2014 Practice Guideline by the American Association for the Study of Liver Diseases and the European Association for the Study of the Liver. Hepatology. 2014;60(2):715–35.

21.

Mitsiopoulos N, Baumgartner RN, Heymsfield SB, Lyons W, Gallagher D, Ross R. Cadaver validation of skeletal muscle measurement by magnetic resonance imaging and computerized tomography. J Appl Physiol (1985) 1998, 85(1):115–122.

22.

Cai J, Guo W, He C, Han G. Shunt dysfunction: is it suitable as the primary end point in transjugular intrahepatic portosystemic shunt trials? J Hepatol. 2015;62(1):245–7.

23.

Johnson PJ, Berhane S, Kagebayashi C, Satomura S, Teng M, Reeves HL, O'Beirne J, Fox R, Skowronska A, Palmer D, et al. Assessment of liver function in patients with hepatocellular carcinoma: a new evidence-based approach-the ALBI grade. J Clin Oncol. 2015;33(6):550–8.

24.

Durand F, Valla D. Assessment of the prognosis of cirrhosis: Child-Pugh versus MELD. J Hepatol. 2005;42(Suppl 1):S100–7.

25.

Vickers AJ, Elkin EB. Decision curve analysis: a novel method for evaluating prediction models. Med Decis Making. 2006;26(6):565–74.

26.

Vickers AJ, Cronin AM, Elkin EB, Gonen M. Extensions to decision curve analysis, a novel method for evaluating diagnostic tests, prediction models and molecular markers. BMC Med Inform Decis Mak. 2008;8:53.

27.

O'Leary JG, Reddy KR, Garcia-Tsao G, Biggins SW, Wong F, Fallon MB, Subramanian RM, Kamath PS, Thuluvath P, Vargas HE, et al. NACSELD acute-on-chronic liver failure (NACSELD-ACLF) score predicts 30-day survival in hospitalized patients with cirrhosis. Hepatology. 2018;67(6):2367–74.

28.

Jindal A, Jagdish RK. Sarcopenia: Ammonia metabolism and hepatic encephalopathy. Clin Mol Hepatol. 2019;25(3):270–9.

29.

Kaido T, Ogawa K, Fujimoto Y, Ogura Y, Hata K, Ito T, Tomiyama K, Yagi S, Mori A, Uemoto S. Impact of sarcopenia on survival in patients undergoing living donor liver transplantation. Am J Transplant. 2013;13(6):1549–56.

30.

Montano-Loza AJ, Meza-Junco J, Prado CM, Lieffers JR, Baracos VE, Bain VG, Sawyer MB: Muscle wasting is associated with mortality in patients with cirrhosis. Clin Gastroenterol Hepatol 2012, 10(2):166–173, 173.e161.

31.

Miao SL, Ye XN, Lin TT, Qiu YH, Huang JY, Zheng XW, Chen FF. The psoas muscle density as a predictor of postoperative complications and 30-day mortality for acute mesenteric ischemia patients. Abdom Radiol (NY) 2020.

32.

Tzeng YH, Wei J, Tsao TP, Lee YT, Lee KC, Liou HR, Sung HJ, Huang KC, Hsiung MC, Yin WH. Computed Tomography-determined muscle quality rather than muscle quantity is a better determinant of prolonged hospital length of stay in patients undergoing transcatheter aortic valve implantation. Acad Radiol. 2020;27(3):381–8.

33.

Ghosh S, Kasher M, Malkina I, Livshits G. Is craniofacial morphology and body composition related by common genes: Comparative analysis of two ethnically diverse populations. Am J Phys Anthropol 2021.

34.

Kim JA, Choi KM. Sarcopenia and fatty liver disease. Hepatol Int. 2019;13(6):674–87.

35.

Dasarathy J, McCullough AJ, Dasarathy S. Sarcopenia in alcoholic liver disease: Clinical and molecular advances. Alcohol Clin Exp Res. 2017;41(8):1419–31.

36.

Buettner S, Wagner D, Kim Y, Margonis GA, Makary MA, Wilson A, Sasaki K, Amini N, Gani F, Pawlik TM. Inclusion of Sarcopenia outperforms the modified frailty index in predicting 1-year mortality among 1,326 patients undergoing gastrointestinal surgery for a malignant indication. J Am Coll Surg. 2016;222(4):397-407.e392.

37.

Miller BS, Ignatoski KM, Daignault S, Lindland C, Gauger PG, Doherty GM, Wang SC. A quantitative tool to assess degree of sarcopenia objectively in patients with hypercortisolism. Surgery. 2011;150(6):1178–85.

38.

Yoo T, Lo WD, Evans DC. Computed tomography measured psoas density predicts outcomes in trauma. Surgery. 2017;162(2):377–84.

39.

Bale A, Pai CG, Shetty S, Balaraju G, Shetty A. Prevalence of and factors associated with minimal hepatic encephalopathy in patients with Cirrhosis of liver. J Clin Exp Hepatol. 2018;8(2):156–61.

40.

Bettinger D, Sturm L, Pfaff L, Hahn F, Kloeckner R, Volkwein L, Praktiknjo M, Lv Y, Han G, Huber JP et al. Refining prediction of survival after TIPS with the novel Freiburg index of post-TIPS survival. J Hepatol 2021.

41.

Nardelli S, Gioia S, Pasquale C, Pentassuglio I, Farcomeni A, Merli M, Salvatori FM, Nikolli L, Torrisi S, Greco F, et al. Cognitive impairment predicts the occurrence of Hepatic Encephalopathy after transjugular intrahepatic portosystemic shunt. Am J Gastroenterol. 2016;111(4):523–8.

42.

Li Y, He X, Pang H. A model to predict early hepatic encephalopathy in patients undergoing transjugular intrahepatic portosystemic shunt. Turk J Gastroenterol. 2019;30(8):702–7.

43.

Kerr KF, Brown MD, Zhu K, Janes H. Assessing the clinical impact of risk prediction models with decision curves: Guidance for correct interpretation and appropriate use. J Clin Oncol. 2016;34(21):2534–40.

44.

Nardelli S, Lattanzi B, Torrisi S, Greco F, Farcomeni A, Gioia S, Merli M, Riggio O. Sarcopenia is risk factor for development of Hepatic Encephalopathy after transjugular intrahepatic portosystemic shunt placement. Clin Gastroenterol Hepatol. 2017;15(6):934–6.
Funding
This study received no grant from any funding.
Ethics declarations
Conflict of interest
The authors declare that they have no conflict of interest.
Ethical Approval
The study was approved by the hospital's Institutional Review Board and conformed to the principles of the Helsinki Declaration.
Informed Consent
Informed consent was obtained from all individual participants included in the study.
Consent for Publication
All authors approved the publication.
Additional information
Publisher's Note
Springer Nature remains neutral with regard to jurisdictional claims in published maps and institutional affiliations.
About this article
Cite this article
Cai, W., Lin, H., Qi, R. et al. Psoas Muscle Density Predicts Occurrences of Hepatic Encephalopathy in Patients Receiving Transjugular Intrahepatic Portosystemic Shunts within 1 year. Cardiovasc Intervent Radiol (2021). https://doi.org/10.1007/s00270-021-02961-8
Received:

Accepted:

Published:
Keywords
Transjugular intrahepatic portosystemic shunt (TIPS)

Model for End-stage Liver Disease (MELD)

Albumin–bilirubin (ALBI)

Hepatic encephalopathy

Psoas muscle density

Sarcopenia