Access options
Buy single article
Instant access to the full article PDF.
USD 39.95
Price includes VAT (USA)
Tax calculation will be finalised during checkout.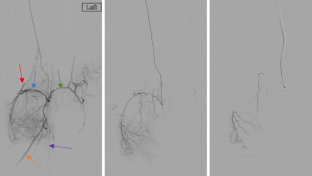 References
1.

Ashraf S, Wibberley H, Mapp PI, Hill R, Wilson D, Walsh DA. Increased vascular penetration and nerve growth in the meniscus: a potential source of pain in osteoarthritis. Ann Rheum Dis. 2011;70(3):523–9.

2.

Okuno Y, Matsumura N, Oguro S. Transcatheter arterial embolization using imipenem/cilastatin sodium for tendinopathy and enthesopathy refractory to nonsurgical management. J Vasc Interv Radiol. 2013;24(6):787–92.

3.

Shibuya M, Sugihara E, Miyazaki K, Fujiwara K, Sakugawa T, Okuno Y. Intra-arterial infusion of temporary embolic material in a patient with plantar fasciitis: a case report. Cardiovasc Intervent Radiol. 2021

4.

Little MW, Gibson M, Briggs J, Speirs A, Yoong P, Ariyanayagam T, et al. Genicular artEry embolizatioN in patiEnts with oSteoarthrItiS of the Knee (GENESIS) using permanent microspheres: interim analysis. Cardiovasc Intervent Radiol. 2021

5.

Mirakhur A, Bakshi DR. Contrast-enhanced ultrasonography during genicular artery embolization. Cardiovasc Intervent Radiol. 2021

6.

Fernández Martínez AM, Baldi S, Alonso-Burgos A, López R, Vallejo-Pascual ME, Cuesta Marcos MT, et al. Mid-term results of transcatheter arterial embolization for adhesive capsulitis resistant to conservative treatment. Cardiovasc Intervent Radiol. 2021;44(3):443–51.
Ethics declarations
Conflict of interest
Consultant for Crannmed, Merit Medical, Guerbet, Boston Scientific.
Consent for publication
Invited commentary.
Additional information
Publisher's Note
Springer Nature remains neutral with regard to jurisdictional claims in published maps and institutional affiliations.
About this article
Cite this article
Little, M. Musculoskeletal Embolotherapy: Past, Present, and Future. Cardiovasc Intervent Radiol 44, 1827–1829 (2021). https://doi.org/10.1007/s00270-021-02957-4
Received:

Accepted:

Published:

Issue Date: